Tunisia. Africa.
Our latest adventure was decided four years ago, after our wedding, but a set of circumstances caused a long delay. However, we decided not to lose any more time, and to use our first possible vacation to visit Tunisia.
We started from Dublin with a small "Avro" city jet RJ85 airplane. It was our first small jet, and Dina did not like it very much. On the other hand, I love smal planes, as you can feel the thing gliding through the air. Was a bit bumpy on the Charles de Gaulle, but we made it. Then we took a regular Airbus to the airport Tunis Carthage.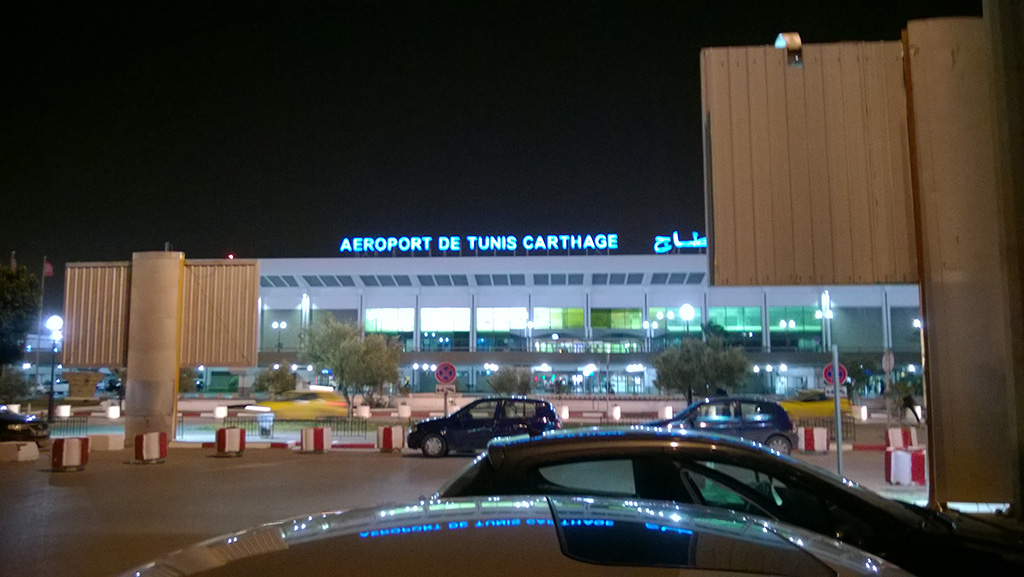 Since we arrived after midnight, we went straight to Dina's relatives home, and had a quick chat then decided to plan everything the next day.
Day one
Well, we decided to plan it the next day, but plan was made in the mean time, so we got the car keys, a car, and two young tour guides (13) and our destination was Sidi Bou Said.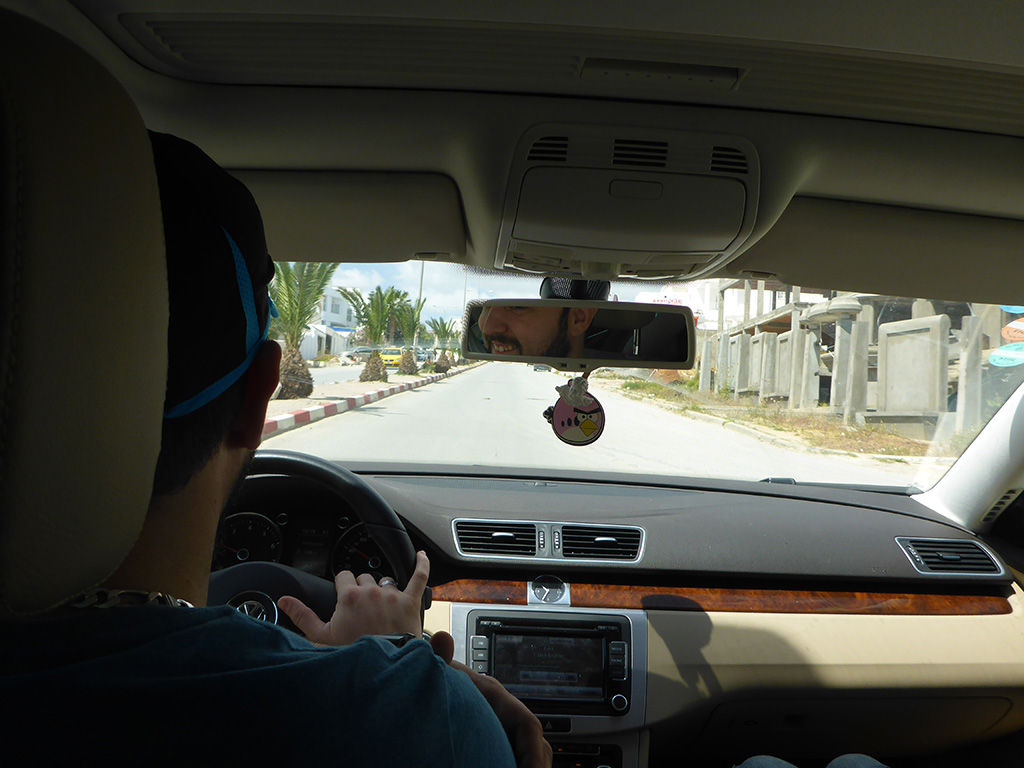 Luckily, driving in Tunis on Sunday is not a big deal, like in any other regular city. I even felt that I could drive there without the need to get used to driving in such crowd. Well, I figured out how wrong I was the very next morning, but let's stick to the story.
Sidi Bou Said is a well known small town 20 km on the north of the Tunisian capital Tunis. It is known as artist's city, and as such has a lot of small galleries. Of course, as every other artist's place it is loaded with different plants and flowers, but in this zone bougainvillea is the dominant one.
Most of the place is situated on the hill above the port of Sidi Bou Said, and it is one of the typical Mediterranean places where all houses are white, and all windows and doors are blue, and tourists take pictures in front of the blue doors, just because they are blue. Doors. Well, tourists on this photo are also in blue t-shirts and jeans, but that is just a coincidence. We did not plan a camouflage before arrival. 🙂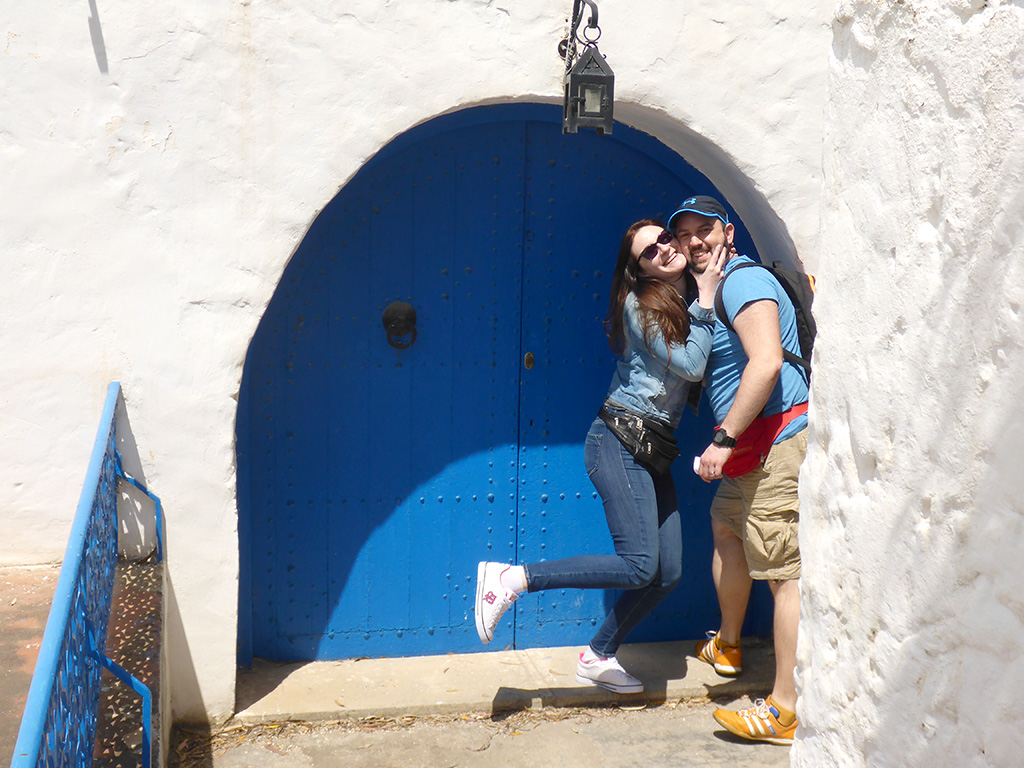 As every other traveller, we did not just arrive there for the photos, but to learn and see something new. First "museum" type of building that we visited was the palace Dar Nejma Ezzahra known as the house of Baron d'Erlanger. Baron d'Erlanger, born Parisian, was a painter and musicologist who built the palace, lived and painted in it, and was surrounded by best Arab musicians of his time. He collected Arab music books and instruments, and his house today is a sort of museum of Arab music.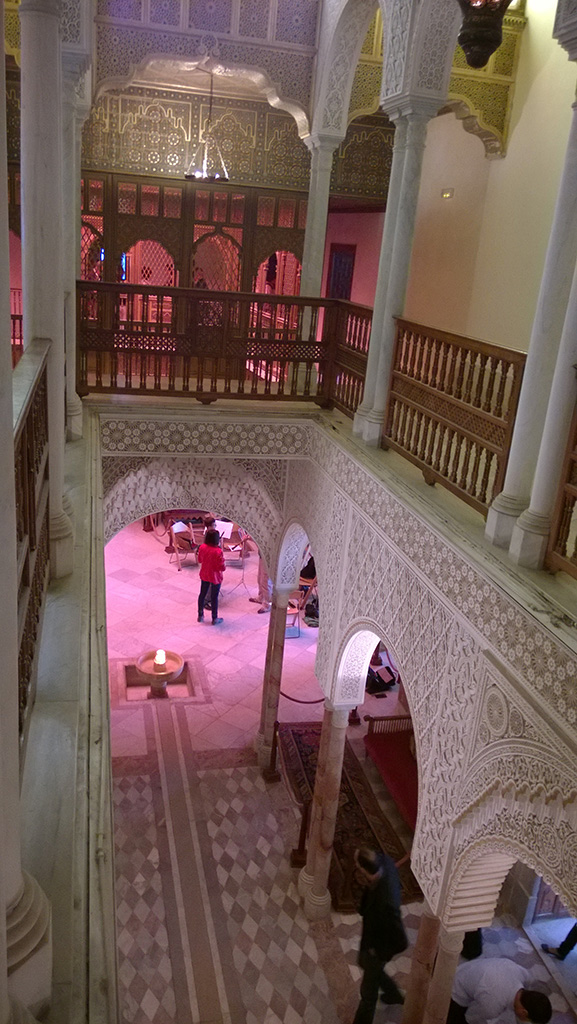 When he built the house I assume he did not care too much about "million dollars" phrase, but he certainly had the million dollar view from his huge terrace.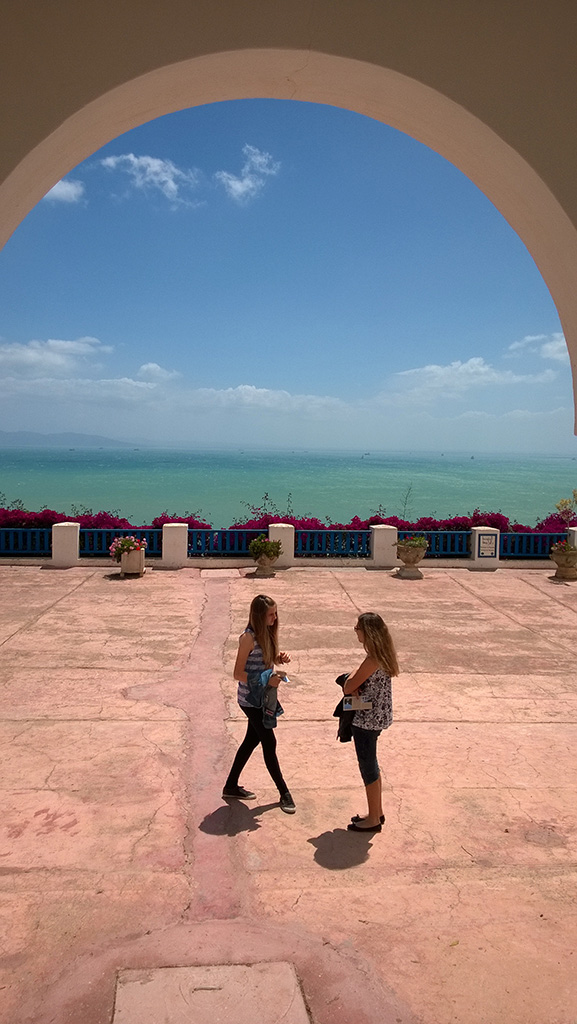 When we finished our visit to the palace, we went straight to the centre of Sidi Bou Said. We checked a few galleries there, and we set down in a beautiful coffee bar, where we had traditional tea. It was a green tea with mint and fresh almonds. In original recipe fresh pines should be in the glass, but apparently they had none at a time we were there.
After that, we draw back home to try some typical Tunisian meals. On the way through the city I've noticed one of many "different" buildings. Sort of "wing house".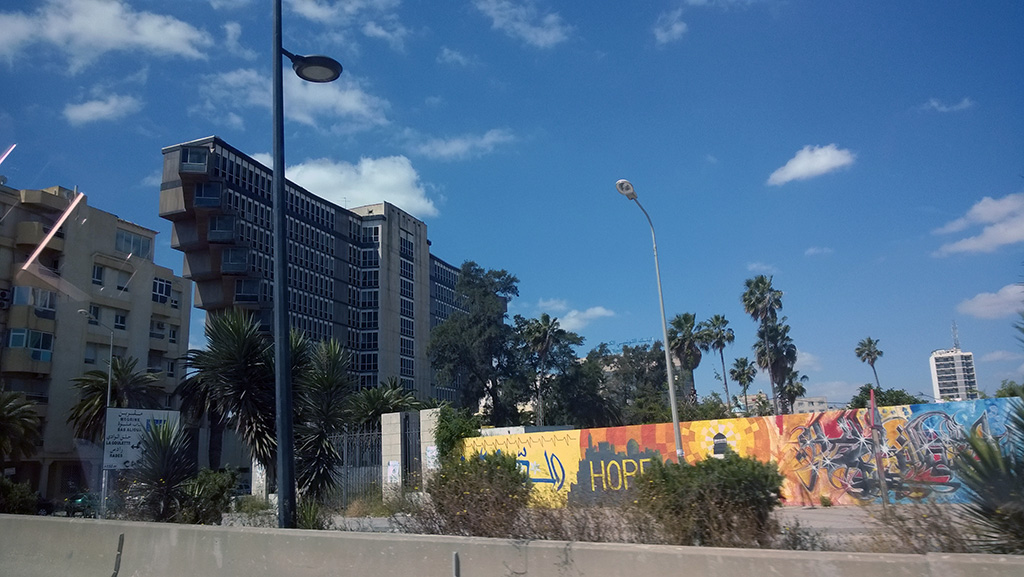 Our first gastro surprise was "Brick". Kind of a crunchy starter, which is sort of thin egg dough pancake fried with whole egg inside. It is fried only for few minutes on a high temperature, so technically dough becomes fried and crunchy, and the egg remains soft and you need to suck it out of the dough. Otherwise you'll have it leaking through your fingers. 🙂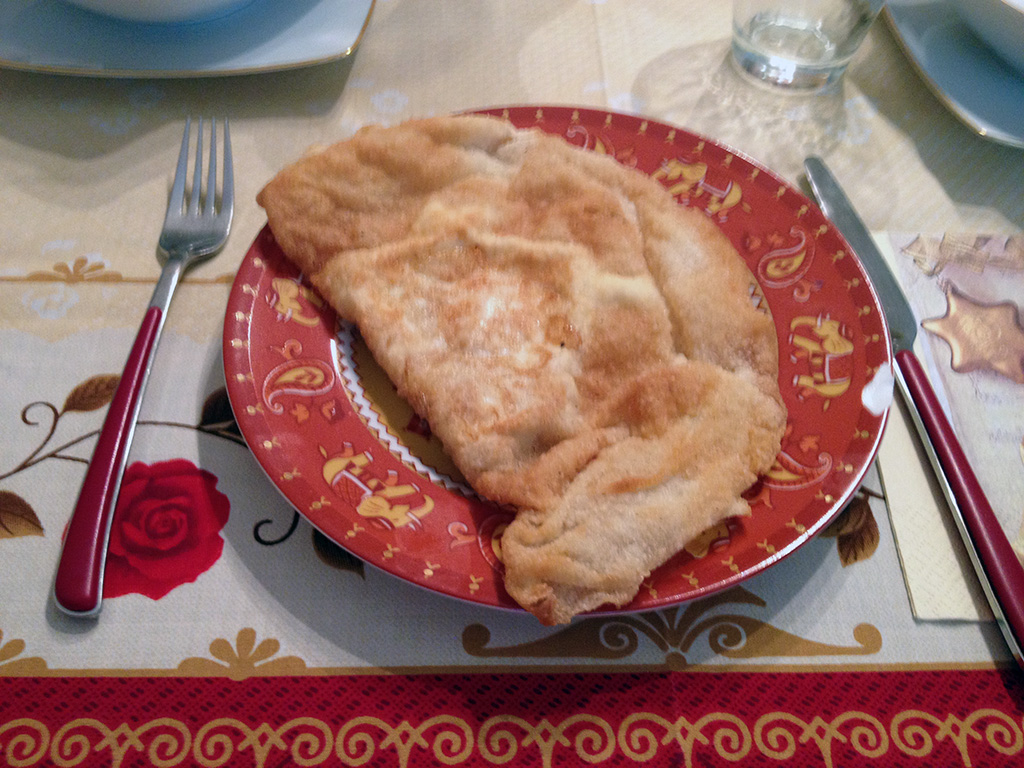 Besides brick we tried Tunisian white wine and Magnum was first one. Well, if you know me, you know that I prefer red wine and that I am rarely delighted with white wine in general. For the lunch and later through the day I had 2 bottles on my own. Later on throughout the week we tried several different red and white Tunisian wines, and all of them were awesome. If the road takes you to the Tunisia remember Magnum and Magon.
Our wine degustation led us into a long talks… 🙂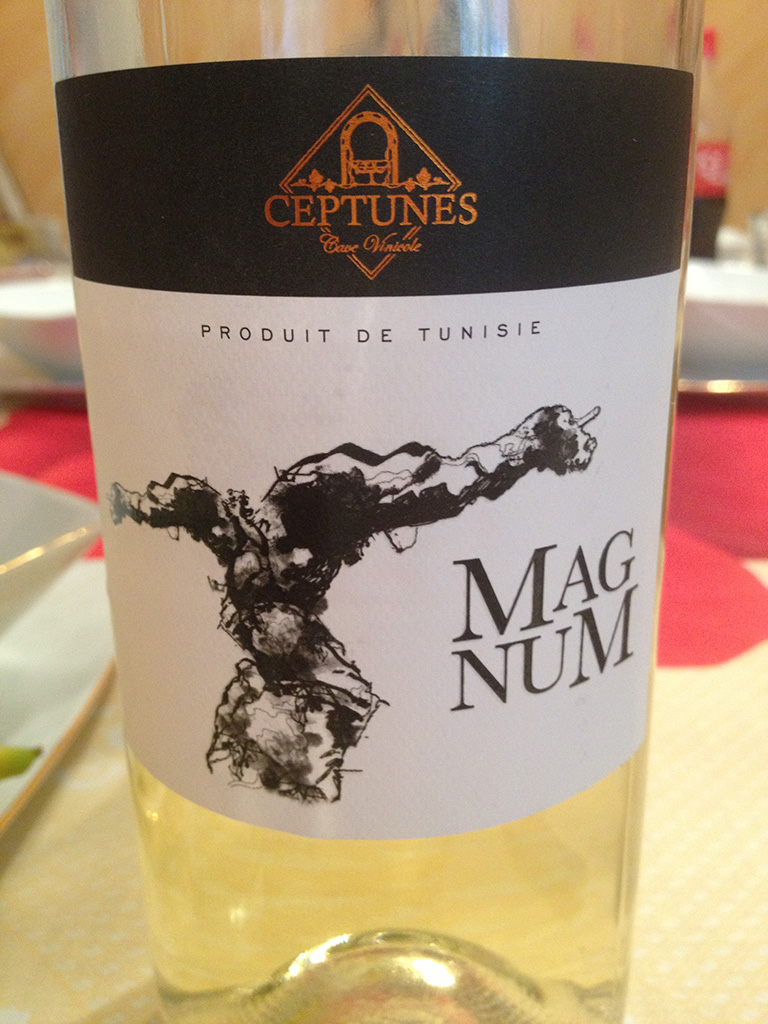 Days two and three
Very next morning we were on the road to Sousse and Hammamet. Both of these places offer some historical leftovers, local mosques and local markets (Medina), but both of them are actually highly touristic places relatively close to the capital. The way to Sousse is about 130 km of highway and on both sides of the road you can see a vast of olive trees. I was surprised, since I've never read anything about Tunisian agriculture, but the area covered with olive trees is enormous. Later (when I prepared this article) I found out that Tunisia is the second largest olive oil exporter after EU, while at the same time it is massively imported in Italy, Spain and France. It does not surprise since it's taste is awesome too.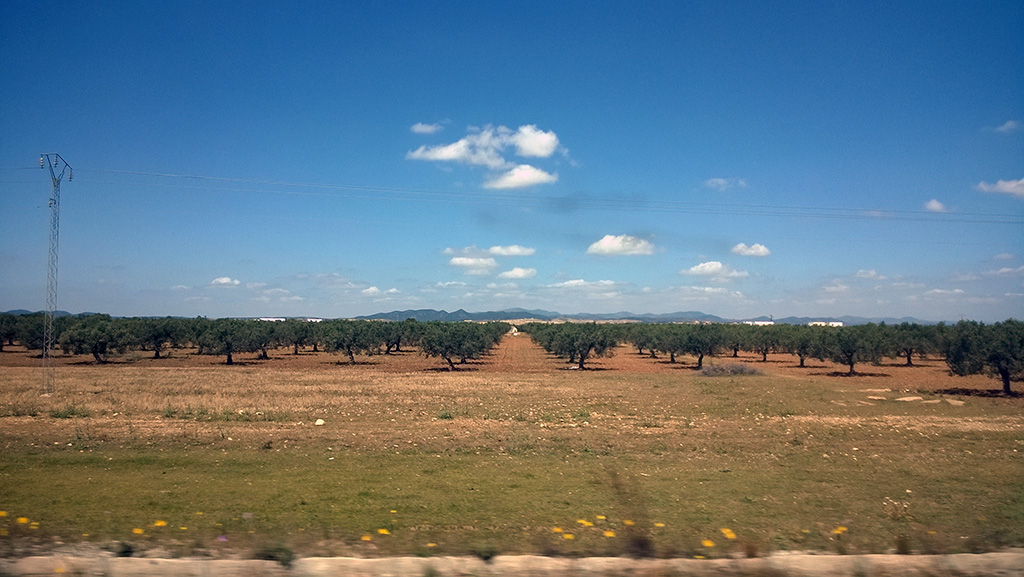 Our second destination in Tunisian expedition was Sousse. We arrived to Sousse Port, modern touristic zone which looked a bit empty.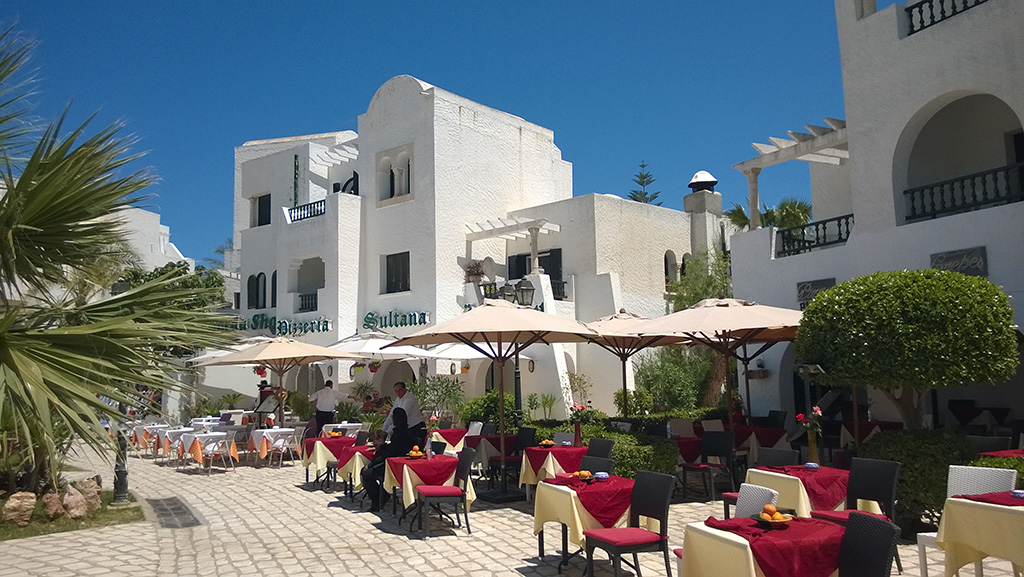 Restaurants were open, and we decided to have lunch here. We were making jokes with Dina's cousin Romy, that we heard that she eats fresh bread with harissa on top of it, like kids would eat Nutella. Well, to our surprise, Romy is not the only one eating harissa with bread. We learned that it is served with fresh olives and olive oil in every restaurant, no matter if you are there just for a drink, or for a full lunch. Time of the day doesn't even matter. Then, after 5-6 days of harissa, I got used to it and had it for breakfast. 🙂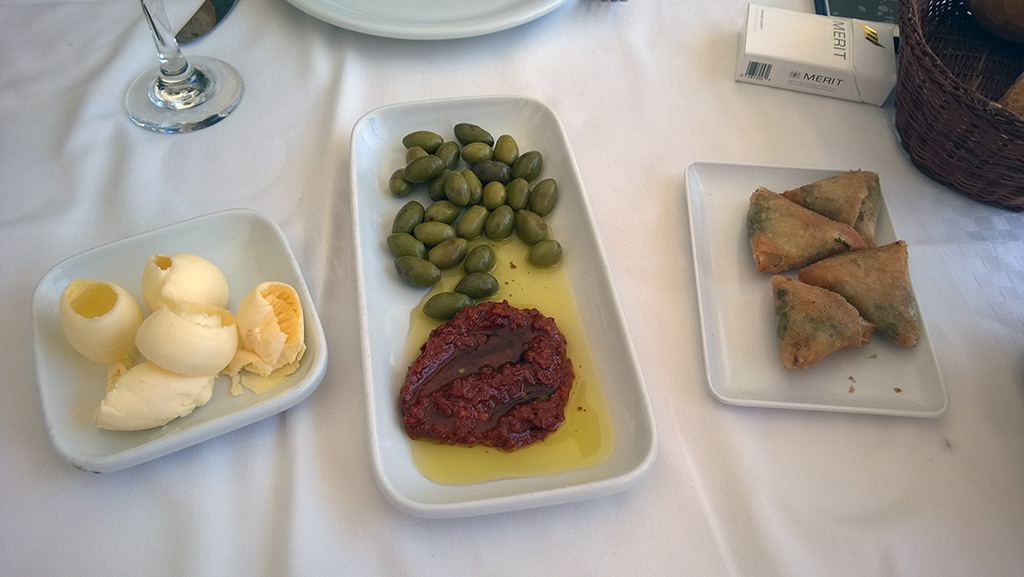 We took a walk around Sousse and then went to Hammamet. Since weather was just right, I decided to take a swim in the Mediterranean sea. To prove that I was in the sea, I did a small underwater "#selfie". 🙂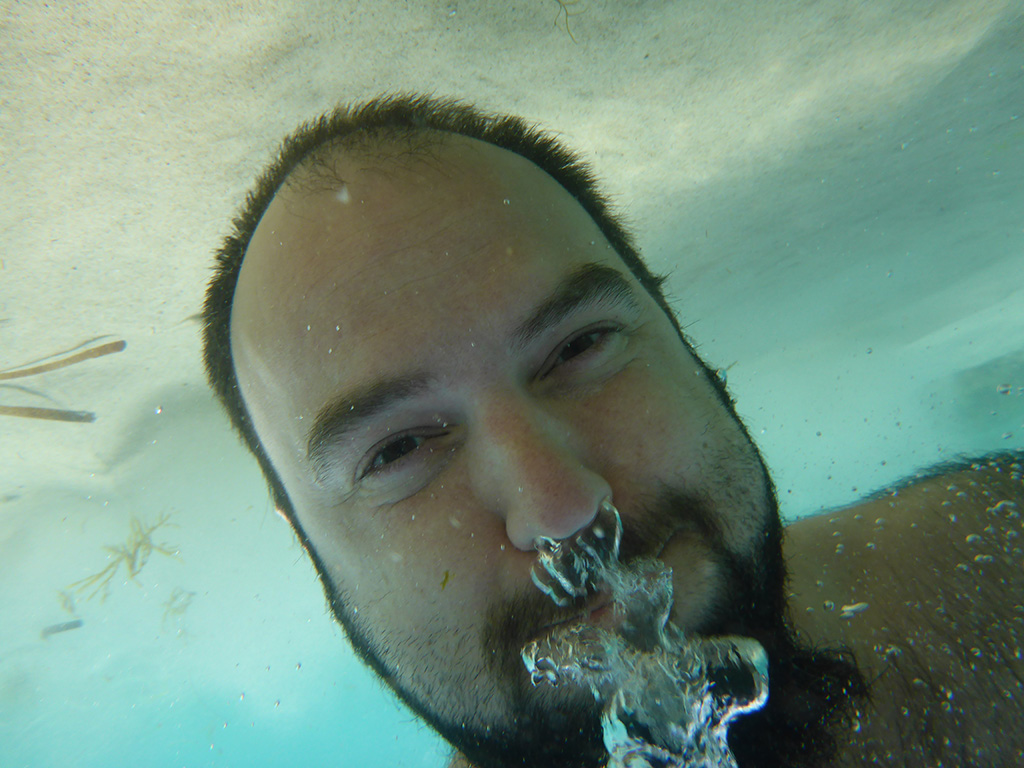 Dina said water is too cold for her, and she waited for my sports hours to finish. 🙂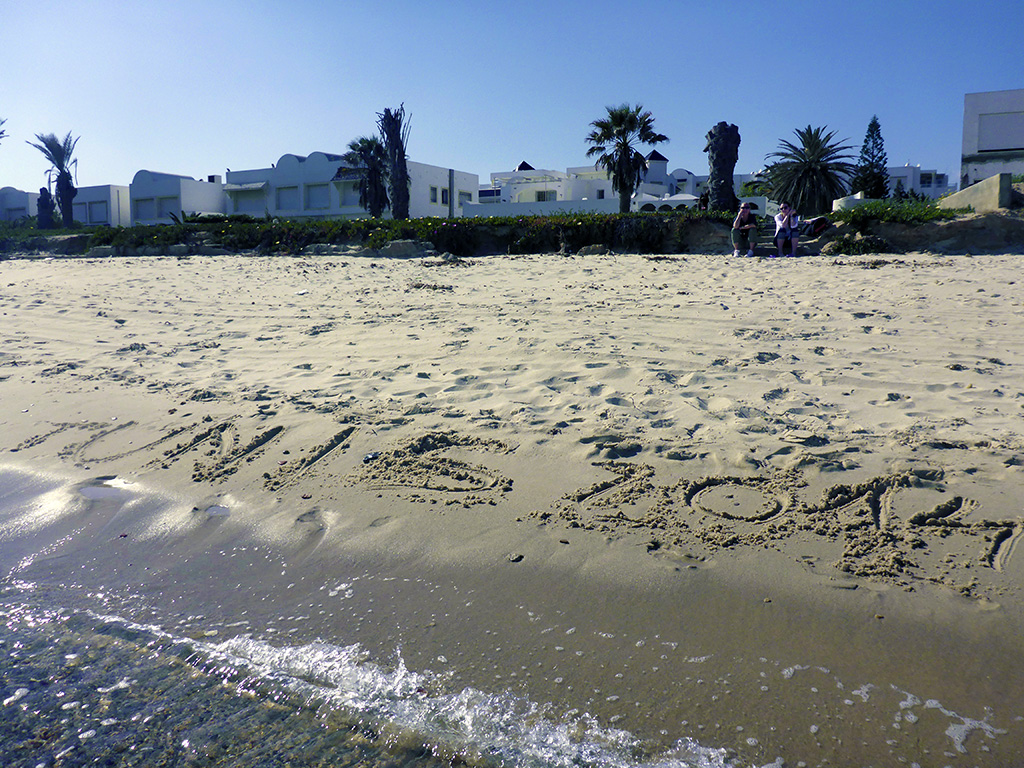 After the refreshing swim in 18.2 degrees C sea, we took a walk through Hammamet city centre, and medina. Hammamet is known for it's mosaics, so we had a walk through a local mosaic manufacture. I guess building mosaics is for people who find jigsaws puzzles too easy. 🙂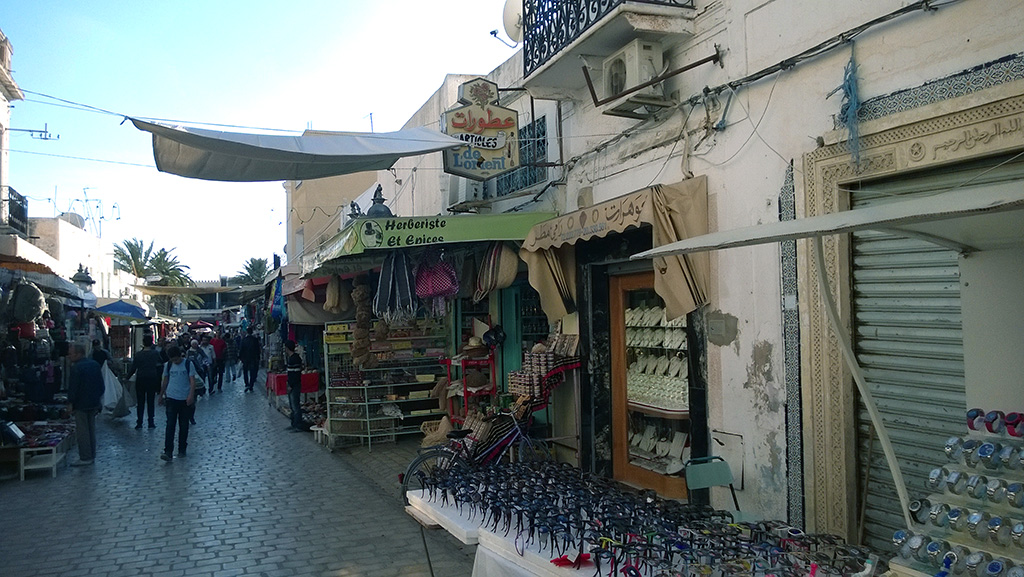 Next day we went to explore the Capital. First destination was the National Bardo Museum. As every national museum it contains the best of the leftovers found in the country but majority are mosaics coming from Carthage, El Jem and other important areas.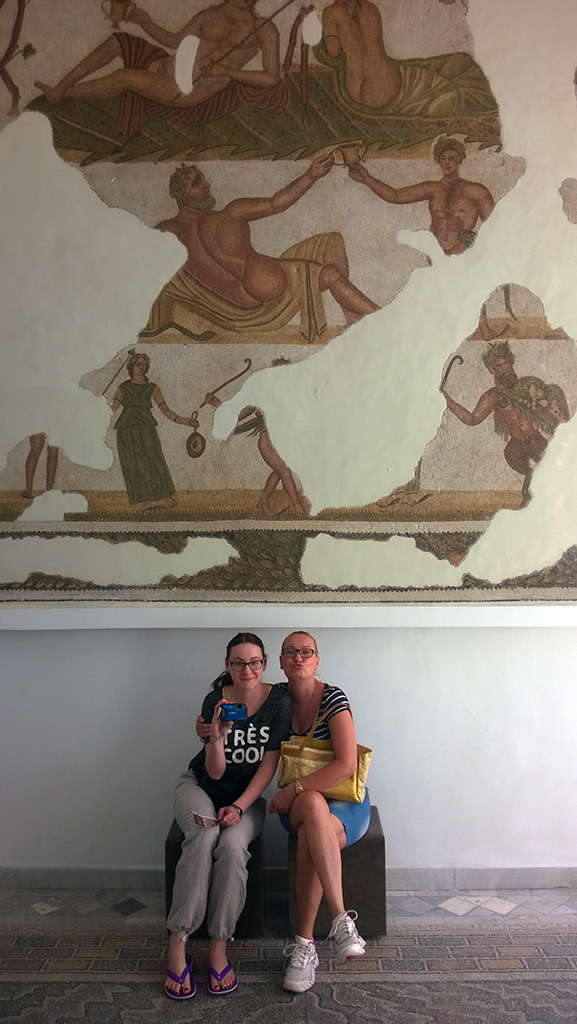 After the museum, we went to the city centre. Unfortunately on the way to the city center and back there were visible traces of recent revolution. Not to get into political discussions, opinions are divided and a lot of people don't feel happy with the situation as it is now. As well it is not very inviting for tourists when you see Cathedral in the city centre behind the wire.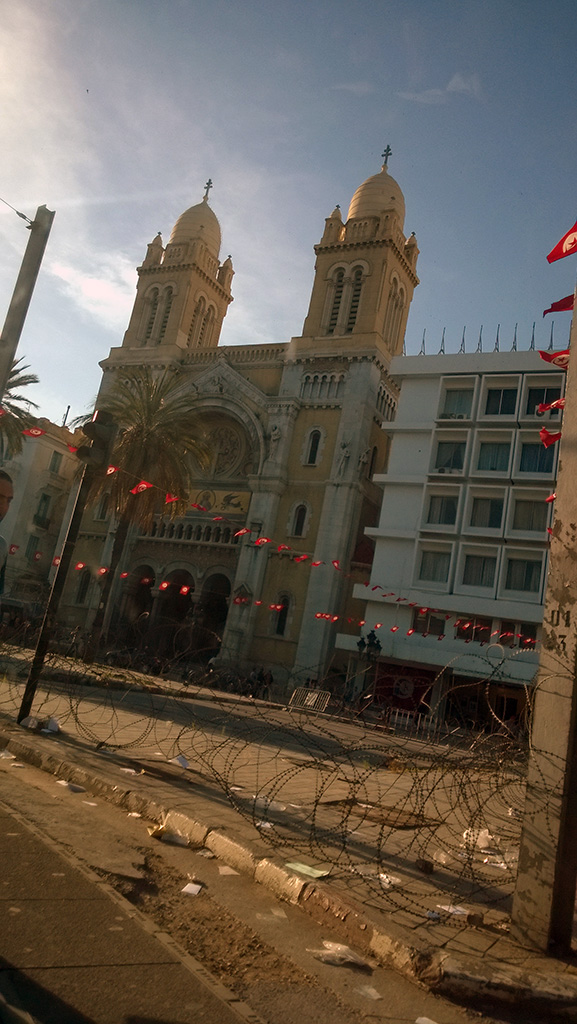 Anyways, we did a walk through Tunis' medina, bought some teas in regular negotiation style, and had some local sweets.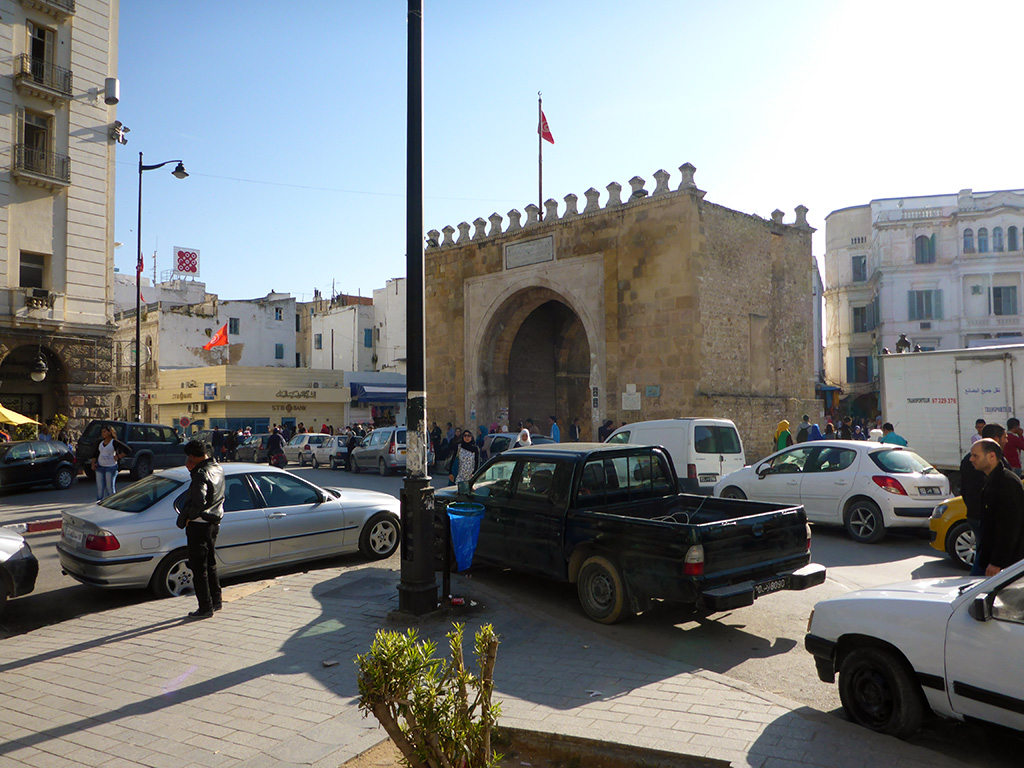 Days four – seven
I had two wishes before we even arrived to Tunisia. Sleep in the desert and ride a camel. We were looking for the options, whether to go with a rented car, or to use the trains, but the ideal combination was hard to find. Since the revolution local tourist agencies don't really have a load of work, and most of hotels in the south of the country are closed. Coincidentally, friends of Romy were local guides, had few days off and were willing to take us with a rented car. In the end this was the best possible option, travel 1122 km around the country with locals who seem to know all the hidden gems.
We started our trip with a lunch in Grombalia. To be honest, this was maybe an hour after we started the trip and at a time we were with two local guys speaking Italian, and were not so relaxed so this place looked like the worse place ever. Frightened with local food and water that might cause digestion issues in 20% of tourists, this place did not really give peace to our minds.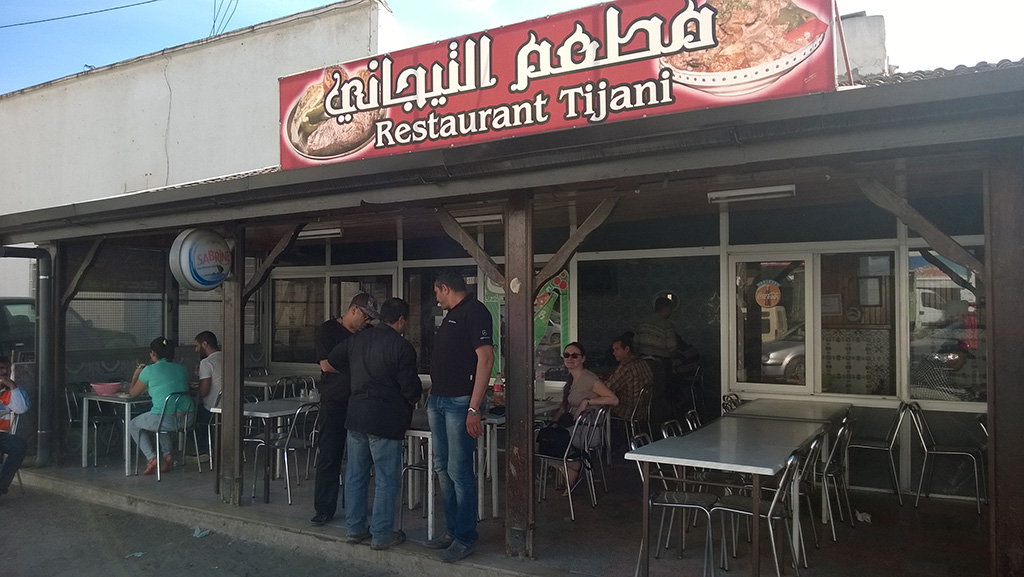 Still, we had a great Lubia and Mermez (beans and chickpeas in red sauce), and lamb "koucha" with freshly squeezed orange juice. We were nicely fed, and then continued our 600 km long ride. First we needed to exit Grombalia which was loaded with trucks.
On our long way we've seen loads of olive, orange and cactus plants. Cactus (Ficho d'India) is actually used as a fence to protect olives and other cultures from people and animals, so it is not unusual to see them in the same way as you can see stone walls in Istra.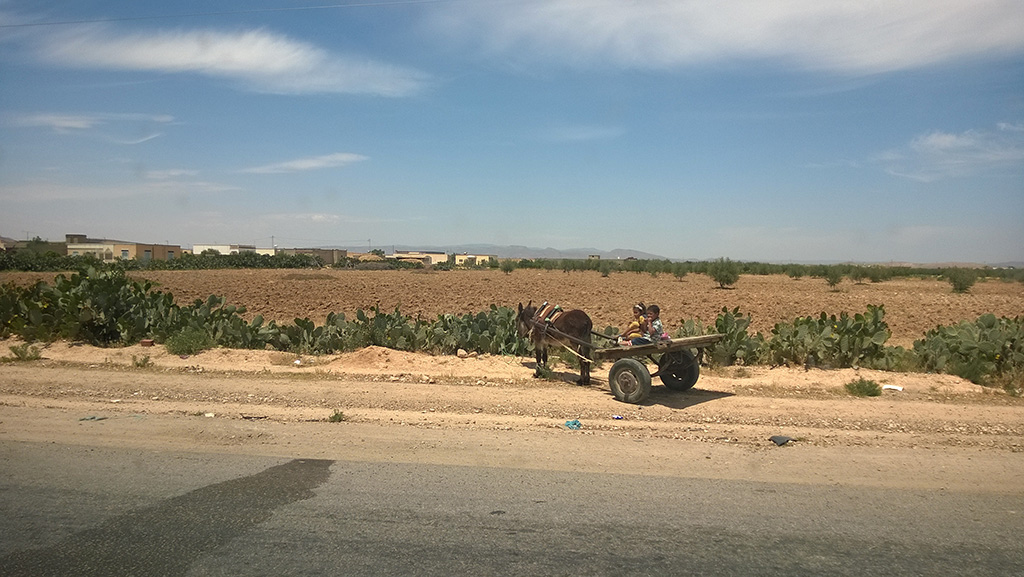 We had several cigar and WC stops, where we got local red tea with fresh almonds. It is actually a black tea with rosemarie and fresh almonds. I was still restrained, but in the I ate them all. 🙂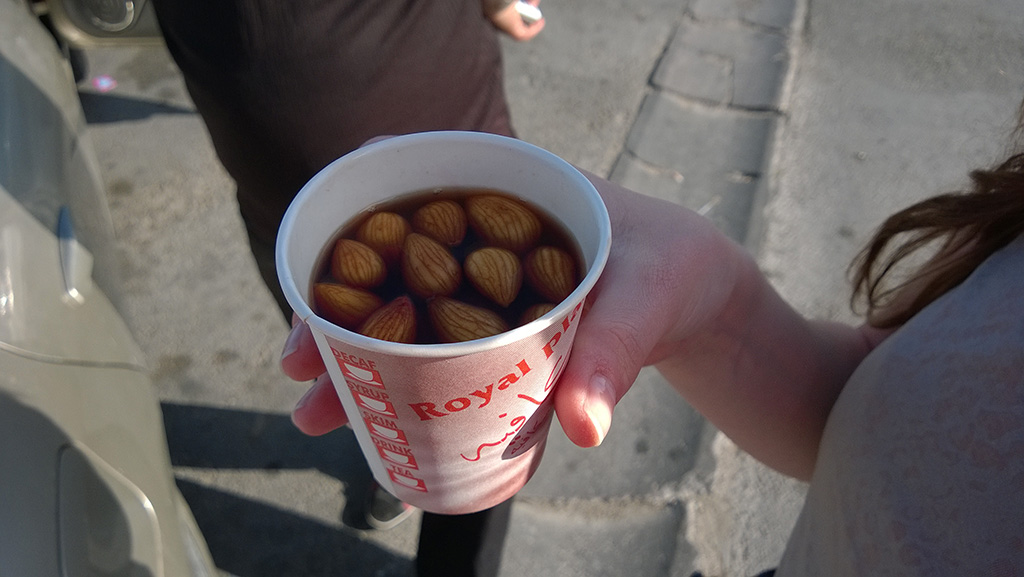 On the way we passed by famous Al-Qayrawan (Kairouan) mosque. Al-Qayrawan is considered as fourth saint islamic city, and Great Mosque of Kairouan is Islamic and Qur'anic learning center in North Africa. Since we lost some time in trafic we decided to see the Great Mosque on the way back.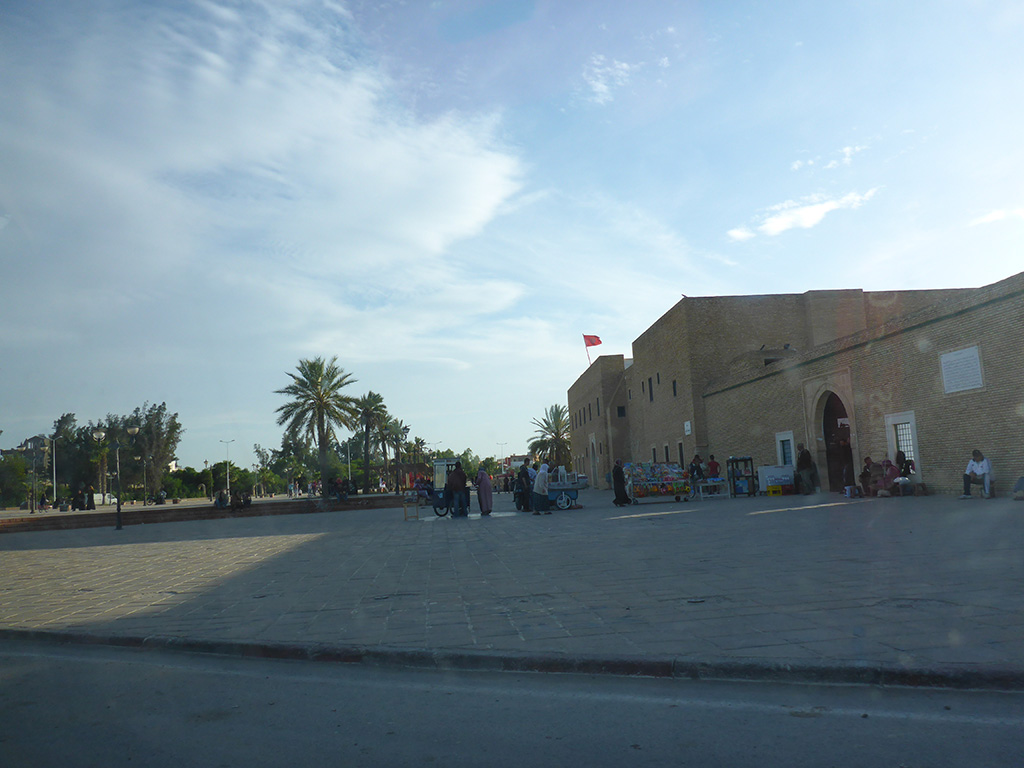 We headed to Douz through Gabes and Matmata. Matmata is well known for it's troglodyte houses, which are actually holes in the rock, and people live in them. Since we arrived quite late, we saw few houses near the main road but none of the photos are good enough. Will have to came back and explore Matmata by day. 🙂
Just to spice things up, on the way to Douz our guides heard a news on the radio that there were big riots in Douz. Some political actions that tried to put the country back on the track caused huge riots where more then 70 people were arrested. What we didn't know that curfew was in order since that moment and for next 7 days.
Still we got a green light towards our next destination. It was "Ojos del Sahara", restaurant in the oasis in the middle of the desert. Since we arrived around 23h, it was romantic and chilly, but awesome. Some mosquitoes tried to bug us, but we successfully ignored them.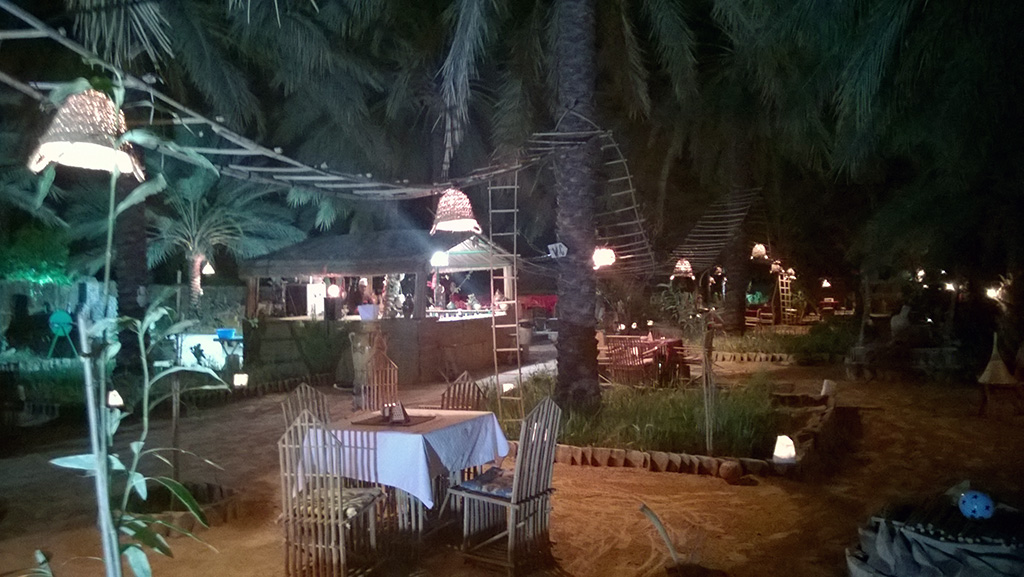 We had another local specialty, quite similar to our "peka" was "Koucha in Jarra". One jar, sealed with dough, and filled with goat meat, other filled with vegetables and chili peppers. Result was awesome.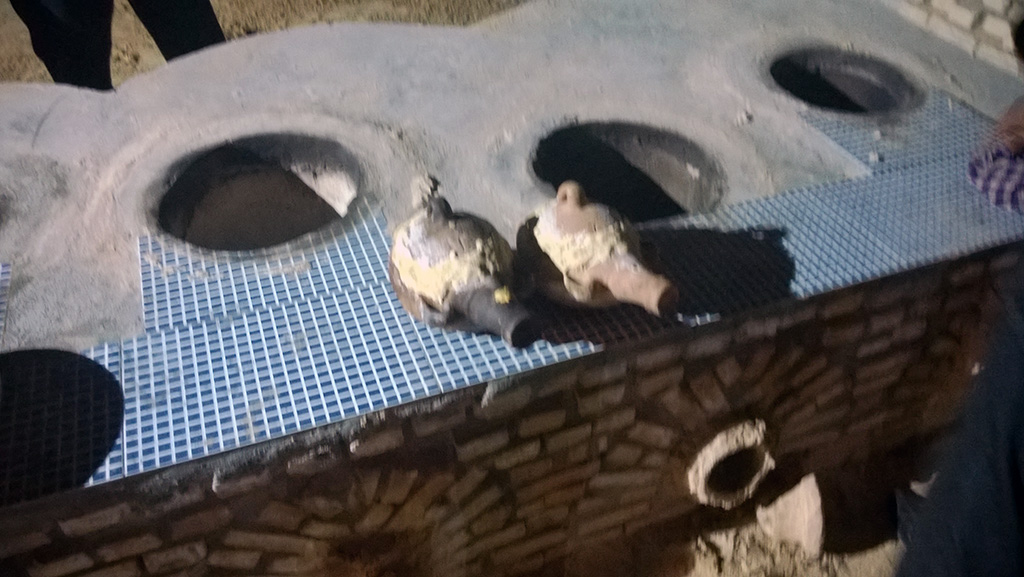 Tired and exhausted we were taken to the desert camp where we slept in tents. On the way we needed to take a de-tour since we run into the battlefield where loads of broken glass, rocks and palm trees were on the road.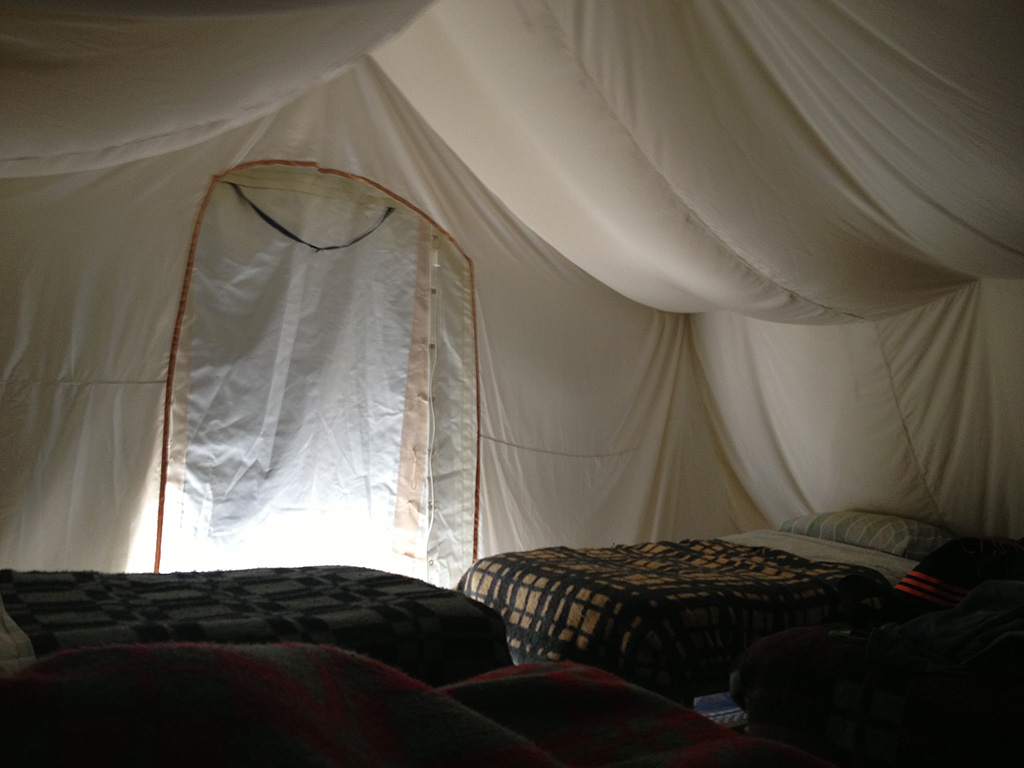 We were "delivered" to the camp, where a guy took us with a lamp and let us get in the tent, and then he went away. Yes, he took a lamp with him so we were in the middle of the tent in complete dark and in absolute silence. Stories about deadly scorpions did not help to relax, so we used our mobile phones to light a little bit and check the beds. Tired as we were we first decided to try a suicidal attempt to share a bed. Two hours later, both numb and unable to move we decided to separate. 🙂
Still, morning in the desert is a special feeling, when you open your eyes in the shade, and then get out to the absolute light and warmth.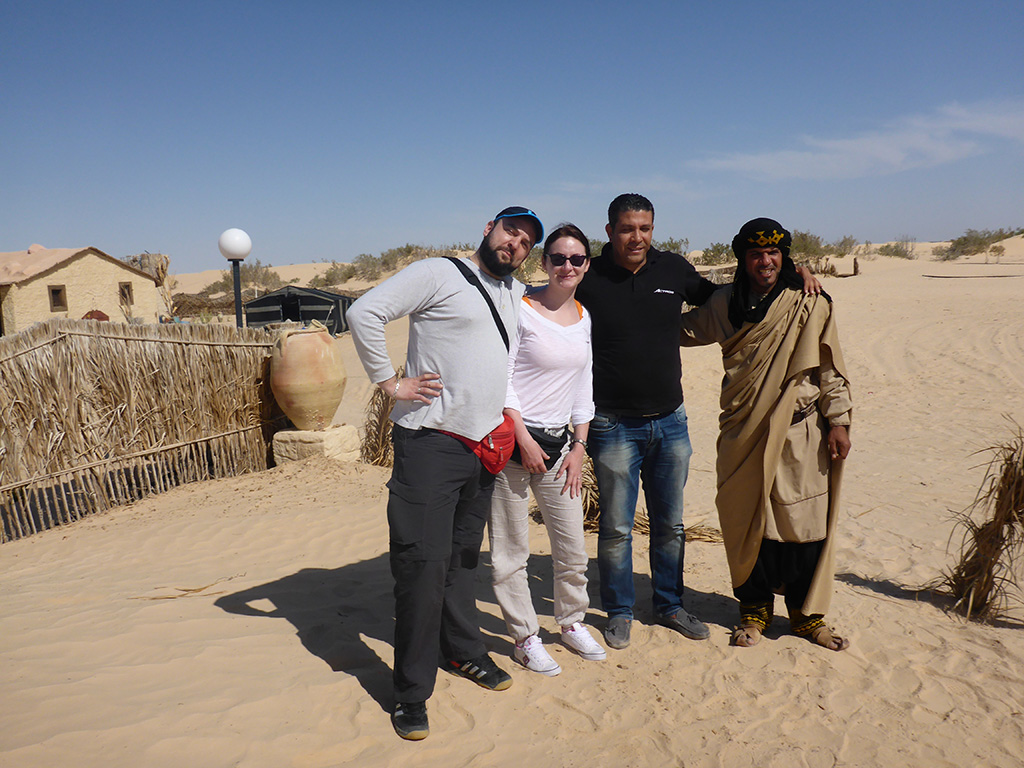 After breakfast and bad coffee in the desert we moved further through Douz, and got an hour of camel ride. We learned that only male camels, or more precise dromedaries since they have only one hump, are used for ride and transport. Females are in the desert taking care about young camels.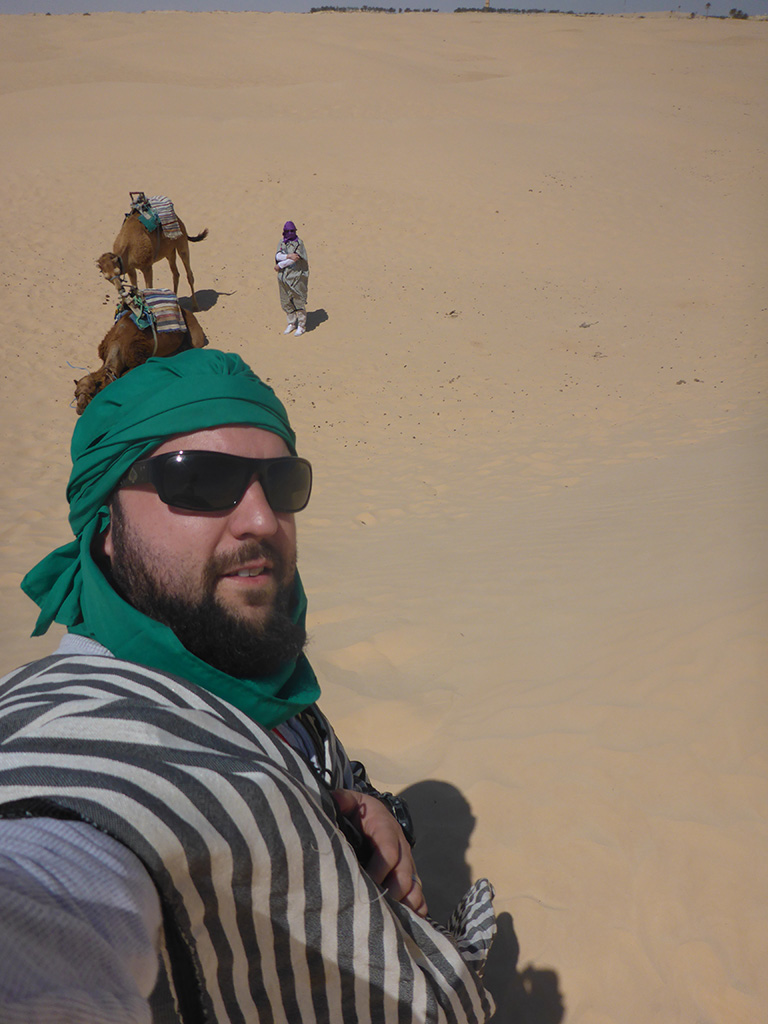 After the fun in the desert, we went to the center of Douz into the medina. As in every medina, you can find all sort of things, spices, herbs, camel shoes, souvenirs and dried fish.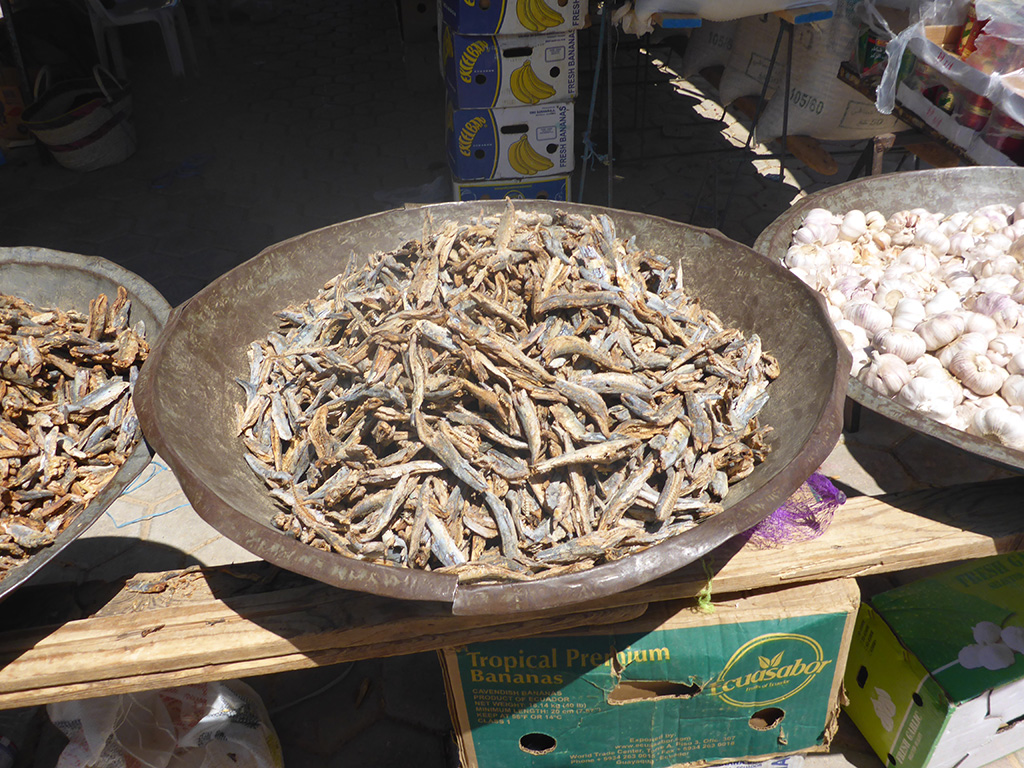 Well, since the owner of the "Ojos del Sahara" was taking us around Douz, and he is a well known Tuareg living in there, we did some shopping in his shop.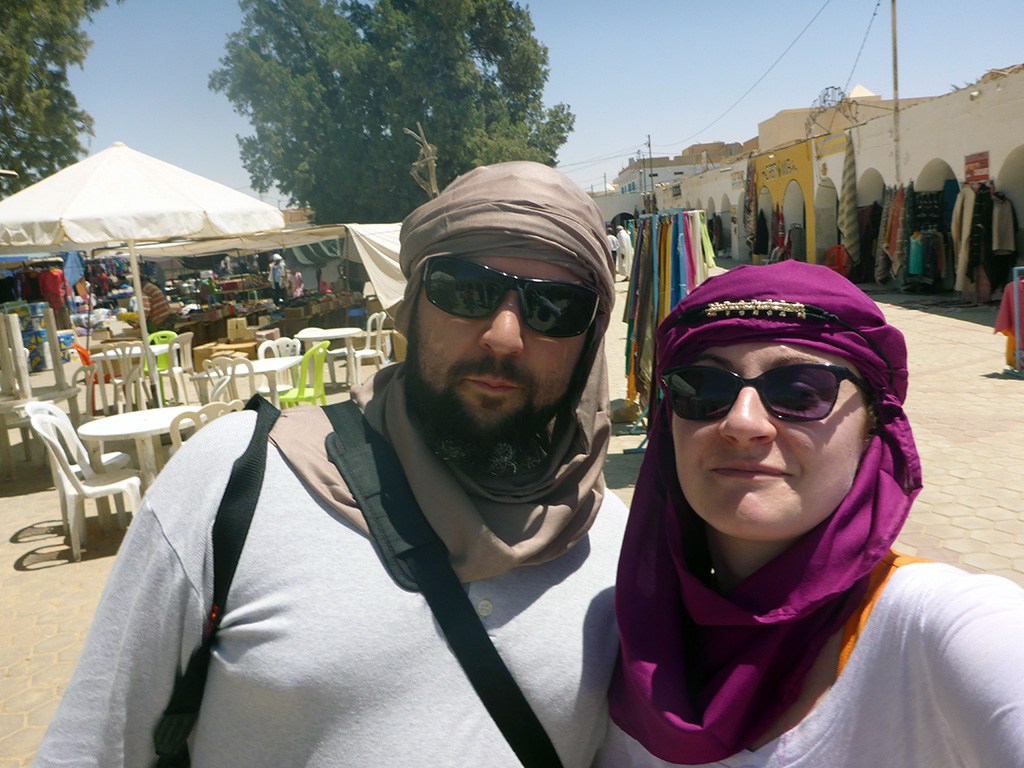 After a couple of red teas and lunch we continued our tour through the desert, salt lakes and oases. On the way to Touzer we passed through the salt lake of Jerid or "Chott el Jerid". Apparently, Chott el Jerid is the largest natural salt source and tons of world salt are produced here. It is really impressive.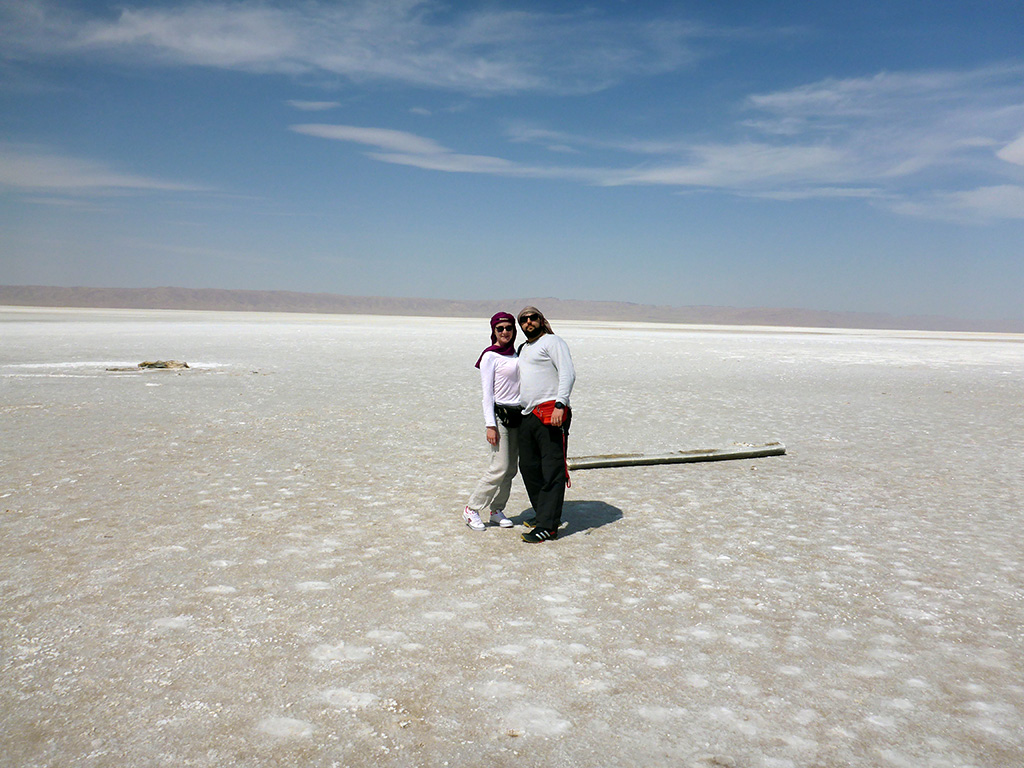 On the way to Touzer guys took us through some local oasis that are not setup for tourists. You can notice that roads are a little bit different here.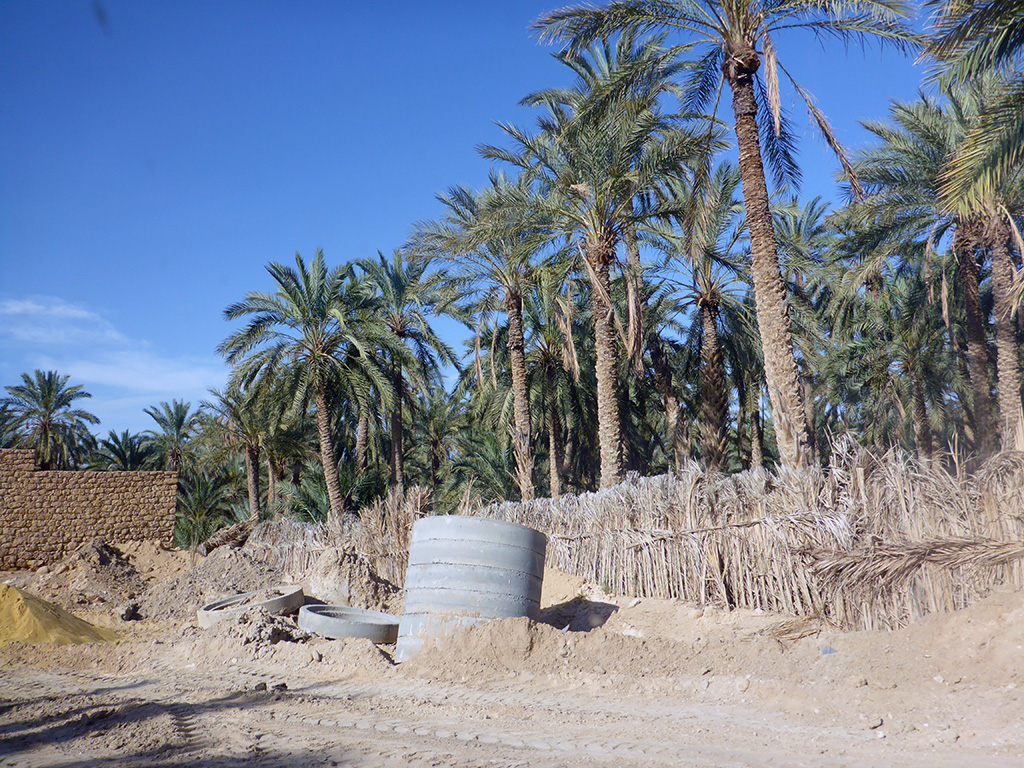 In Touzer we tried to see the palm oasis, palm museum but since only 2 hotels work in Touzer (out of 24), palm oasis changed their working hours and we just saw it from outside. Still, we had a tea in Touzer in another locale jungle, and then we drove to Tunisian hidden gem, Chebika. It is a small oasis in the notch with a lovely waterfall and a small river. Even though I saw it on the internet it is incredibly pretty when you are there live.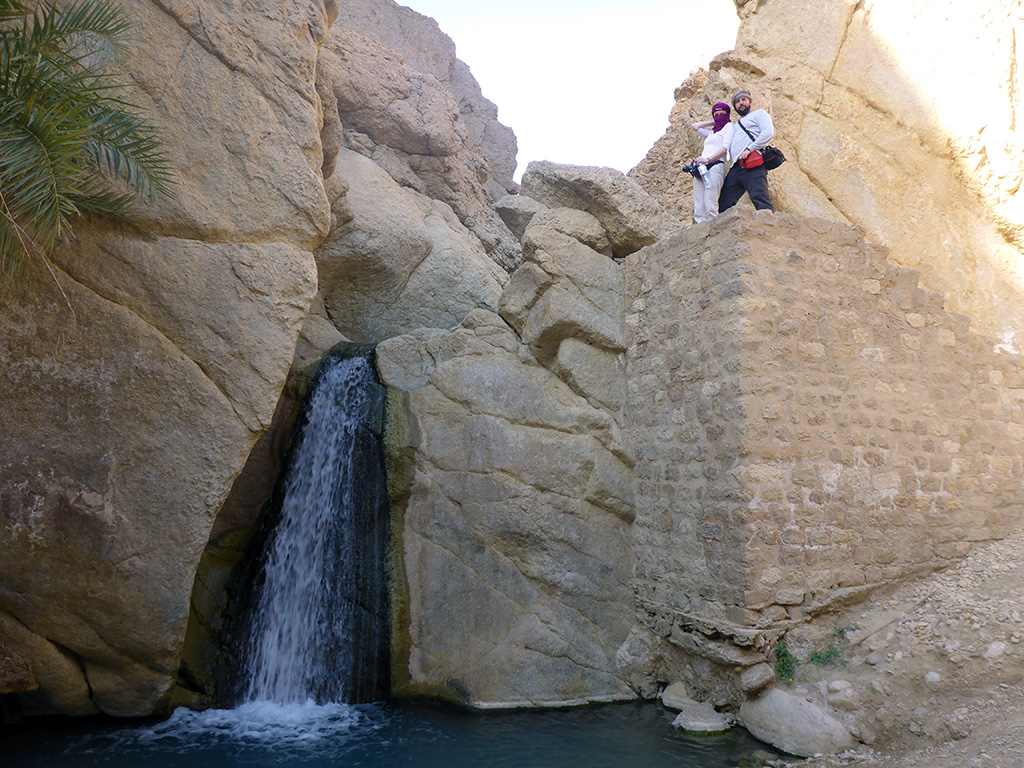 From Chebika we moved to Tamarza great waterfalls. Since we were lucky again, and this place was in summer work mode, we could approach the waterfalls completely. As Rafik told me "Igor, this is a place where you are once in a lifetime… take a shower." Well, I would like to prove that he was wrong, and that I'll come back to Tamaraza once more, but I still used my opportunity for a shower in the desert.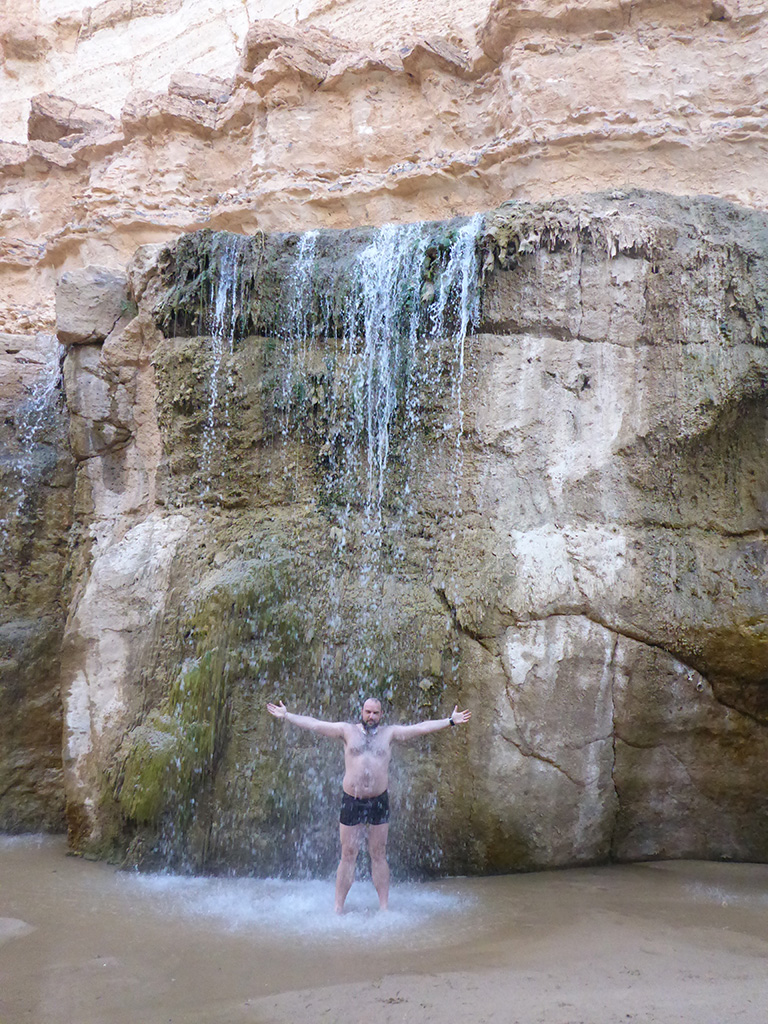 Since night was approaching with steady pace, we stopped once more above the old Tamarza village. This village was abandoned in 1969 after the great flood that ruined the place. (According to Wikipedia).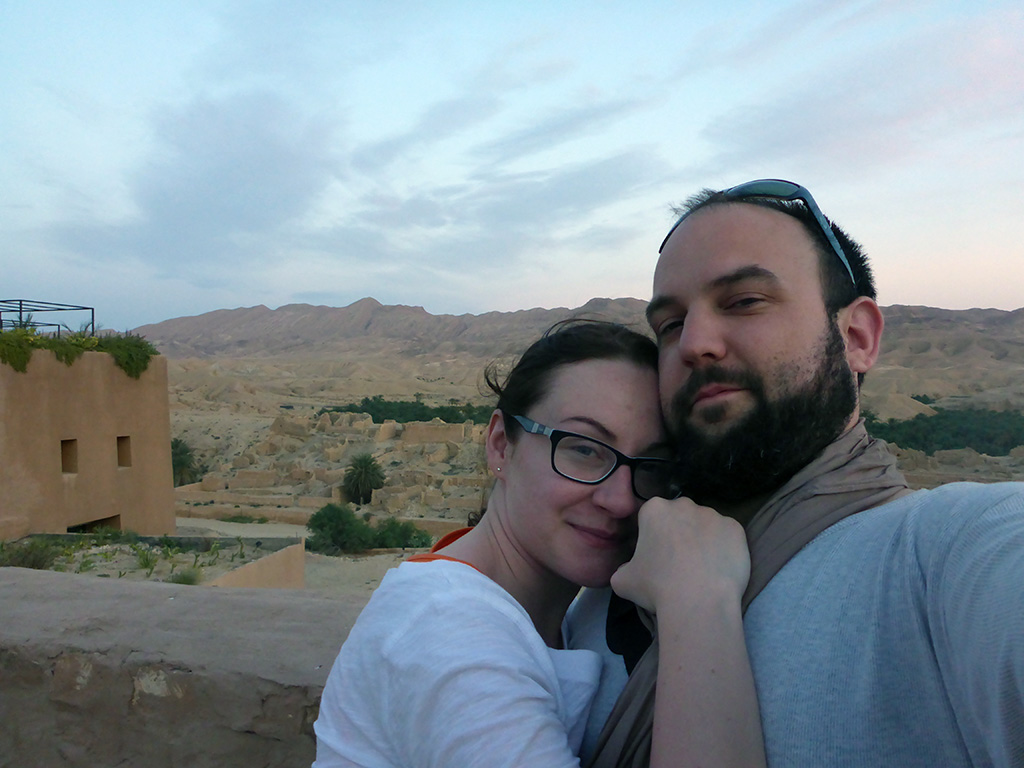 On the way I caught this picture since football fashion is apparently the hit in Tunisia. Lot of young boys wear football jerseys, mostly Barcelona, Bayern and Real Madrid. 🙂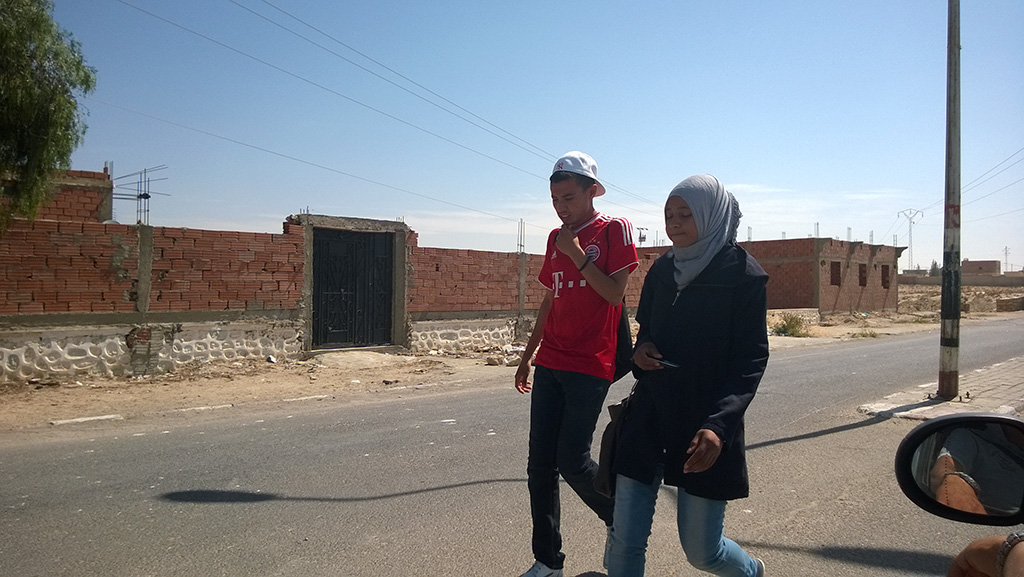 Since the plan was to sleep one night in the tent, and other in the hotel, I asked the guys which hotel are we heading to. The answer was again not as expected. 🙂 Mohammed said – "To Al Radayef, my friends house". Since I expected a hotel, internet, electricity and shower I was not delighted with the answer, but we needed a place to sleep. In the end it was not his friends house but his wife's relatives'. Locals from Al Radayef, speaking only Arabic, but nicest and warmest people ever. They gave us one room, and served us with Brick and great dinner, with loads of fruits. We got the opportunity to take a shower, and use some internet and let our families know that we are OK.
After the breakfast at their home, we left for Al Qayrawan. Since we arrived to Al Radayef in the evening, we were not aware that streets of Al Radayef are sandy like everything else around. 🙂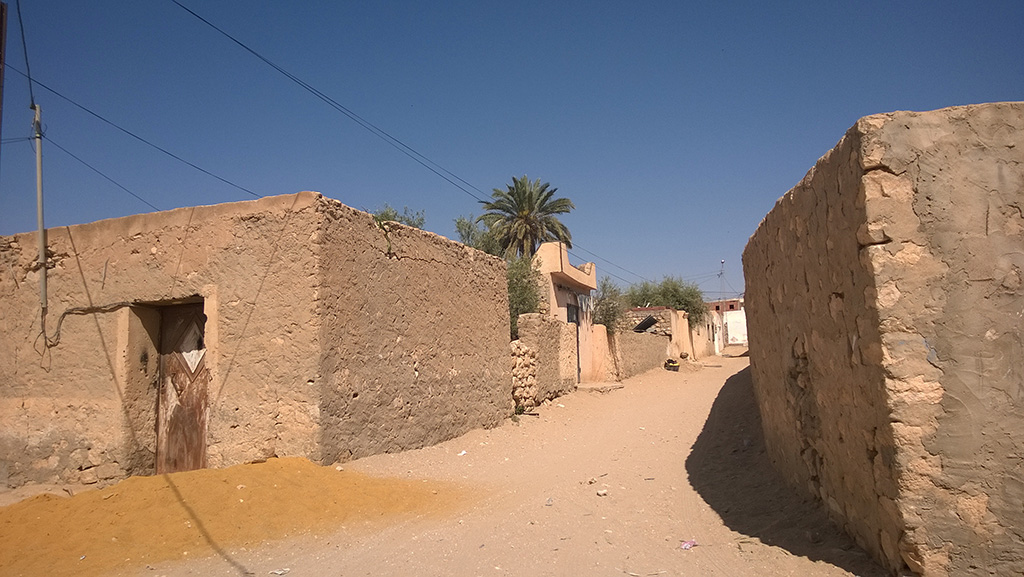 On the way to Al Qayrawan we got the information that in military action 11 suspicious members of potential terrorist organization were arrested 4 km from Al Radayef on the border with Algeria. With heavy thoughts in mind we were driving for a while, then needed some gas.
On the way to Al Qayrawan we got an urgent call. Since it was Friday, the holiest day in Muslim religion, Mosque was in use. But the problem was not that people were in the Mosque. Since the revolution extreme muslim parties got some power in Tunisia and they got in a fight
around the great mosque. Whole city of Al Qayrawan got blocked by police and army, and we had to avoid it and do a de-tour. Besides being a holly city for Muslims, Al Qayrawan is well known for it's carpets. On the city entrance there is a huge monument celebrating that fact.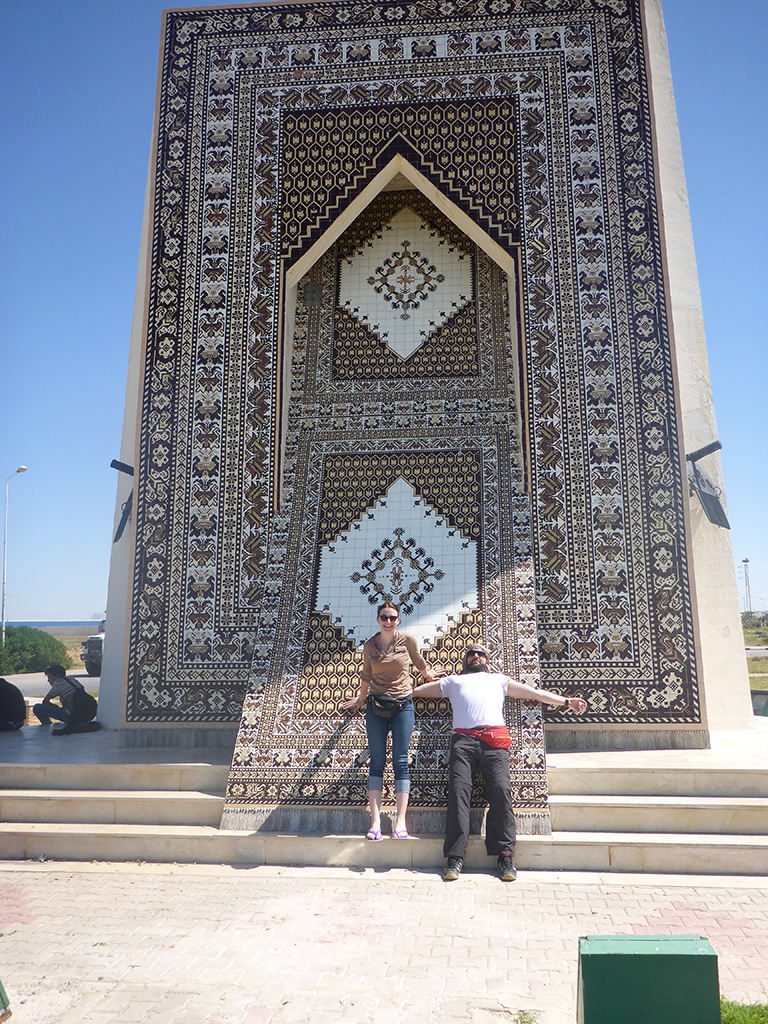 After a short break here we returned to Grombalia. We stopped in one of the typical places in Tunisia. Fresh goats and sheep are slaughtered in the morning, and hung in the shadow, covered with original skin and wool or in plastic like in this case. Then you order your lunch in kilograms, and within 20 minutes, you get fresh grilled lamb.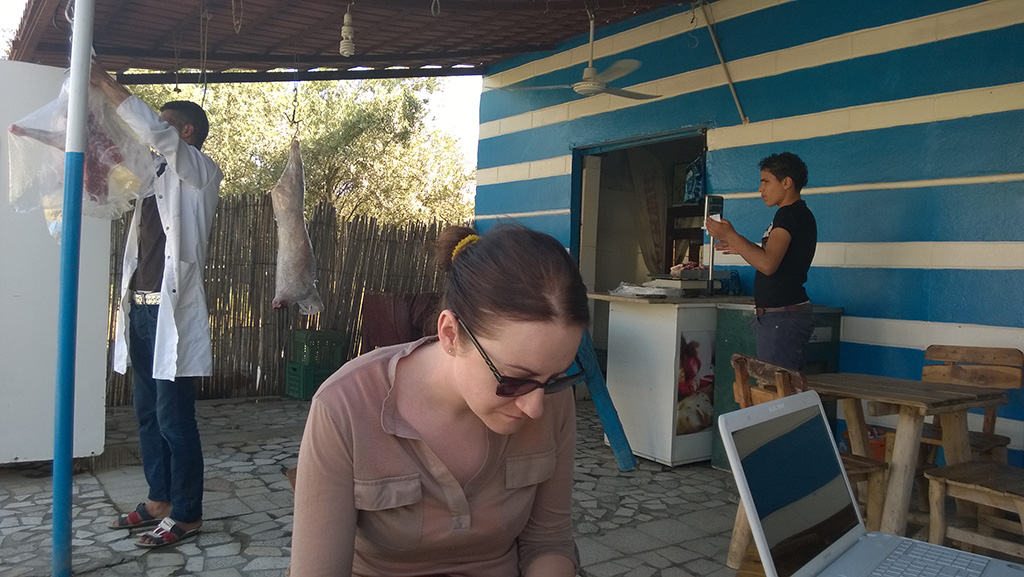 Day eight and nine
After that we returned to the Capital, were we had another relaxing day, did some shopping and packed our luggage. It was time to say goodbye.
Before I conclude this travel story. Every roundabout in Tunisia is decorated with some more or less magnificent sculpture like these hands holding something that looks like a palm that end's up as an olive branch. Since olive branch is a symbol of peace, I deeply wish Tunisia peace and prosper, since it is a gorgeous country with loads of historical and cultural remains.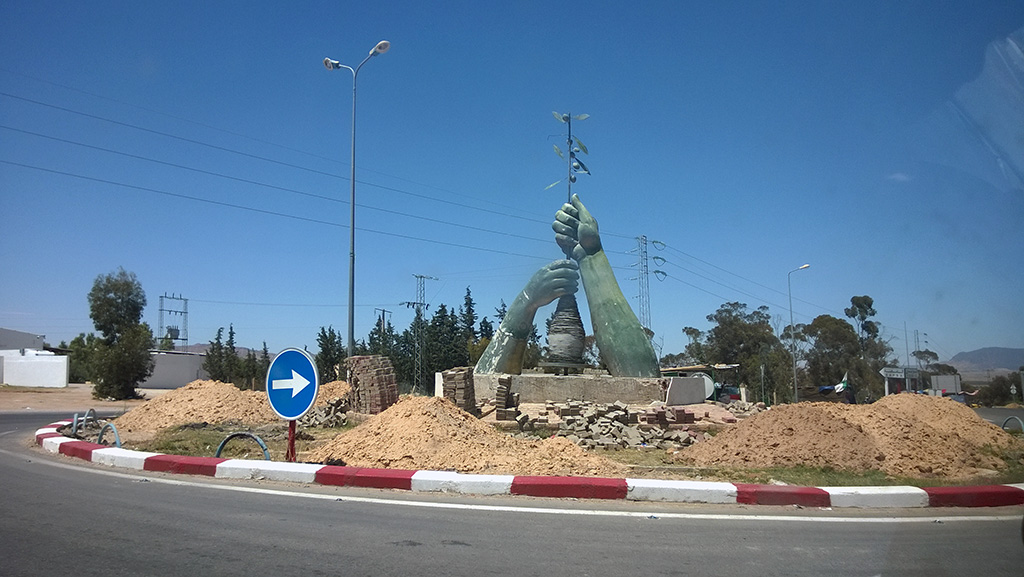 For those who came all the way to the end of this story, I'm waiting your likes and comments on the Facebook or G+ (or both). I was in the desert camp, well trained now, I'm watching you! 🙂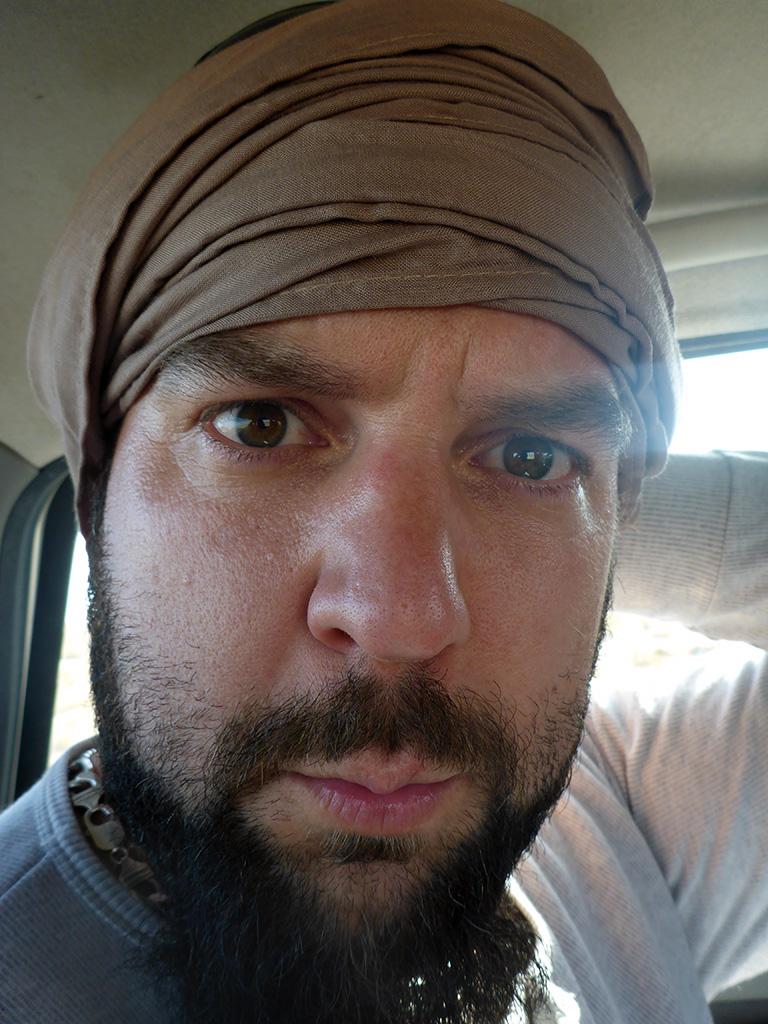 In the end, I'd like to thank Romy and Ridha once more for their hospitality and organizing Rafik and Mohammed for us, Sindy and Ana for guidance through Sidi Bou Said and a great company, Rafik and Mohammed for best and unforgettable tour guidance ever and great fun, Mohammed's family for hospitality and great food and red mustaches Morgan for unlimited cuddles.
Shokram wa ayshek!
Since there are way too many images, and post and story is too long already, for sadist and travel junkies, please check some additional photos in the gallery that follows.
Till some future, shorter story…
Love…
Balky