I worked for a tour operator that had a general rule that the best trips are those that involve multiple countries. I tend to agree with it, as if you visit at least two countries in a short period of time you can easily compare differences between the two.
Since Copenhagen and Malmo are nicely connected since year 2000 it made perfect sense to visit Sweden too.
Shops are closed till midday on Sundays and we decided to grab coffee "to go" with some Danish pastry, and eat it on the main square in Copenhagen. There was only one bench out of 6 free to sit, and soon we figured out why. A group of local gypsies, warming up on the sunny day, sat there and had a loud argument in Roman language. I just wish that I could understand a bit, as it looked like the mother of the family is giving instructions to all of them, as she was the only one speaking, the others just tried to reply back, but it was futile.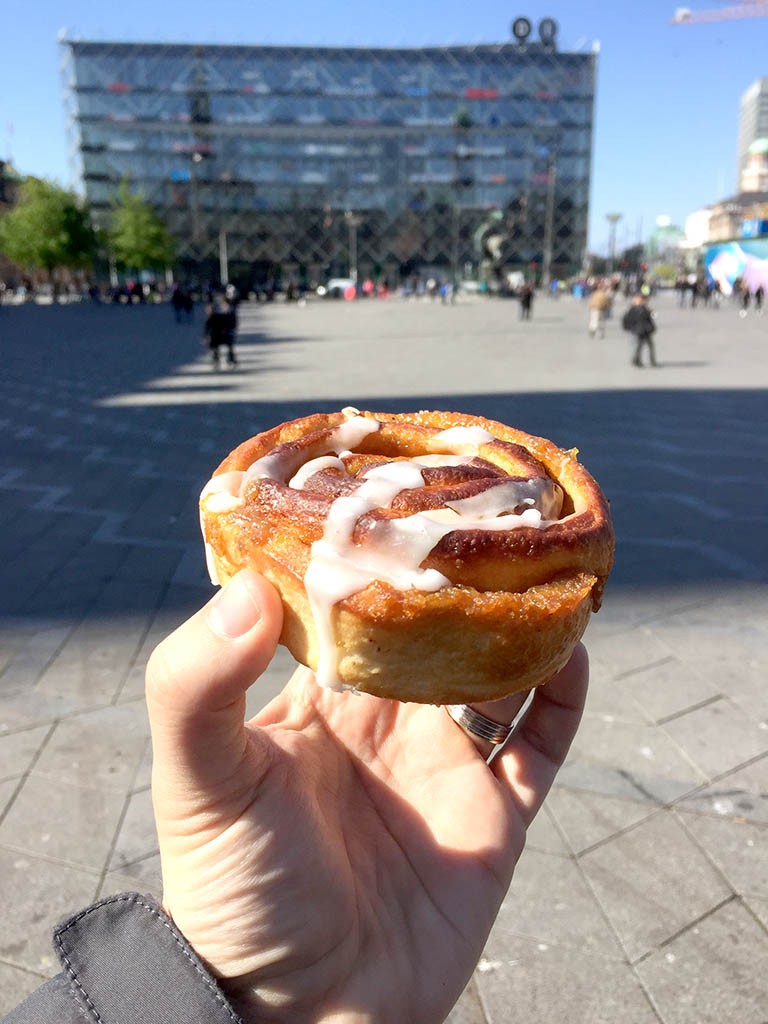 After the quick breakfast we took the train to Sweden, and after less than 15 minutes we passed the first part of Oresund Link (tunnel part) and we were on the well known Oresund bridge. As unexpectedly train was fully packed we had to stand on the doors from where we had a great view towards Malmo and it's "Turning Torso".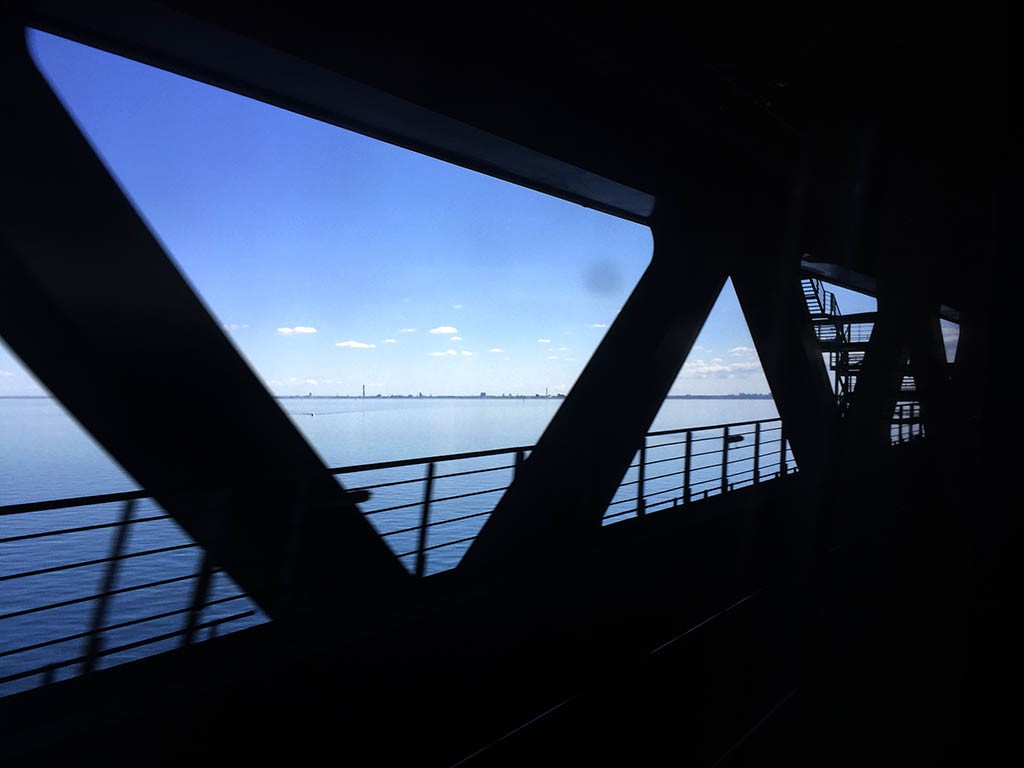 After another fifteen minutes we were in Malmo, and as you can see the weather forecast was absolutely wrong. It was supposed to be extremely windy and with heavy rains that day, but I don't like when readers of my blog get to see bad photos, so I used my connections and changed the weather. 🙂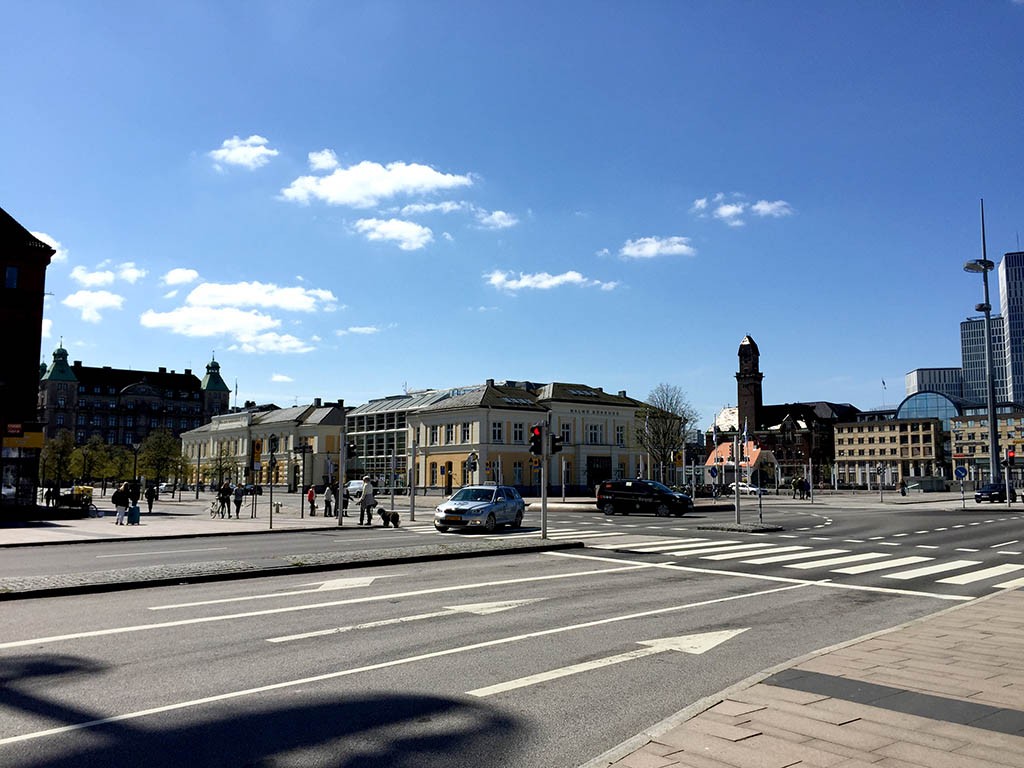 Malmo is a relatively small city, with population around 300 000 and majority of landmarks are situated in the centre and relatively close. It takes about 5-6 hours wondering around the place to see them all.
We crossed the main square Stortorget (Swedish for Big Square), walked the pedestrian area in city centre then turned right through old cemetery and into Kungsparken.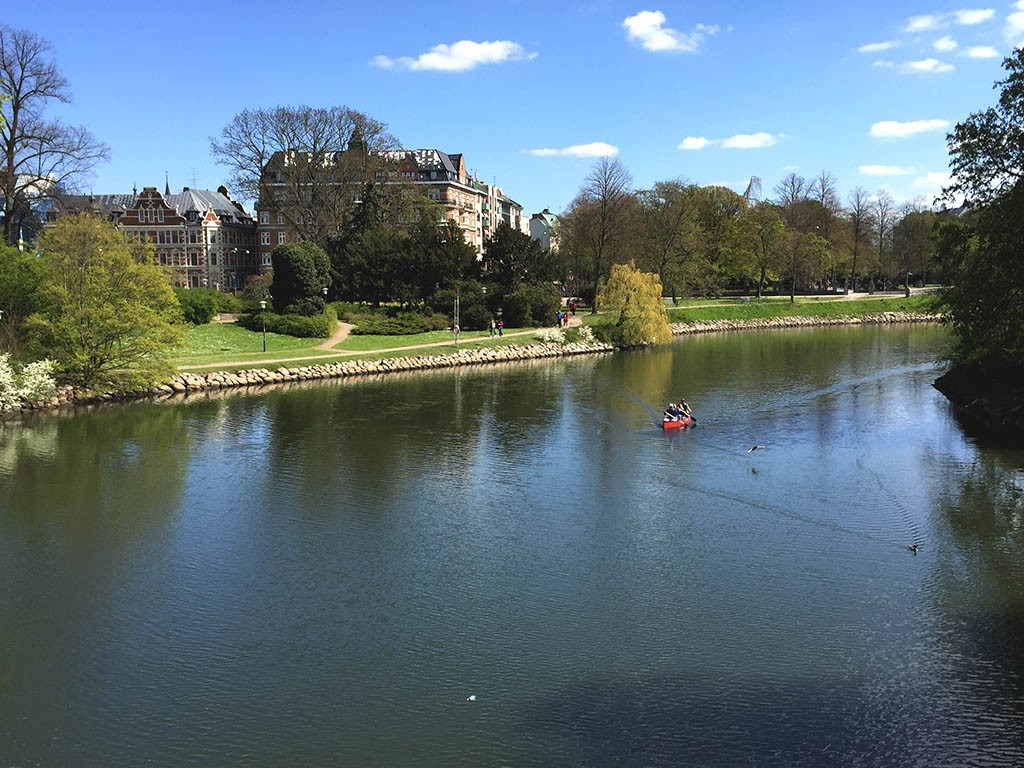 The gorgeous, almost summer day, attracted people into a park, and even though all shops were still closed people were already running around the park, kayaking, or just laying on the grass.
In the centre of the park there was a tree in bloom which was the biggest attraction and a bunch of Chinese and Japanese tourists were taking pictures and selfies around this tree. Almost summer day filled in with nice flower fragrance looked like we were somewhere closer to Istra. However, I've noticed a weird silence. Not a single bee around the trees. I guess it was still too cold for the bees.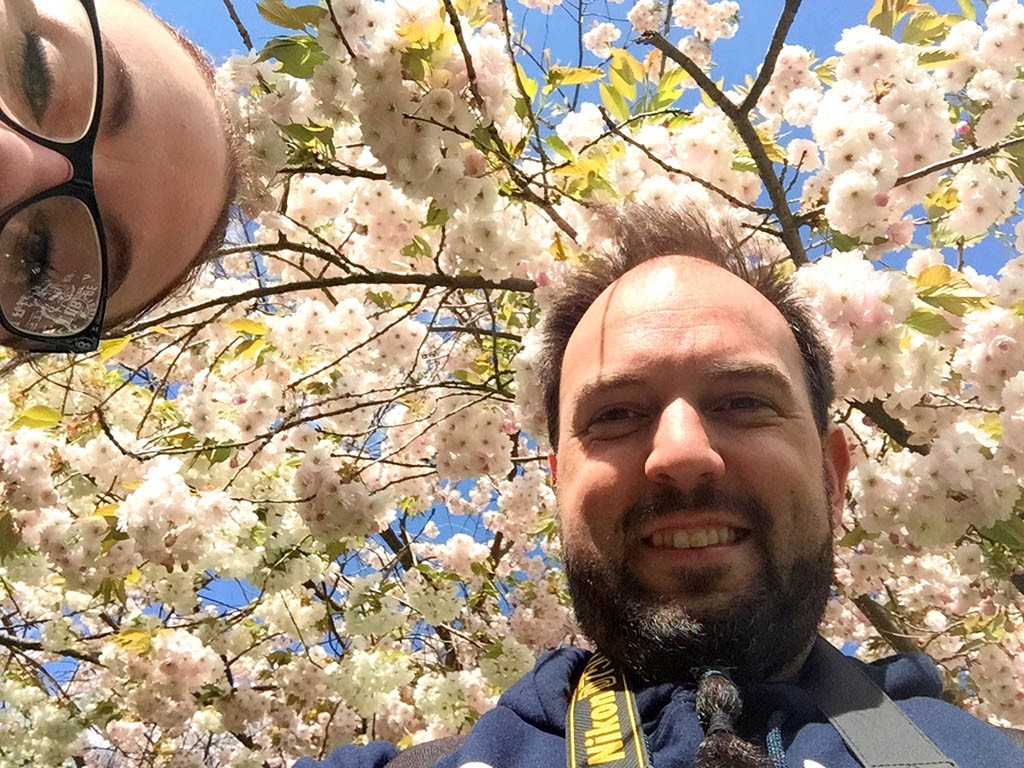 We passed Malmo castle, or in Swedish Malmohus Slott, and decided to take a walk towards Turning Torso since it was too early for lunch. When we passed by technology museum we could finally see it almost in full size.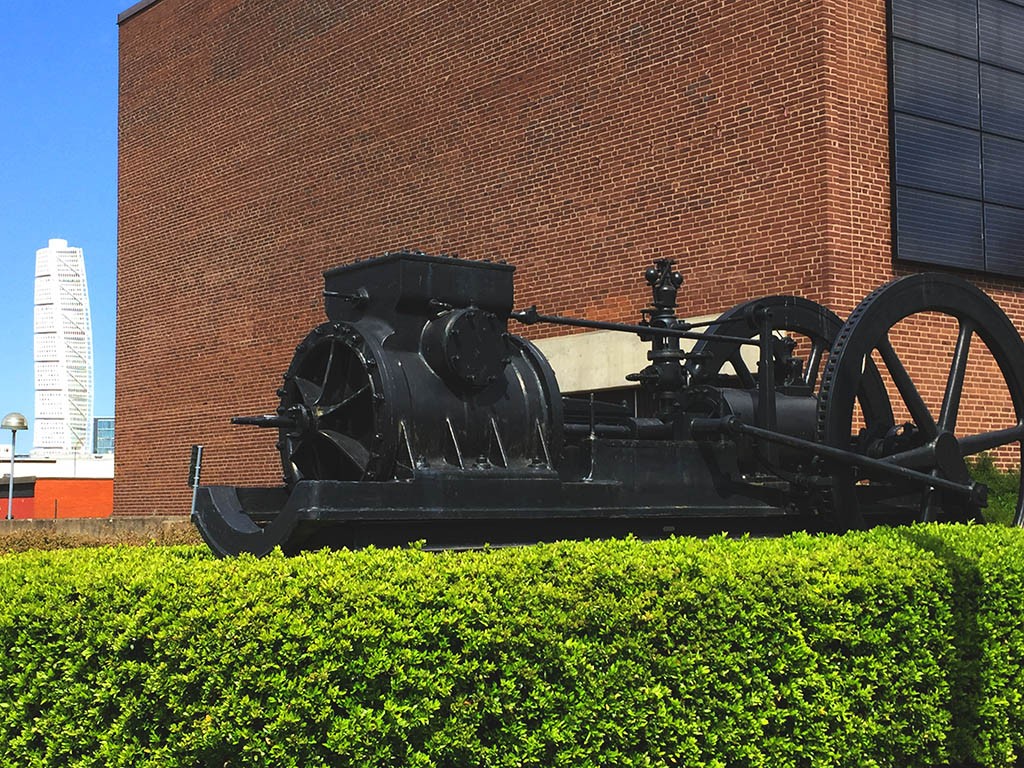 On the way to Turning Torso we found the last traces of winter. The fact that this is located behind the polyvalent sports centre Kockum Fritid that has an ice rink and hockey club makes it a bit suspicious. Kockum Fritid is the first building on the entrance in the Västra Hamnen area of Malmo. It is the old "West Harbour" which was an industrial area of the city that was completely re-designed.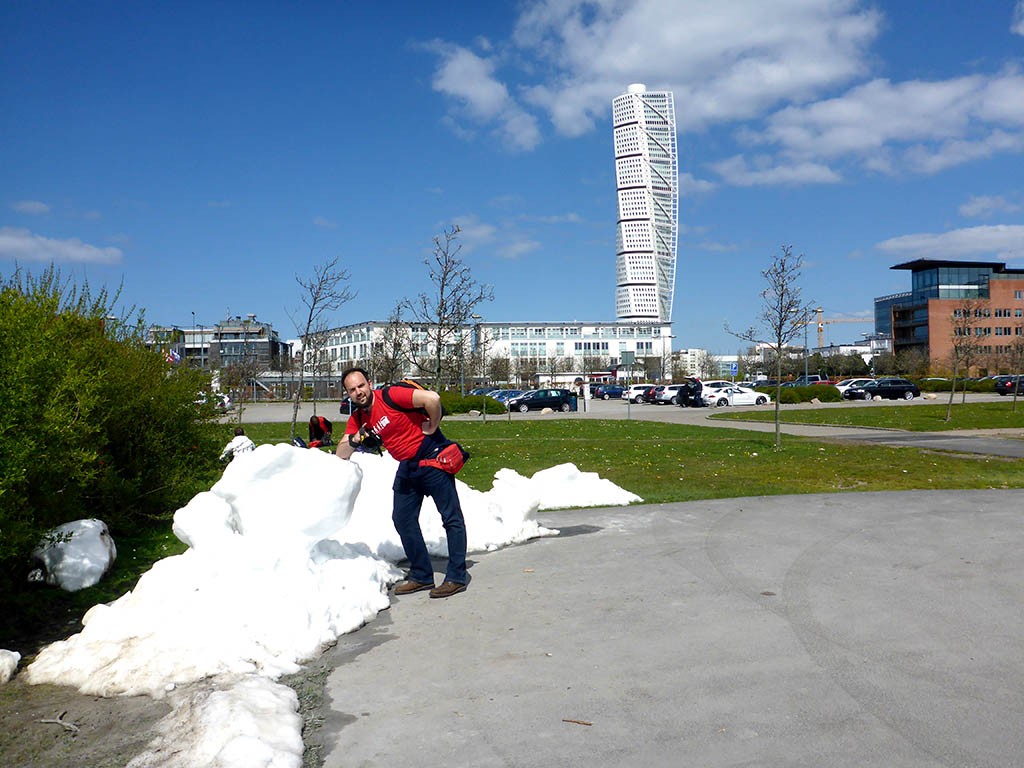 Reconstruction of this area started back in 2001 and it's today known as "The city of tomorrow". It is as well the first carbon neutral district in the world. That means that they use special systems that store heated water and solar energy collected during the summer to heat during the winter, and chilled water during the winter to cool them down during the summer. Not to get to technical, to achieve all that they use solar power, wind that produces electricity and powers the pumps, tides, wave and water. All that makes it a completely sustainable district that does not use fossil fuel.

That whole place is designed as a residential area with a long sunny promenade that overlooks the Oresund bridge and Copenhagen. The promenade is packed with bars and restaurants and as you can see it's one of the favourite spots where people hang out when the weather is nice.
The most dominant building in this area, and to say – in Scandinavia is Turning Torso. It's actually a piece of art converted into a piece of architectural art. It's designed by famous Spanish sculptor and designer Calatrava whose sculpture Twisting Torso inspired the director of HSB Sweden. He liked the sculpture so much that he asked Calatrava to design a building that resembles his sculpture. With it's 190 meters it's the highest building in the northern countries and it looks fantastic.
(Calatrava is the same guy who designed our lovely Samuel Beckett Bridge here in Dublin)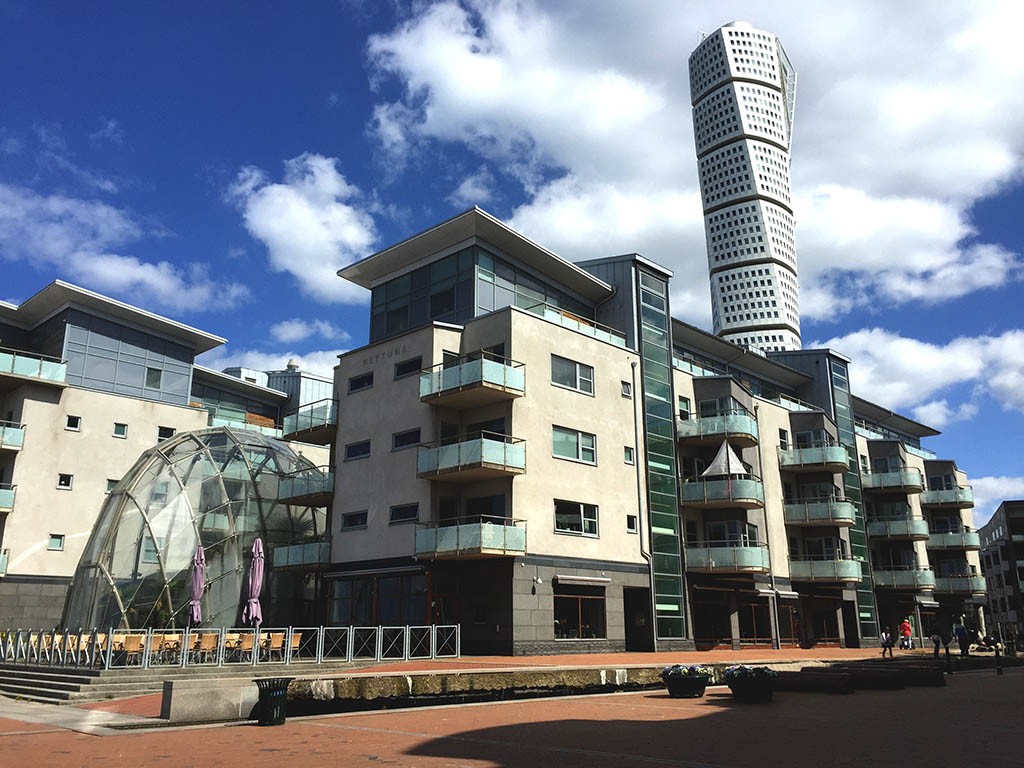 And again, there would be no better place for Angry Birds to fly by. 🙂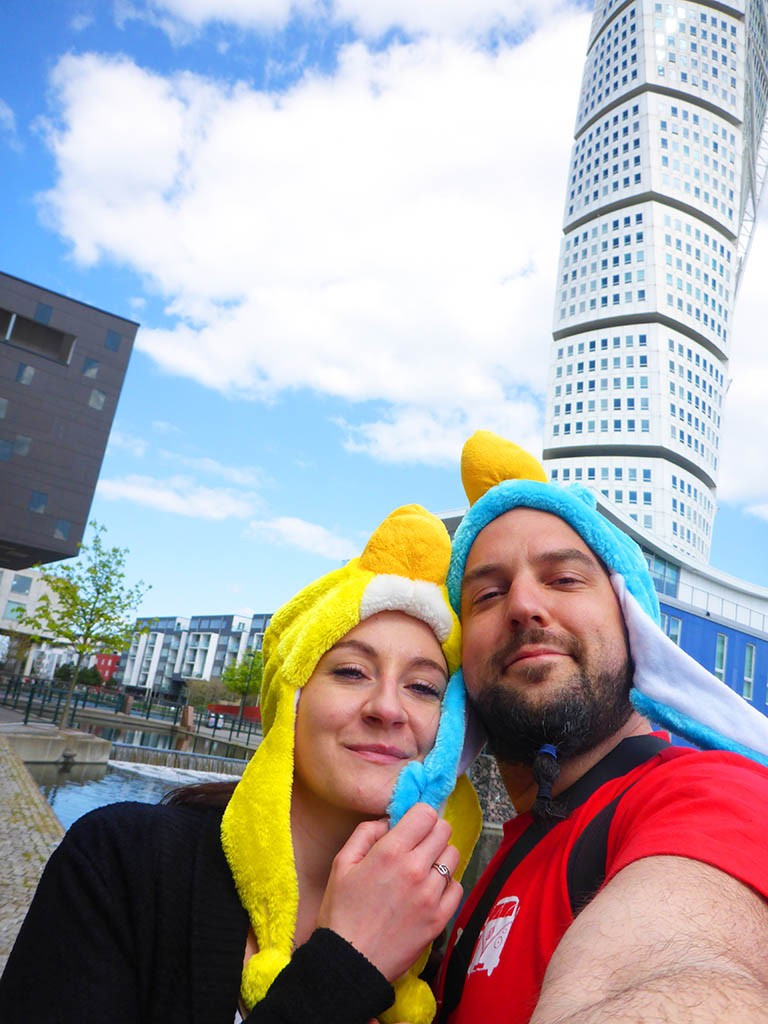 As you might have noticed already, everything is eco friendly in these Nordic countries, and materials found in nature are used in it's original form. I took a photo of this bench, which is actually just a log cut in half. We have a bunch of trees taken down by storms every summer, so just spreading ideas how to re-use them. Make fences or benches, use it for something. 🙂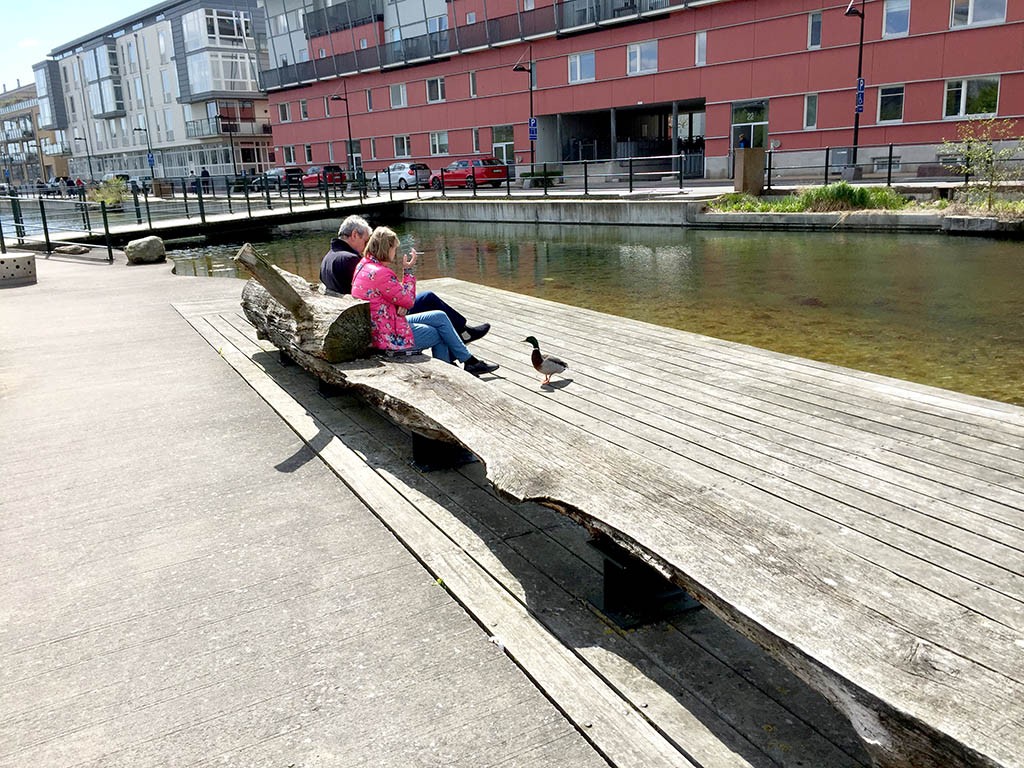 By the time we got to the Turning Torso we changed our opinion about the city size. Most likely as because it was already late afternoon and we had no food till that moment. We decided go to the pub that serves 40 different types of local Swedish beer.
Forty minutes walk said my smartphone, so we decided not to waste any more time. We took the shortcut back through the Kungsparken that was now packed with people who really enjoyed their summer day.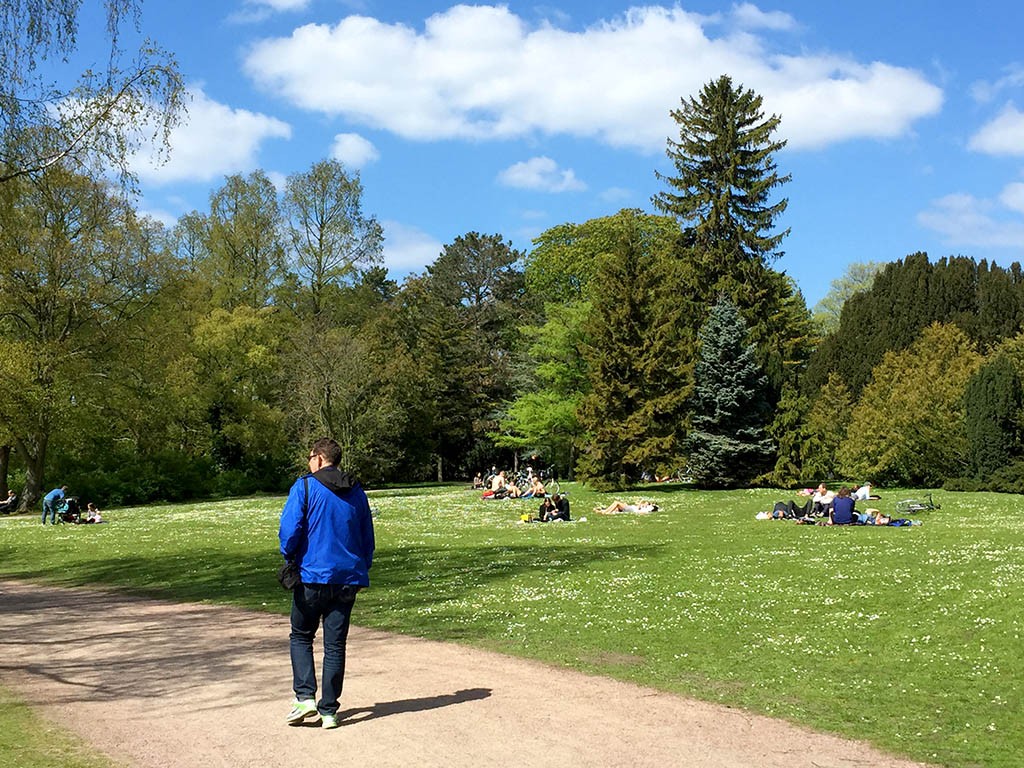 We rushed through the silent and empty streets of Malmo. It was obvious that it's Sunday and people have better things to do somewhere else.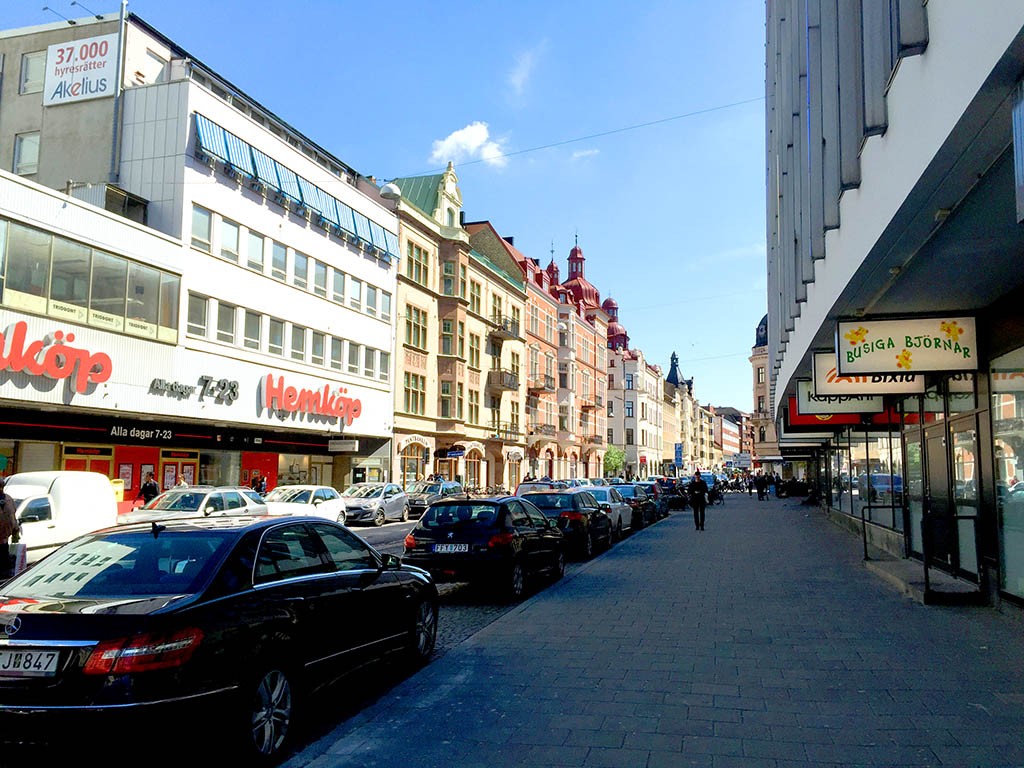 And then, when we finally reached the so wanted pub, a shock! It does not work on Sundays at all. It's so far away from centre, and there's absolutely nothing around us. What now? On the way here we noticed one terrace, not so far away from here where people had something to eat. We decided to go there and eat what ever they have to offer.
That terrace where we ended up is an Italian pizzeria. To be honest with you it was really good pizza, and Italian craft beer was perfect match that moment. Even though we felt sorry because we had no chance to try original Swedish food and drinks, we felt good.
One of our original ideas was to find the closest well known IKEA, and eat Swedish meatballs there. 🙂 That would be the great pun if only that store was closer and did not require a bus.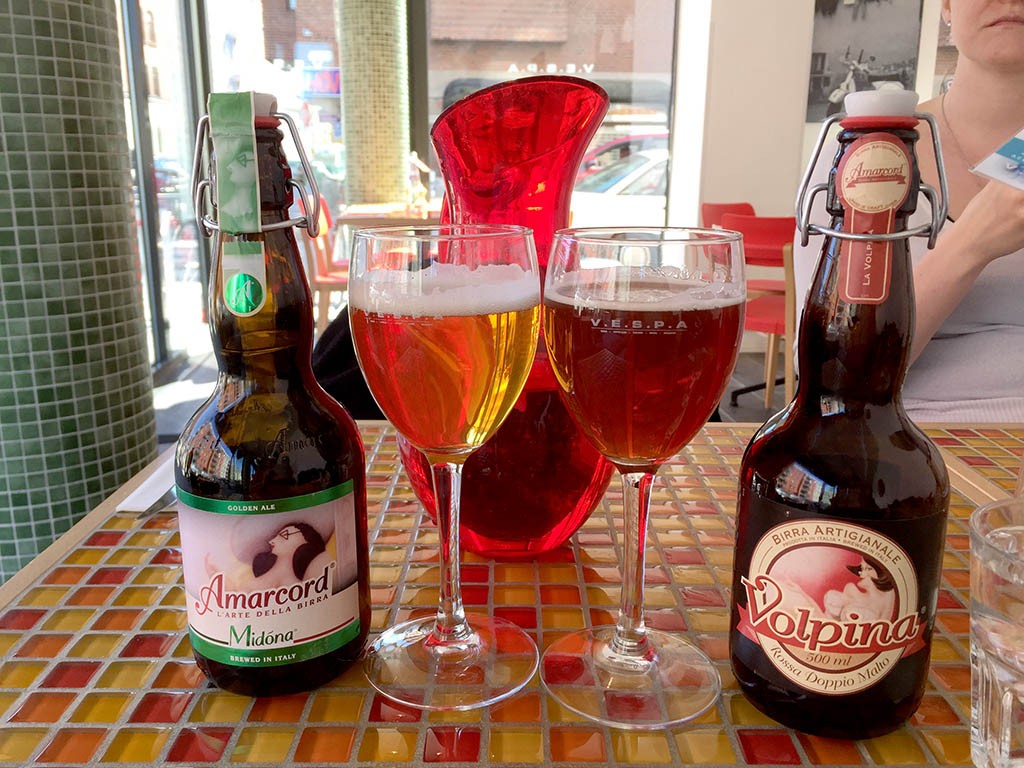 Well fed we decided to check the local cathedral. St Peters Cathedral is a lovely red brick building built in Gothic style.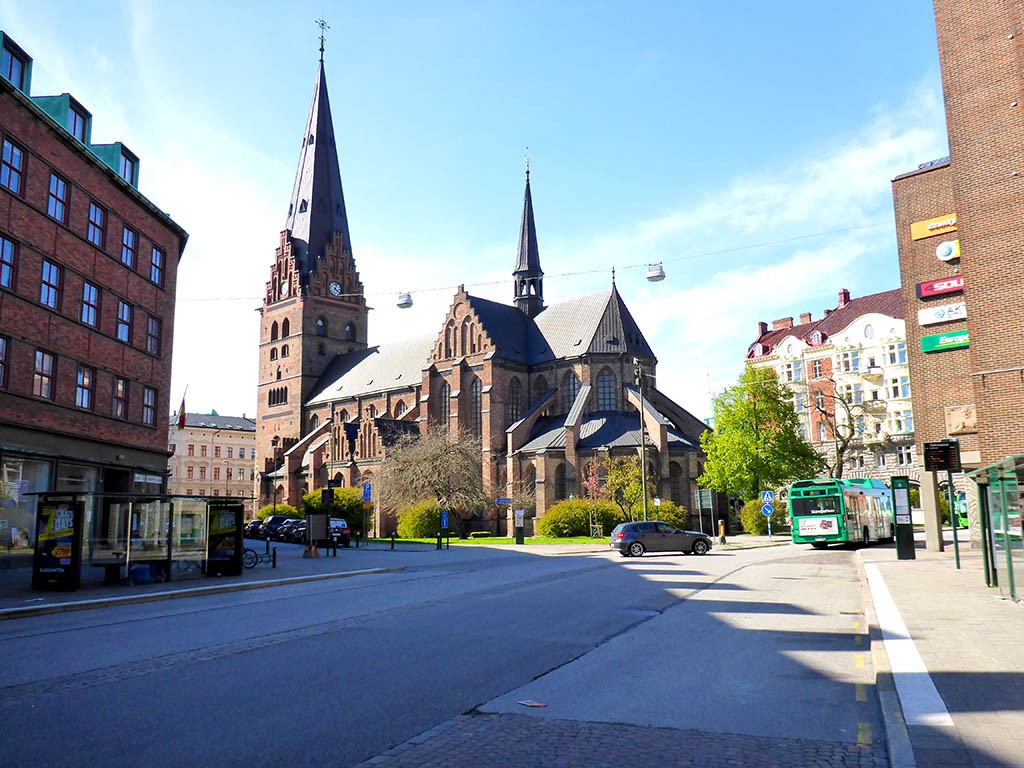 It is nice and quite usual from outside but it's special from inside. Majority of this church is bright white, and there is no stained glass at all. Only chapels are decorated with lovely artefacts.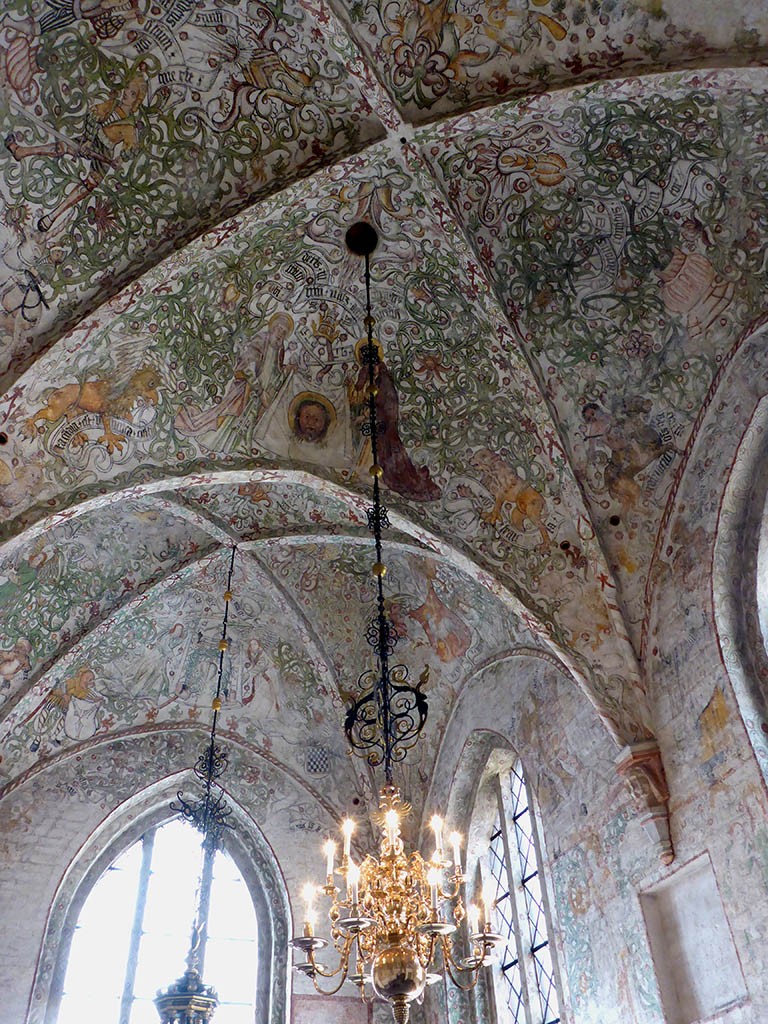 Once we finished with the church we decided to find "Lilla Torg" or, "Small square", which is apparently a place for people watching. On the way there we passed across two weird bridges. One had two green "balls" that look like artificial bushes with small leaves just made of metal, and the other one with golden footballs. 🙂
Now, I'm really not certain is it because some U-21 championship was hosted in Malmo or is it because well known Zlatan Ibrahimovic is from Malmo, and his name "Zlatan" means "Golden". I was not able to find any info about this bridge, It's all my imagination. Zlatan was not around that day and my hopes to see him and make a selfie together did not come true really. Who knows, maybe I'll see him somewhere once.
🙂

On the way to Lilla Torg and around it we heard many "Yugoslavians" languages and later I've found out that ex. Yugoslavs are the second biggest expat community in Malmo. It is kinda weird visiting a foreign country so far away from home and be able to understand such a big number of people. 🙂
Lilla Torg is a small square with a lot of bars, and it's the place where people hang out in Malmo. Or one of the places. When we entered this square from the small narrow street it was obvious why most of the streets are empty. 🙂 It seems that whole Malmo was here. 🙂

Behind the Lilla Torg there is a pedestrian area with a lot of art galleries. We did a full circle around that area, and I could not miss this piece of art. 🙂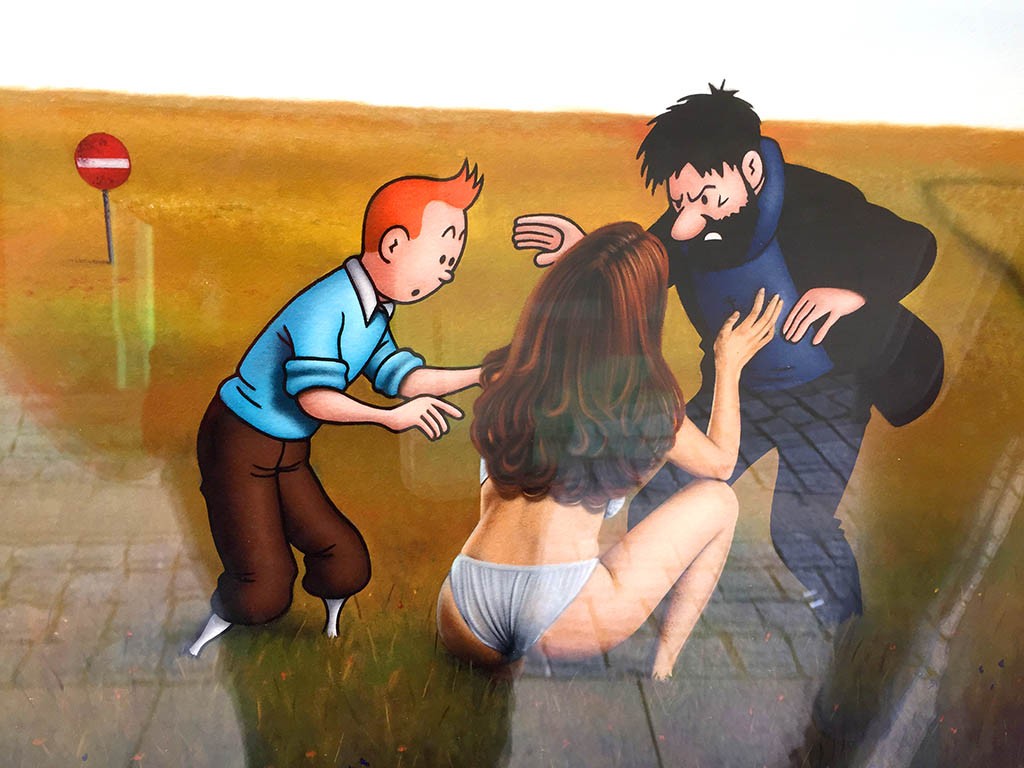 Finally, after almost six hours of walking around Malmo we decided that we can't leave without trying something local. So we sat down on the Lilla Torg with locals, and ordered local deserts! Malmo made pralines and chocolate muse.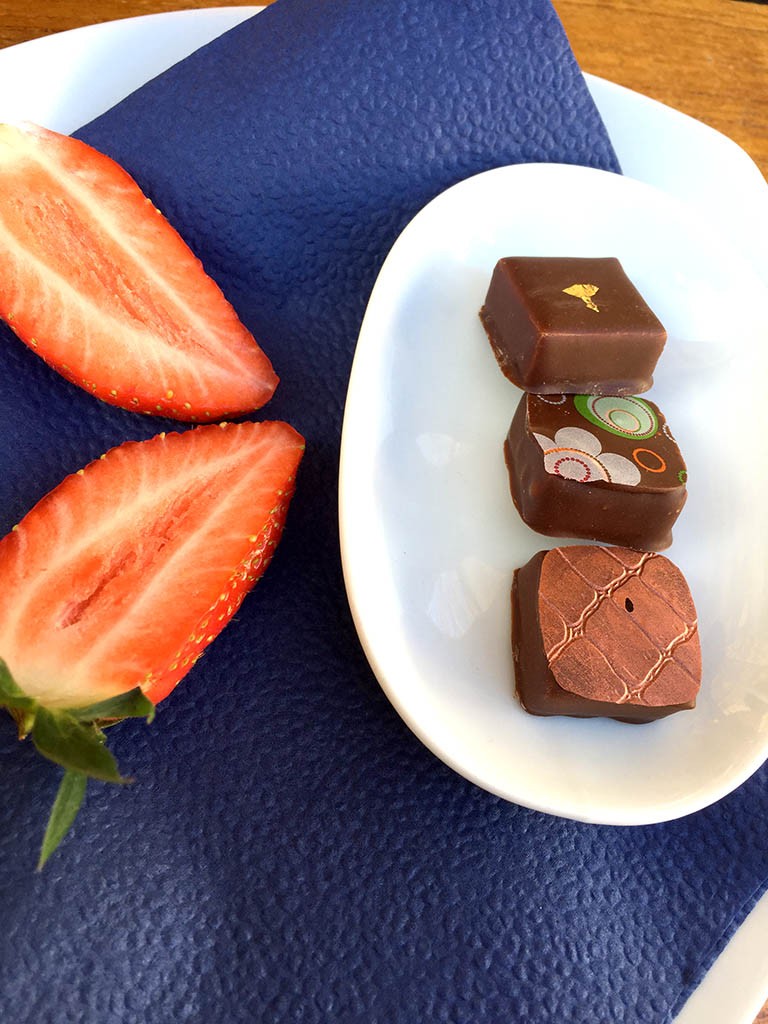 Of course, it made no sense to leave this gorgeous city without at least trying a beer. Ah yes, those two small glasses. Well, you know… As I'm currently reading a Swedish book I remembered that the main character drinks something called Akvavit (Aquavit), so when Dina asked "do they have any local spirits" it clicked and we decided to see what's that. 🙂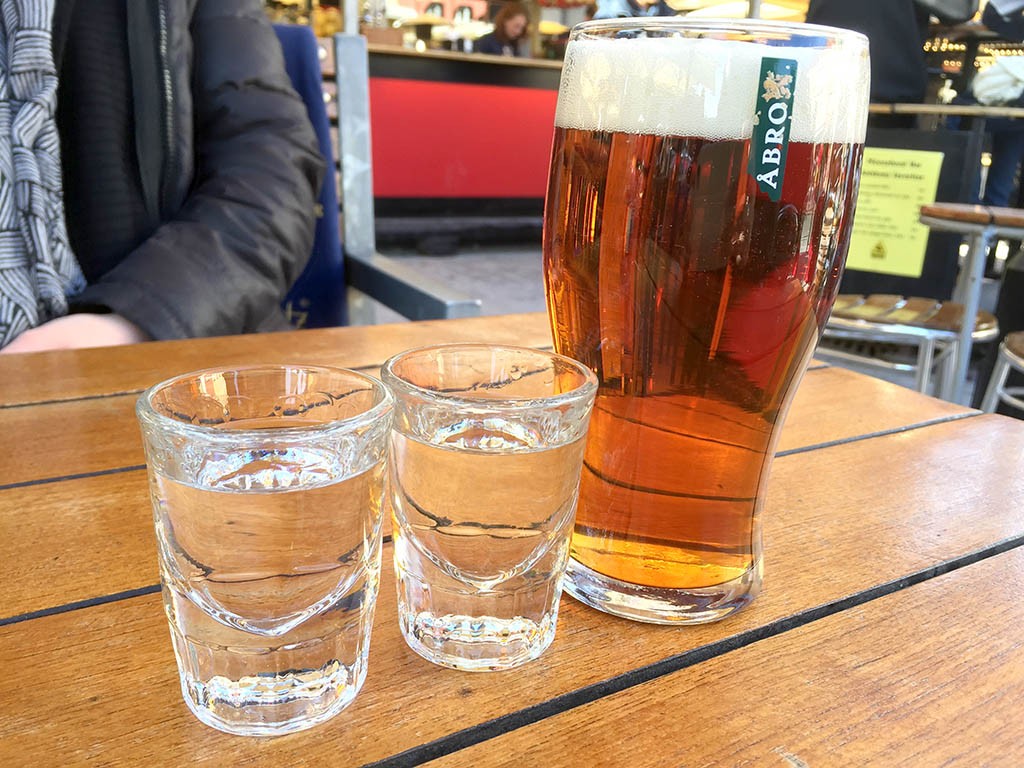 Uh… It's a distilled alcohol similar to Vodka, made of potatoes or grains and aromatized with dill aroma. We tried two different types, one "classic" and other one with additional lemon aroma. Not bad but I still prefer our Rakijas way better. 🙂
I've left a tip of 1 Euro here, and waitress bowed and said "Thank you very much sir. Have a pleasant day and please come again, you are very welcome!" and then smiled and escorted us out of the place.
I got immediately scared that I typed a few zeros too much for the tip, started calculating Swedish Crowns to Euros, but there was no mistake, 1 Euro. Now, I don't get it, or I left almost nothing and that was sarcastic "dear sir, go home and don't return ever again", or she really liked me. 🙂 Nevertheless, with water of life (Akvavit) we finished our Malmo day, and returned to Copenhagen.
I'm not sure how life looks in Malmo when you work and live there, and when the winter comes, but that one day seemed perfect. Clean and modern city, not too big, not to small, lot of parks and cycling paths, ecology friendly. It's no wonder that a large number of people from Copenhagen moved to Malmo and commute to work every day.
That's all folks, till the next writing…
Kisses,
Balky