During our planning phase, when we (mostly Dina) were searching for things to see in Japan we found a photo of a dark orange bubbly hot spring somewhere in Japan that is called "Hells of Beppu". As soon as I saw the photo I asked if we can fit it somehow into our schedule without knowing too much about it.
In fact, I've learned in the meantime that Beppu is the second largest source of thermal spring water on the planet after Yellowstone park in USA. Town is the home to more than 2500 hot spring vents and is a designated place of scenic beauty. Almost each vent is a home to an Onsen (hot spring bath).
But, let's start from the beginning. It was our thirteenth day in Japan, and finally the weather decided to treat us nicely. Temperature dropped to 29 degrees that morning and was pouring like crazy. Luckily in our fantastic AirBnB in Fukuoka we had two umbrellas to keep us dry.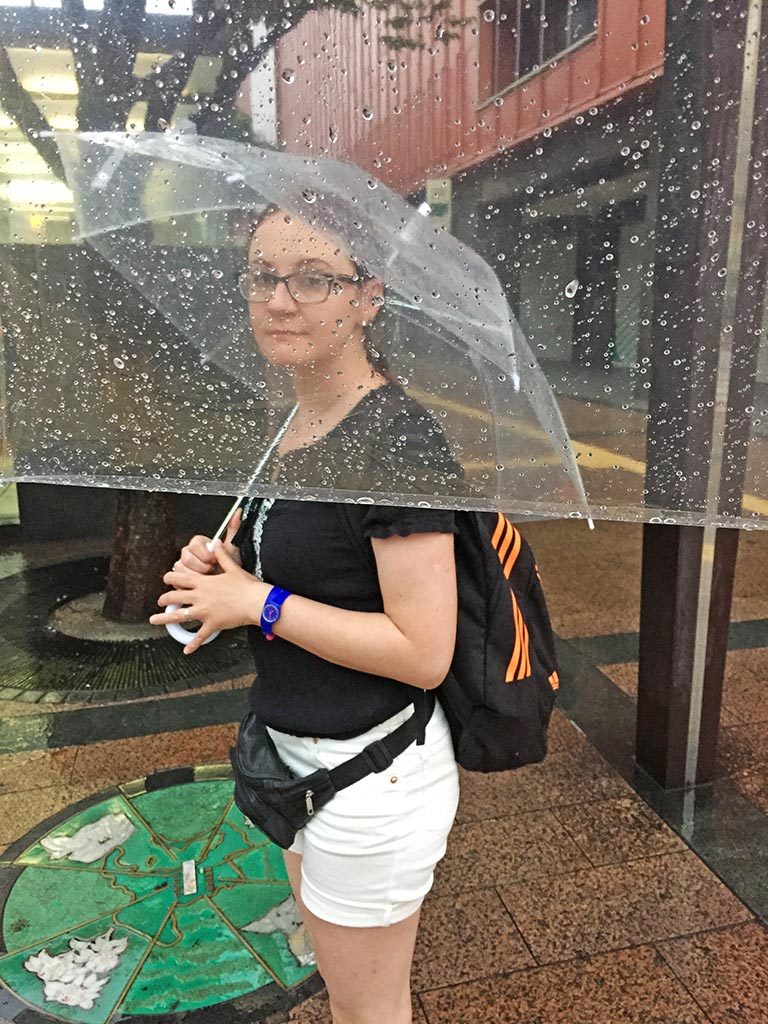 We took the early morning train to Beppu, and we used that hour from Fukuoka to Beppu to nap a bit. Just like our fellow passenger did, only without so many big bags. 🙂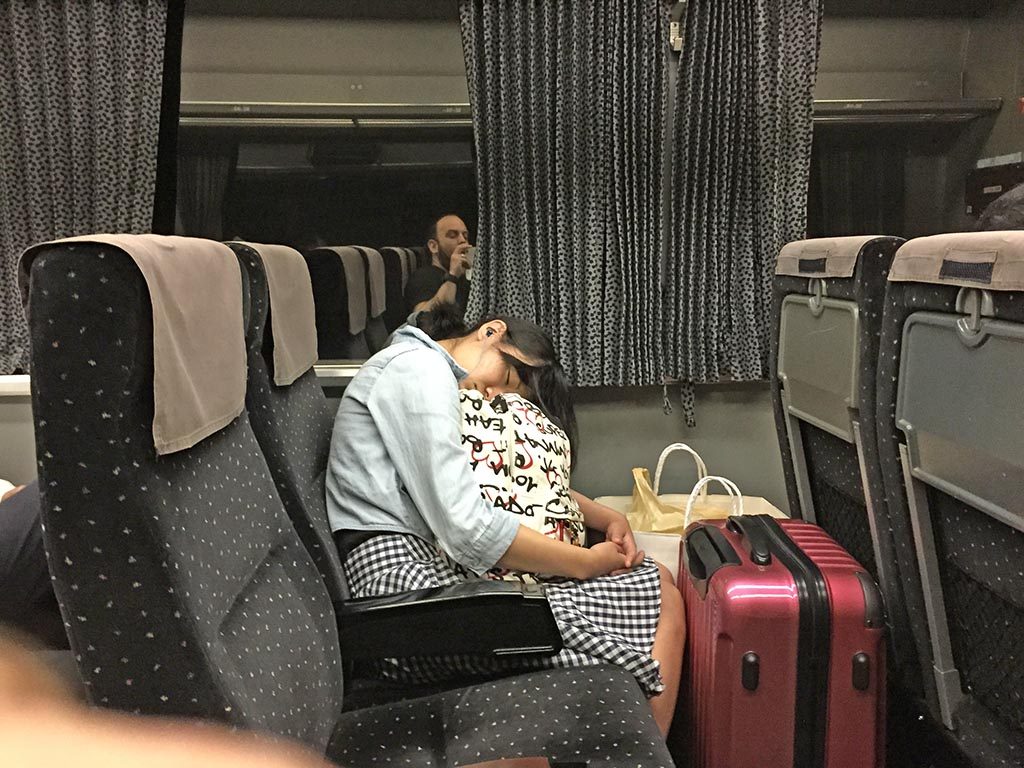 Our hopes for a nice dry day were over as soon as we arrived to Beppu.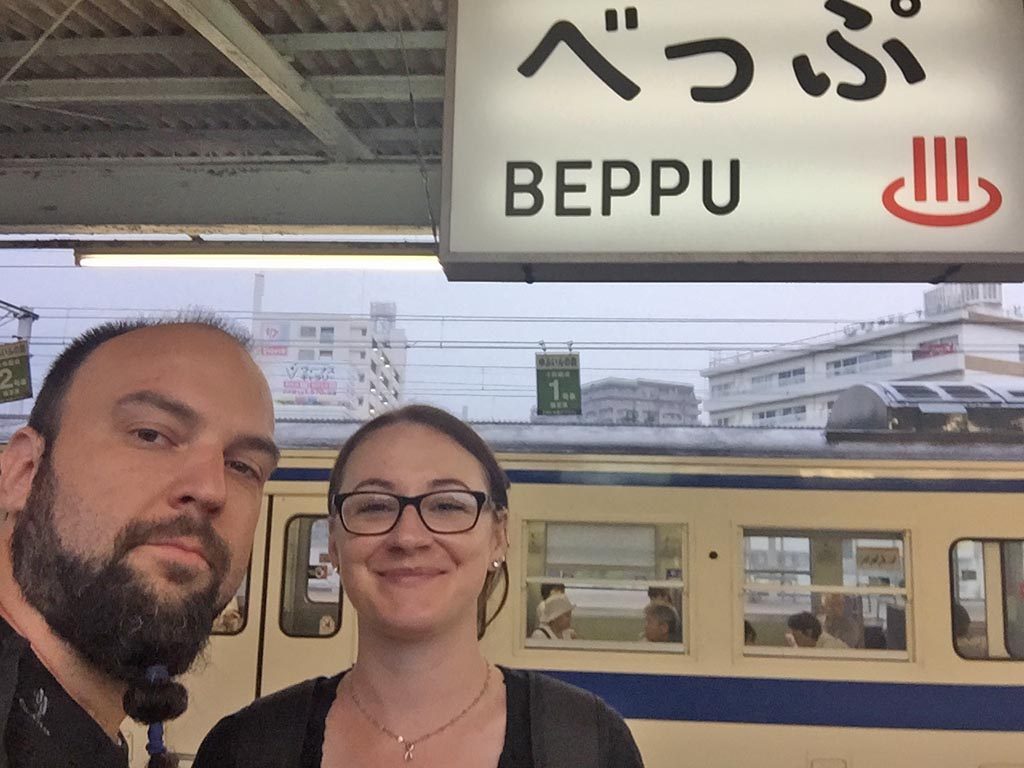 Hells are divided into two groups, upper six springs and lower two and you need to catch the bus between them as they are some 3-4 km away. We planned to buy tickets for first six springs only, since the information we found on-line was that we'll need almost three hours to get to Beppu (and then three hours back to Fukuoka).
This scary devil tried to persuade us not to "go to hell" at all, but that's why we were here! On the "Admission tickets" counter, as we expected, we did not get the tickets for "Hell Springs."
It was a counter for something else, but a lady working there gave us a map of Beppu, explained us where to buy the bus tickets, and showed us the corner of the map. There was a special discount of some percentage, so instead of buying two tickets for just six Hells we had to point to the discount and we'll get all hells for the same price. Well, that was something! 🙂
We managed to find the correct bus somehow, as we were showing photos of "Beppu Hell springs", but understanding what the driver tried to explain us was a mission. He tried to warn us that we had to take off on the second stop and that there's a short break on the first one. Well, we used good old "spying" method, so we followed what others with similar maps are doing. 🙂
When you know your stop, in order to take off the bus you need to signal the driver using this "happy driver button". 🙂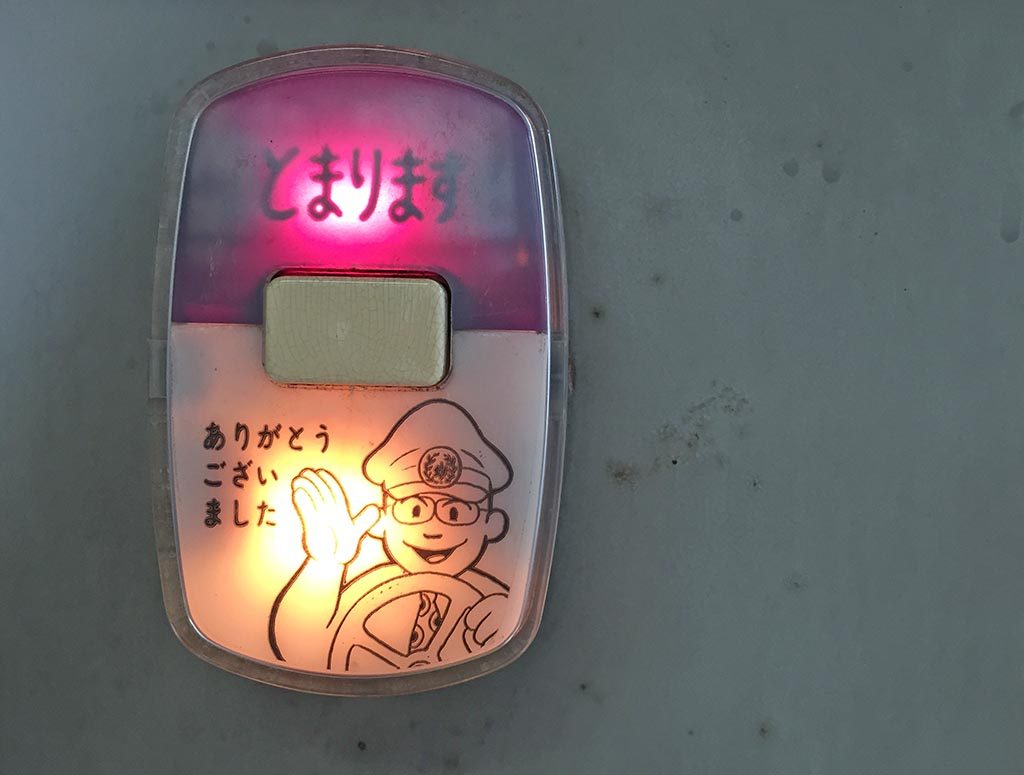 Few steps away from the bus stop, huge clouds of steam reaching the sky appeared in front of us. Well, that's where we are heading too! Exchanging the coupon for all tickets was a smooth move, and we were ready to start exploring.
There are a couple of different springs. Cobalt blue Umi-Jigoku that's on 98 degrees Celsius, muddy Oniishibozu-Jigoku that's on 99 degrees Celsius, and Chinoike-Jigoku (Blood Pond hell) that got its name from its colour.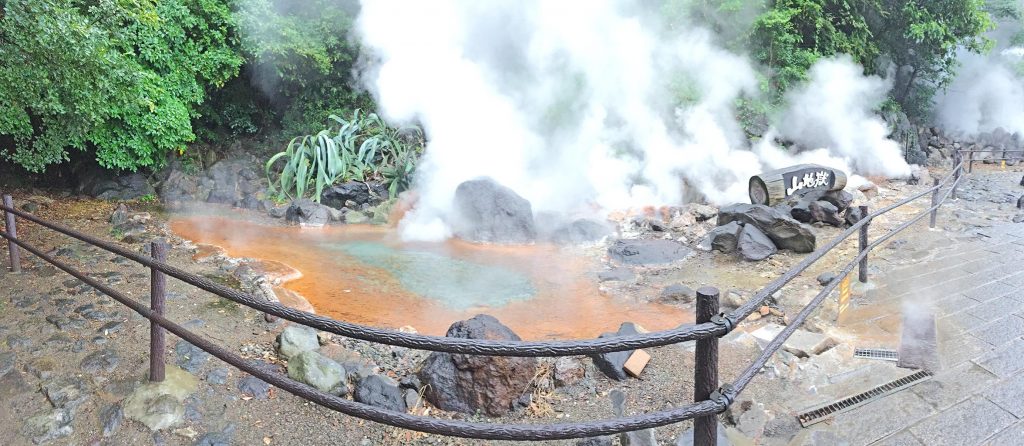 And you can imagine how hot mineral water smells, especially on a rainy day when this smelly steam accumulates under your umbrella. 🙂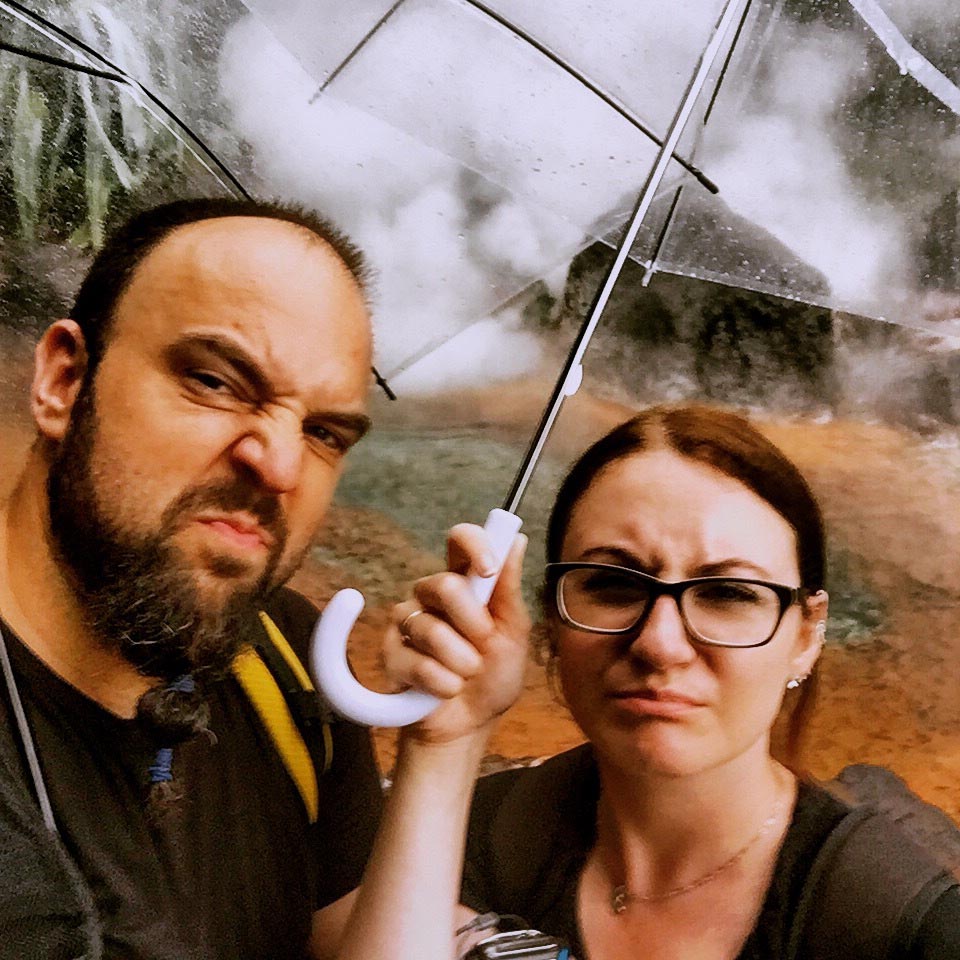 But these springs are not just springs. It's a weird connection of a small zoo, spa, springs and natural attraction. So besides looking at hot water and steam venting out from the earth, you can drink warm mineral water, wash your feet in mud or in water (preferably mud first, water after that 🙂 ), but you can as well eat hard boiled eggs that are steamed here.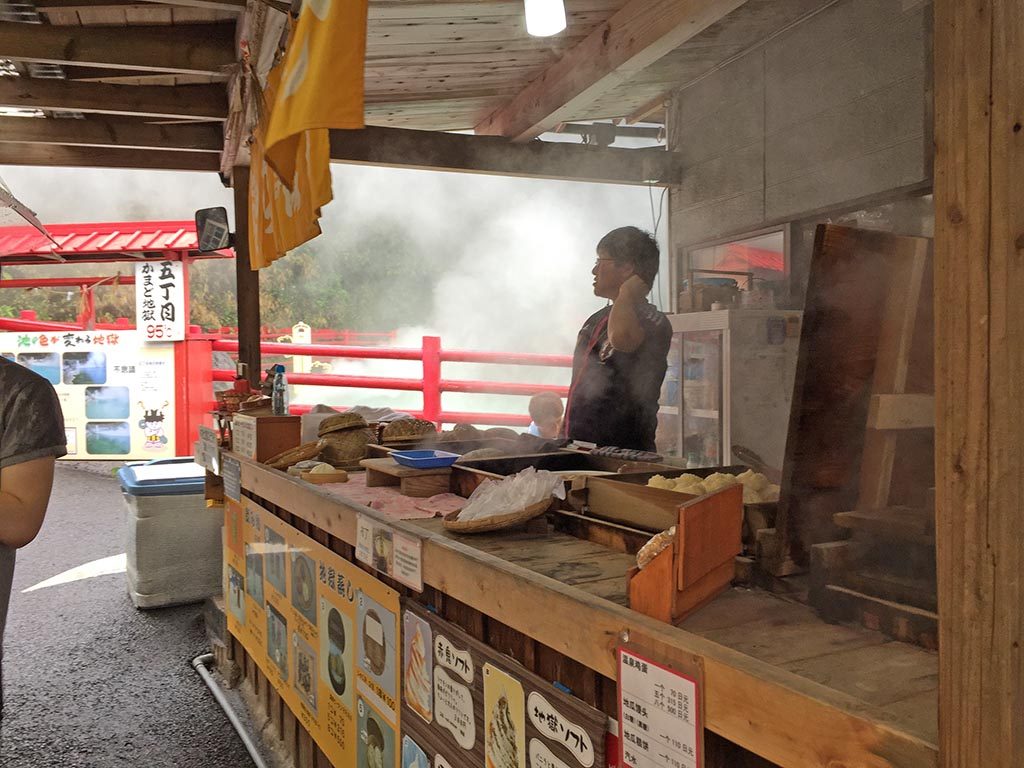 You can see some weird animals, like this Hyppo and I don't remember why this hyppo was here at all, but I do remember that I fell and it was spectacular. After 13 days, hiking Fuji, walking on average 18-20 kilometres every day, I managed to slip not far away from this hyppo and break the skin on my left knee. I did not even fall properly, it just looked like I knelt before my wife. 😀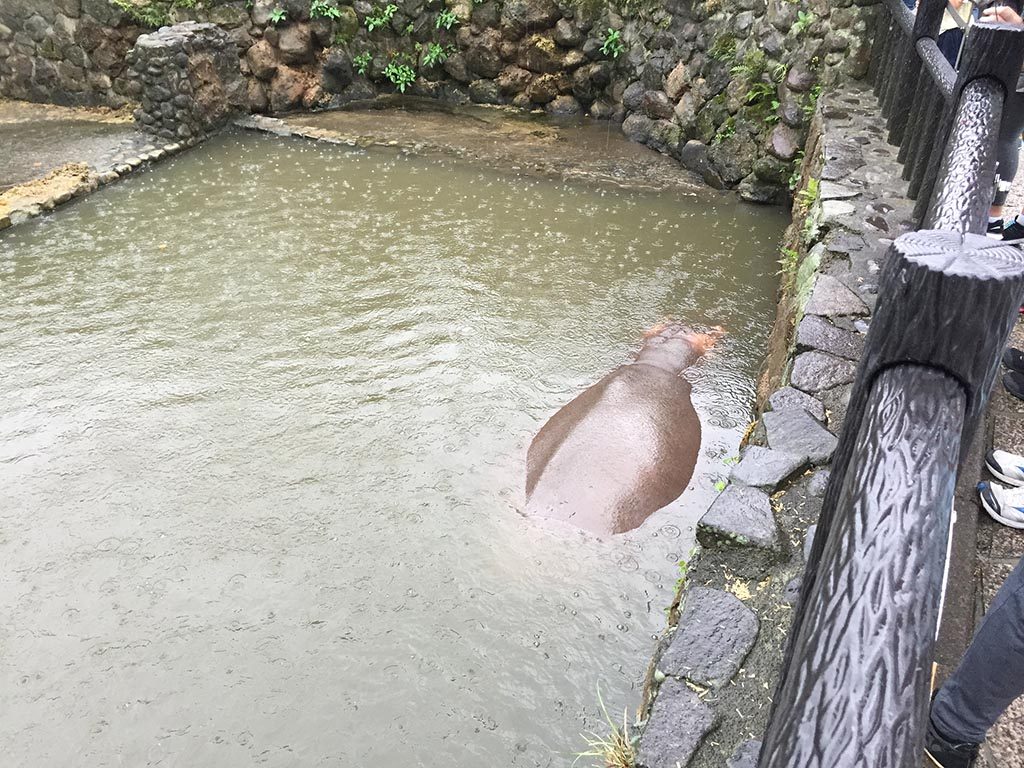 When we finished our tour around first six springs we headed to find something for lunch. There was a place that looked like a local pub or restaurant, and we decided to eat here. As mentioned in previous posts, there's no English menu or anyone speaking English outside of big places, and it was no different here. We ordered two different menus, and we hoped for something good. Lunch was awesome, as most meals in Japan are, but we were an attraction once again. And not because of my beard this time. The owner of the place figured out that I'm using chopsticks in a weird way, then he tried to imitate me. He tried to pick a bite of food from his own plate, but he could not. Apparently, the way I'm holding my chopsticks and the rest of the Asian world is weirdly different. 🙂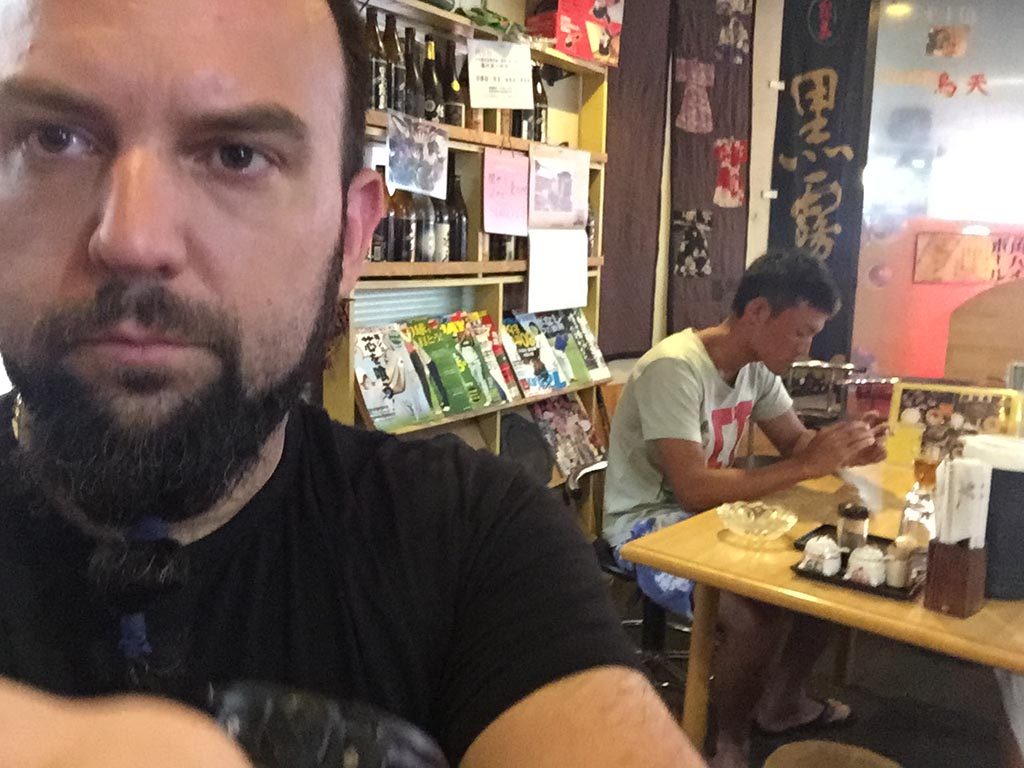 After lunch we took a bus to the next two springs and one fifty meters geyser. Well, at least Japanese state it's fifty meters, but 49 meters of that geyser is underground and you can only see the last meter once in an hour when it decided to explode. 🙂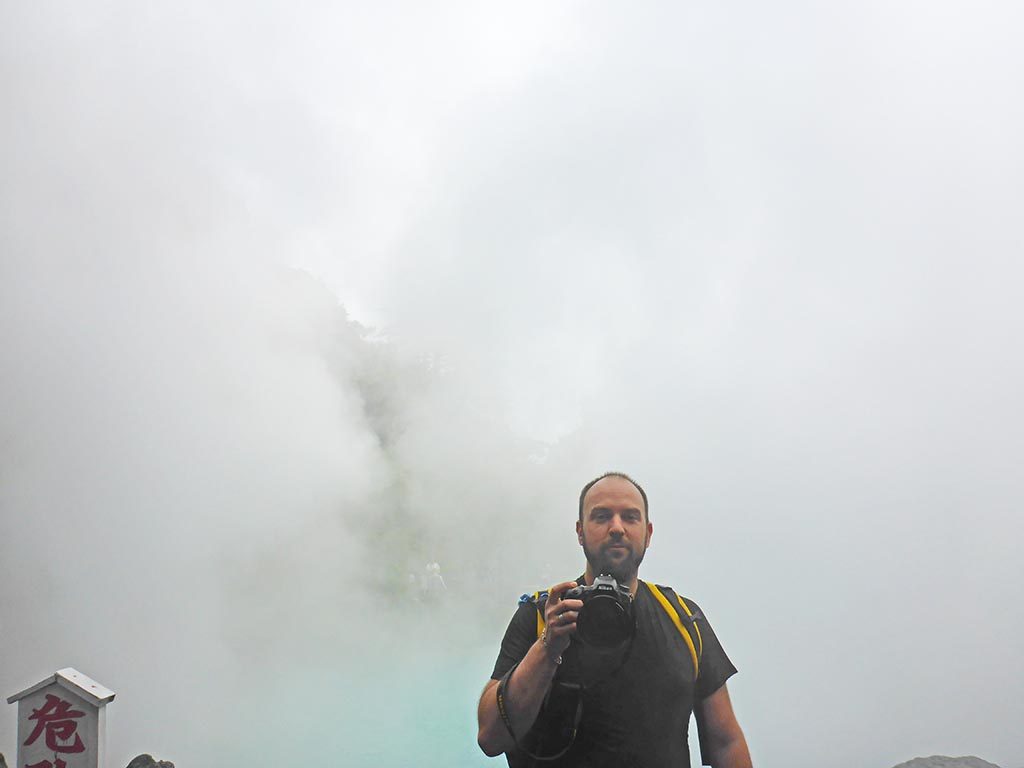 Among other weird things we've seen here, there were some capybaras. I think we were the only grownups really astonished with these lovely creature. And a bunch of kids feeding them. 🙂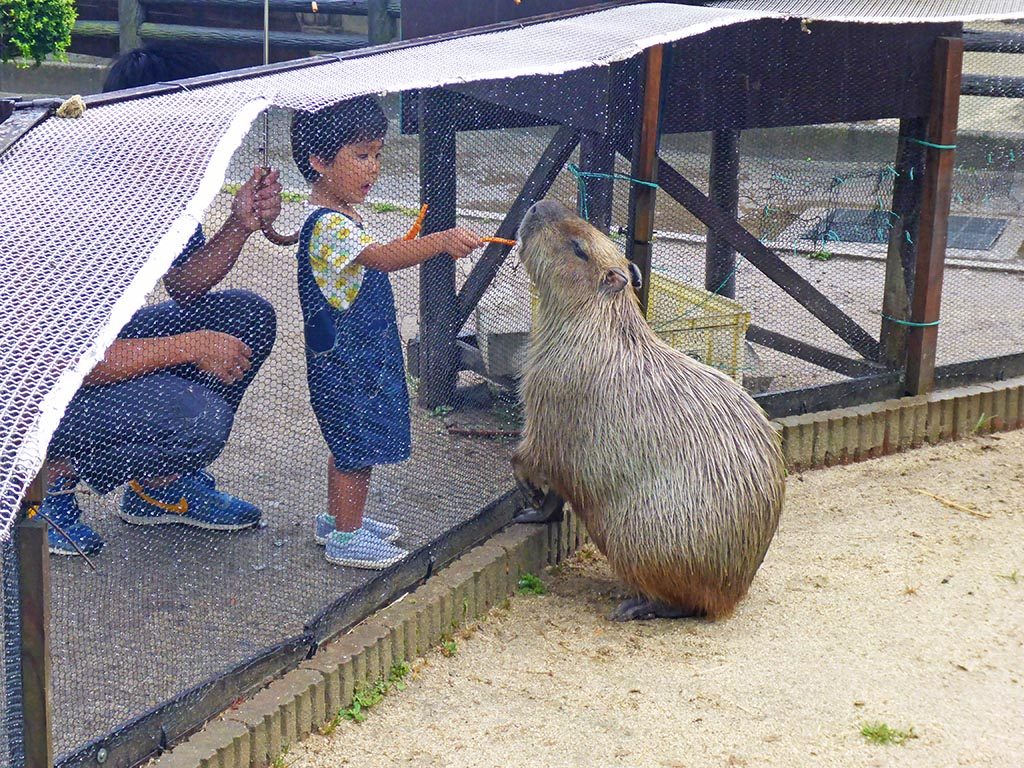 One of the springs has salty water and ideal conditions for crocodile breeding. I've never seen so many crocodiles in one place, but it's frightening. As you can see I had to put my hand in the cage to take a clear photo of these lovely creatures. 😀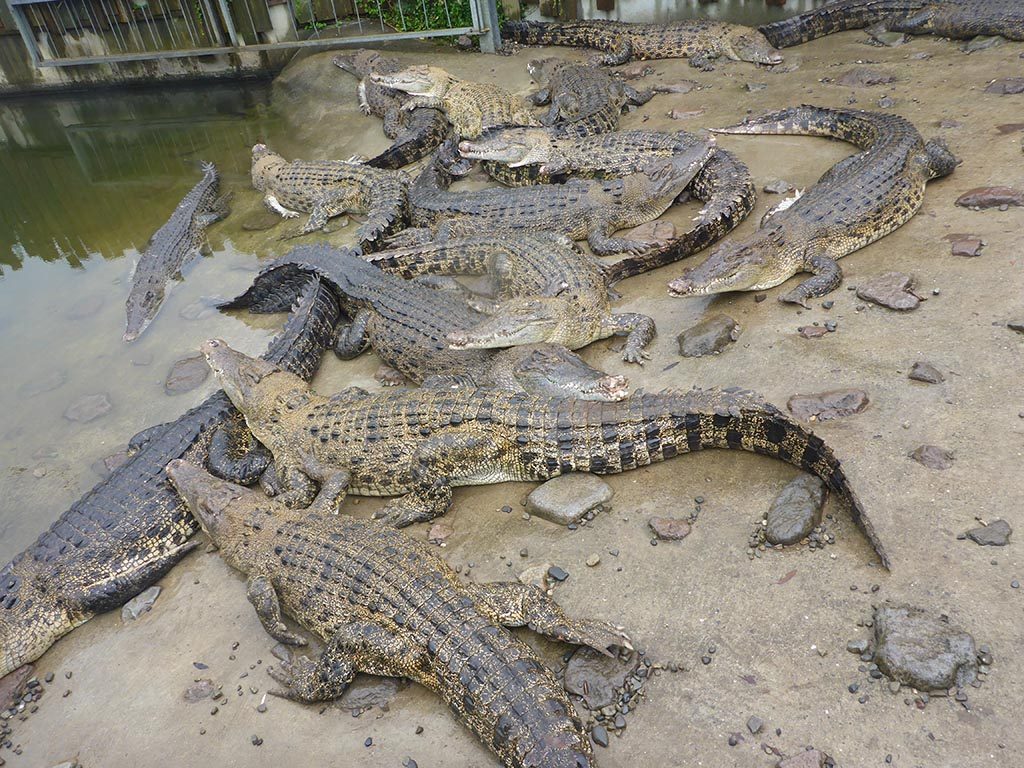 In the end, we've spent almost half day in this lovely place. A bit more than we planned, but it was worth it.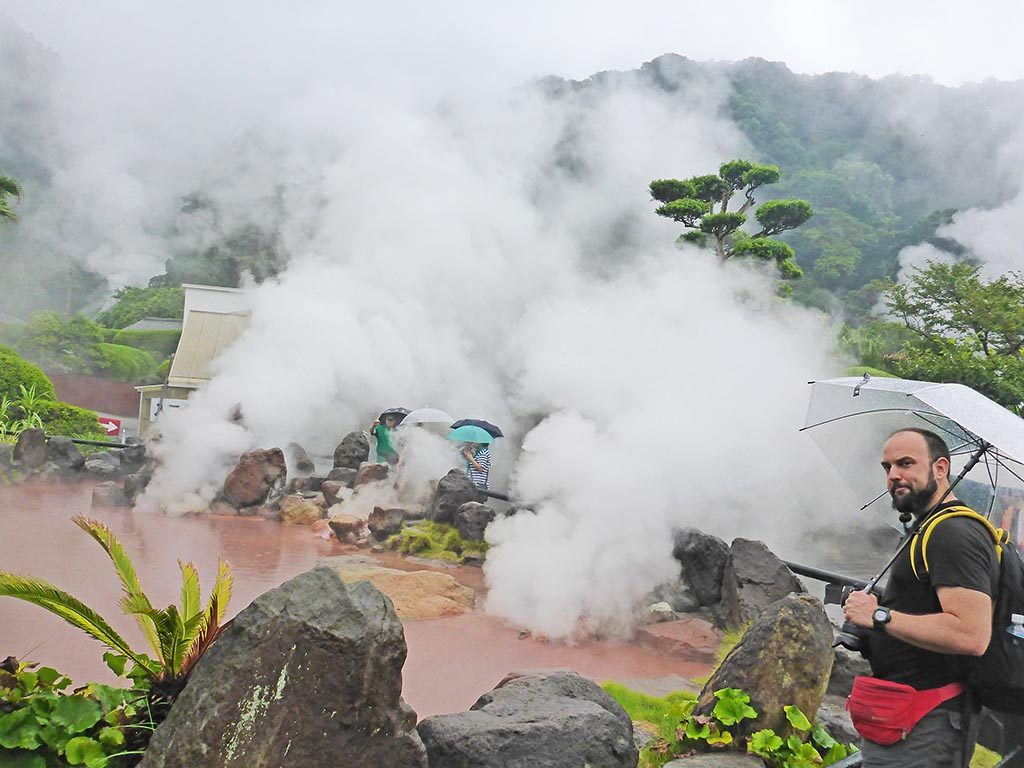 In case that you are on the way to Japan and you plan to go all the way south you should stop in Beppu and check Hell springs. If nothing, when someone swears at you and wishes you to go to hell, you can say "Been there, than that!" – We can. 🙂
Till the next one,
Love, Balky