Our original plan to spend the summer vacations in Portugal had to be changed as soon as our dear friends invited us to their wedding in Italy.
We did try to to find an affordable way to return to Dublin, or fly from Venice to Portugal, but it seemed that at that time of the year the only thing we could do was to embrace the situation and explore places that can be reached by car from Venice.
In order to minimize eventual issues in logistics and transportation, we decided to get to Italy a day in advance and make sure that my parents are there the same day. If so, we can spend a day and a half on vacations all together in Italy.
Our little guy was much bigger now, and we feared that he might be a loud and annoying passenger in the airplane, but once again, our fears was unjustified. He was the best, having fun looking out the window, and laughing for the bigger part of the flight.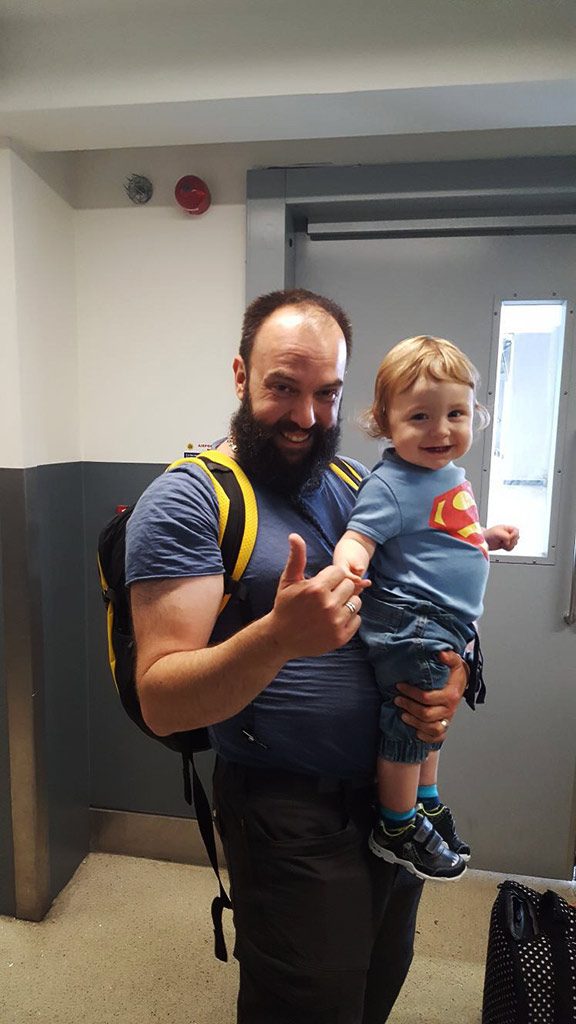 The wedding itself took place in a very small village near Fara Vicentino in northern Italy, called Ca' Balzan and having only 25 inhabitants.
Our friends couldn't find enough rooms to fit all wedding attendees there and we were situated in a near by San Giorgio di Perlena. Much bigger, picturesque place, 4 km away of Ca' Balzan. San Giorigio has 420 inhabitants. 🙂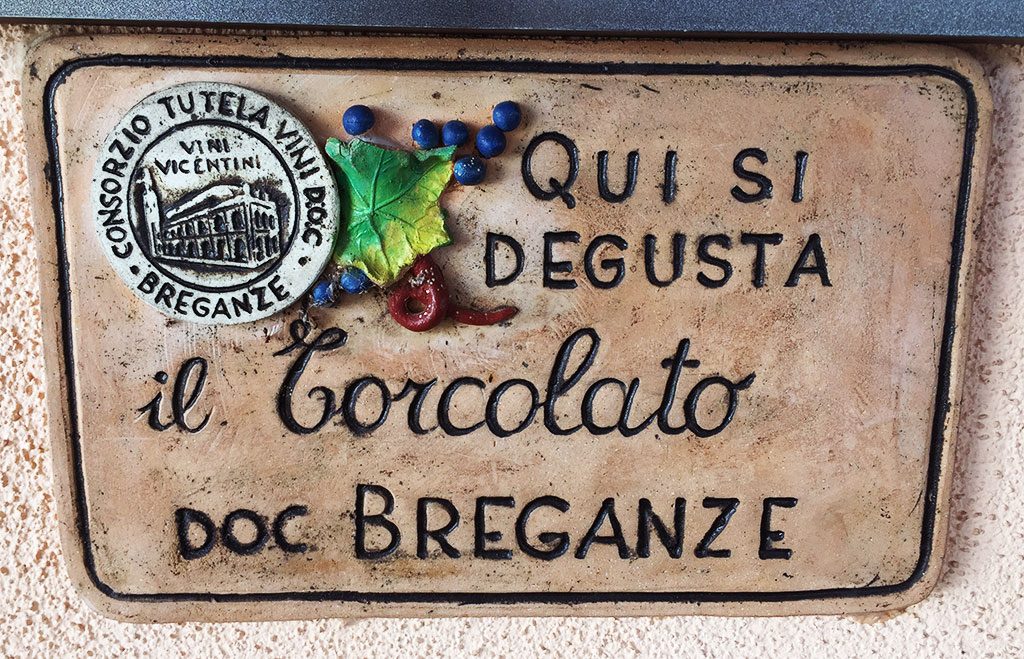 Even though both of these places are in the county Vicenza, the closest bigger place is Breganze, and the whole region is home to "Torcolato", wine made exclusively in Breganze. Almost every restaurant here offers a local specialty called "Vitello tonnato", however, Internet claims it is specialty from near by regions of Piedmont and Lombardy but it did not matter. It was a nice thing to eat. 🙂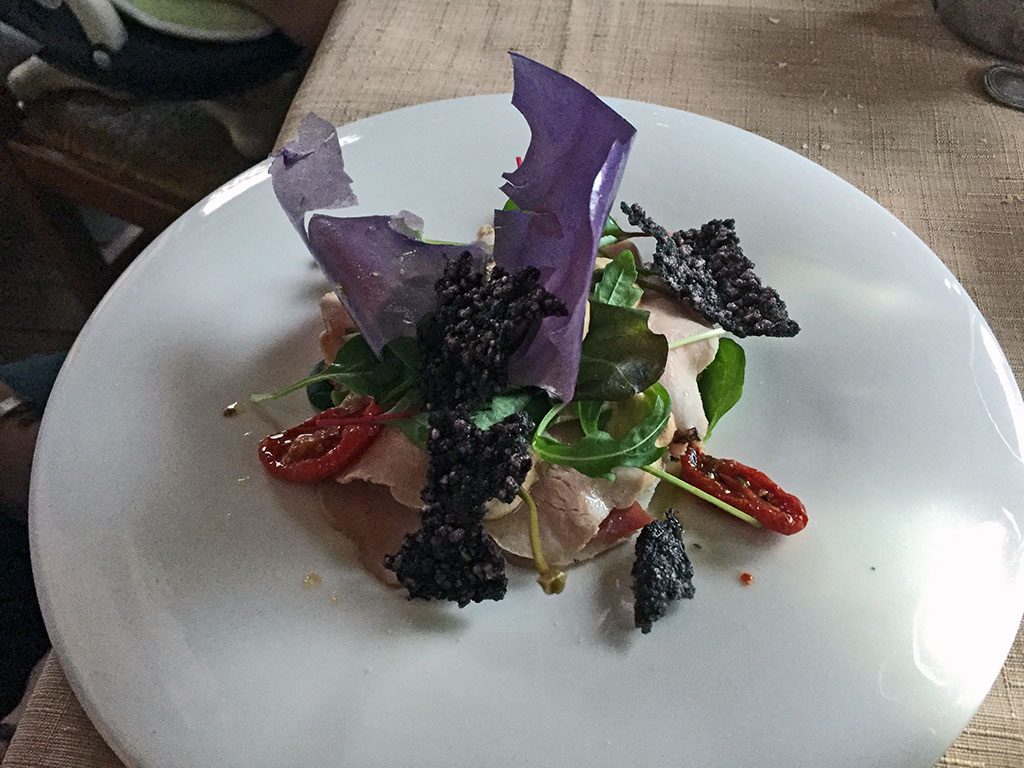 Well, if Vitello is not local, Bigoli alla Breganzese definitely are, as well as it's local herbal liqueur Breganzino. Bigoli is a type of pasta similar to spaghetti, just thicker.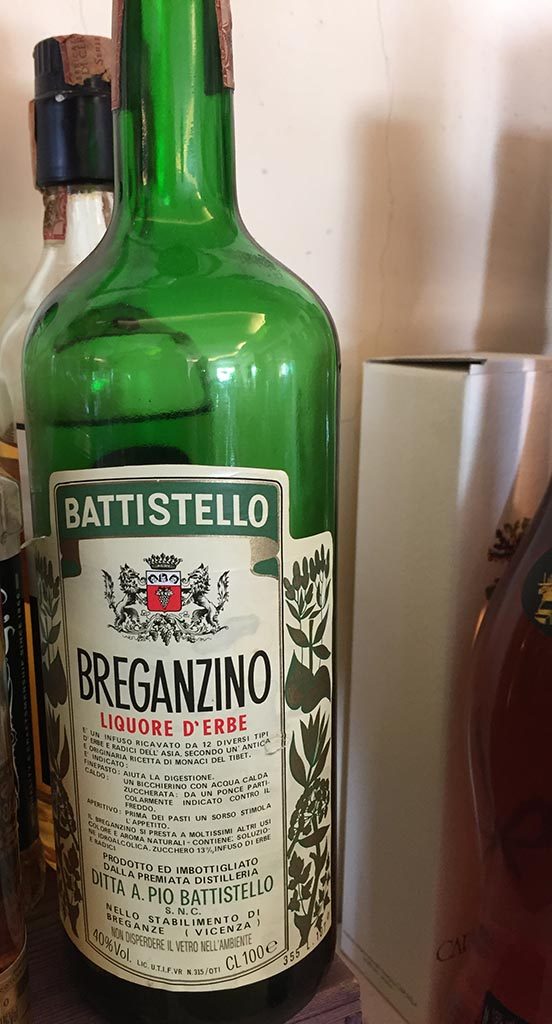 You know me, I always want the local experience, so I had to try all mentioned food and drinks. 🙂
We've spent the evening on the balcony of the hotel's restaurant, enjoying the warm summer outside and recalling memories of mosquitoes. There are no mosquitoes in Ireland, and it's easy to forget how annoying these little insects can be. 🙂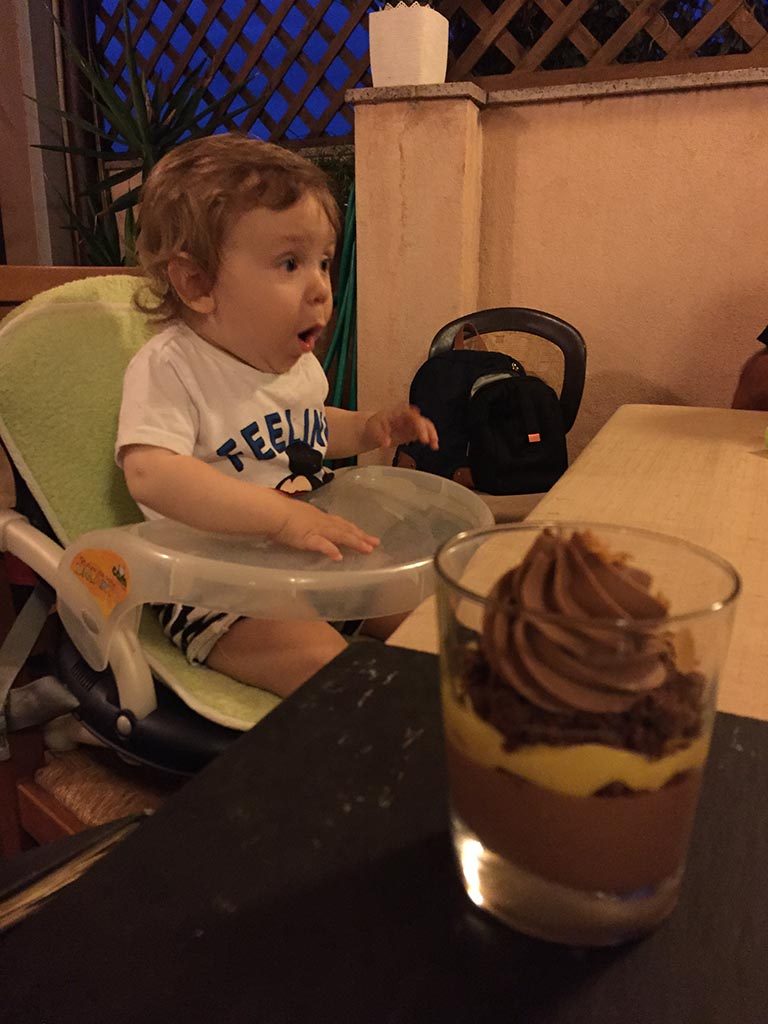 However, main star of the evening was Liam, who just started communicating with adults making us follow his orders. We had to clap as he did, point fingers, play peek-a-boo and similar. As well, it was around that time when he started eating grownup food, and it seemed that he really liked Italian cuisine. 🙂
Next morning we had all the time in the world to explore San Giorgio di Perlena. Good thing is, it was exactly the day when this place celebrates something, and everything was closed. It seemed that there's no one living here. 🙂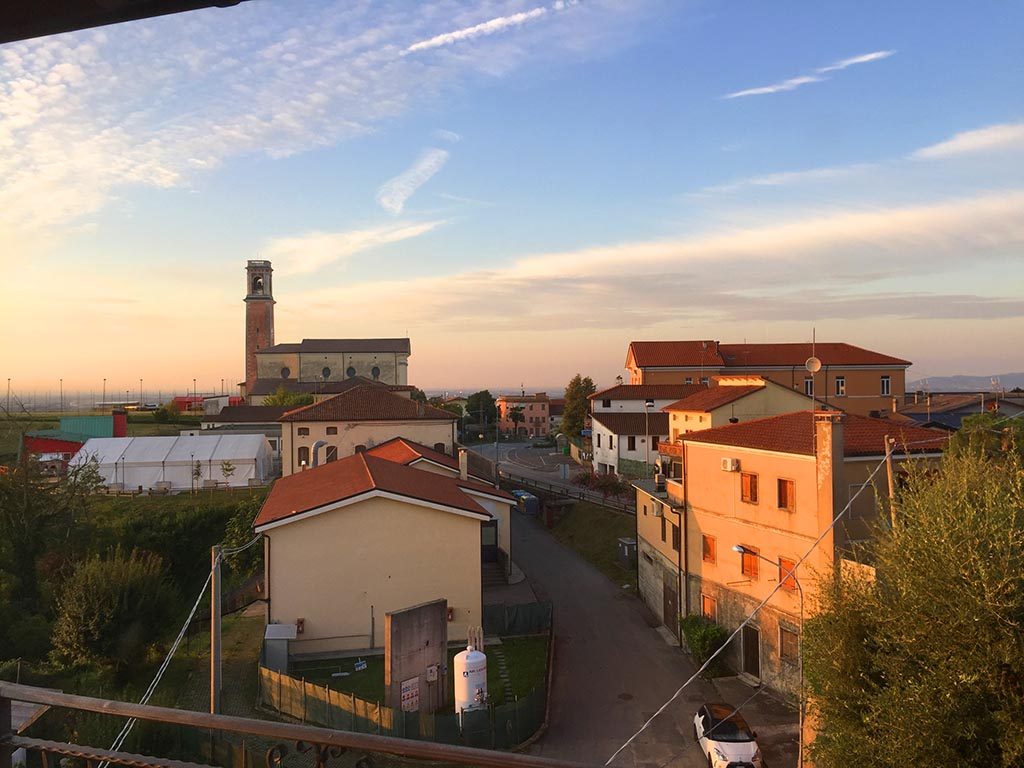 We walked around this picturesque ghost place, from one side, to the other side, then around the local church.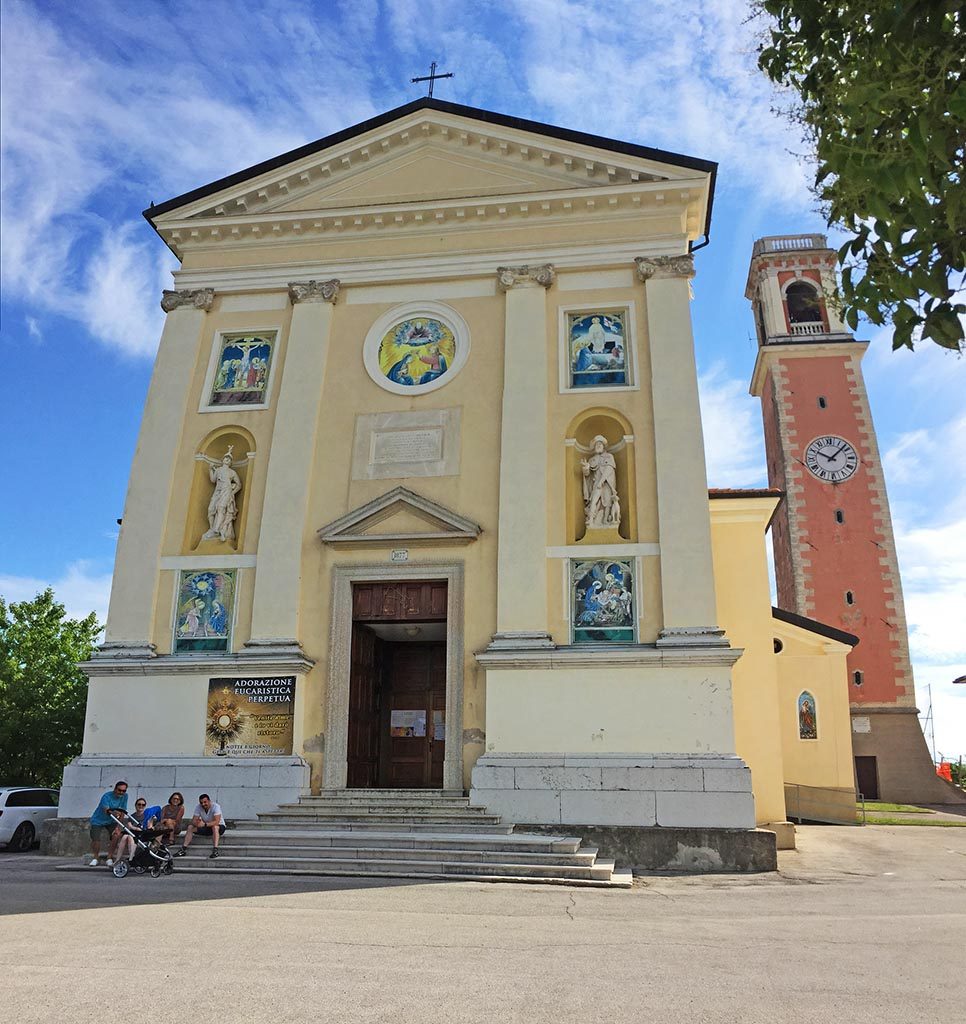 It was actually the only open building (apart from our hotel) at that moment, so we wondered around the church for a while. I went into the church, and one thing caught my eye straight away. A booklet, questioning why is St. Mary appearing only in Međugorje, in Bosnia and Herzegovina.
It was the last, or one and only example of the booklet, so I left it there on top of all other books, advertising BiH. I can't explain why is she appearing there because I did not read that, but was quite surprised to see such thing far away from Međugorje.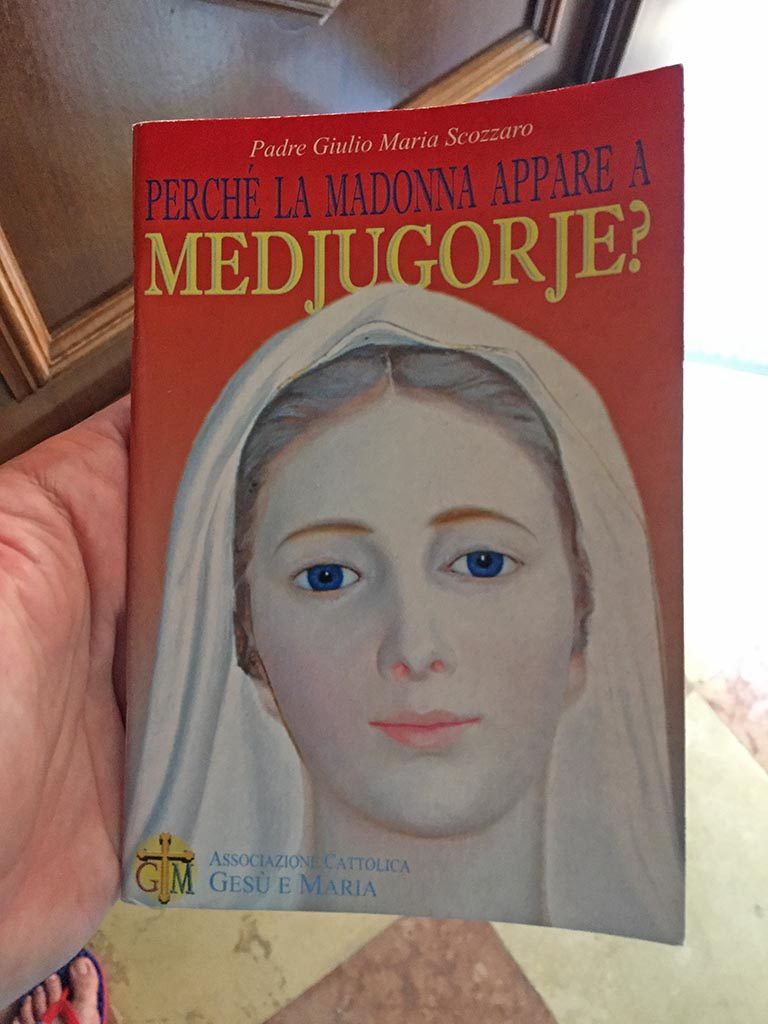 We headed back towards our hotel hoping to get something to eat and on the way back we discovered another local bar. "Central bar" or "Bar centrale". It's a small local bar, the kind of bar you can find only in Mediterranean places.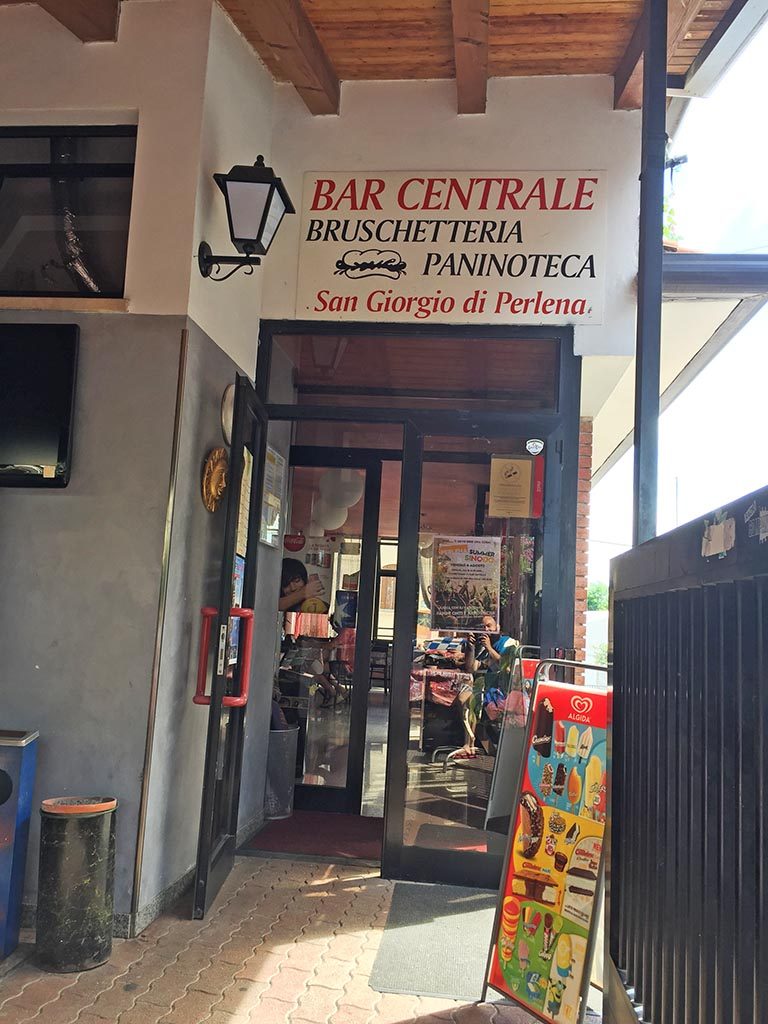 We've set down for a coffee and a pint. As soon as we ordered the waitress told us that she'll bring drinks first and later on she'll swing by with something to eat. That sentence immediately reminded me of the thing I'm missing in Ireland. Finger food, free of charge and served with every round, unless you opt out. We got delicious home made Italian salami and local cheese in the first round, later on we got some dry cured ham with herbs, peanuts and more cheese, but a different kind. It was so good that I could stay there for hours.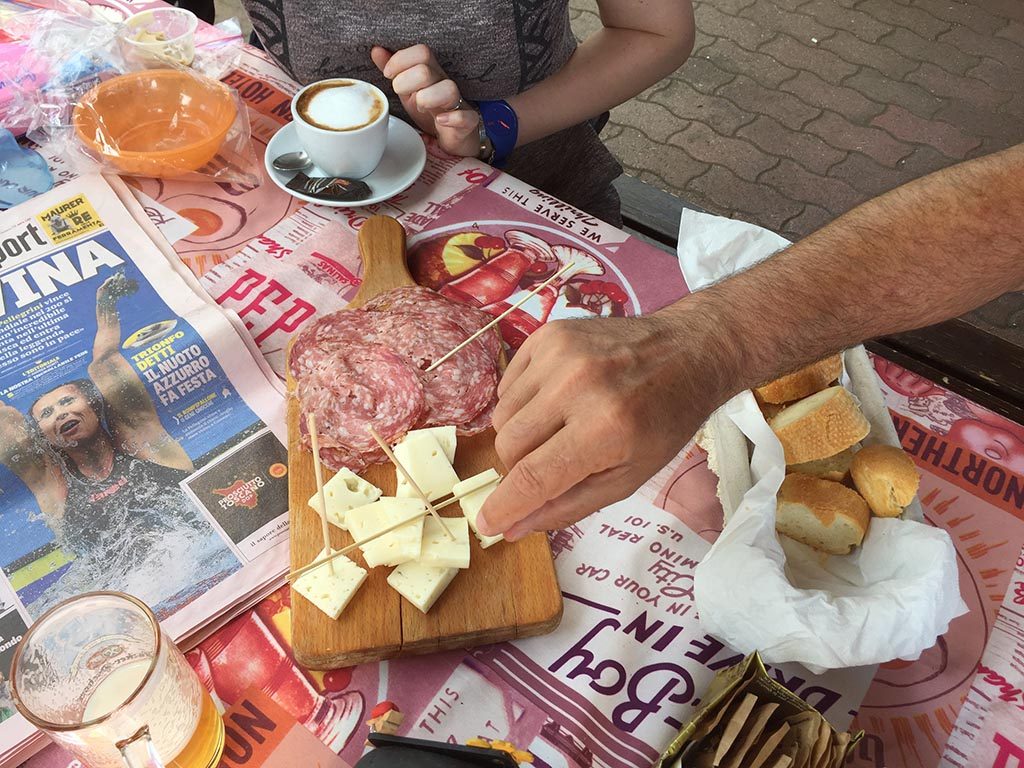 Of course, the glass of orange Aperol Spritz in the hot summer days is a must when in Italy. Don't look any further, start your visit with it. 🙂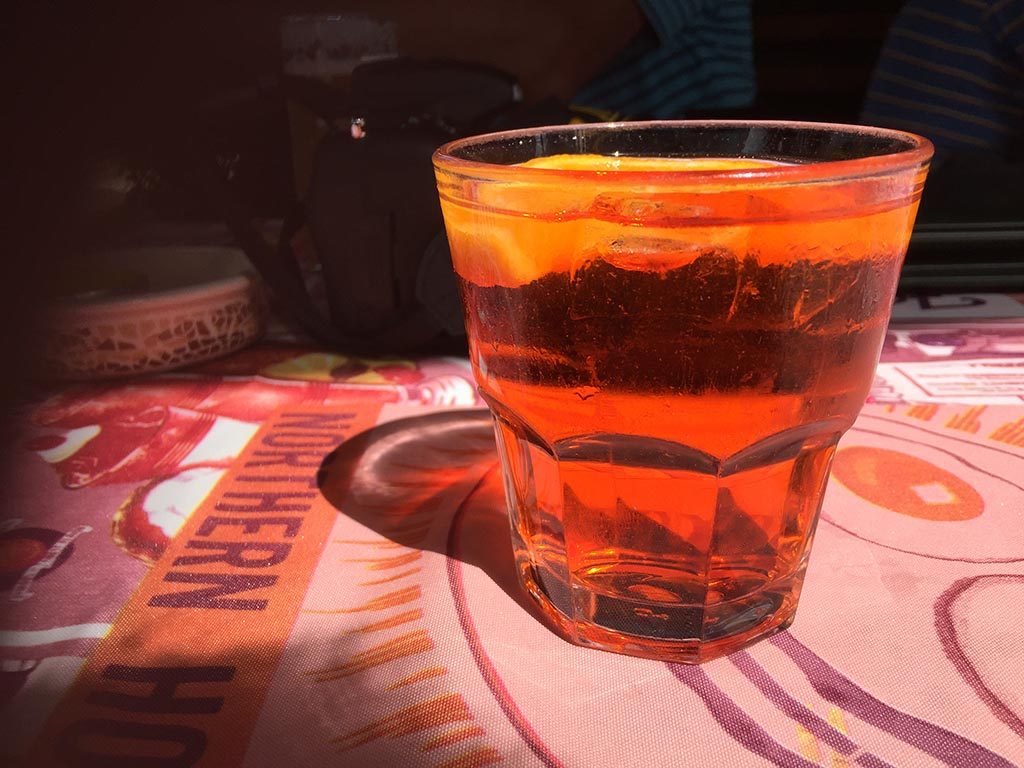 After the unplanned brunch we headed back to the hotel to rest and put Liam down for a nap. After that we headed towards the Ca' Balzan to the wedding.
Wedding took place in one of the best restaurants in the area, which is owned by another dear friend. It was amazing. The setup, location, food, service. Everything was perfect, but no one expected less from Davide, who is a real master of catering and a great chef.
As you can see, we were all in good shape. 🙂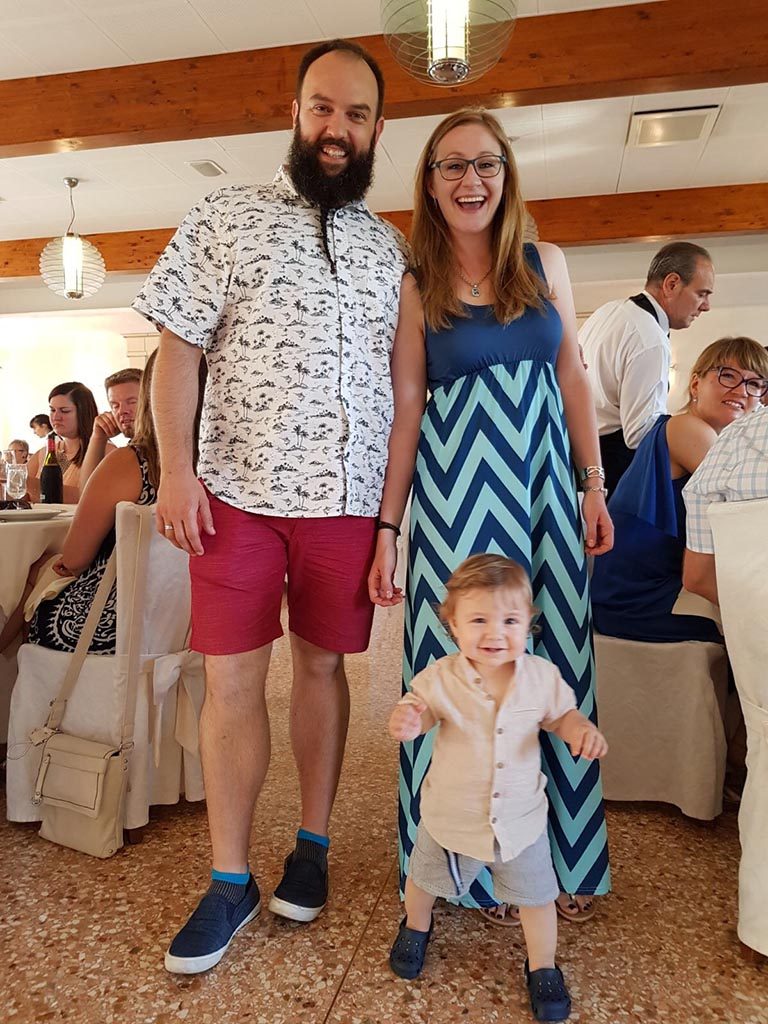 There was a huge variety of finger food and I tried most of it, but I spent the most of the time here. The original Grana, Asiago and Caciotta … If you are a cheese lover like me, this is literally a photo of heaven. OK, I'd add French Abondance as well, and then it would be proper heaven. 🙂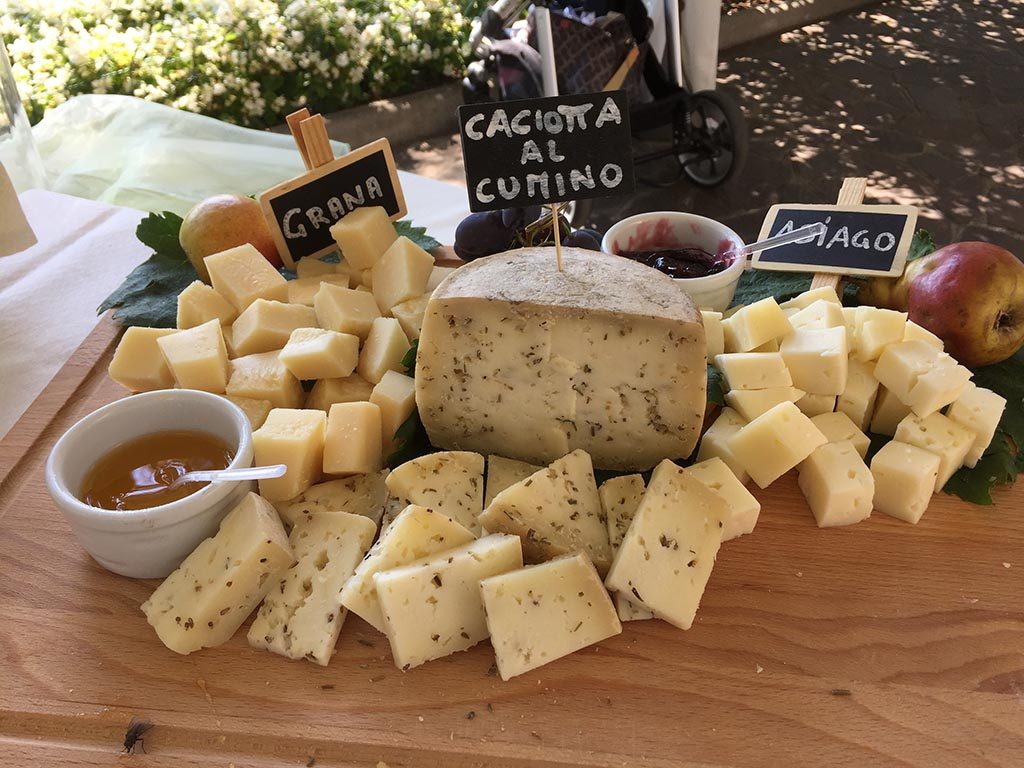 Besides, he serves my favorite brand of coffee there.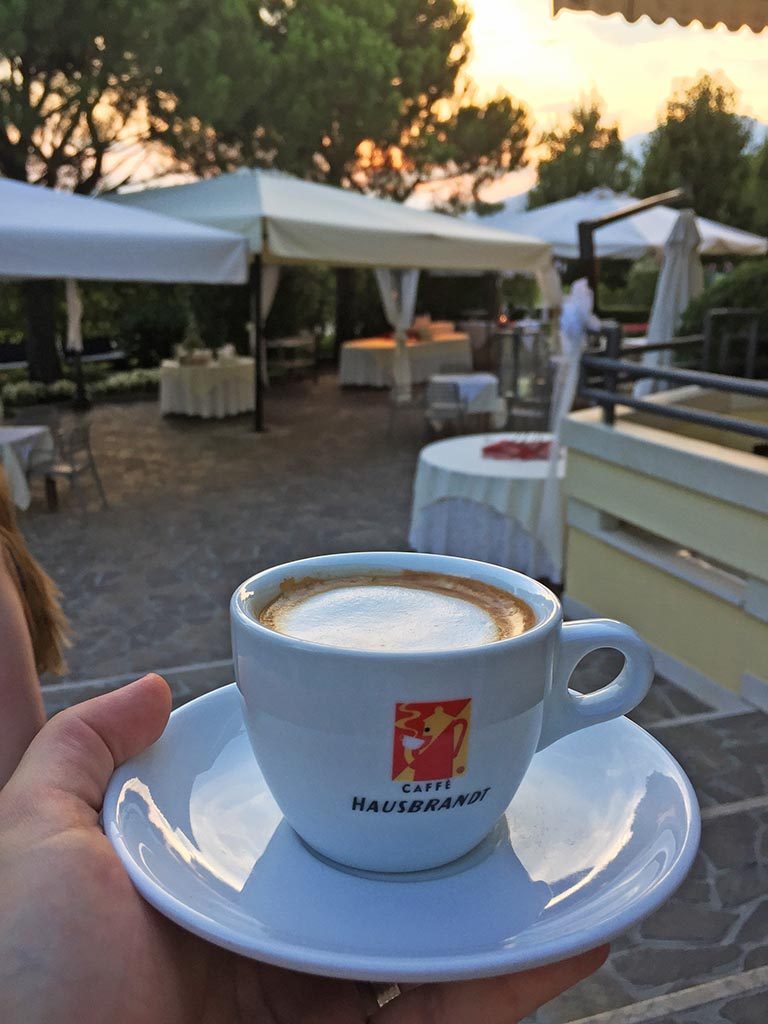 In case you are passing by, or visiting Italy – google Ristorante da Piero e Marisa and stop by. You can thank me later. 🙂
Since we can't stay out all night as the little one needs to sleep, we headed back to our hotel earlier than we usually would. We set down again with the whole family and a few friends for a drink in the bar in our hotel and then we called it a day.
Next morning, we had just enough time to visit Breganze and try some additional local delicacies.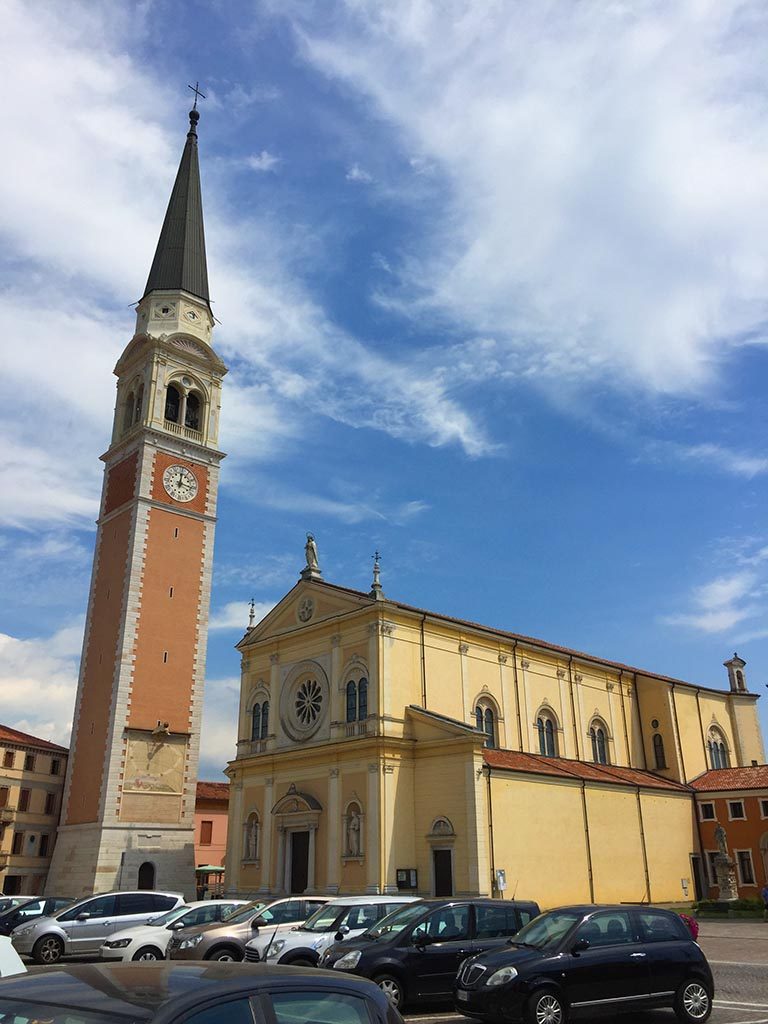 We stopped in the town center and walked around searching for anything that's open. We found a local tratorria, "La Cusineta", which claims to serve the best local specialties.
I can't guarantee you that it's the best local restaurant as we were only in that one, but we tried a local specialty "Tris di Baccala" which is a mix of three different servings of cod. Namely, "Alla Vicentina" (As done in Vicenza), "Mantecato" (creamed) and "Fresco grigliato" (freshly grilled).
If you love fish as much as I do, you'll understand how good this combination is. 🙂 Liam figured it out and ate most of my lunch. 🙂
We ate local fresh mushrooms, some bigoli again, as we really liked it, and some other excellent food but I was so hungry that I forgot to take a photo of all of it.
In general, these three small towns in Italy were a real culinary experience and a proper start of our vacation.
After lunch we headed to our first stop – Lugano, Switzerland.
But, more about it soon. In the next post. 🙂
Till then.
Kisses.
Balky.