St. Patrick's Day
I'm glad to let you know that we are sober and totally OK after our first St. Patrick's Day in Dublin. 🙂 OK, yeah, it's (almost) two weeks past St. Patrick's weekend, but I had a crazy week at work, guest at home, and got old so my recovery time is not so short any more. 😛
So, as I assumed in my previous post, St. Patrick's festival is a really big and actually very nice party. Let me tell you something more about it! 🙂
St. Patrick's Day is celebrated annually on 17 March, which was the death date of most well known patron saint of Ireland, Saint Patrick. According to Wikipedia he died in 461, so some 1500 years ago. In Irish language this feast is called Lá Fhéile Pádraid – Patrick's feast day, or St. Patrick's day .
Again, according to legend, St. Patrick was British(Welsh), and was kidnapped, at the age 16, by Irish raiders and held as a slave for six years in Ireland. During these years he found God, and God told him how to get back home. When he made his way home, he went to seminary , and became a priest. Fifteen years later he was sent on a mission to Ireland where he was to convert Irish pagans to Christians. In order to do that he used things that were familiar to Irish pagans, such as Shamrock to explain the holy trinity. That's why Shamrock and green colour are the well known symbols of Ireland.
Besides that, it's believed that he removed all the snakes from the island, but It's an urban myth, since climate here is so cold, that only 2 legged snakes can survive. 🙂
How did Christianity and shamrock ended up as drinking party around the planet, that is totally different story. Apparently, St. Patrick was attacked by snakes during his 40 days fast. Patrick's "break" in his fast might be the good excuse why many Irish Catholics break their fast for that one very special day , and that is the reason why they drink whole week. 🙂
So, let me tell you something about the festival now, OK?
All the preparation started week before, city was decorated, atmosphere was right, and then, it all started.
On Friday evening, it was the first night since we were in Ireland that we could hear whole Temple bar singing. It was a definite sign big and loud weekend is approaching. However, we were quite tired so we went just for few Guinnesses and then around for a city walk making some photos. (Those will be at the end of this post)
On Saturday we decided to start exploring St Patrick's weekend properly. We visited Temple bar , and got some shamrocks.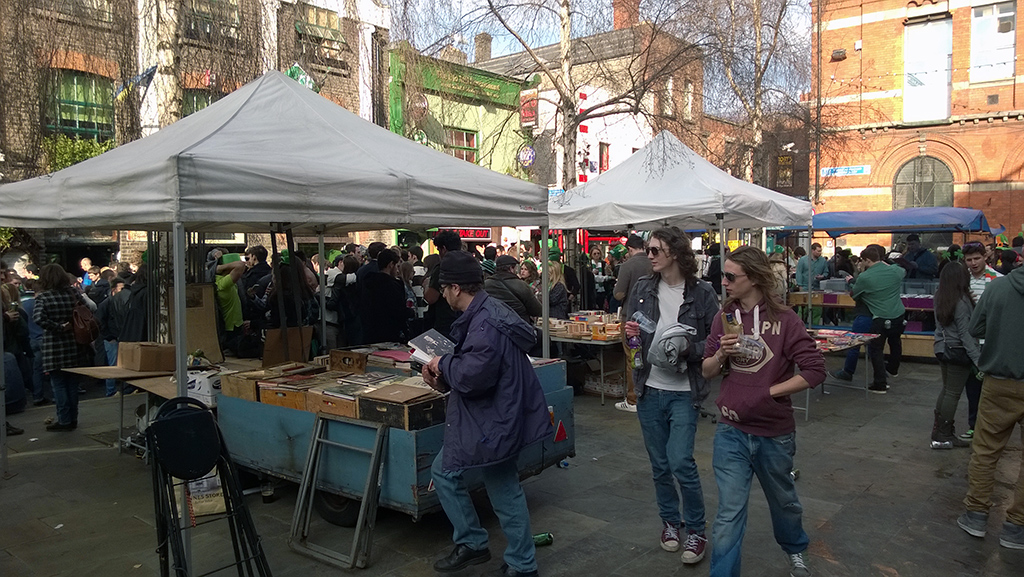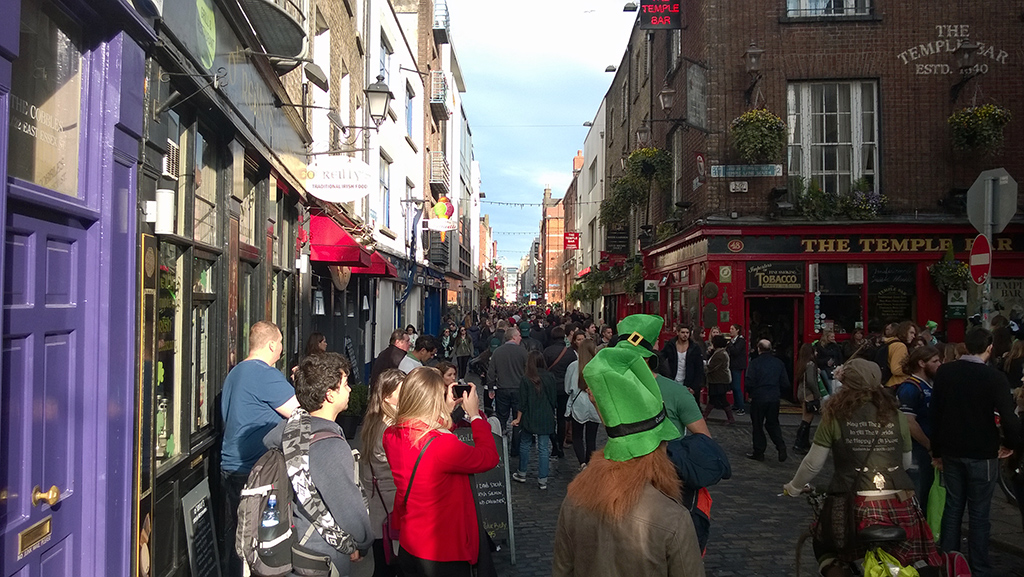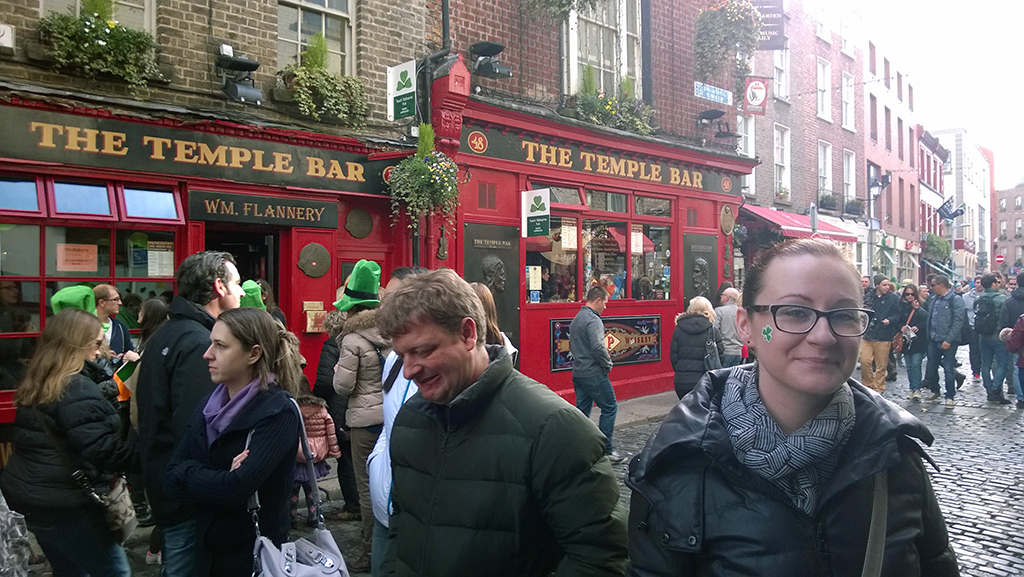 As you can see, it was overcrowded in the afternoon, and different songs and screams could be heard around the area. We just stopped to shop, and ran away to the pub. It was big 6 nations rugby game, where if Ireland would win , they would be the 6 nations champion.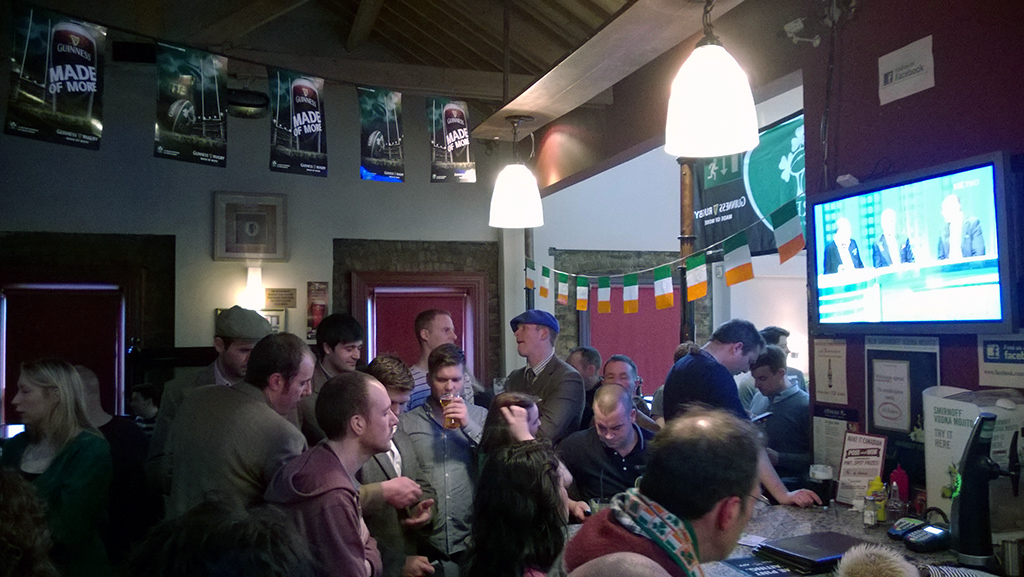 Even though the French team scored in the last second, they made an illegal move (forward pass), and the rest is history… Party could begin. Then city went crazy . So did we, and that's why we will talk about the Sunday! :))
On Sunday, there were mid season rowing races between UCD and Trinity. There is a certain fame that Trinity never loses. Apparently, if they lose, this competition never happened.
So I don't know what is this photo of. 🙂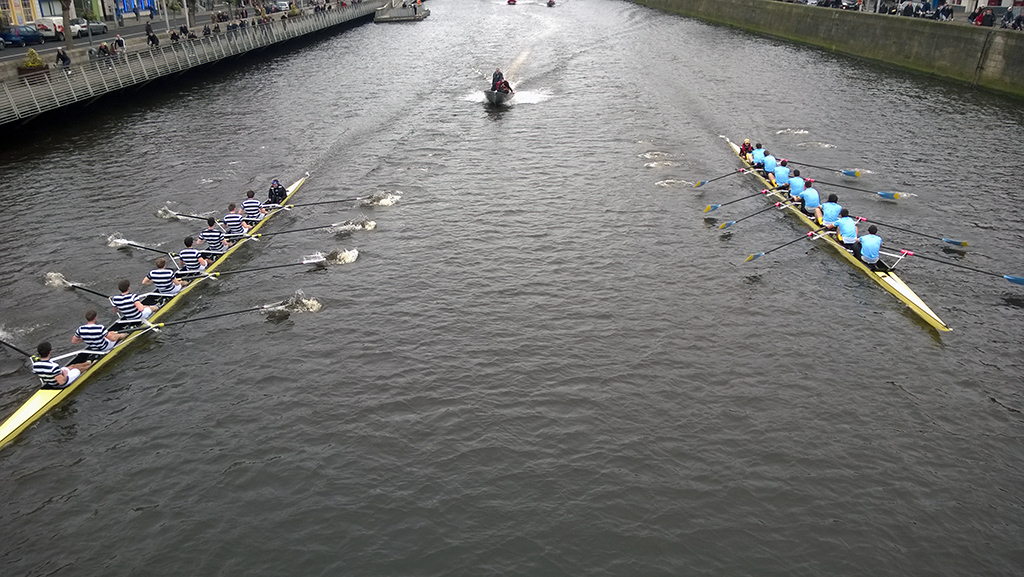 Since it was quite cold (freezing our asses off) on the Ha'Penny bridge, we decided to move and check other free things that were happening in the city that day. First of all, we visited a small gallery, with paintings where local Dublin painter re-did famous and not so famous artworks from previous eras, and made them look modern. Quite interesting, but not a single photo from that one. I forgot to take pictures. 🙂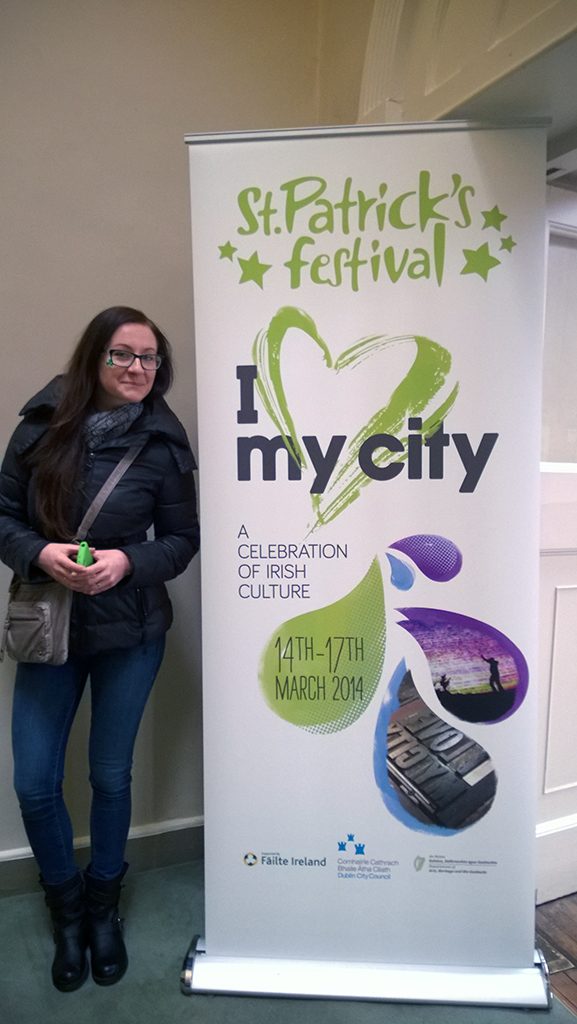 After the gallery, we went to another gallery, where there was some short documentary film about some artist from some Irish village that came to Dublin, and hated it in the beginning but then figured out that Dublin is the best. Since this film was like his first day in Dublin, we quickly moved to some other interesting city places.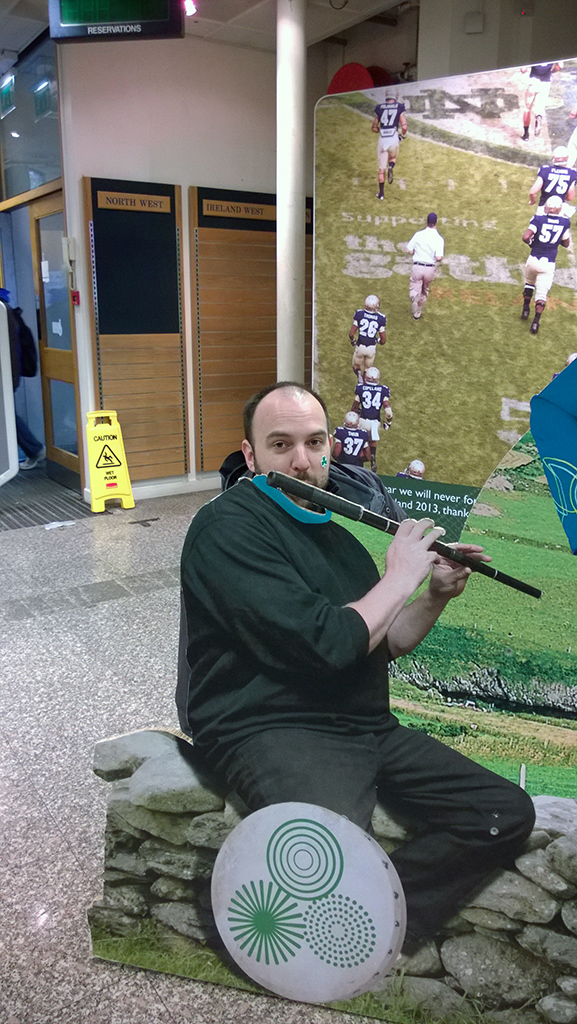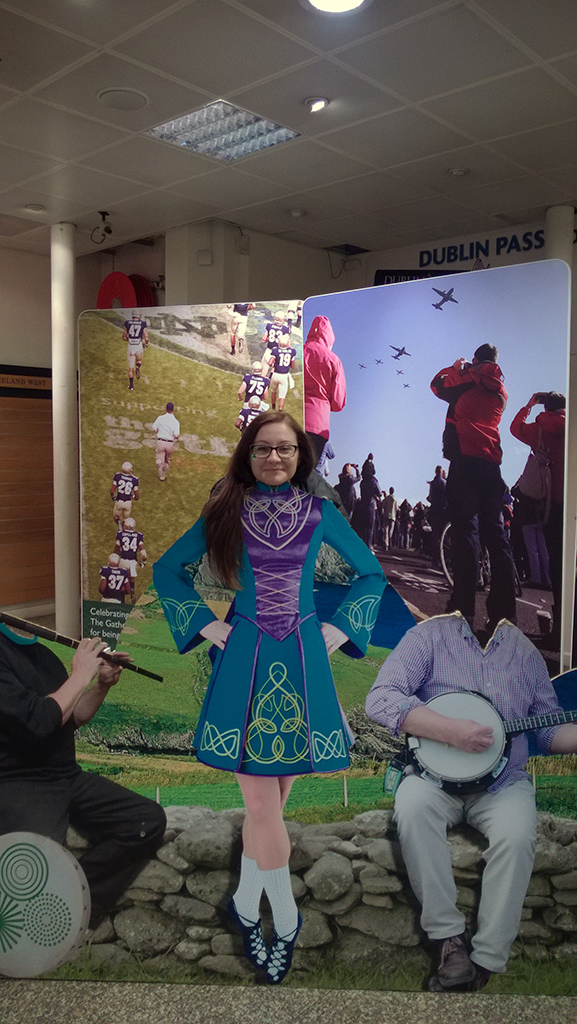 We've seen interesting figures.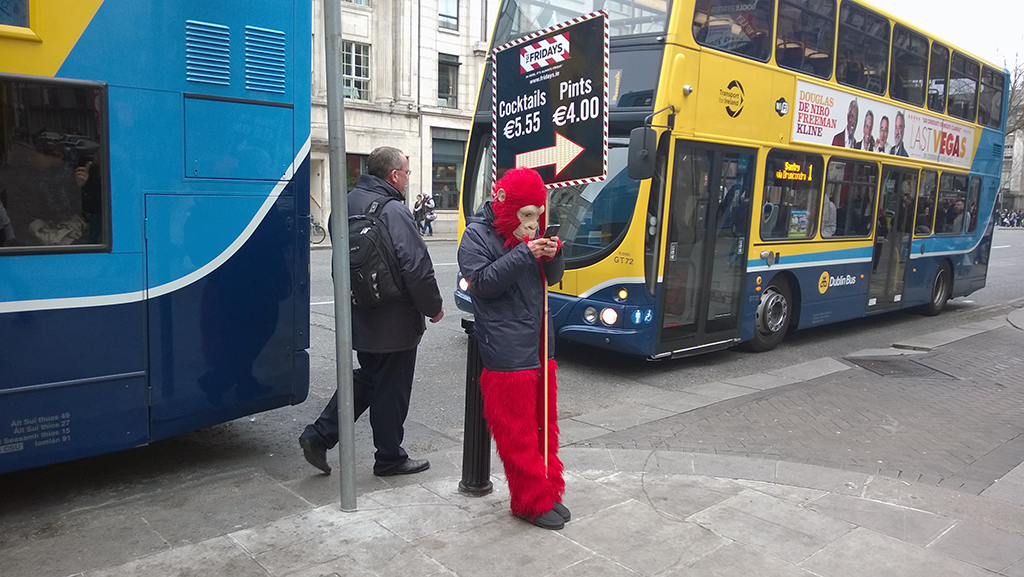 And then we went for a beerfest. Yes, there was another food and beer festival at a time, and we were there again. Not to repeat old stories, if you don't remember here it is how it looked like on previous beer fest.
After the beerfest, we decided to go for a city walk and some open air music happenings.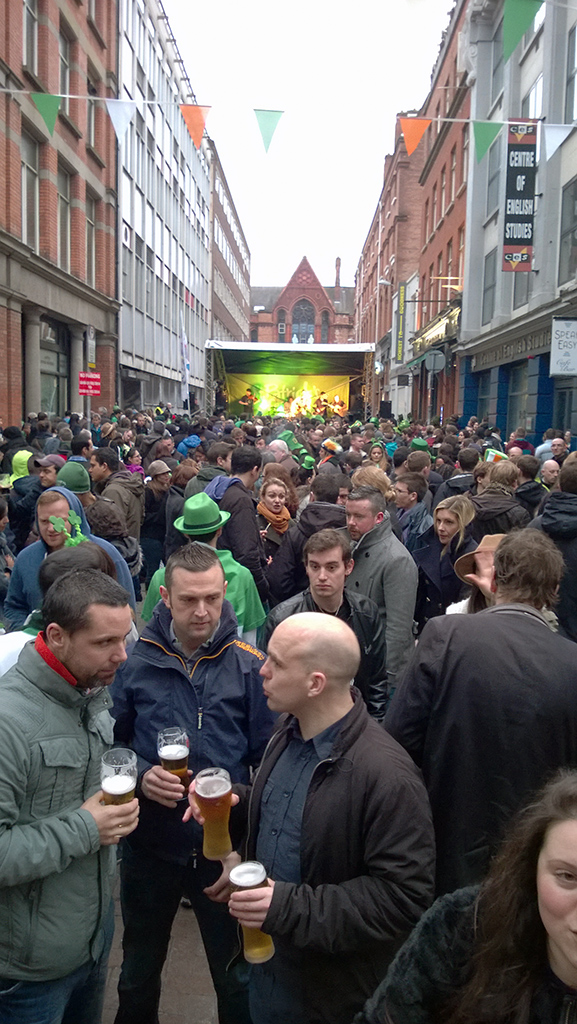 And as you can see, it was quite busy. 🙂
Still, during the St. Patrick's weekend, It's not all about beer. It's about "green". So, we needed to try a green beer, too! 🙂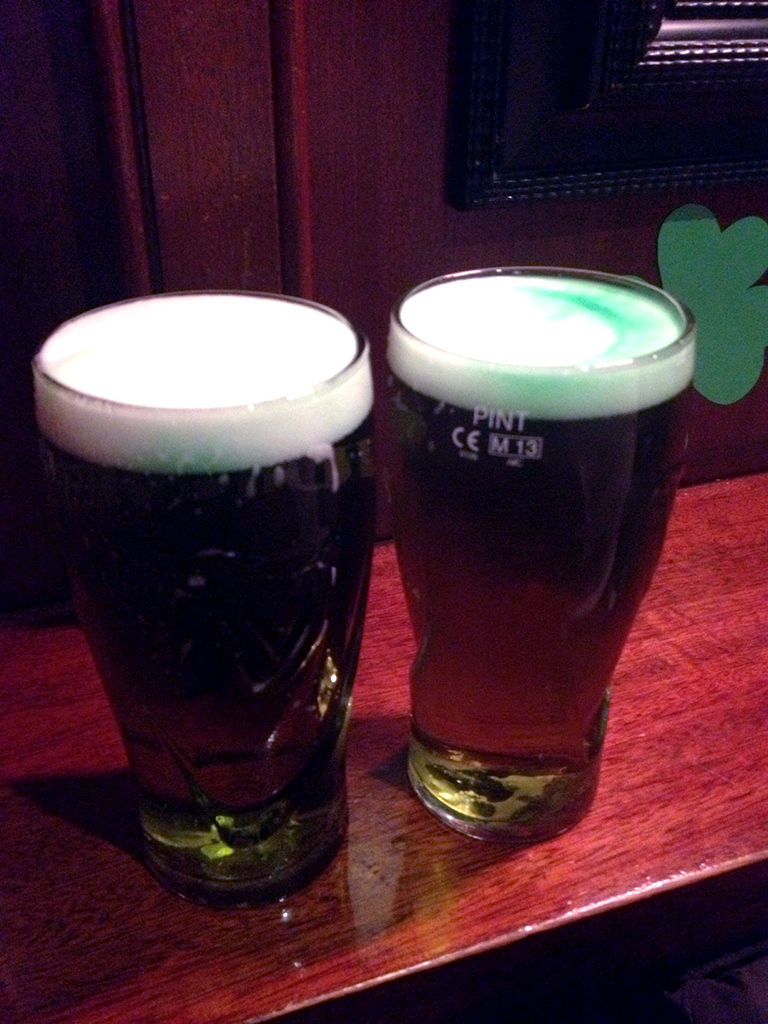 Since we had quite a few beers that day, and we were tired, we decided to go home. Oh boy, the whole Temple bar was singing through the night. Luckily, I was able to hear them for just few moments. And there was Monday! 🙂
Monday is the craziest day, lot of Irish people get to Dublin to be in the biggest possible parade. It is something like our famous Carnival in Rijeka, but it is mostly green. Similar to Rijeka , many people come to watch this.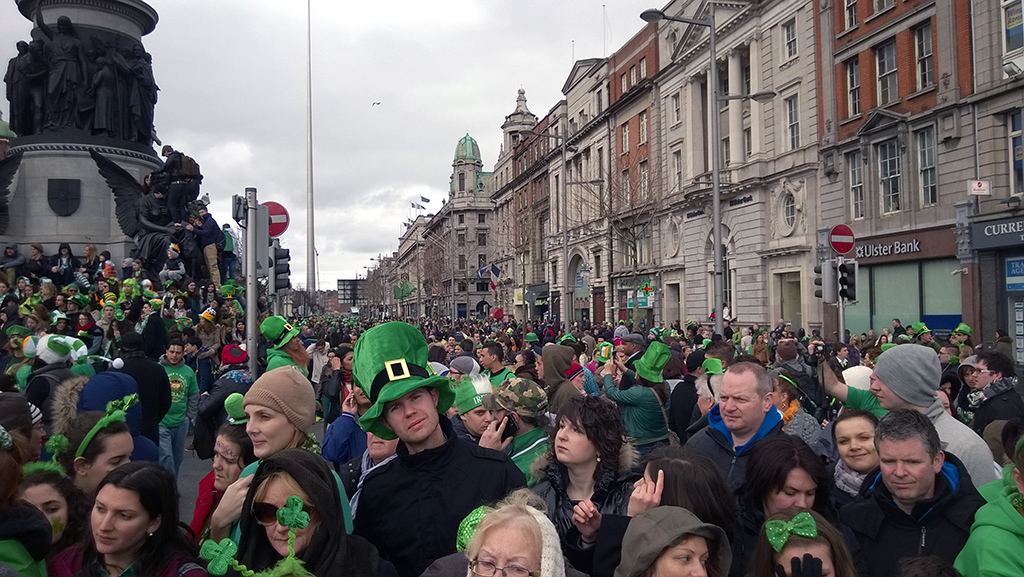 Since it is happening on the streets of Dublin, people bring ladders with them, to be able to see things from behind. 🙂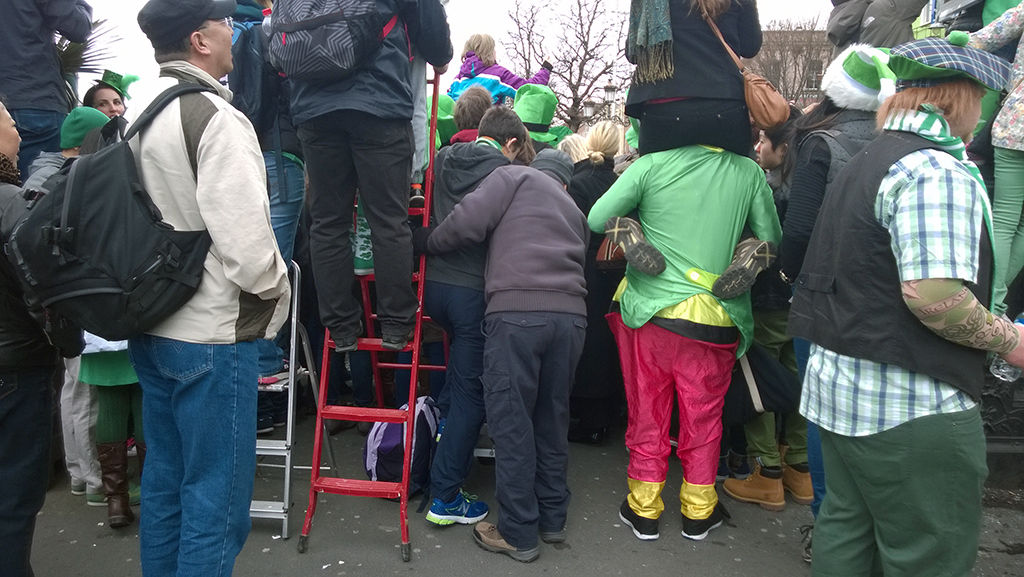 We were in the crowd for about an hour…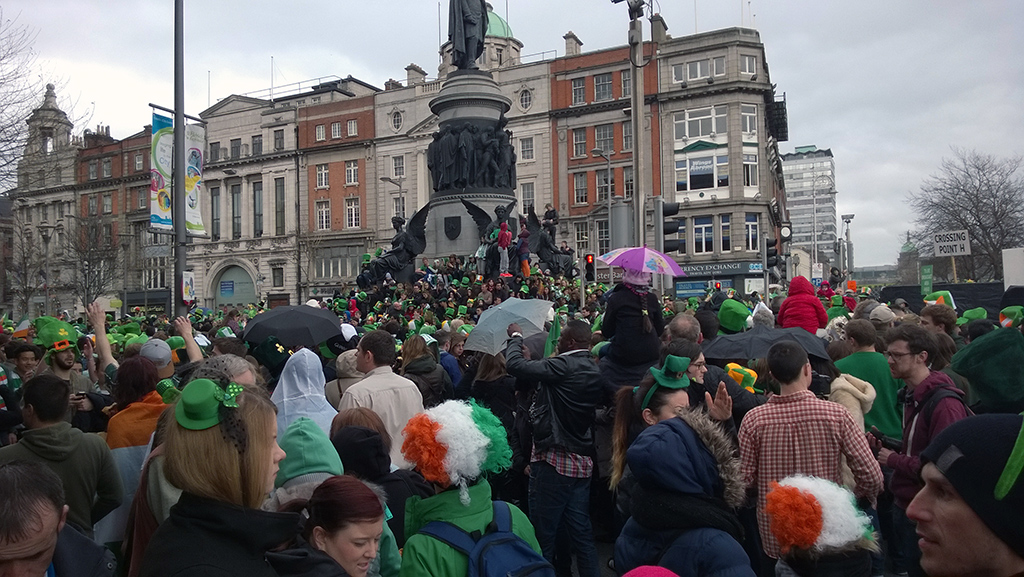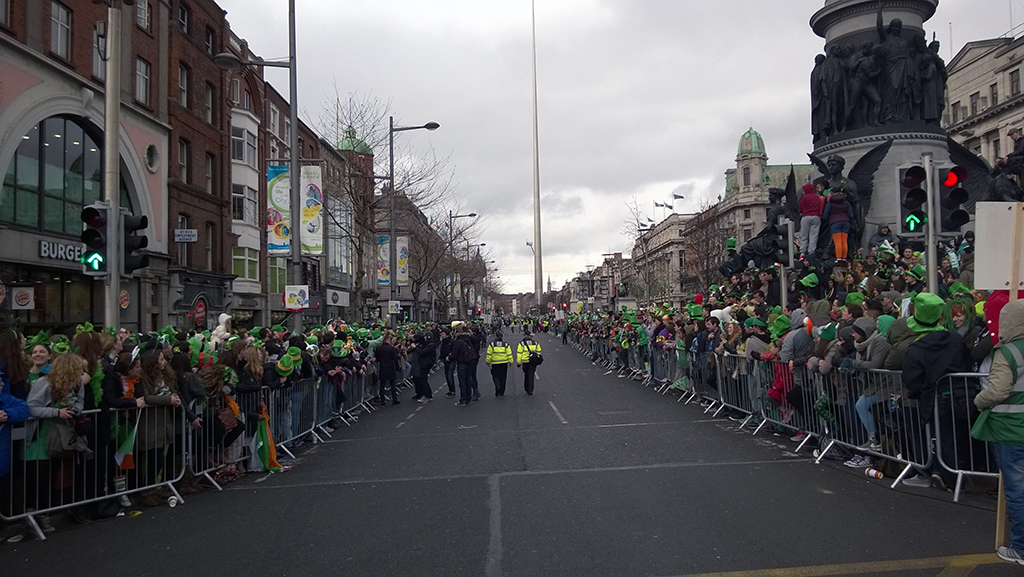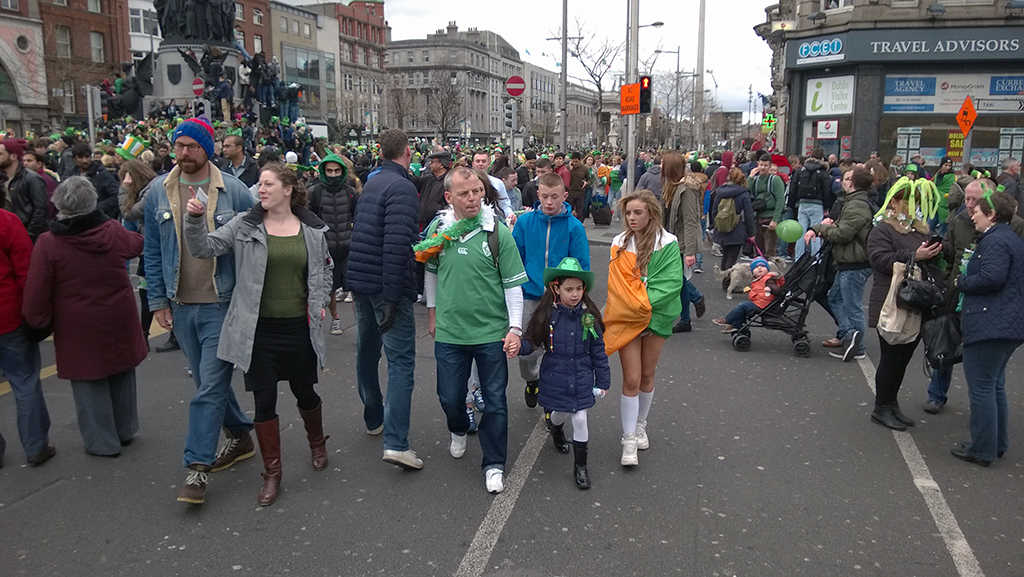 … then decided to go to the Croke Park! Magnificent Croke Park!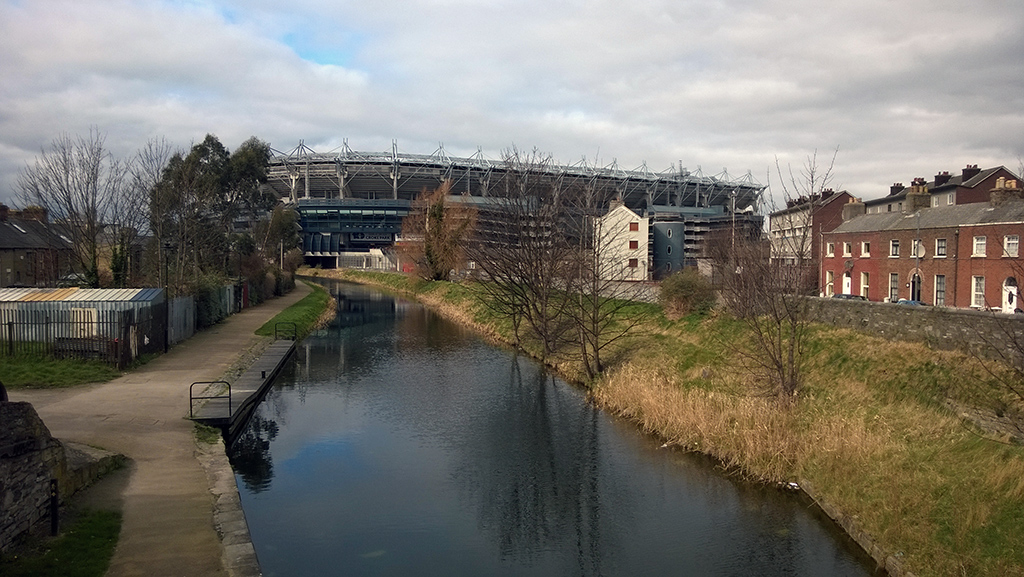 Yes, as I said besides rugby, beer, parade, rowing competitions, and millions of people on the streets, there are GAA finals on the Croke Park stadium. The finals of the great Irish sports.
But, that will be one totally different post! 🙂
After the finals, we went back to the city centre, had some lunch, and then had some beers.
Temple bar was crazy one more day in a row…
We had to go to work on Tuesday, but… These people most probably did not. 🙂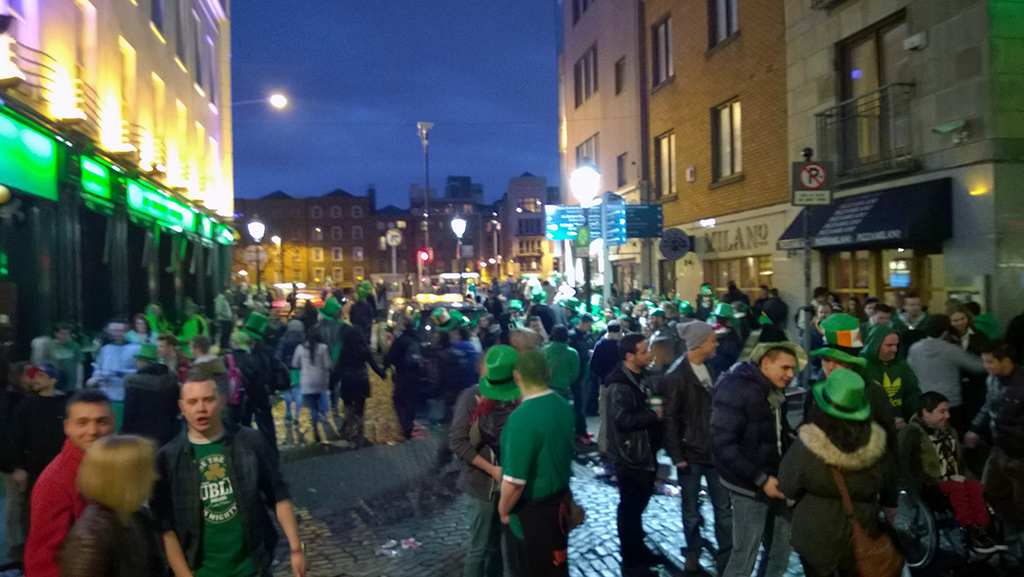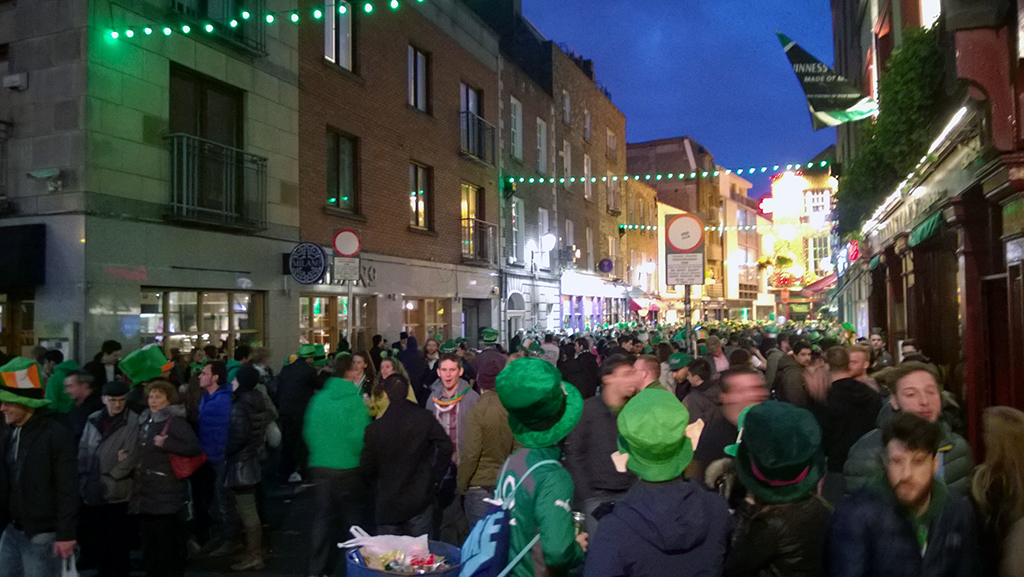 All in all, St. Patrick's day is a great Irish holiday that should be on everyone's "to do" list. But, prepare, suddenly beer price changed from €4.20 to €7 .
I warned you! 🙂
Oh yeah, I promised some more photos on the beginning of the text, right? Well, It's like this. Dublin goes green for St. Patrick's day. Many famous buildings, restaurants, pubs and other building get green lights and make their buildings – green!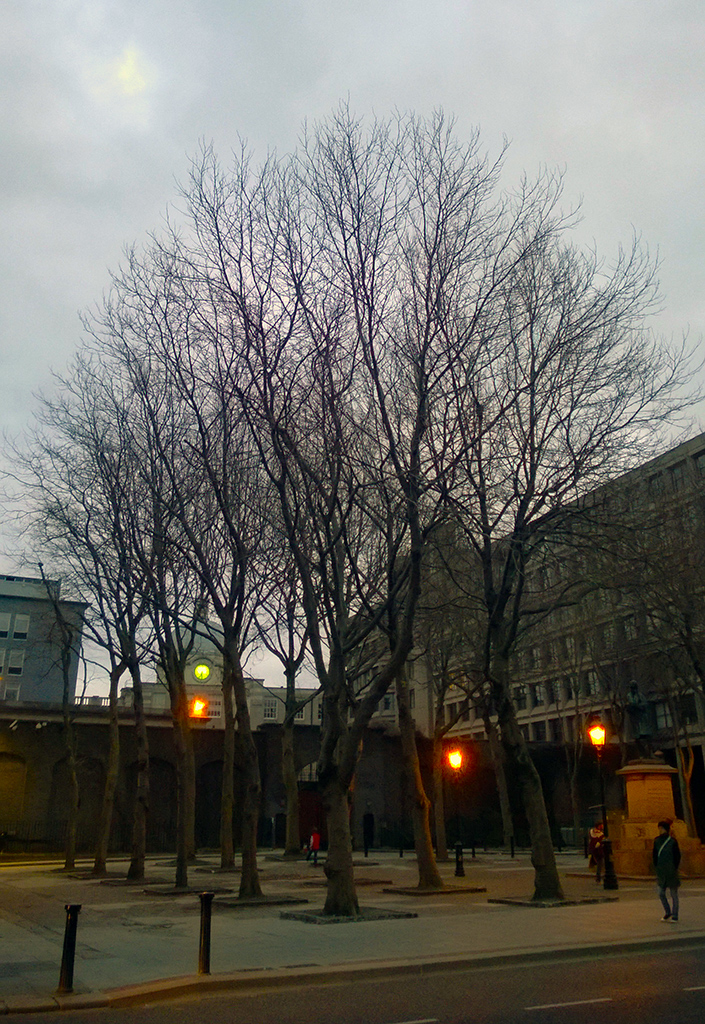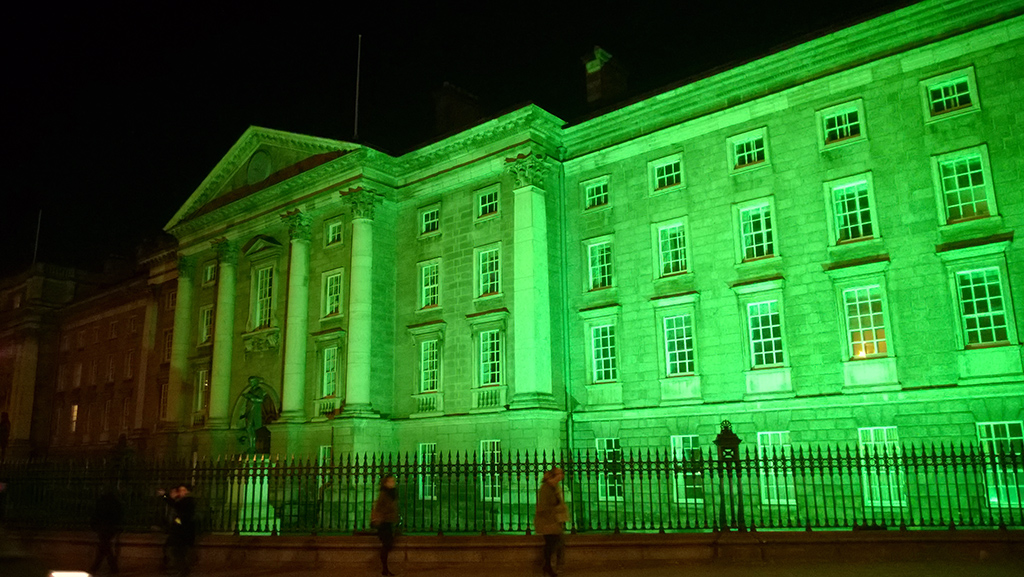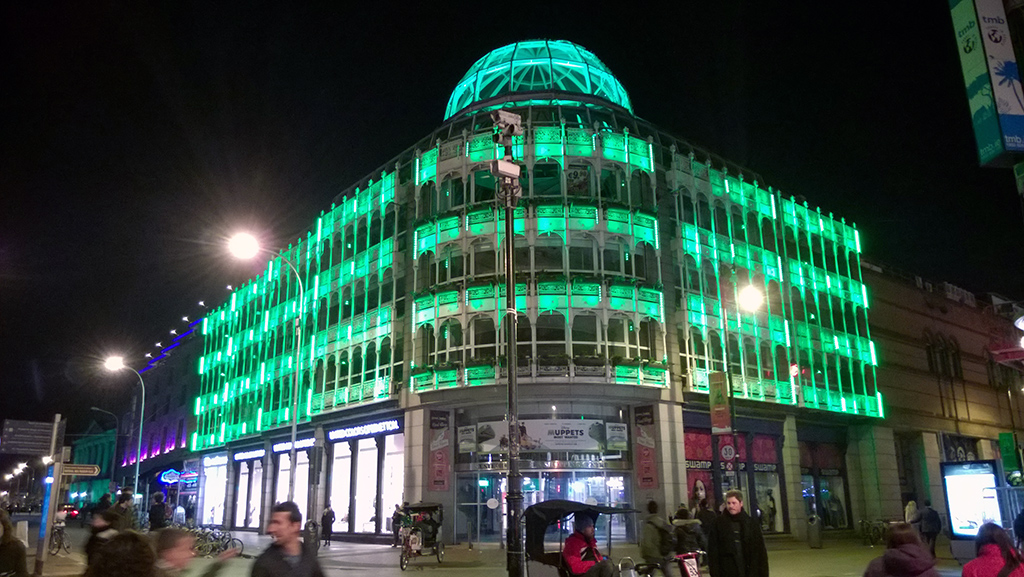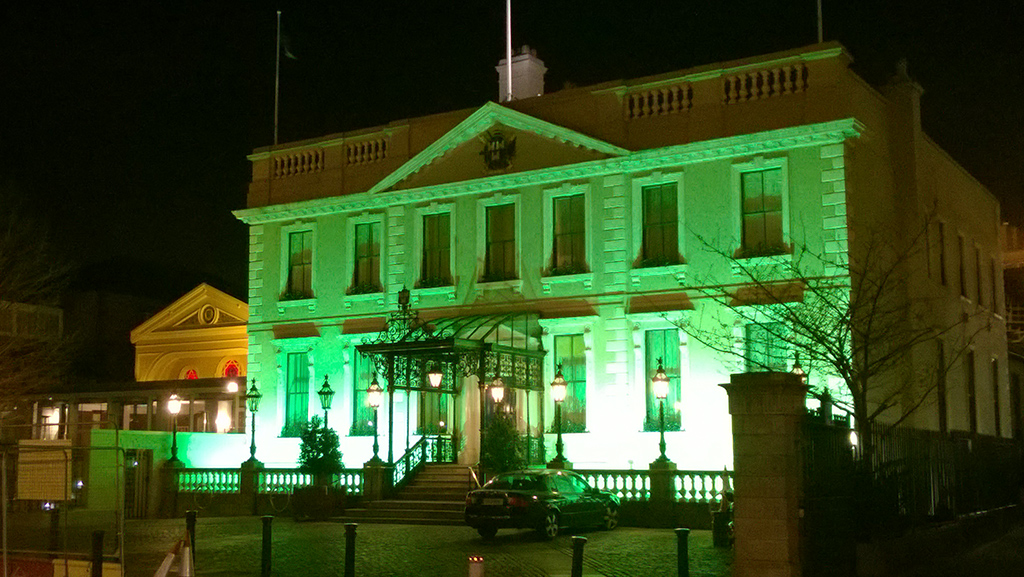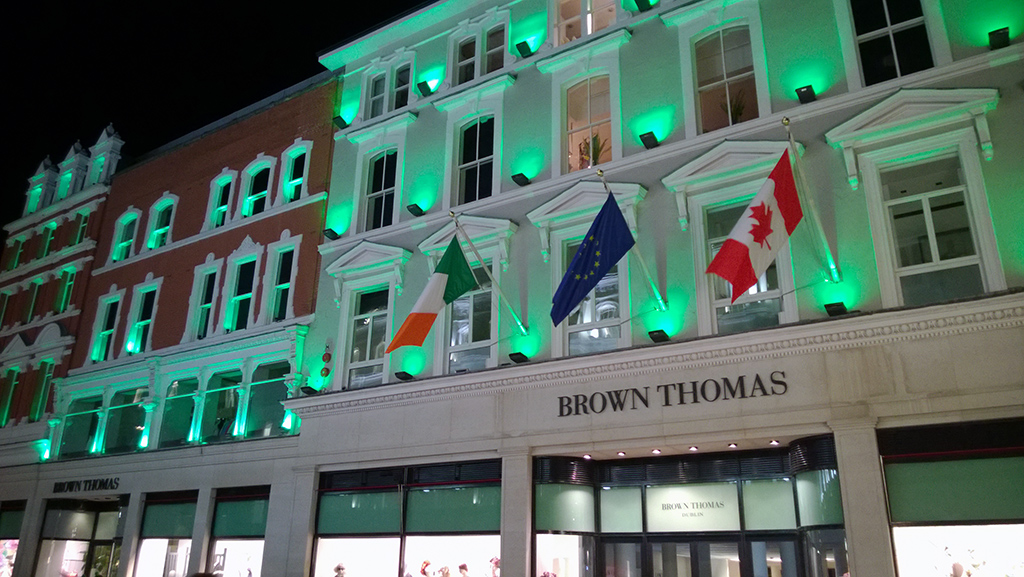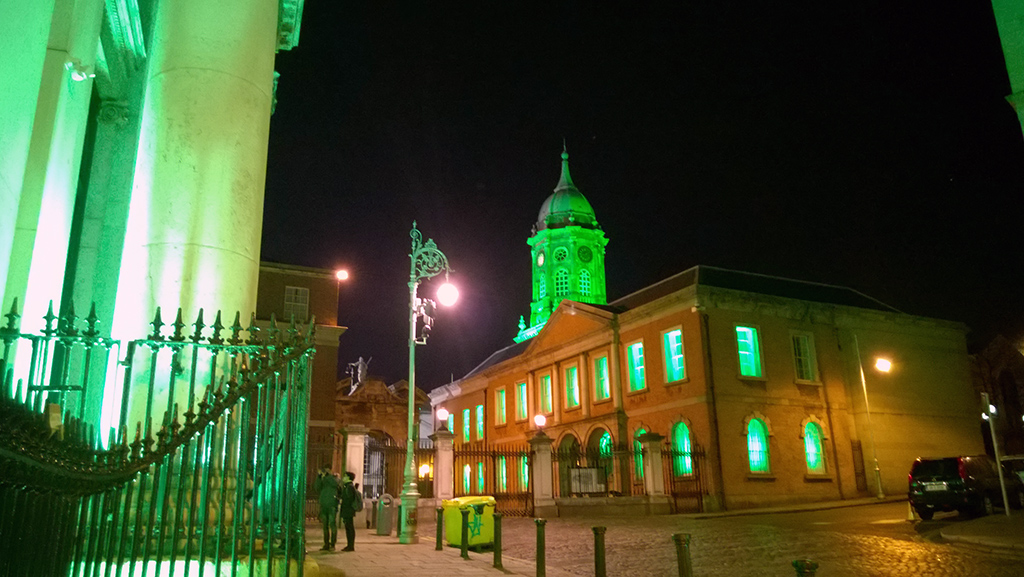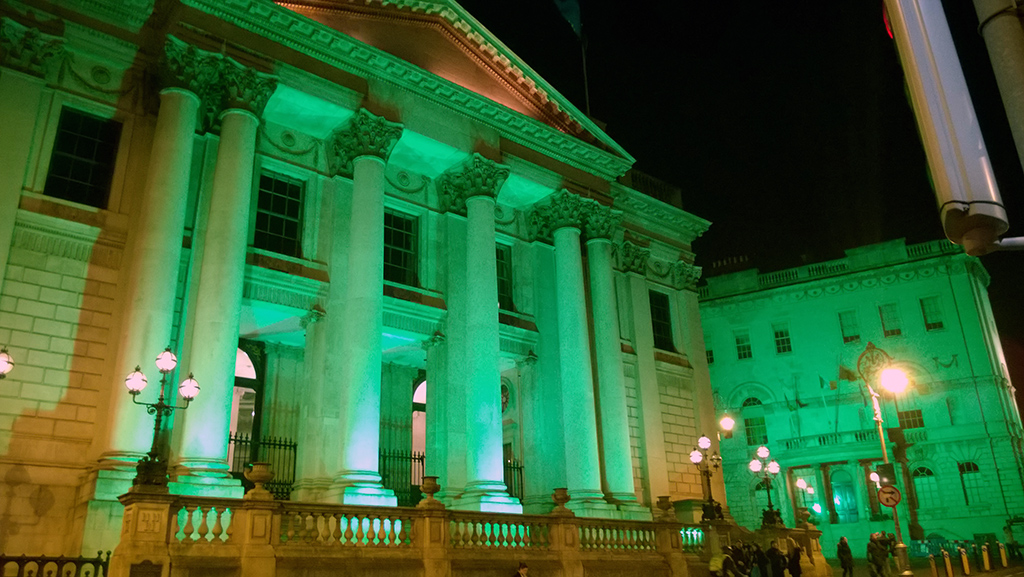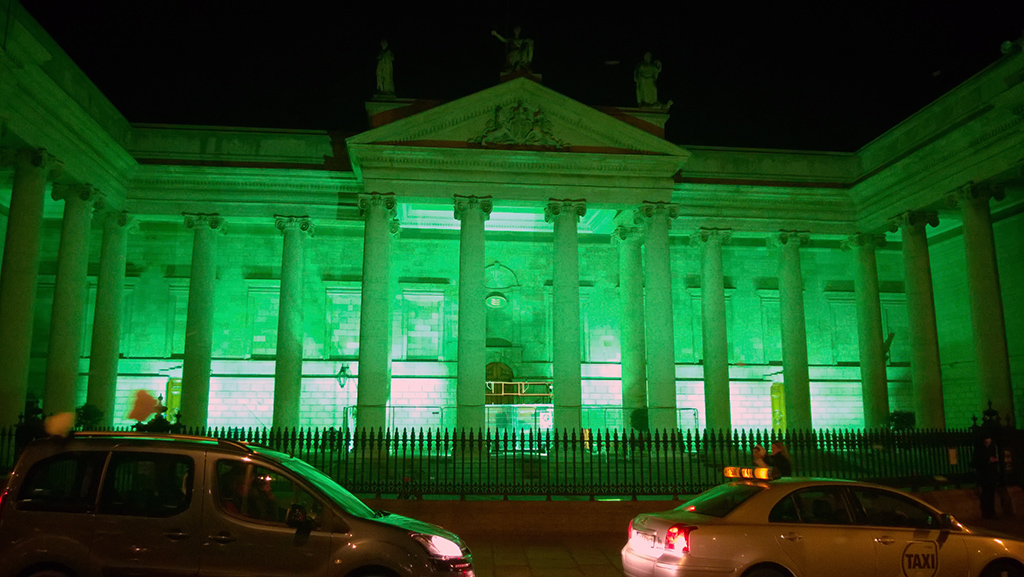 But, this greening is so powerful, that it seams the whole world goes green for the celebration of St. Patrick's!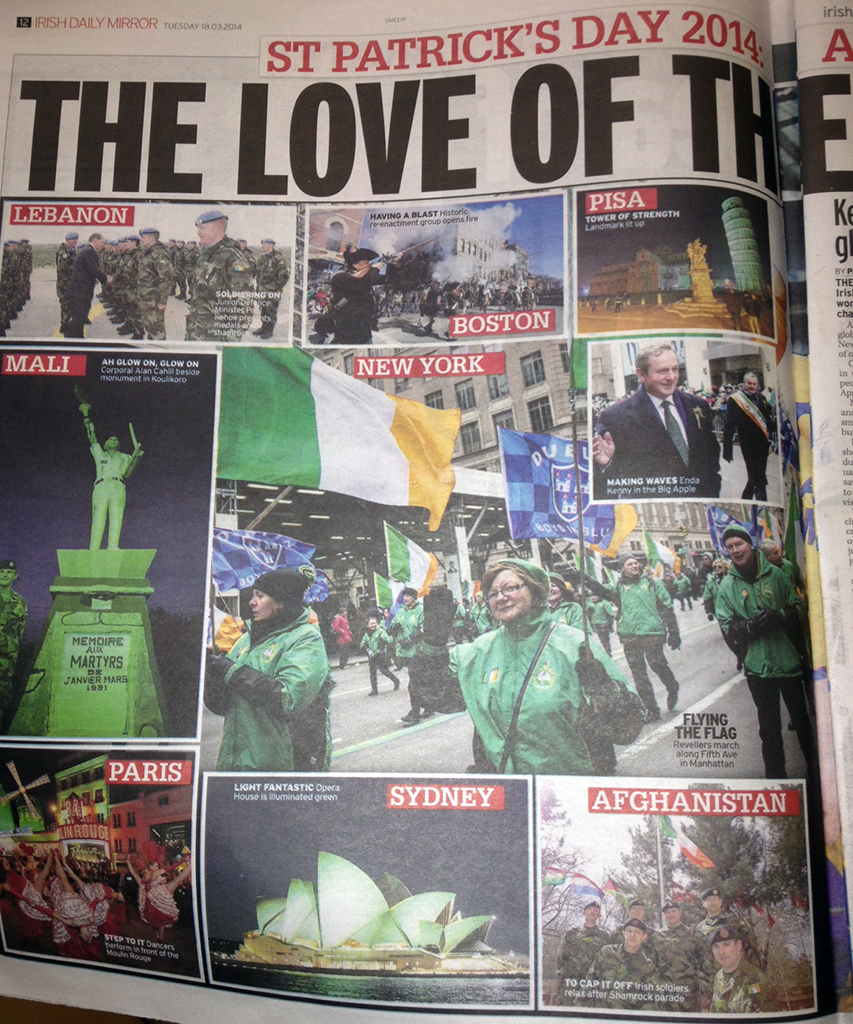 So next year, come to Dublin, and bring some "green" with you! ($$) :))
Till the next time…
Balky.