It seems that spring is back in Dublin, monsoon season is over, and we had 5 sunny days in a row! Yeah, I know, there are no monsoons in Ireland, but it has been raining since the end of November , and we had the highest rainfall since 1776 (at least it is since that time in Scotland and we are quite close by. )
However, sunny days bring some trees and flowers bloom, the grass is getting greener, and since the March 17th is approaching fast, the city is covered with some new colours.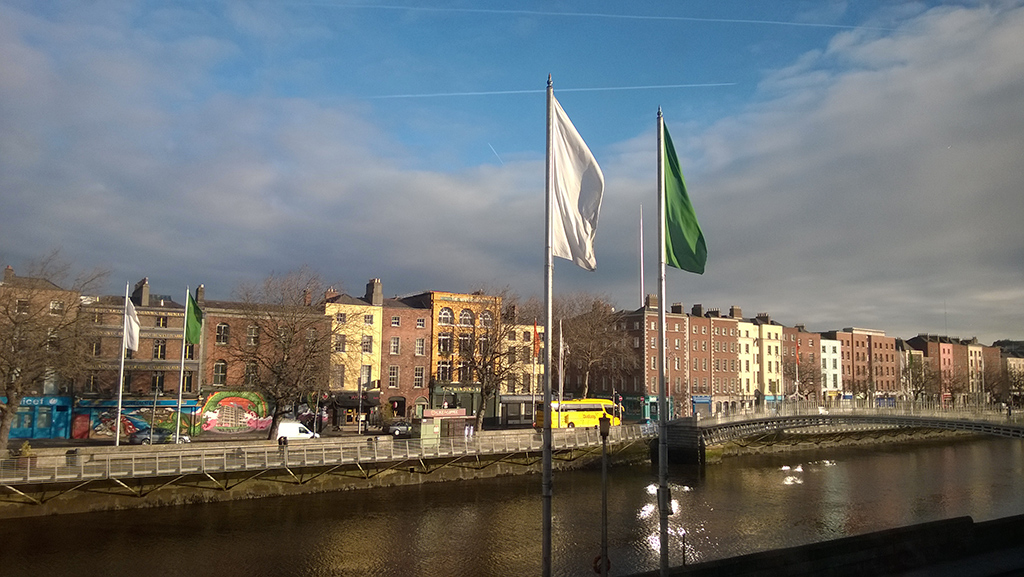 Yep, the whole place is covered in Irish colours, green, white and orange flags are everywhere, shamrocks are on most of the shop windows and most of radio and TV shows remind us on daily basis that there is a big thing happening next Monday. It's St. Patrick's day! Well, what's the big deal you might ask? We celebrate St.Patrick's day back in Croatia, we go out, have something green and drink beers in pubs and that's it.
Well, apparently this is not quite exactly how it works here in Dublin. According to radio shows first St.Patrick's celebrations start on Thursday, last for the whole weekend and ends up on Monday. On Monday there will be a big parade, GAA club sport finals, and thousands of tourists planning to experience St. Patricks in the heart of Ireland. The City centre will be closed for traffic and according to some old photos we can expect total madness.
Some colleagues advised us to prepare a stock of food, drinks and medical things for these 4 days and not to leave the flat at all, as they think we will not be able to get back in the apartment. OK, I still believe this is pure exaggeration, but yes we expect a huge crowd around the place we live. Besides that, we expect to experience at least one of the crazy things people do for St. Patrick's. So if we see green sheep in the city, the river Liffey coloured green or at least have a pint of green Guinness, we will be happy. If nothing else, we can enjoy the shamrock shake in one of the most popular fast foods on the planet! (Yeah, I won't mention the name of the fast food chain until they pay me to do that!  )
Still, if it will go completely crazy, we will stay home and I'll finish some of my drafted writings 🙂
Till then… Have a pint! 🙂
Cheers!
Balky
P.S. If you plan a trip to Ireland, you might find some interesting infos about the St. Patrick's festival here.?