My love, or need to read started some thirty two years ago. I was on the streets of Buje with my mom, three years old and bored as she was talking with her friend for too long, so I started reading store names out loud. From stories told later during my childhood, I believe first word I've read was "B-A-N-K".
On that first public reading occasion "B-A-N-K" did not mean "the bank", in my mind it was whatever I would think at that point, car, bus or banana. But, soon after that day I've learned understanding whole words, not just using my brain as OCR to recognize letters.
As soon as my OCR was improved to recognize words and sentences, I got a gift from my parents – "Stories in pictures" – Series of Children's books with illustrations, sort of story books like today's kids get from different mobile stores.
I've been reading quite a lot till the first mandatory readings in elementary school. Than I kinda got frustrated because it was "mandatory" and I've been reading things required for school, but not too much.
When my first computer happened majority of books and literature that I've been reading were teach related almost till the time I've finished university.
I did read at least one book every summer, but that was way below any average or recommended number of books.
As we moved to Dublin I got a long wanted gift from my wife as she got paid for the first time. It was the brand new Kindle PaperWhite.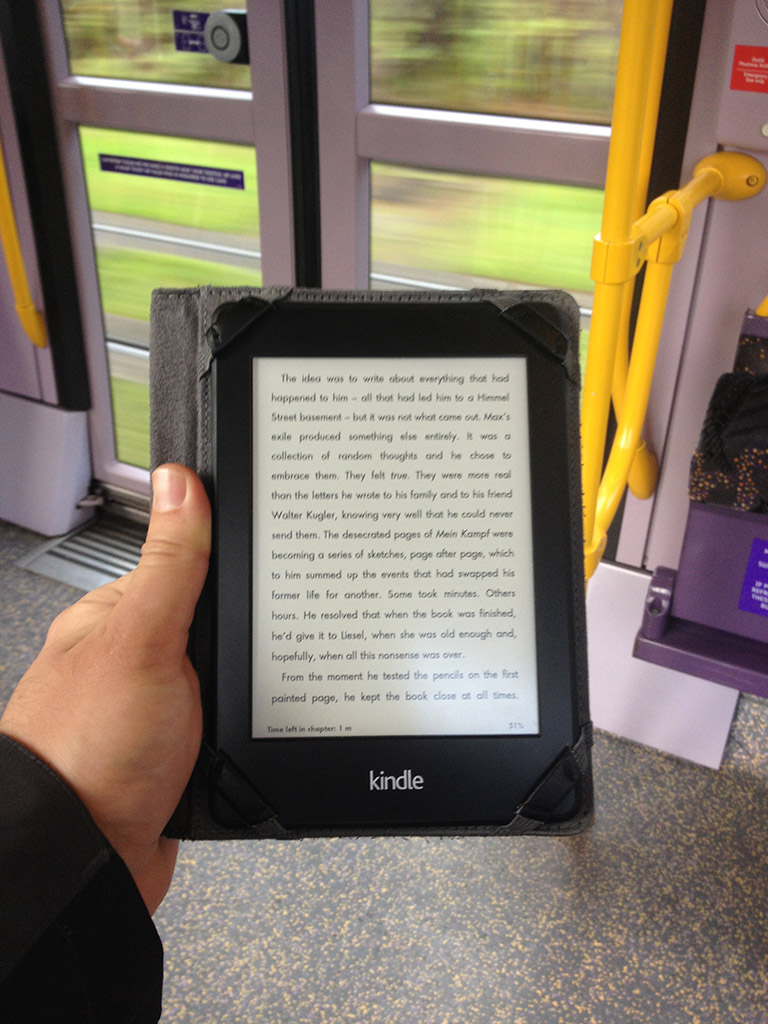 Since my company is located on Dublin outskirts I have 40 minutes every day to do something. First two weeks I was bored and grumpy since I never needed more than 5-15 minutes to get to work. Than I started bugging Dina how bored I am, and she decided to get me the PaperWhite and shut my mouth. 🙂 Since than I was reading every morning for a while, and in last few months I started learning another foreign language using Duolingo for 20 minutes and reading for 20 minutes.
A year later this is a summary of books I've read:
One Serbian book that is still to be published, I got it as alpha reader
"Cakavski stihovi" by Drago Gervais
APE: Author, Publisher, Entrepreneur-How to Publish a Book by Guy Kawasaki
Write Good or Die by Scott Nicholson
Easy Cash Writing: How to Make a Living as a Freelance.. by Rob Parnell
How to Write Great Blog Posts that Engage Readers (Better.. by Steve Scott
How to Write More Words More Easily (Fiction Writing HELP.. by Terrance Field
Fiction Writing: Writing a Gripping Plot Line, Answering.. by Ora Rosalin
Money: The Top 100 Best Ways To Make And Manage Money.. by Ace McCloud
Blogging For Profit: In Just One Hour A Day! by Ben Holmes
50 Ways To Make Money On Facebook by Debbie Muller
Passive Income with YouTube by Raj Patel
Business Fire Starter: Start a Business and Make Money from.. by Von Money
Back to Creative Writing School by Bridget Whelan
The 20 Percent Solution: Create a Website for Almost Passive.. by Gretchen Glasscock
The Five Dysfunctions of a Team: A Leadership Fable (J-B.. by Patrick M. Lencioni
I am Ozzy by Ozzy Osbourne
Unbreakable by Sharon Osbourne
I Am Not a Serial Killer by Dan Wells
Absolute Beginners (Allison & Busby Classics) by Colin MacInnes
Workaholic – English edition by Morgan Magnin
Dubliners (Illustrated Edition) by James Joyce
Jet by Russell Blake
Silence by Natasha Preston
A Fatal Affair by Pamela Crane
Broken Silence by Natasha Preston
FLASH FICTION by York Lord
Where There's Smoke by Jodi Picoult
The adventures of Slibby the Snail : The stolen food by Ivan Kules
Give Me Your Best Shot (1) by Ray tricky Marsden
The Five Dysfunctions of a Team: A Leadership Fable by Patrick M. Lencioni
The Book Thief by Markus Zusak
Now, the reason I started writing this article is to express my satisfaction with the e-reading device. OK, not all of mentioned 32 books are of 300 pages, but still it gives me the fantastic average of almost three books per month. I can't imagine going 15-20 times to a library or buying 32 hardcover books. I do like paperback books, but in small rented apartments collecting books is a burden.
Beside the fact I post an article twice per month on this blog, it is quite obvious from the above titles that I'm interested in writing and making business online, but the rest of the titles show that I'll read anything interesting. 😀
(Recommendations are appreciated, .pdf, .mobi, .txt, .azf files are wanted and you can e-mail me free 🙂 )
So, in case that you like reading too, I highly recommend any of available e-readers with solid ink (e-ink) technology, as it really is one of the best tech things available on the market.
And that's all for today. Lovely Bank holiday weekend is in front of us (Monday is off in Ireland), so I might boost my reading even more.
Till next post…
Love
Balky