Three hours ride in Shinkansen brought us from Fujieda to Kyoto later in the afternoon. By the time we found local metro lines and our nice small apartment it got dark outside. As it was already dinner time, and our legs were well sore from yesterday's descent from Mt. Fuji, we decided to take a short walk to the city centre, have a dinner and head back home.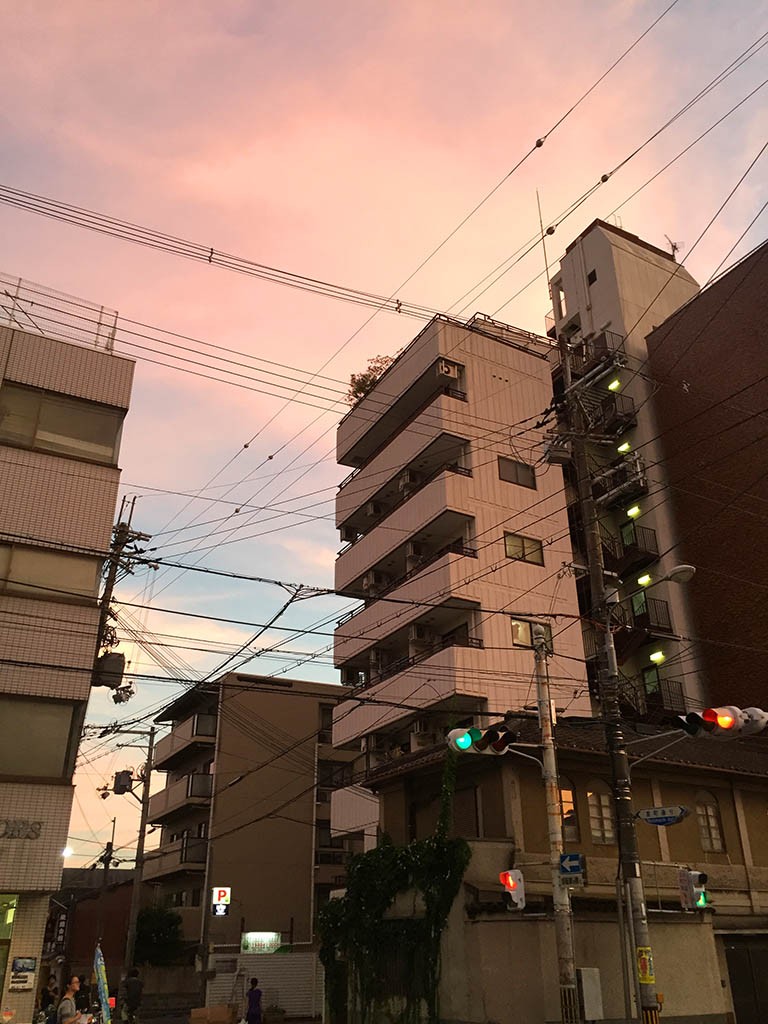 Fifteen minutes walk from our apartment and we were in the centre of Kamigyo ward (one of eleven wards in Kyoto). Eye candy happening was in progress on the banks around a small stream in Higashi-Horikawa Dori. Huge number of lampions decorated by local kids, and all sorts of kiddish art. It might be related to Hiroshima Atomic Bomb commemoration that was in just a few days ago. We immediately forgot that we are tired and we should relax, so we walked along that lovely street.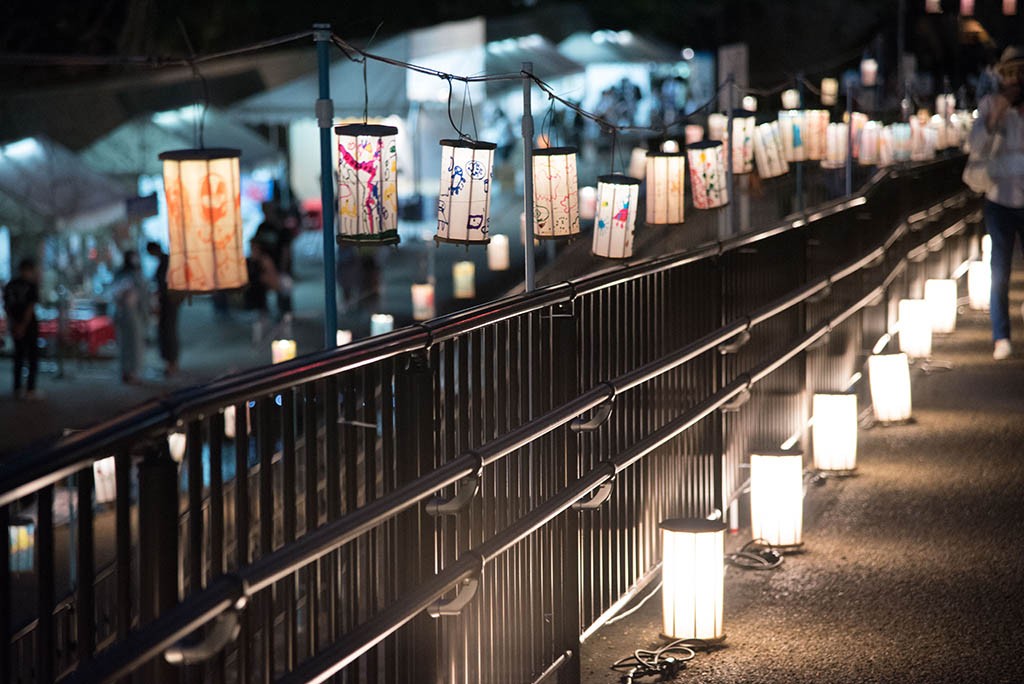 Live music and local dance were an interesting thing to see. People were trying to invite us to sign something and get involved, but language barrier was just a little bit too strong for signing anything unknown. 😉
Yes, if English language is a problem in Tokyo, and rarely anyone speaks English in Tokyo, Kyoto is even worse. I mean… These are official warnings on the entrance to those banks of that little stream.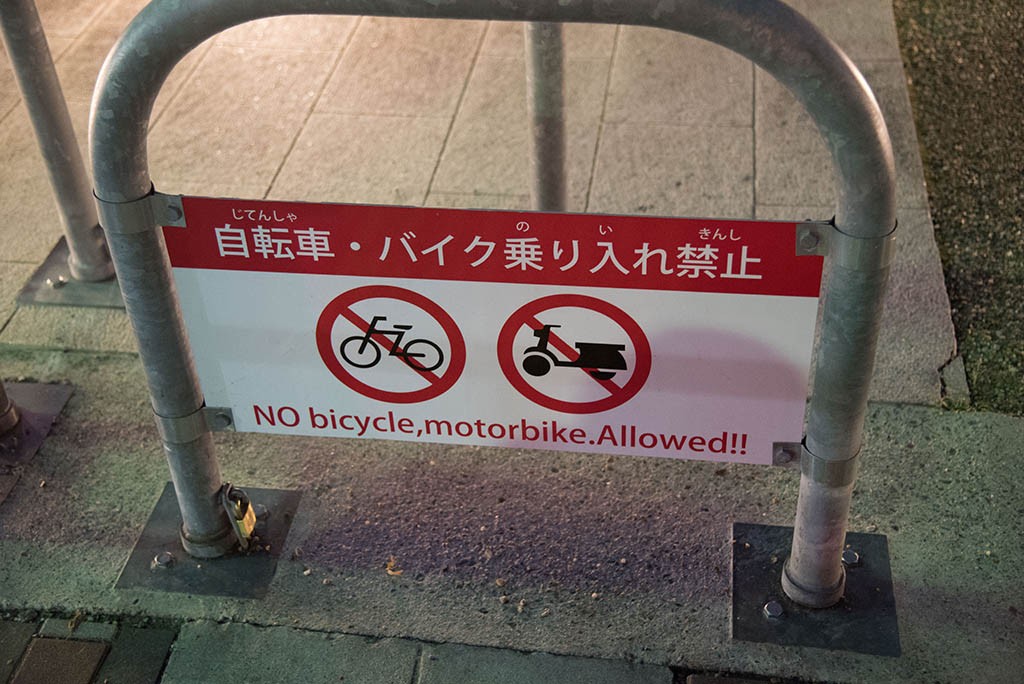 We were still pretty much exhausted and we decided to have a quick dinner in a local Japanese-Korean fusion restaurant, and with a couple of local "Kyoto" beers we called it a night.
When we got up the next morning, I was in medium pain and Dina was really broken. Her legs hurt badly and we re-scheduled our Kyoto plan a bit. Initially we wanted to go to Fushimi Inari shrine that day, but walk around it is mostly up and down the stairs for a few kilometres, so we wanted to skip it. Instead of walking the stairs, we walked the hot asphalt in the city centre. 😀
Somewhere on the Internet we found a very good recommendation for one coffee place that apparently makes the best pancakes you can get in Japan. Besides, it was apparently the best coffee place in Kyoto too. So, since that was just about 20 minutes from our apartment, we decided to go there and start our day.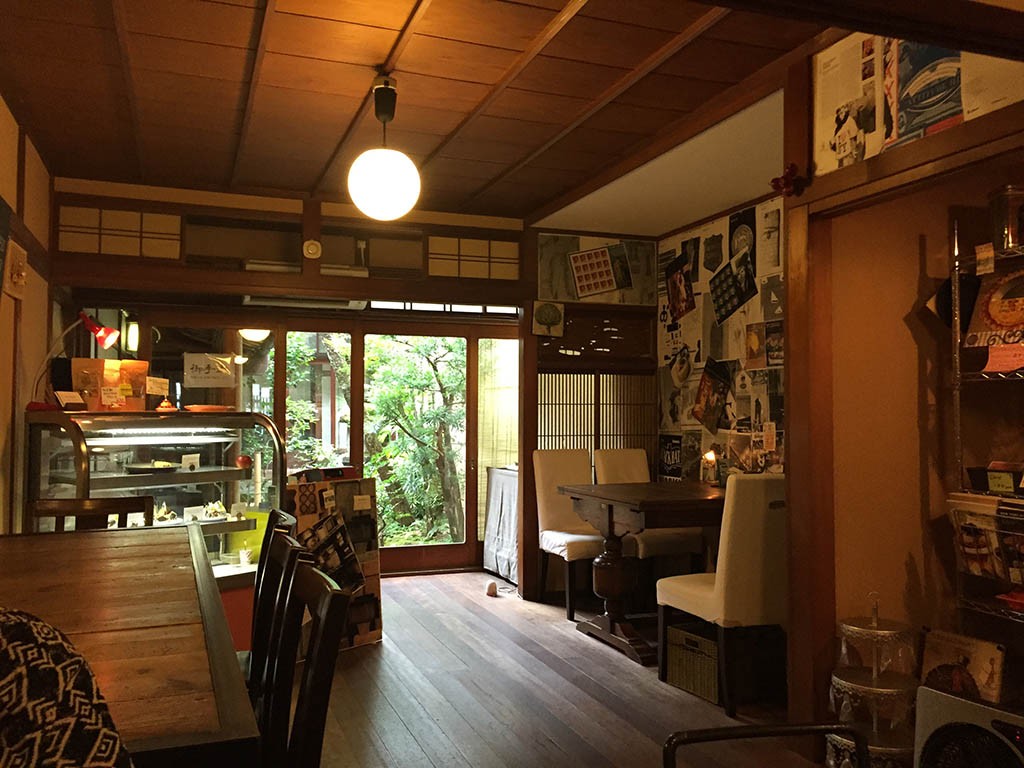 Place is truly nice, with a beautiful zen garden in the back yard. Coffee is OK but just later, as we went more towards south and far away from Tokyo we understood that it really was a great coffee. In general, coffee is not a thing in Japan. If you are not addicted, choose loads of great green tea. 🙂 And pancakes… Ah, that's a special story, but as I did while we were in Australia, I'll prepare a special post dedicated only to delicious food, so you'll read that later. 🙂 Stay tuned.
As the most well known thing in Kyoto, royal castle Nijo Jo, looked just a few minutes walk from the coffee place, we decided to walk there. Along the way I've noticed this genius solution for garbage that is temporarly stored on the streets. As I've told you already, Japan is one of the most cleanest countries on this planet, and they really want everything to be clean. So, situations like in Dublin where birds rip the garbage bags and disperse all the things around the centre are not acceptable here. This protective net has heavy edges, so nor wind or animals can make a mess.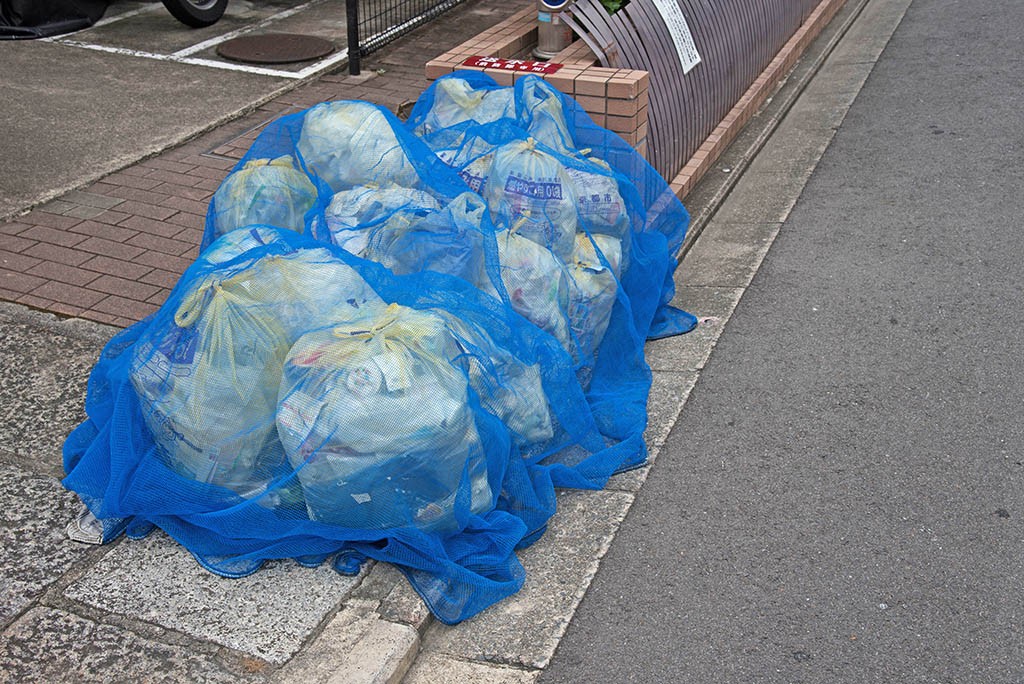 Since Google maps are not your best friend in Japan (Japan allowed them just recently, and are not as accurate as in Europe) we tried to find the shortest path to the castle. It ended up that we came just a few meters from the entrance, and then we followed the map in Japanese that was there on the castle park edges. So instead of doing 100 meters to the entrance, we walked a full circle around the area, which is according to Google, 1400 meters. Not to mention that was the hottest day ever. Temperature was around 39 degrees and with humidity of 95% real feel was around 42-44 degrees Celsius.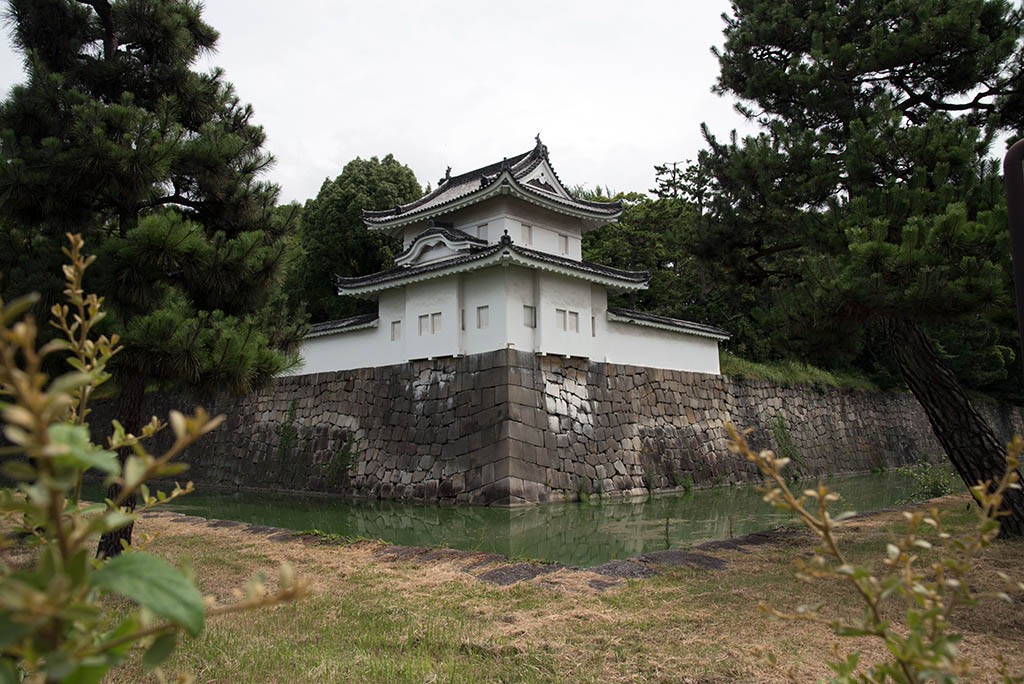 Walking around the beautiful garden and gorgeous castle was nice, but due to extreme temperatures and a fact that there are only short trees and stone it was rather impossible to stay there and enjoy it properly. I don't even remember it well, as this extreme weather makes you tipsy and drowsy as if you are drunk.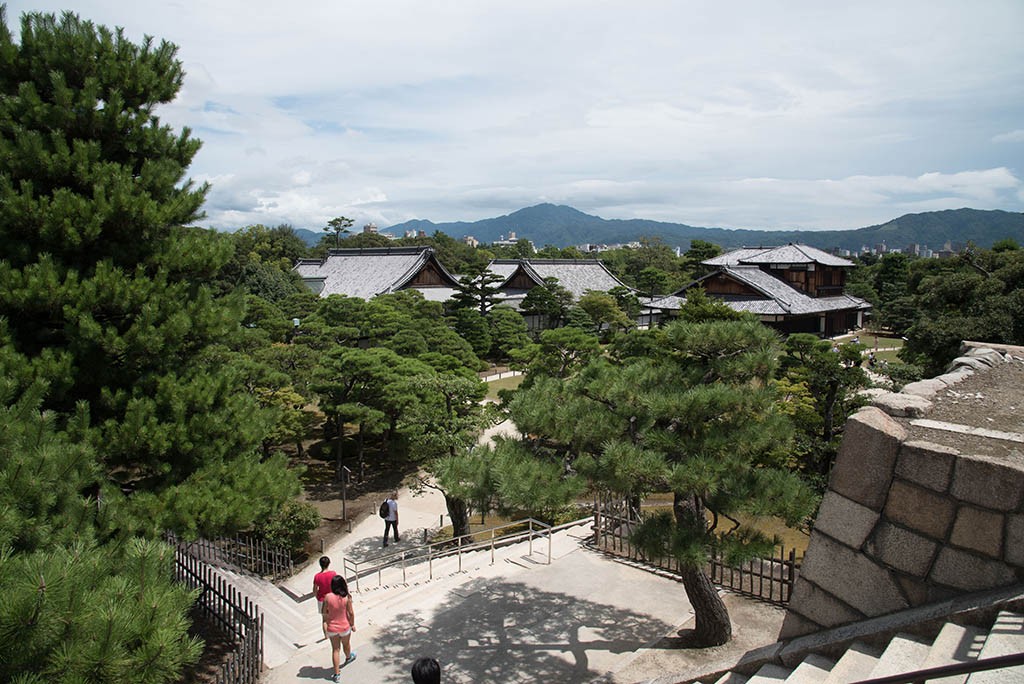 We figured out that it's almost impossible to stay outside for too long, and we decided to take a tram towards Arashiyama. Touristy line operating from Kyoto town towards Arashiyama is this lovely old tram. But, believe it or not, it is properly air-conditioned! 🙂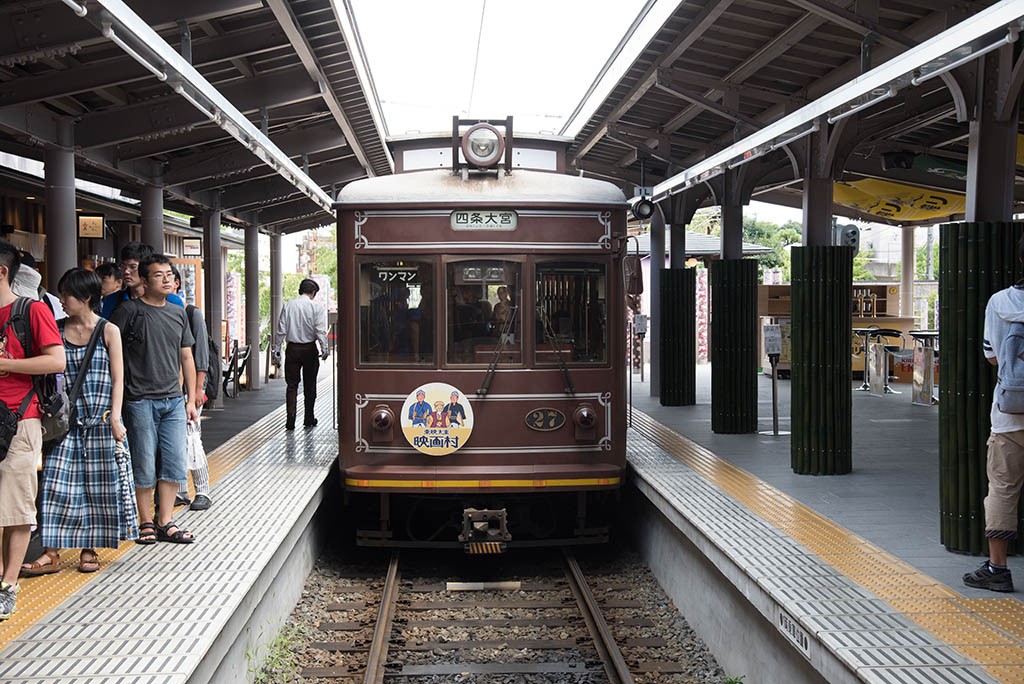 After 20 minutes we arrived to Arashiyama. It's a place underneath Arashi mountain and famous for it's Bamboo groove, shrines and monkeys. It is the most western part of Kyoto and it's nationally designated historical part and place of scenic beauty.
Since there are many festivals in Japan during the summer, it's common to see people dressed in festive outfits. Like these young ladies.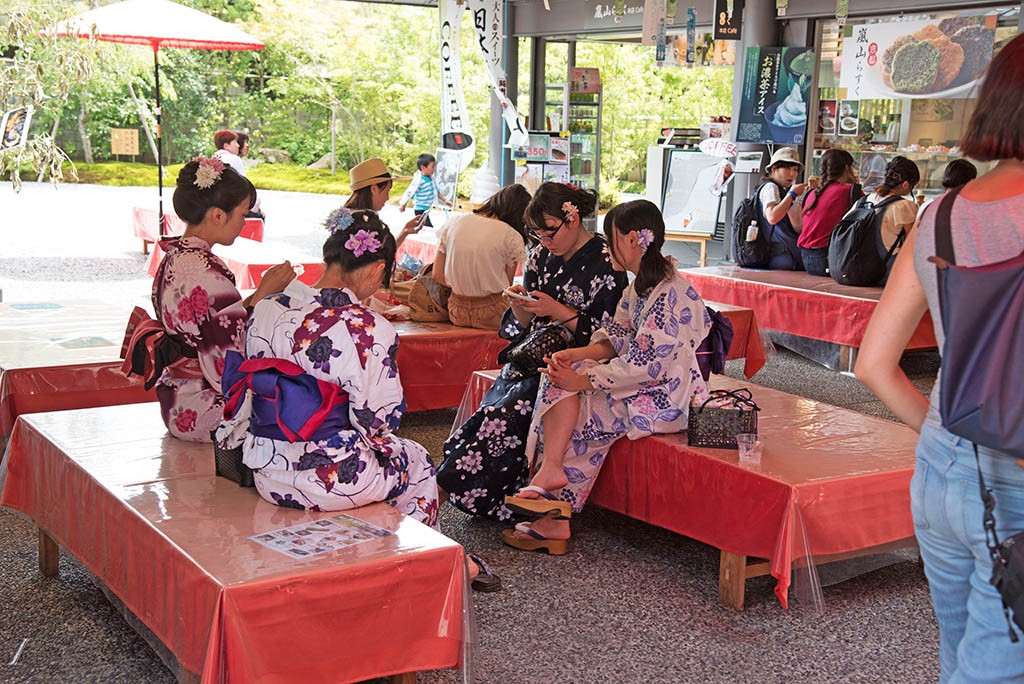 We chilled a little here in a local coffee bar (which was really nice), and then we decided to finally walk to the bamboo groove. Second of my 4 "must do/see things in Japan". It is a 300 meters long walk through the groove, where you are surrounded with high and beautiful bamboos and loads of tourists.
One funny situation happened here. I was in my travel favourite "I Love Umag" t-shirt, and I was navigating Dina how to make a photo of me with the bamboos. At that point two older guys approached us and greeted us in Croatian. Suspicious accent told me immediately that they are from my region, and it ended up that guys were from Pula. 🙂 You can try to hide, but you'll find someone local where ever you go. Even in Japan. 🙂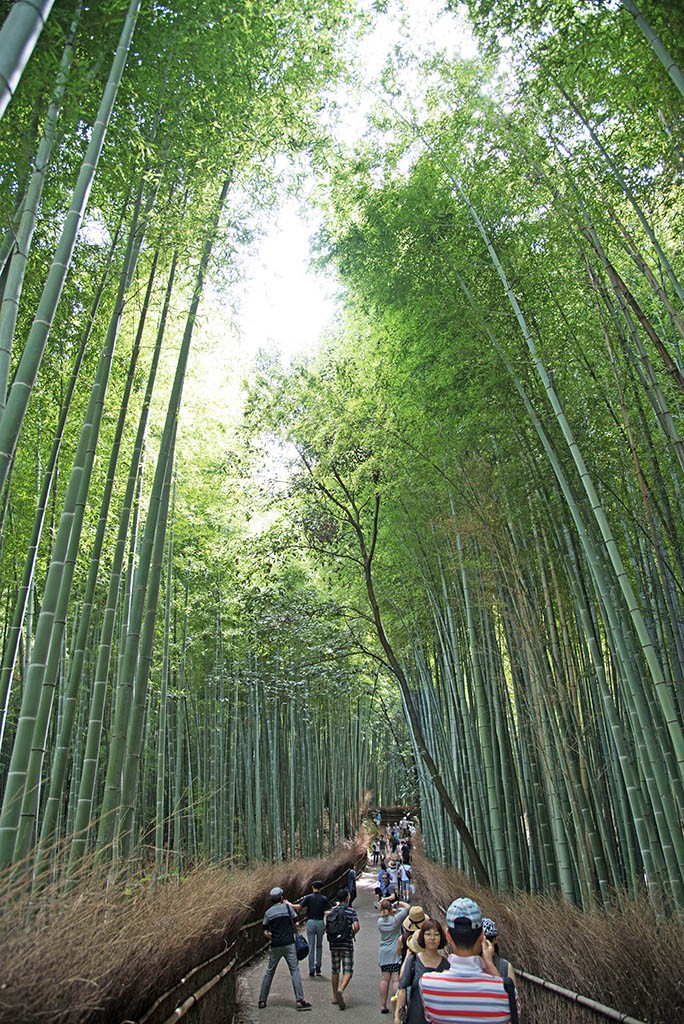 Bamboo groove is on one side of Arashiyama, and monkey hill is on the other so we had to walk back through bamboos, through the city and then on the hill. On the way we exchanged many curious looks with locals, as you can see. 🙂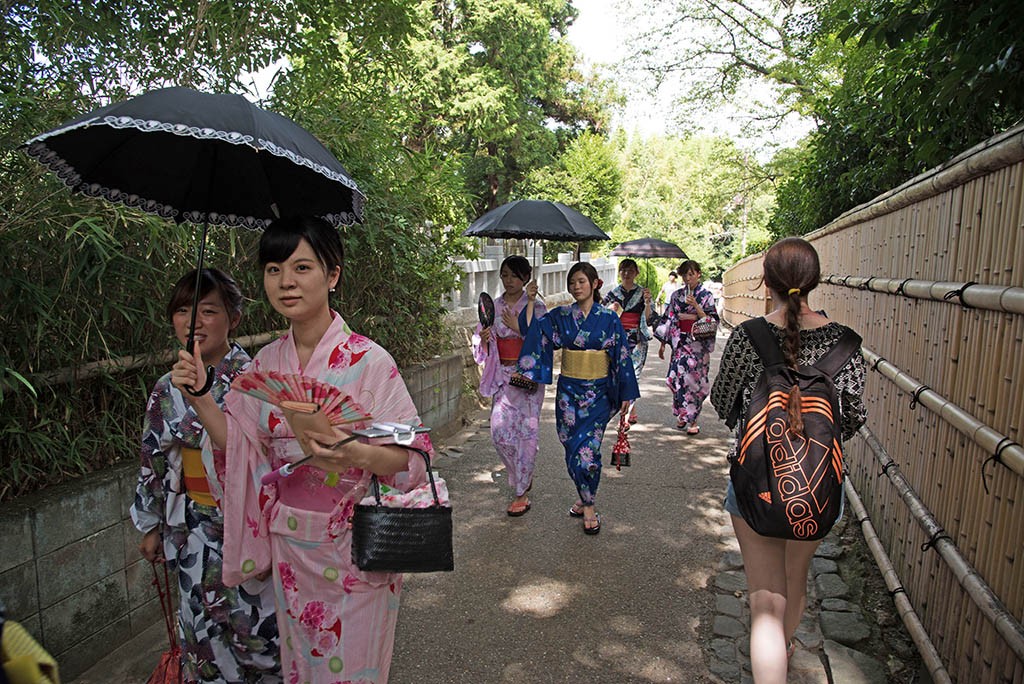 And yeah, you remember how this day started, right? We don't want to walk the stairs around Inari shrine. Yeah, but we do want to walk couple of extra kilometres around the castle, forest and then hike the hill to feed the monkeys. It was so hot in the whole area that the main hiking path that goes straight uphill was closed, and secondary, less steep but longer going through a darker forest was open.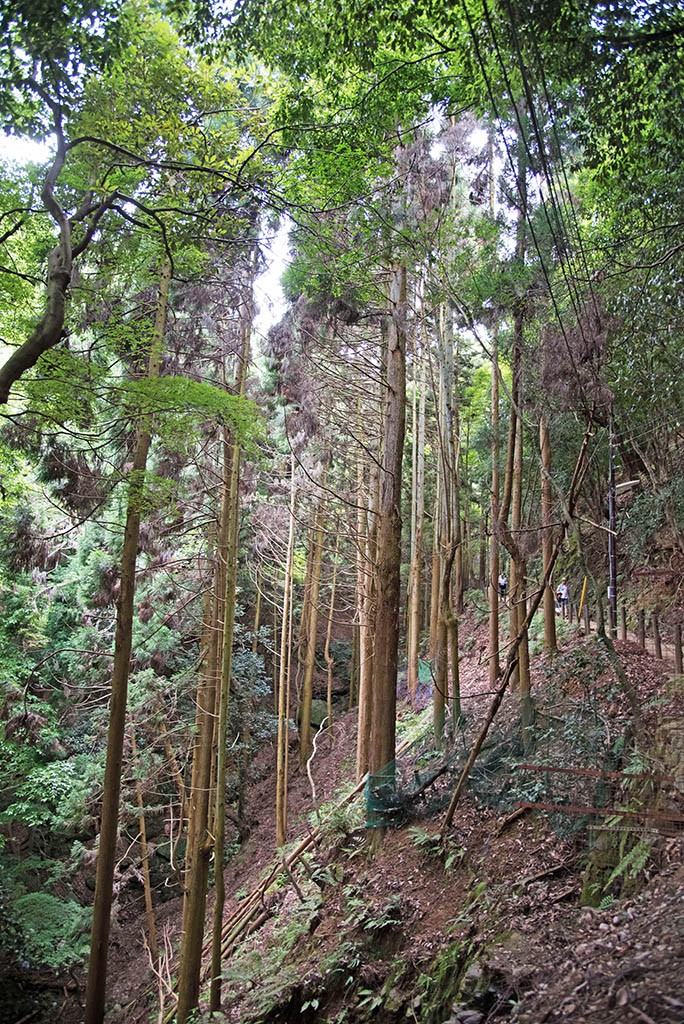 At least when you reach the top you get the best overview of Kyoto! 🙂

And you can happily feed the monkeys. And yes, do not worry about the cage. Monkeys are absolutely free and wild, it's their hill. Cage is here to protect people from being attacked by multiple monkeys at the same time. You can buy fruits and seeds here, get in the cage and feed the monkeys. As well, you can wash and disinfect your hands afterwards. Most important, there's a "cold room". It is an area separated from the rest of the cage with heavy plastic curtains and air-condition so you can get back to normal working temperature.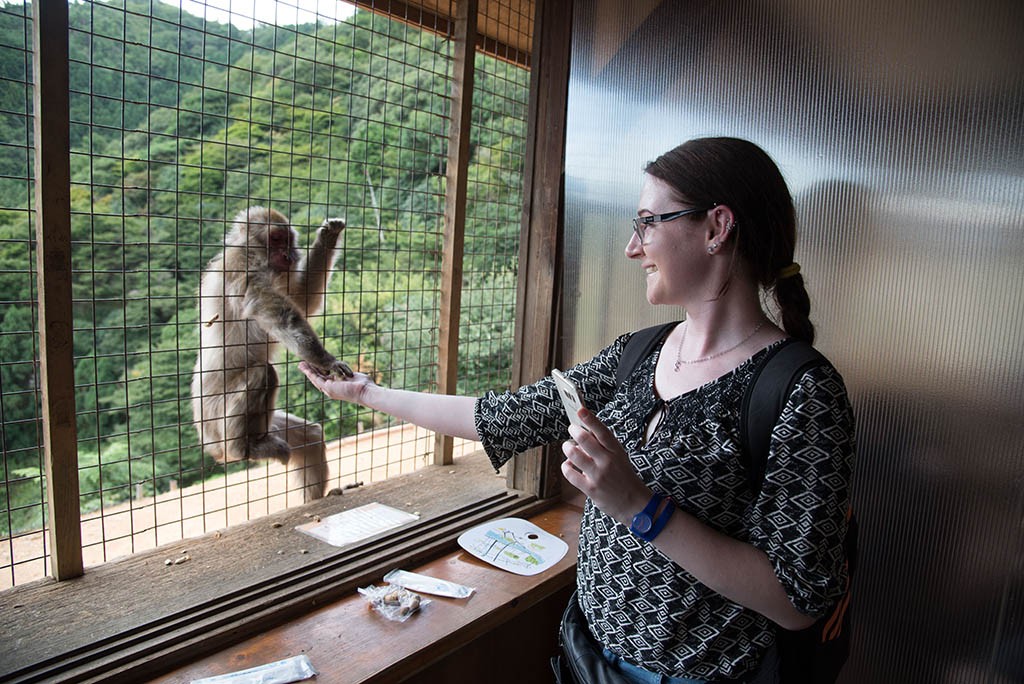 Once you are properly chilled you can prolong freshness by eating this frozen cucumber. 😀 I asked permission to take a photo of it, but I took a frozen beer.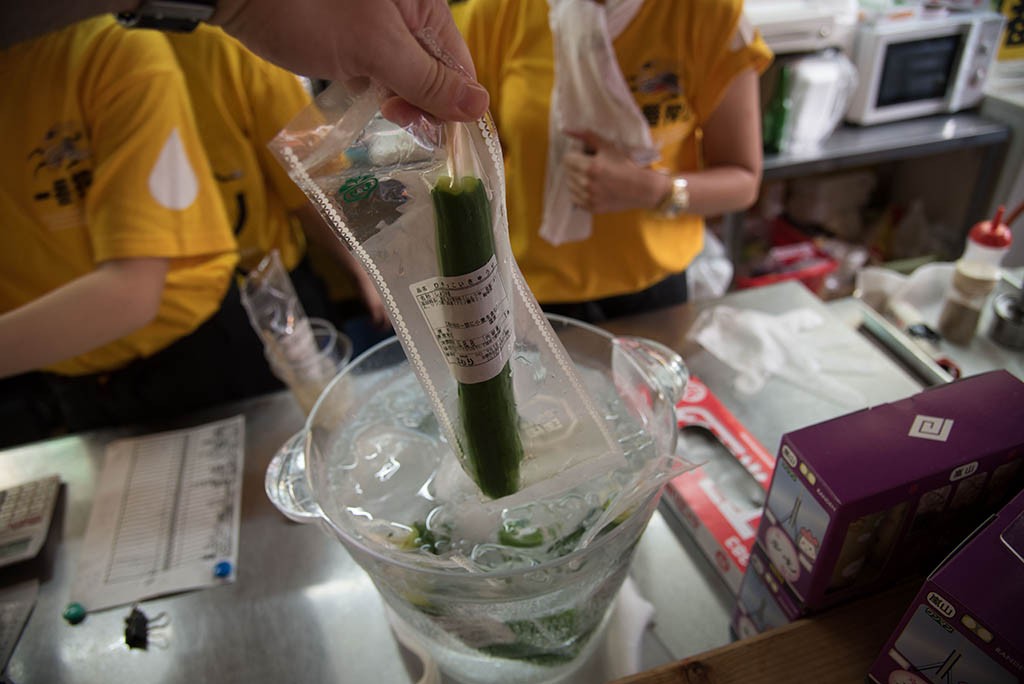 Evening was approaching fast and after a couple of pints we walked back to the train station and towards centre of Kyoto.
On the way we've spotted two Geishas. Kyoto is famous for them, and the largest number of Geishas live in Kyoto, but it's not so common to see them on the street. People (internet) say that if you see them, that will most likely be the highlight of your trip to Japan.
I would not call it a "highlight", but I was glad too see them and make a photo. 🙂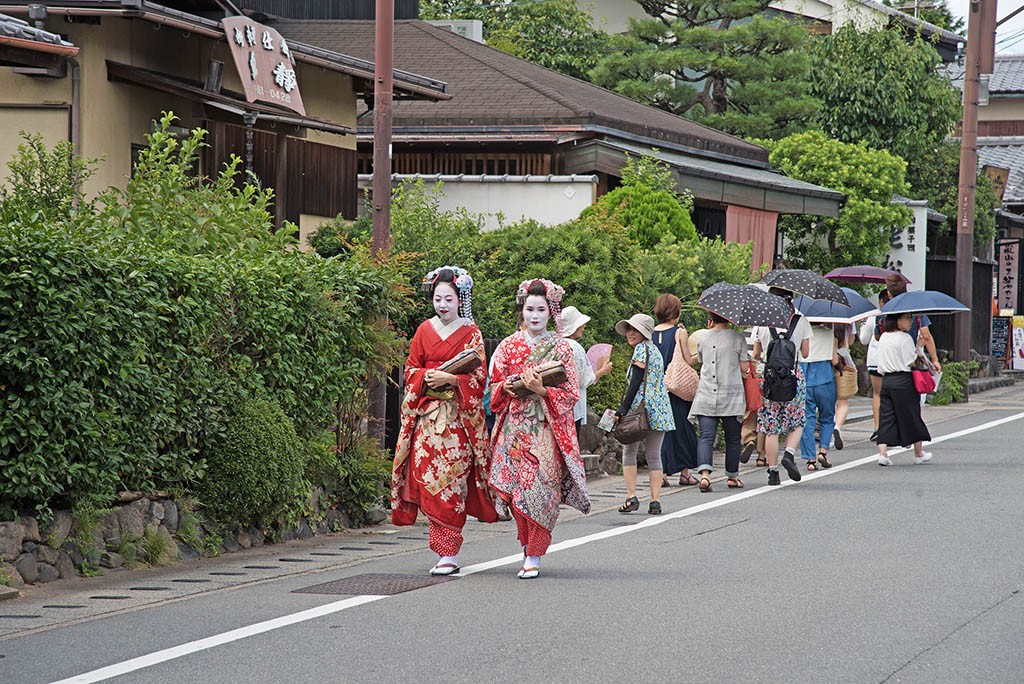 Our plan was to grab sushi in a restaurant in the city centre, recommended by a friend, but waiting line for that place was around 4 hours. Yep, restaurant is so packed and booked that you can sit and wait for hours in front of it.
Well, we skipped it and then ended up eating Kyoto beef, which was a nice replacement. 🙂
The next morning we attended an excellent cooking class and we are now certified Japanese Bento box cooks, but more about it will be available in one of my next posts. After the class and lunch we headed towards the Fushimi Inari Shrine.
Fushimi Inari is most visited place in Japan, and one of the most important Shinto shrines. It's located of the mountain Inari and there are trails leading up to the top of Inari which is 233 meters high. Along the way there are several smaller shrines and all paths are covered with famous orange "torii"'s – orange gates. Each of torii is a gift from successful business.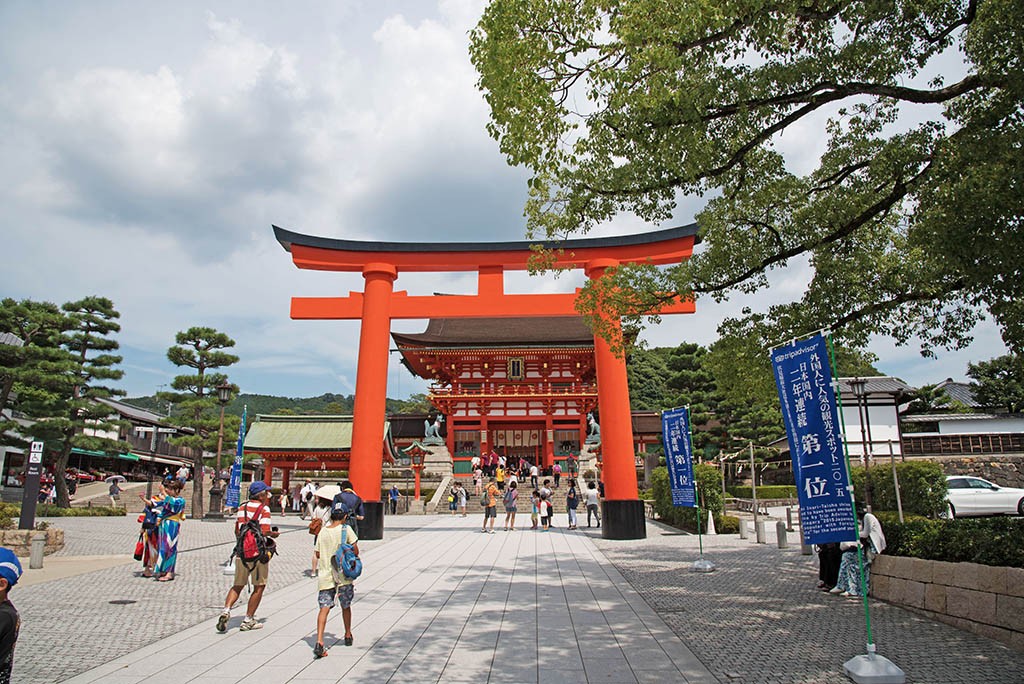 And trust me, there are many! My first Idea was to count them, but yet again, day was not colder than the one yesterday so I just wanted to hide somewhere.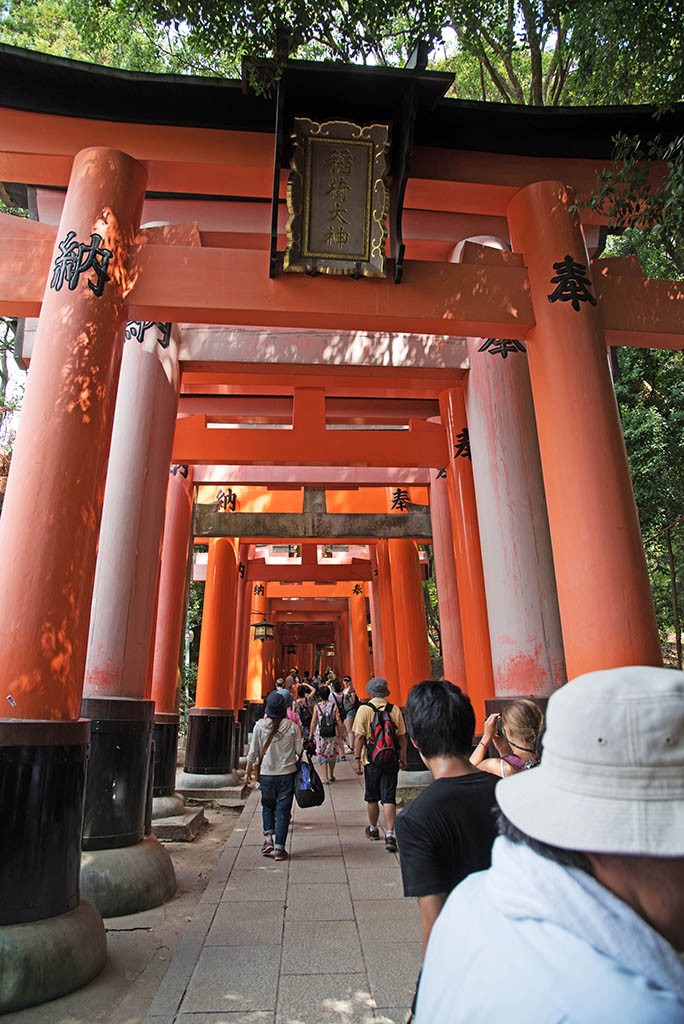 Still, we did shorten the up-hill – down-hill walk. Unfortunately or luckily – we missed the main path and we never reached the top of Inari hill, but we cut the path across an old graveyard. Trust me, more than one hour walk in such extreme conditions was more than enough. 🙂
On the way to subway we grabbed one of the freshly "squeezed" juices, and headed toward the city centre.
When we reached the centre, something was telling me that there is some kind of happening or a festival in town. 🙂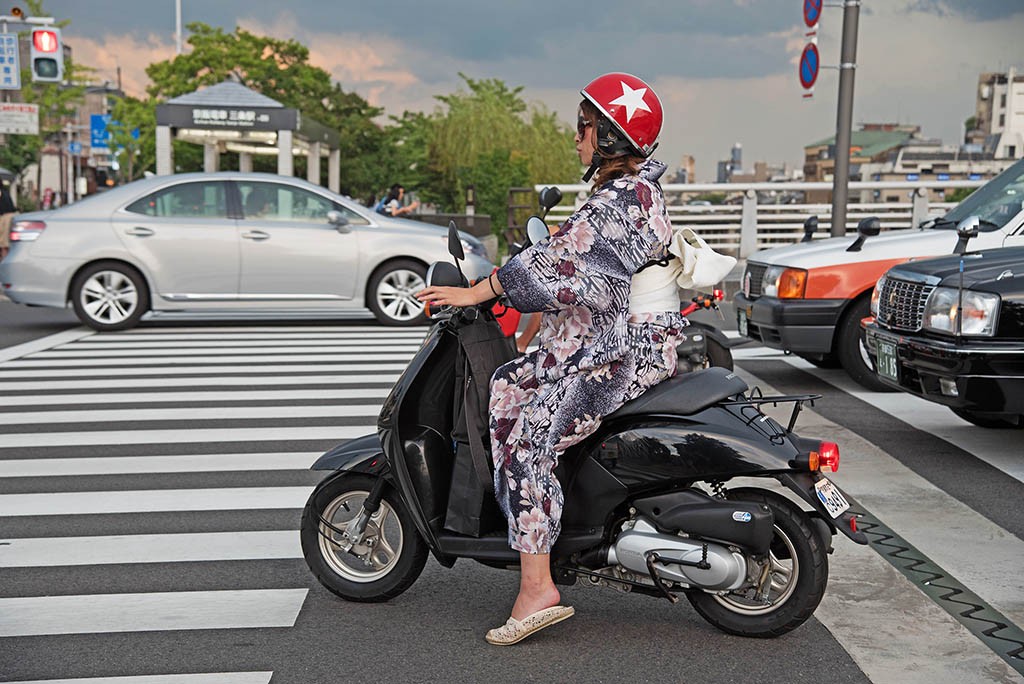 And loads of people, weird decorations and music by the river. Even though everything looked like a proper summer evening it was still too hot and technically unbearable. Since we only had that orange juice since our lunch we hurried into the first possible restaurant here on the banks of river Kamo.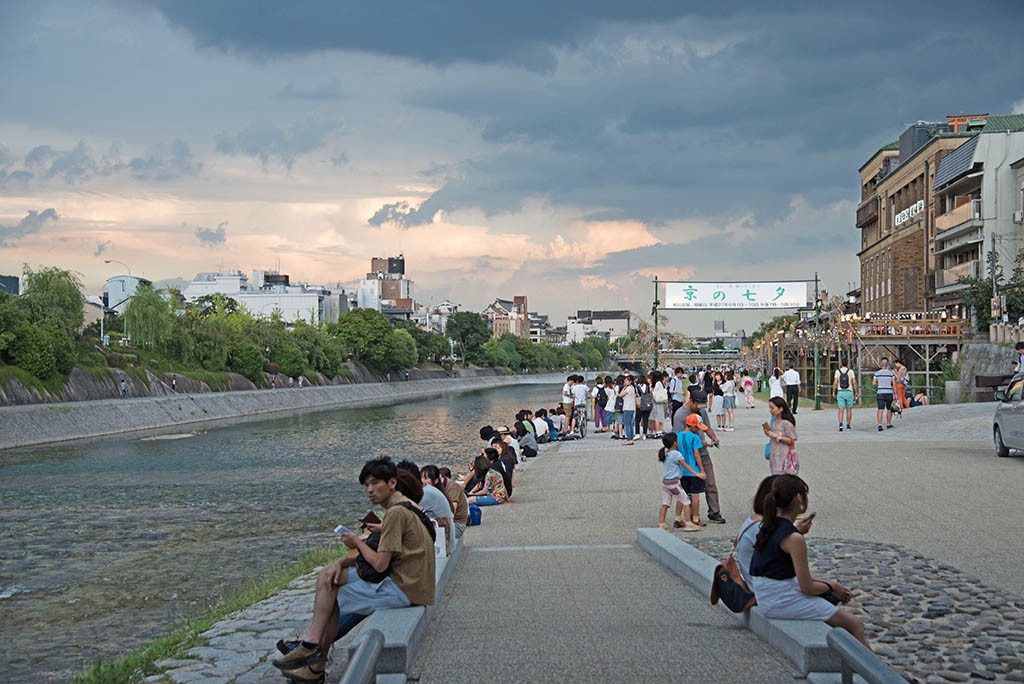 Our first, and in the end – only disappointment and expensive dinner happened here that evening. We got a traditional table in separated area and everything looked cool in the beginning. Then, we first got a menu only in Japanese, then we waited 10 minutes for an English one, and when we finally ordered our food, we waited for more than an hour. Dina then got up and went to check what is going on, and it seemed that they completely forgot us. When food finally arrived it was the biggest disappointment ever. I've ordered the most expensive thing from the menu that said "chef's special" and all I got were three grilled chicken skewers. Which were dry, hard and without any sauce, salad, side dish or anything. When I say "most expensive", it was not a first class elite restaurant, but when you pay three times more than in all other places and you need to go somewhere for a proper dinner, that's a problem.
Luckily, we were tired enough to bother with this situation. We headed back to our apartment to rest since we had an early start next day.
Those were our three really hot days in Kyoto. I'd love to see it again during some other time of the year, but I'd avoid it in August.
I honestly don't remember 50% of things from Kyoto as I was constantly dehydrated and exhausted. Luckily there are photos to remind me. 🙂
Till the next time! 🙂