One of the most famous touristy routes in Ireland is The Ring of Kerry, and it's considered as "The Best of Ireland". At least people we know and we met so far told us so.
Our original plan was to follow the Ring route, but our host in Dingle, Julí explained us some things. Majority of "must see things" or historic leftovers are actually things that we've seen touring around Dingle peninsula, and there's nothing too attractive or too different to see all the way from Killorglin to Reenard point and Valentia Island, but if we are there to see Irish landscapes we should de-tour left near Lough Caragh and follow Ballaghasheen Pass road that goes across Iveragh peninsula from Glencar to Waterwille.
Listening locals is always a good thing, as we would never think about going across the Ballagasheen pass since it does not seem like a regular road on Google maps. However, just a few minutes after we turned left beautiful Lough Caragh appeared in front of us. We stopped in the middle of the road and took a few photos such as this lovely panorama.

Somewhere along the way we crossed a small bridge and on our left side we noticed a weird, obviously private garden in the middle of nowhere. Someone planted several bamboo bushes and some exotic plants as a green wall, separating his property from curious tourists. Across the fence, a small stream spreads and forms two small waterfalls, and there is a small private bridge across where the owner can enjoy and barbeque in "hot" summer days.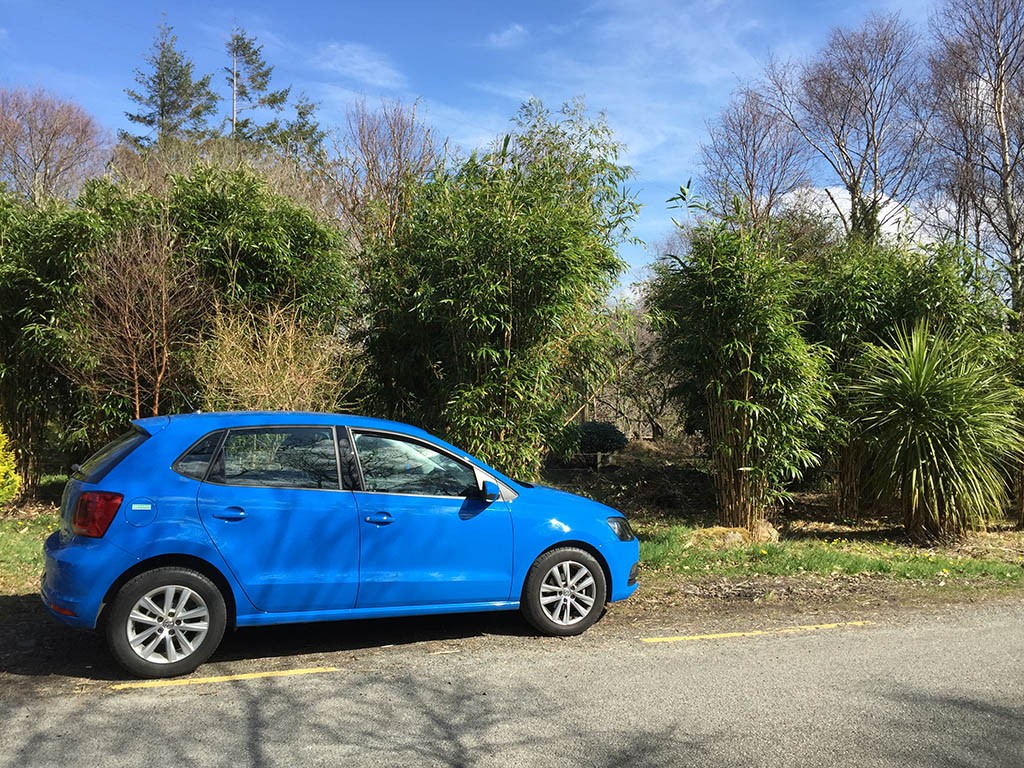 Since we did not want to break onto the private property we stopped just shortly and continued for a few minutes until we saw this lovely stone bridge.

On a day like we had that day, you simply wish that one of small lovely houses by the stream is yours, that you can sit here and listen the water purling around these stones. Maybe, one day we'll be able to do that, who knows. 🙂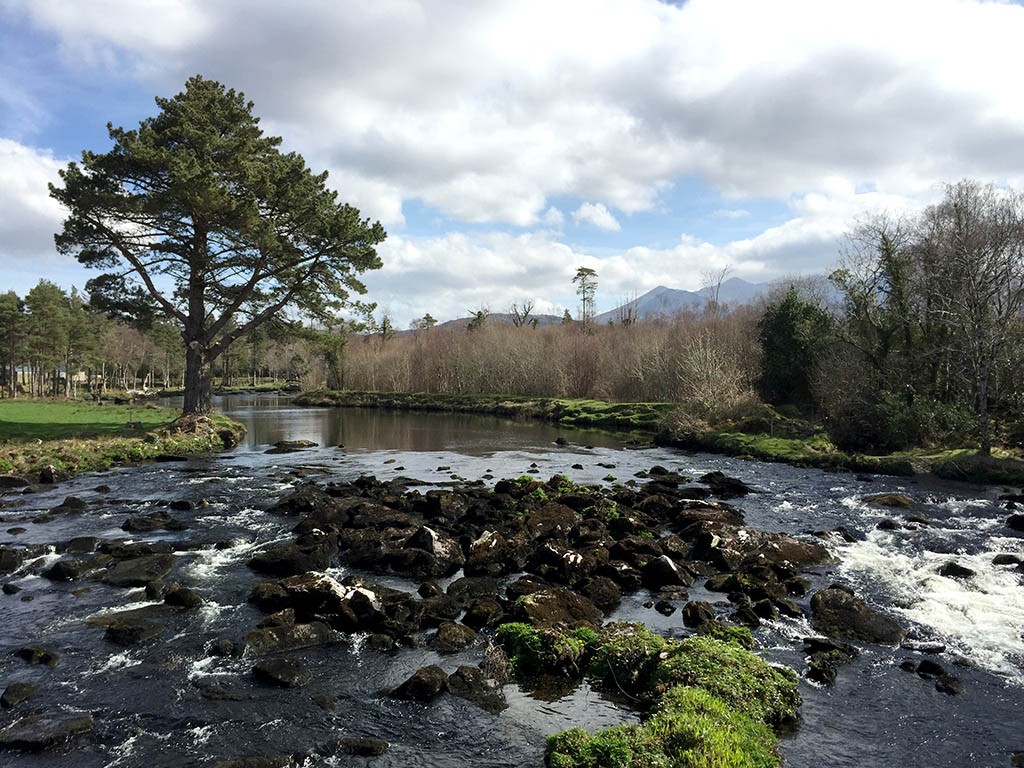 If you take a closer look at the panorama photo with the bridge, on the right side behind our blue car there are two tables and one bigger tree. That tree has a sign warning drivers that lorries are exiting here. I must admit that I tried to figure out where from and how. :))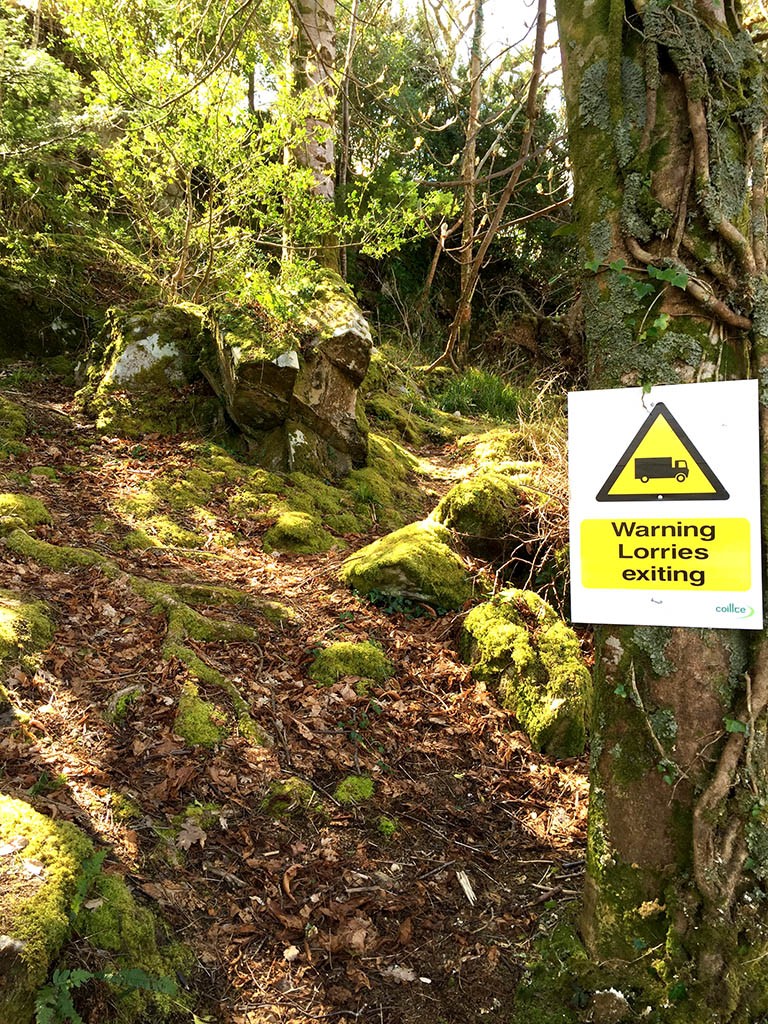 However, we continued our ride along the Balaghasheen Pass road where we enjoyed the magnificent scenery.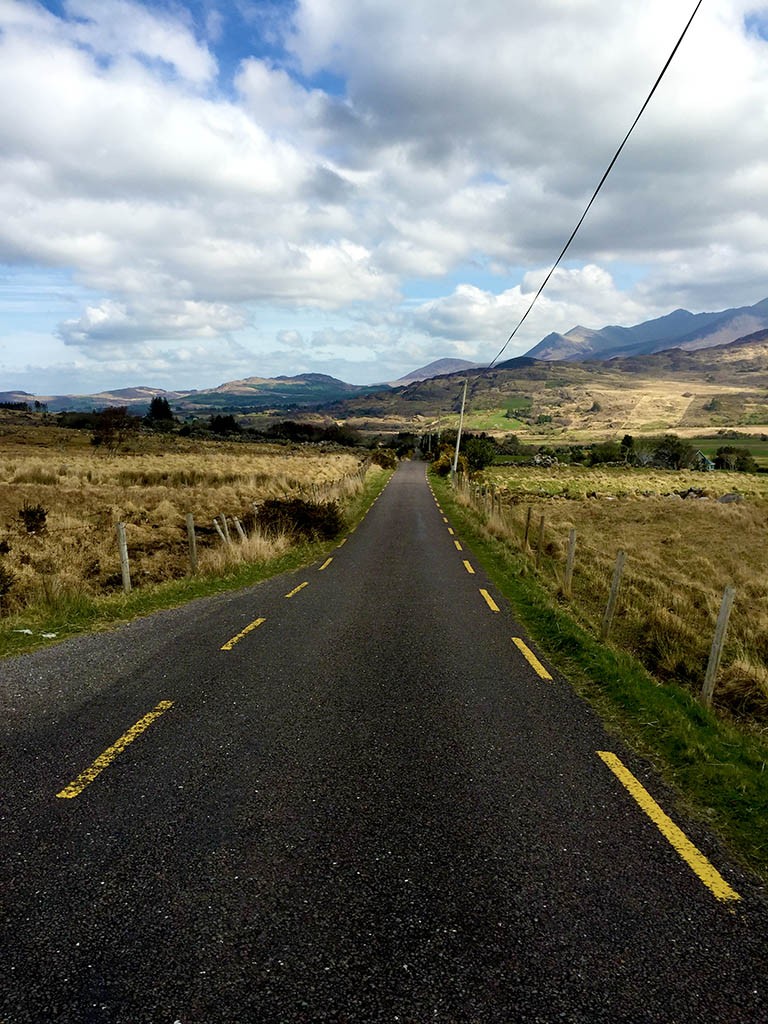 Scenery was still in autumn colours as it seems that vegetation is a bit late on the hills, but I guess it will be awesome in just a few weeks. Once you reach the top of Ballagasheen Pass it offers the gorgeous view towards the valley and hills behind you, or to say, towards Glencar.

A ride through the mountains brought us to Waterville, a small town on the west Irish coast which was the favourite holiday spot of world famous actor Charlie Chaplin. He was a regular Waterville guest for more than ten years back in 1959, and as a result Waterville raised a monument to its famous guest and organizes a Charlie Chaplin comedy festival every year in August.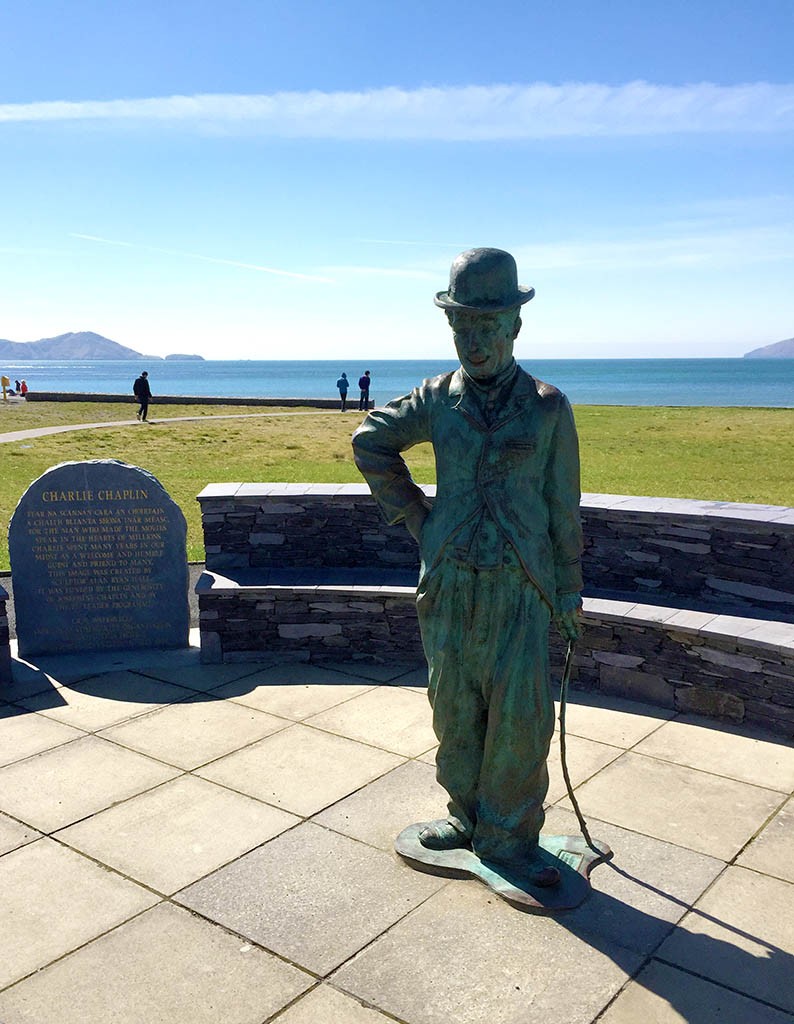 Next to the statue there's a Millennium time capsule where people of Waterville buried their valuable memories and will dig them out in 2020. Even though we both said "but it's just twenty years", I guess it will be interesting to see what is inside. 🙂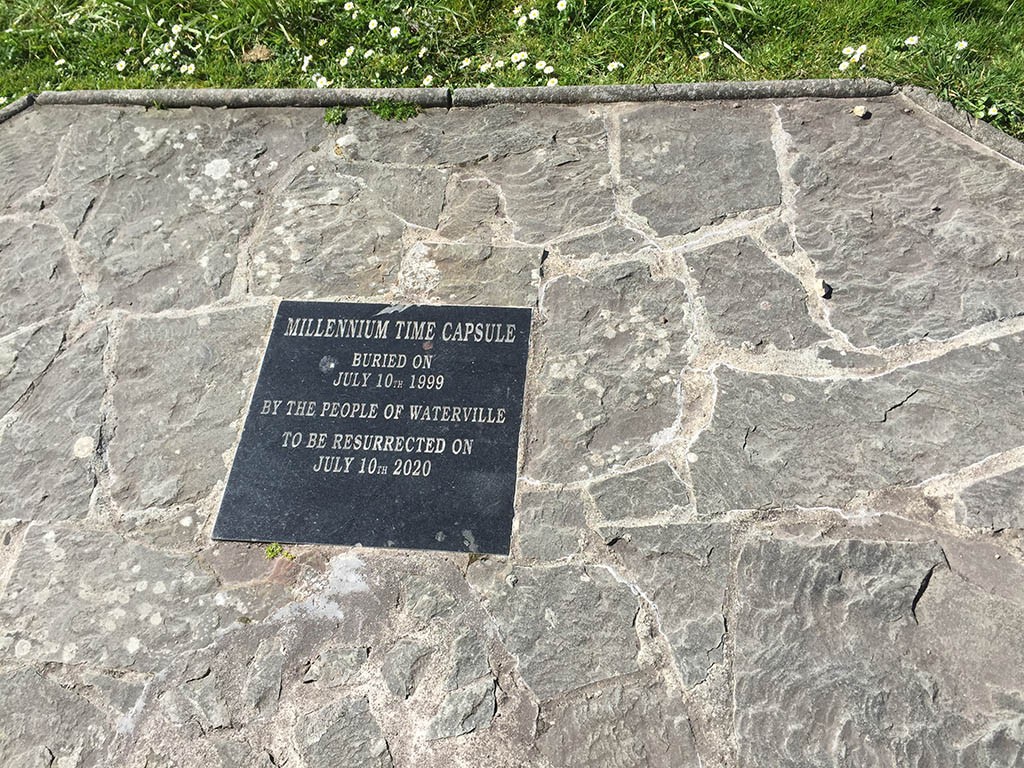 Since it was Easter Sunday we organized a traditional Easter breakfast / light lunch as we would have back home. That means we brought dyed eggs with us, spring onions, and ham. As the local Irish tradition says we have to eat chocolate eggs, we brought them too. We did not expect such a sunny day so instead of having chocolate eggs we had chocolate spread and sticky fingers in the end. 🙂
The thought that we are the only ones celebrating Easter outside on the beach lasted for less than five minutes. A group of noisy Italians came just in front of us, taking pictures and celebrating Easter screaming "Buona Pasqua" and asking random people to take a photo of all of them and at the same time making silly Italian jokes thinking that no one understands them. They were not rude just loud and then when they wanted to say "thank you" in English they started screaming "Happy Easter" but since they obviously don't speak English it sounded like "[æpɪ ɛstɛrr]". Ah, ItalianZ. :))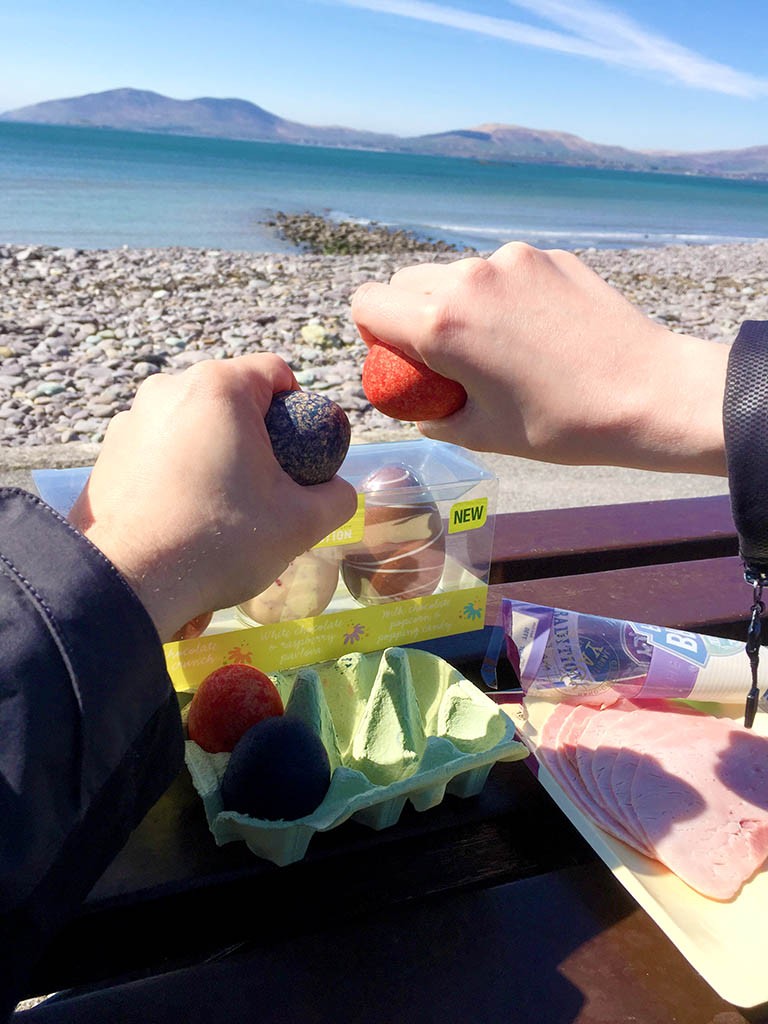 We wondered around Waterville for a while and learned that famous, or considered the best ever, GAA player Mick O'Dywer is from Waterwille too and that one of the first transatlantic telegraph cables landed in Waterville. But throughout all that time there was something weird going on. It was loaded with Garda (Irish police) and there was a big truck with a bunch of white fences around.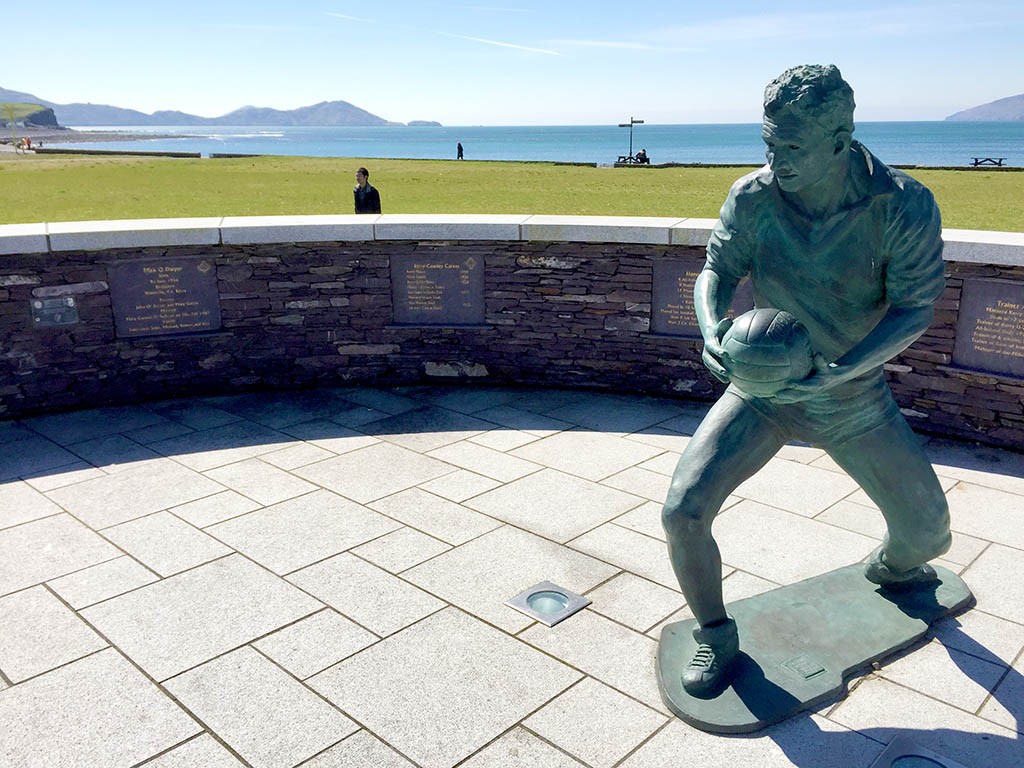 We did not bother asking what is it all about but we decided to head towards Valentia Island that is some 30 km away from Waterwille. When we crossed about 26 km we've hit the road barrier. We had two options, to wait for the bicycle race to finish, and that would make us sit and wait on the road for couple of hours, or to go back to Waterville.
Not to waste too much time we turned back straight away and decided to visit Valentia Island next time. On the way back we stopped on Ballinskelligs Beach and castle. Later tomorrow I've heard Julí explaining us some local things mentioning "skellig" several times but had no idea what it actually means.

Luckily, Google is my friend and I've found that Skellig comes from a Gaelic word and it means "rock in the sea". That's why Ballinskelligs castle – As it is on "Skellig", rock that is accessible only during low tides.
We continued our wonderful day riding back through Waterville and towards the town Sneem. We stopped right where Waterville ends, and took a look from the local church courtyard. Stunning, isn't it?

We did not drive too long as just eight kilometers after Waterville we had to stop again. This time on Beenarourke corner. It's an organized parking and photo point which offers magnificent views on both sides, one towards Atlantic and Durssey Islands, and other towards Waterville. However this spot is the first frontier of the mighty Atlantic winds.
If you zoom the panorama bellow, the small rocky wall in front of the cars is usually used by curious tourists. The winds were so strong that I tried to climb up twice and take photos, but it blew me back toward the cars both times. 🙂

A short and windy few minutes break on Beenarourke chilled us so hard that we needed a stop, and luckily just ten minutes later we found a perfect spot for a pint. This awesome place is a hotel with a pub, where you can enjoy the pint being warmed by the sun while you can listen how the wind whispers through the tight holes around windows.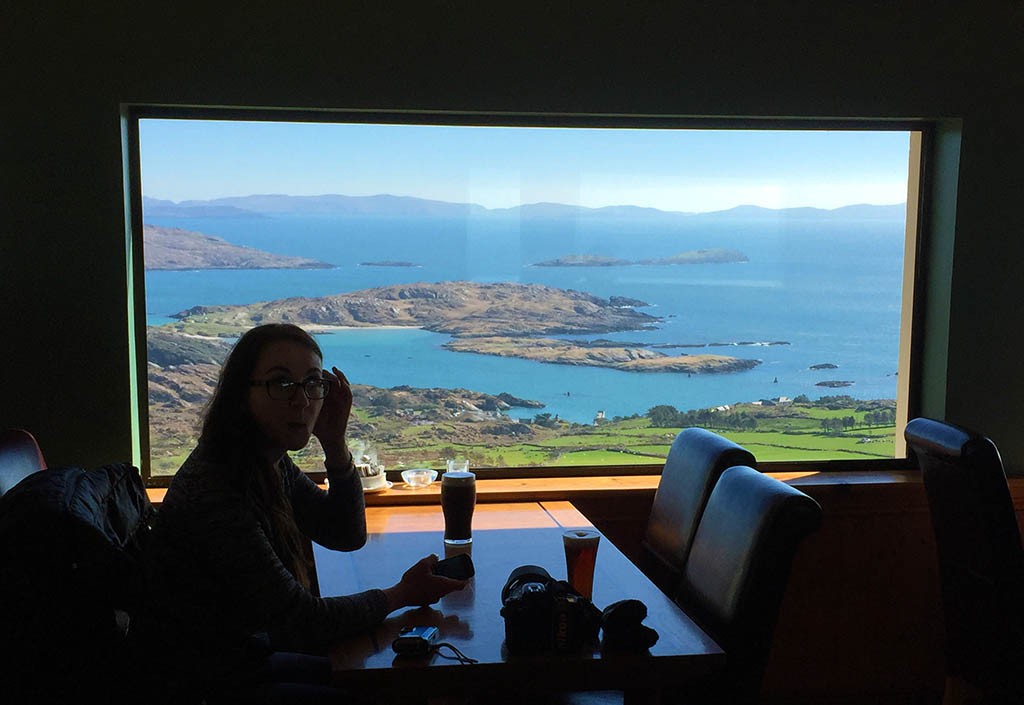 After the relaxing pint we arrived to Sneem, a small town where you can continue your ride to Kenmare or take a shortcut towards Killarney over the mountains.
We stopped shortly for a take out coffee and as expected Sneem is also using Charlie Chaplin's face to boost it's touristy potential.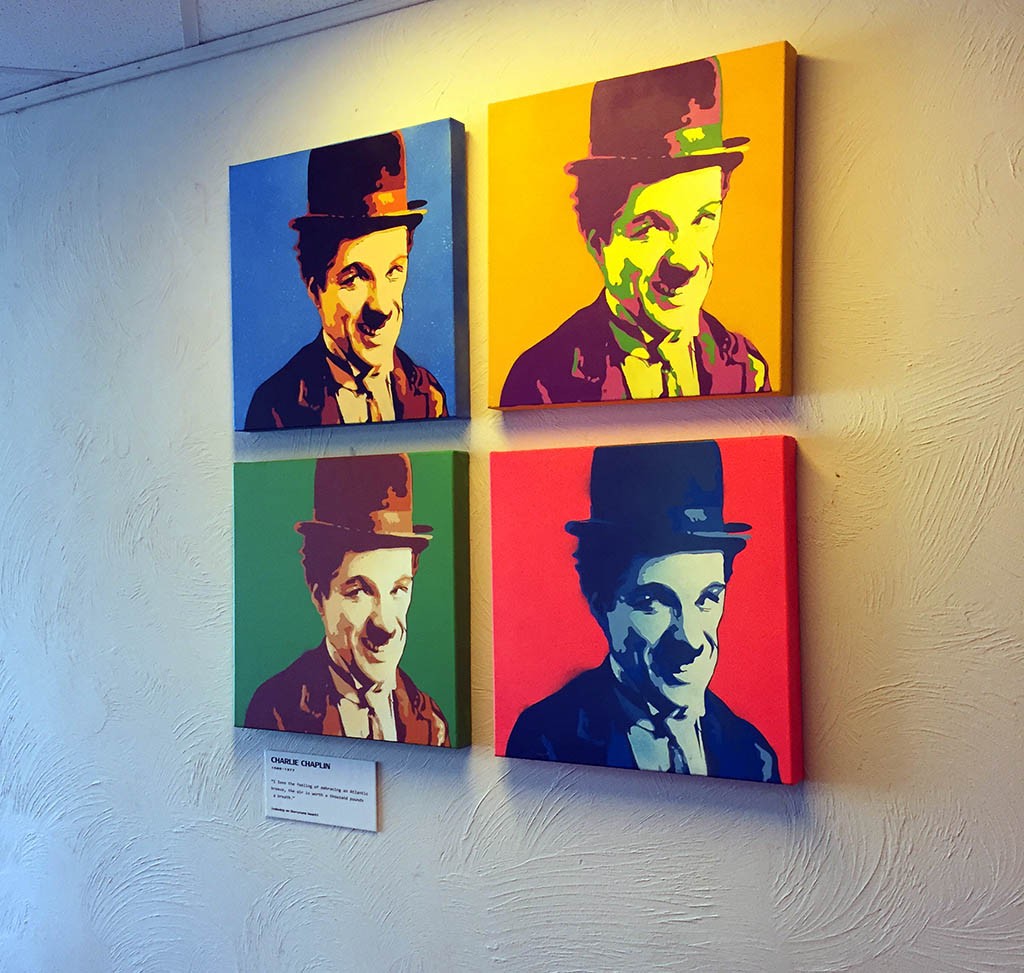 But since we stopped I liked the place a lot as some weird positive energy was flowing there. On the way back to the car I've noticed that I was not the only one who felt the same about Sneem. It seems that another celebrity visited this place several times and in his name there is a statue commemorating his visit. Yep, Charles De Gaulle liked it too.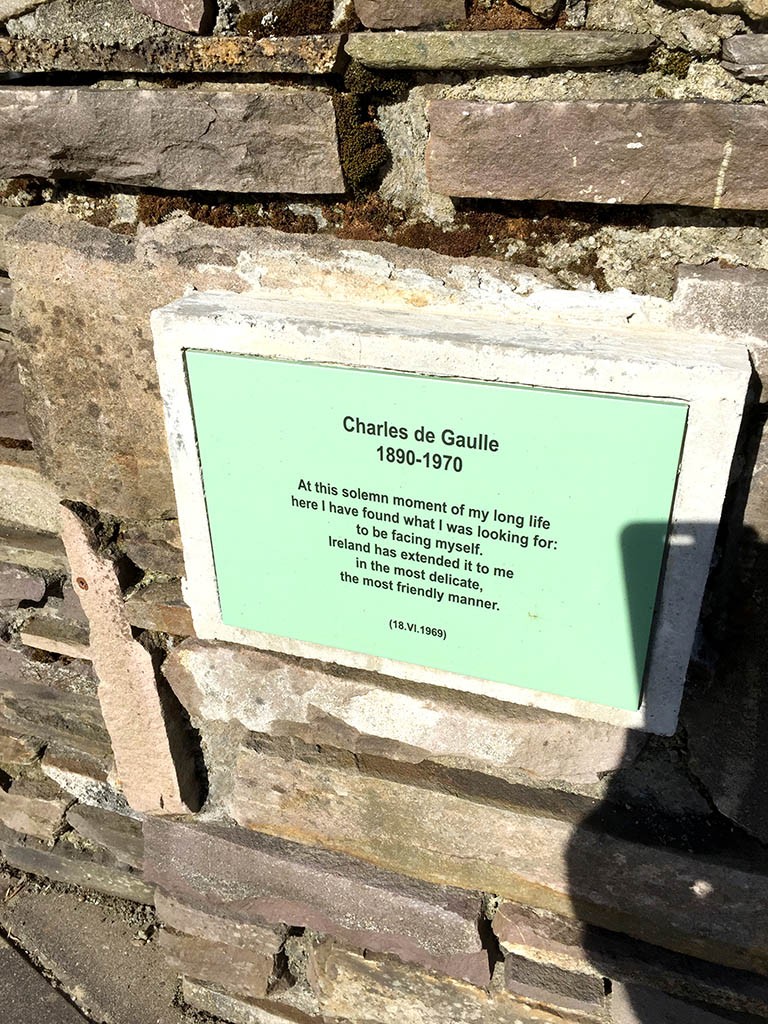 Since both Goran and Julí suggested to take the mountain road towards Killarney that's exactly what we did. We stopped around Ballincolla several times as the views were gorgeous.

Unfortunately, we've heard news that just two days after our return a huge fire caught this area and firefighters were fighting a few days to save it from a complete disaster. I hoped to see it green in a few weeks, but I assume it will take a year at least. 🙁

Finally, after a lot of kilometers behind us we arrived to Killarney National Park. Our first stop was the popular Torc Waterfall which is nice, but I liked the forest approaching it much more. Due to high humidity tree crusts are covered with moss so everything around you is completely green. I just wanted a small leprechaun to jump out of nowhere.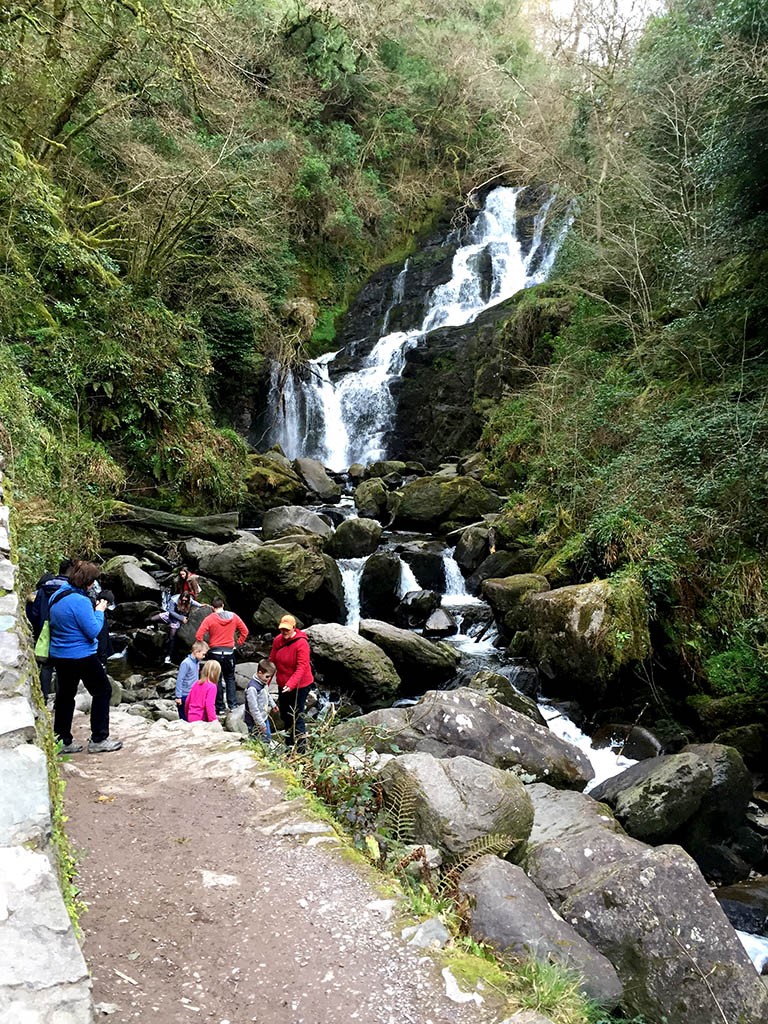 Second stop in the national park was the lovely Muckross House.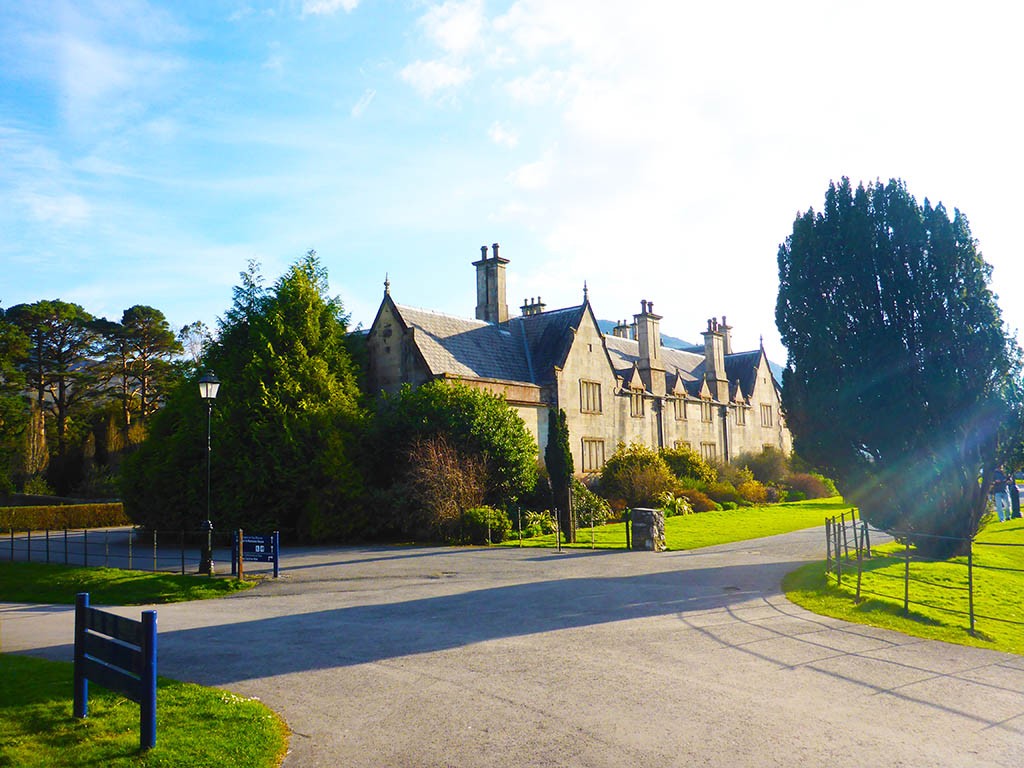 And then we moved towards Lough Leane.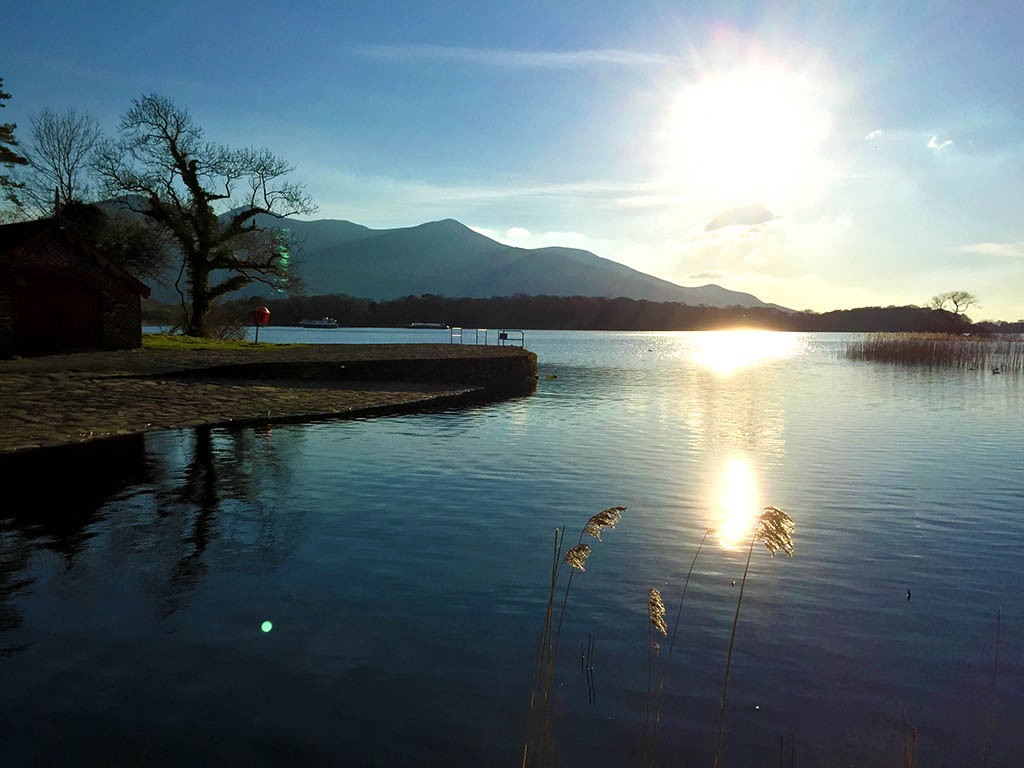 We stopped there to see the famous Ross Castle which was stunning in the sunset.

Well, the view of the lake was not bad at all too.

As time flew too fast we had to hurry up to the centre of Killarney as it makes no sense to see everything and skip Killarney. It is a lovely touristy town with bunch of houses with colourful façades, such as this one.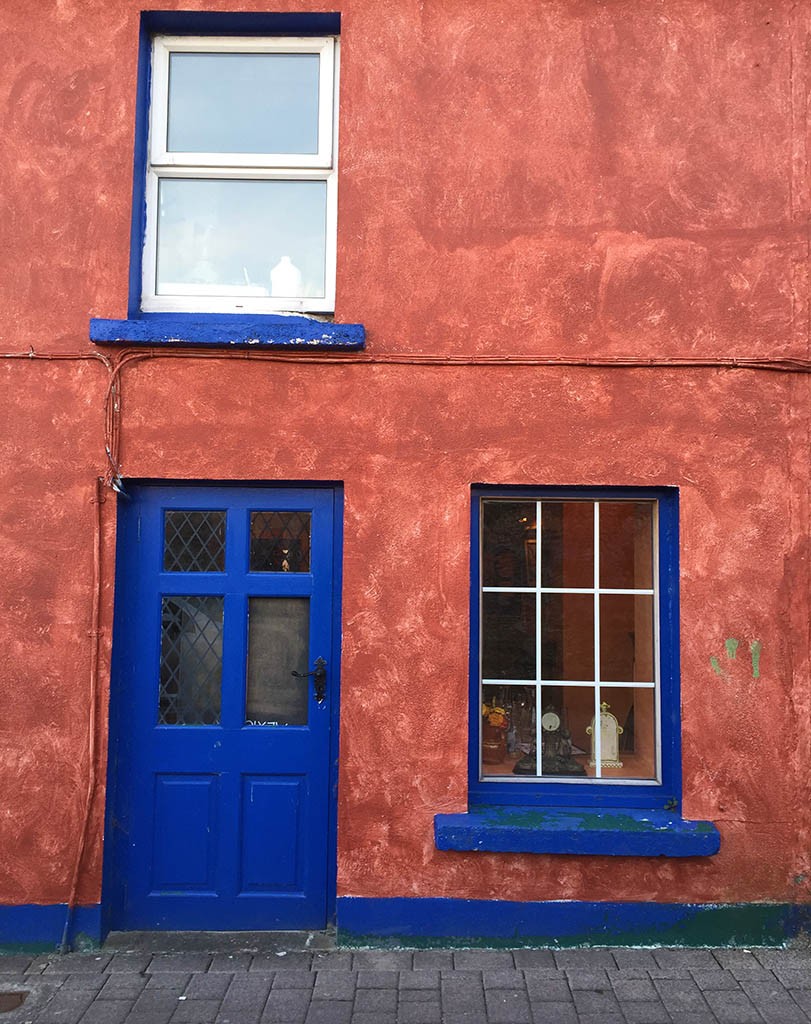 At that point we were both hungry and it was a high time for dinner. We were checking out local restaurants and nothing attracted us more than that lovely "Out of the blue" back in Dingle.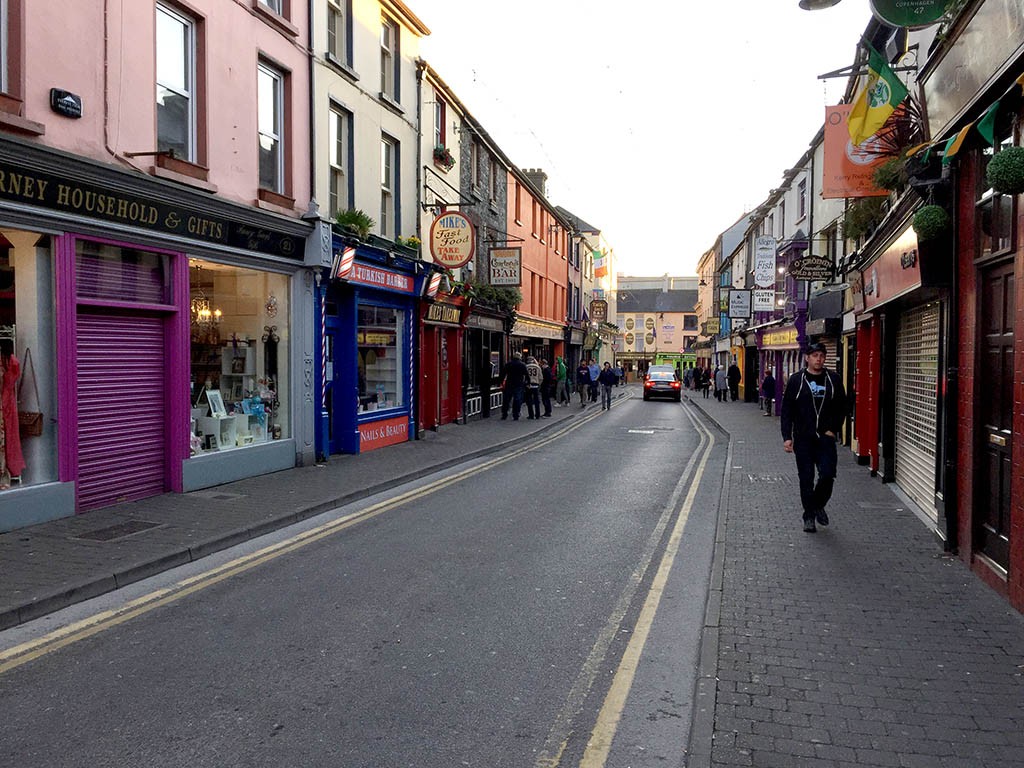 On the way back to our car park we passed beside this local hero statue, and that was the last meaningful photo I took that day. 🙂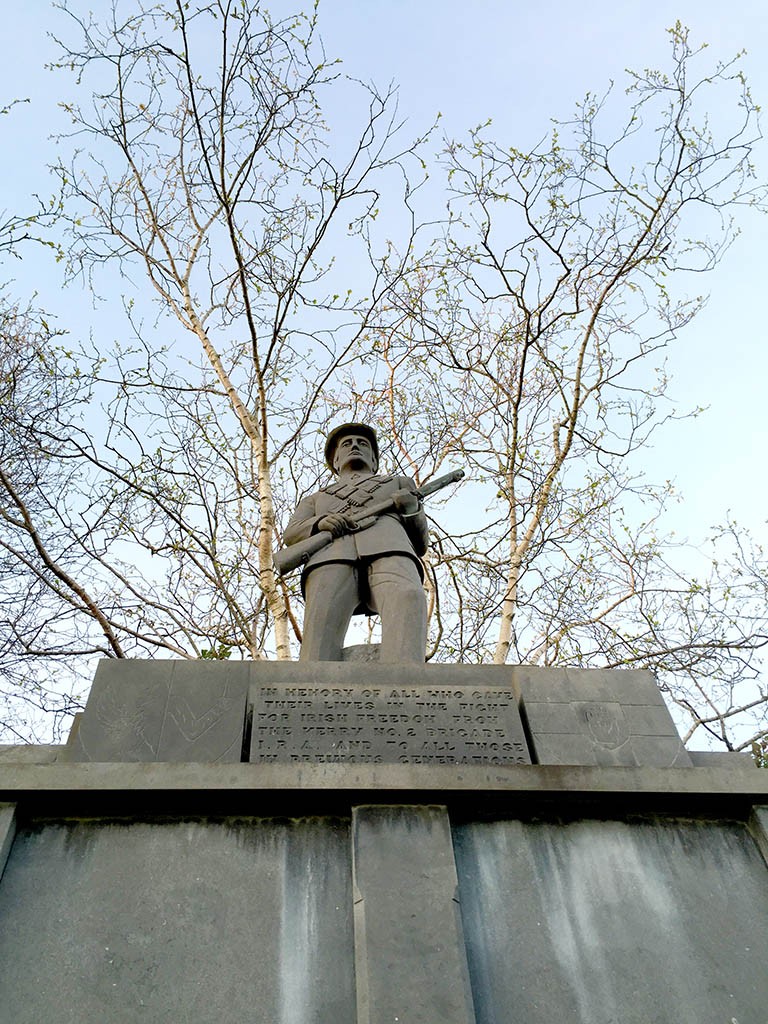 By the time we arrived back to Dingle night has fallen and it was too late for anything including dinner in "OOTB".
In the end we've seen a lot that day, much more than we planned, but at the same time we missed Valentia island, Kenmare, and OOTB. Well, now we have a reason to visit Kerry again! (OOTB is the main reason as the food smelled so good there that I simply must visit again and have a dinner there!) 🙂
If this and previous posts were not enough to invite you to visit Ireland, no worries, there will be more soon! 🙂
In the end, you can see the map of our route, it took a whole day and more than 300 km.
Till the next post…
Love
Balky