We've finally organized a few days to explore Ireland. Well, we've seen things in 2013 and 2014 but nothing outside the Dublin area yet this year. 🙂 As a reward we got three sunny, almost summer days to explore County Kerry.
County Kerry is considered as a nicest part of Ireland and when people talk about it, it's mostly about The Ring of Kerry and Killarney national park. However, there is another place called Dingle peninsula, that is also worth seeing. We decided to see them both in one go! 🙂
Tralee
We organized Dingle as our "base camp", where we booked a room in "Dingle's First Cottage by the sea", and according to that we formed our route plan. Our first stop was Tralee, capital town of Kerry. Original plan was to arrive here in three and a half hours and spend some more time here, but there was a total mess on the road between Limerick and Tralee, and we arrived at least two hours later than planned to the town centre. OK, at least one hour is my mistake, as I did not trust Google's prediction. 🙂
After almost 5 hours in the car we needed a quick break, so we parked behind St. John's church in the town centre and grabbed a quick small cappuccino. We were completely not prepared for Tralee, so we had no idea what is important to see here. A quick check on the Internet said -> Go check town park, for all other things you need more time. (Museum, theatre and hiking the Slieve Mish mountains).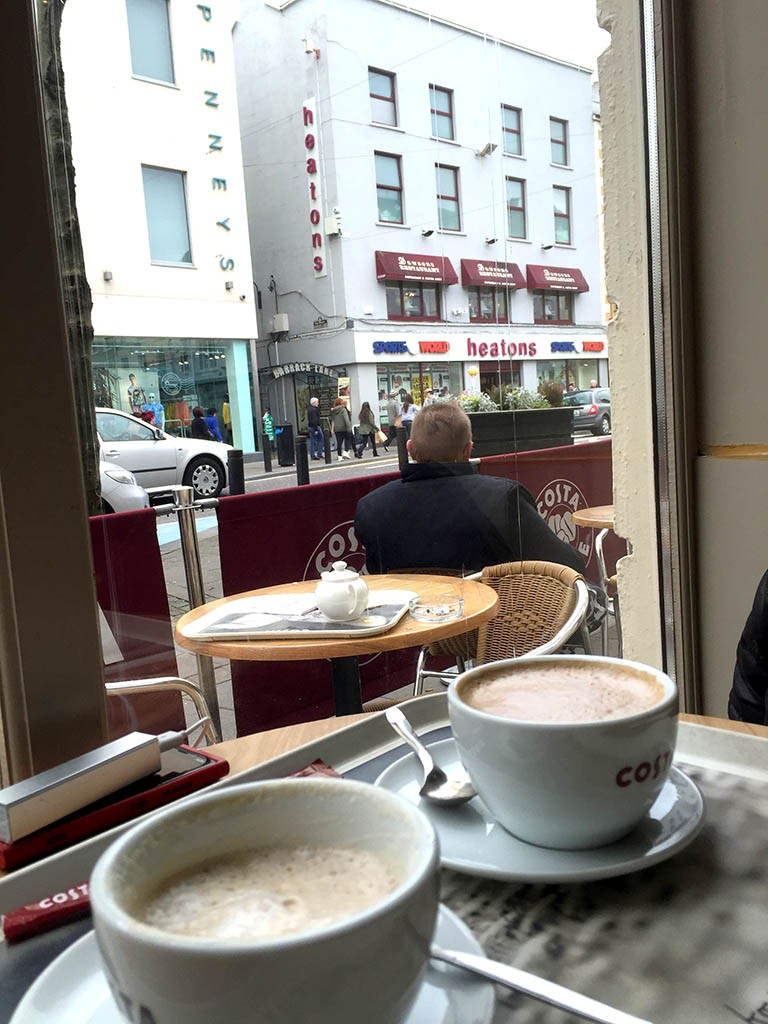 Since we parked just beside the park entrance, we decided to see how it looks like. As you can see, first signs of spring were visible, but forecast said we'll have a lovely sunny day and there was no sign of it, yet! 🙂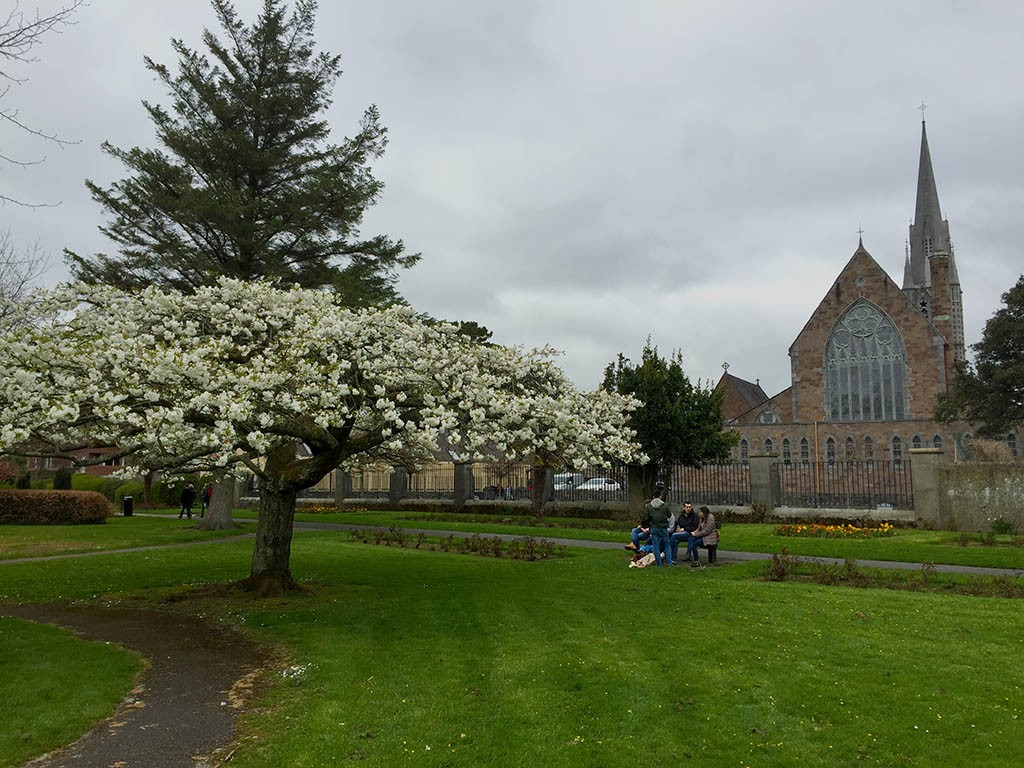 We walked around the park and examined most of it's exhibits. Really closely as you can see. 🙂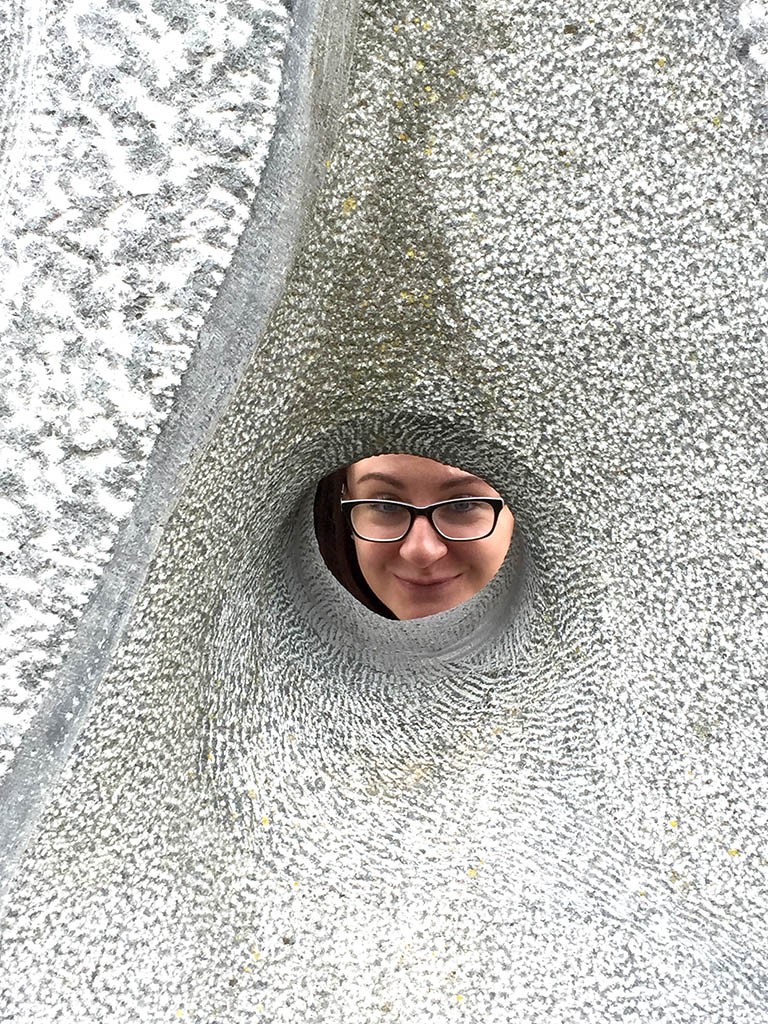 Since we were already late and slightly hungry, it was high time to leave towards our next stop, but I wanted to see St. Johns church from the inside.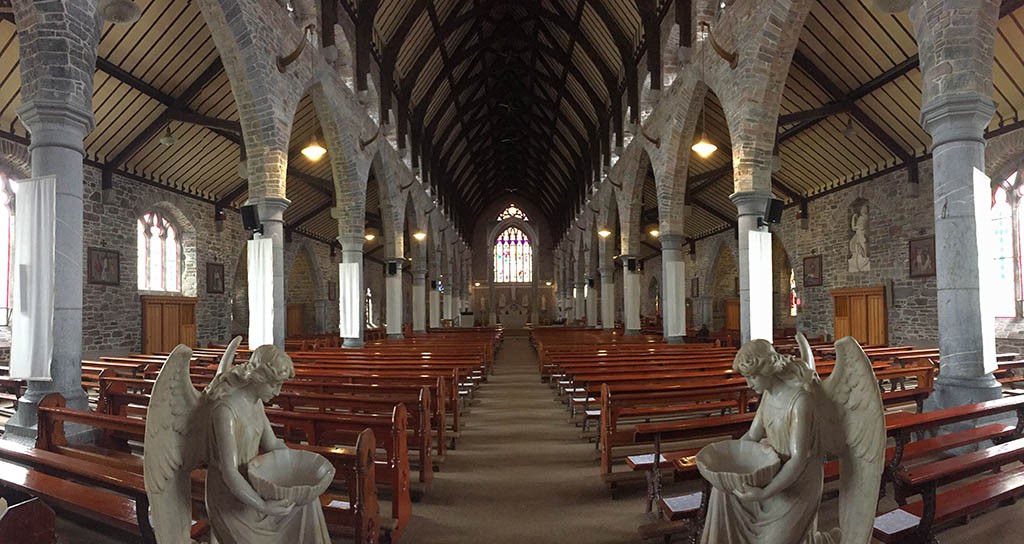 I'm amazed with churches and other bigger buildings or constructions.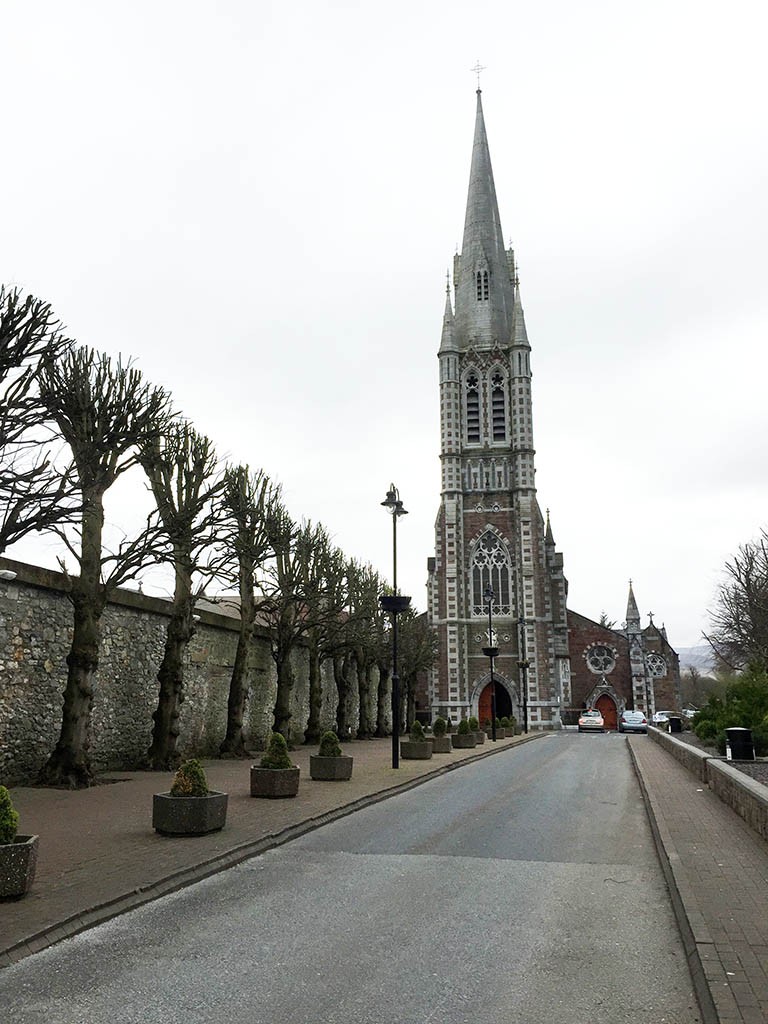 Lougher – Inch Beach
When we finished our quick tour around Tralee we continued our ride towards Lougher where we turned toward Inch, or more precise toward Inch Beach – Popular surfing place on Dingle peninsula.
We stopped there for some 10-15 minutes to enjoy the sound of waves and watch couple of surfers trying to surf. In those 10-15 minutes not a single one did actually surf, and since we were incredibly hungry and it was almost 4PM we decided to leave. As you can see, the first signs of summer day were visible.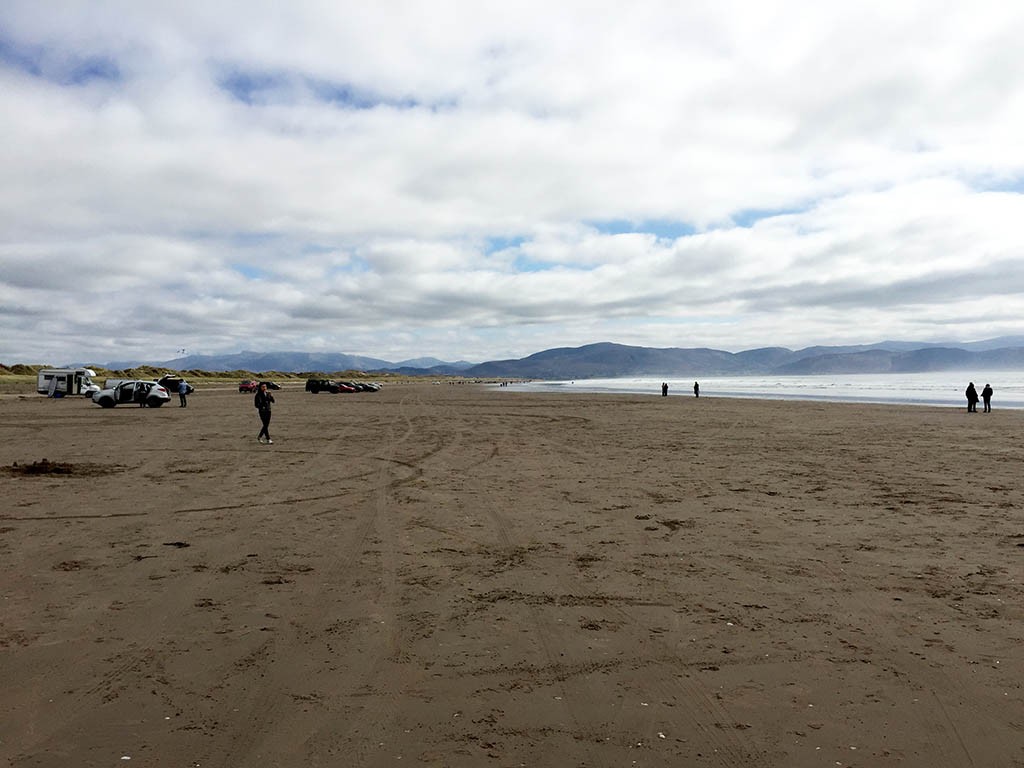 Dingle
Just twenty minutes later, when we parked in Dingle town centre, forecast was right! 🙂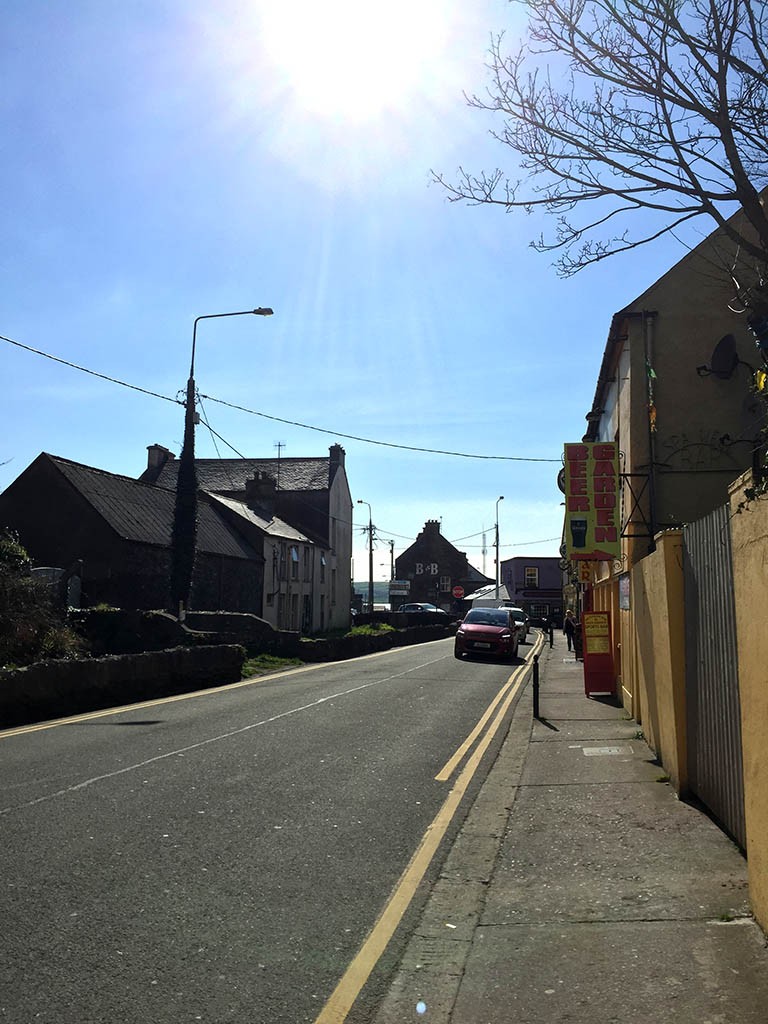 Used to Dublin and the fact that you can eat whenever and wherever, we got really surprised in Dingle. Most of restaurants work similar like restaurants in France or Italy, and 4.20 PM is not a lunch or dinner time. Meaning – no food for hungry travellers. 🙂
Luckily, we managed to find a fine and apparently one off the oldest pubs in town, that served food.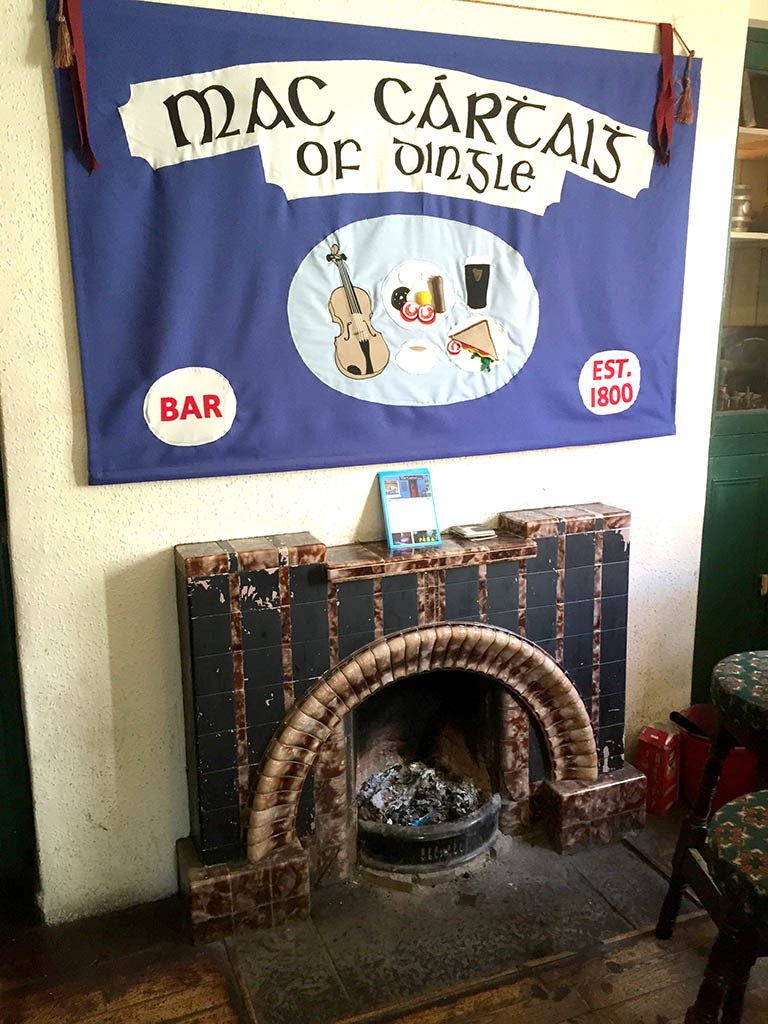 As we usually support locals we did it again. Tom Crean's is a local lager brewed here in Dingle. Just for the record, it was my third lager since we moved to Ireland. (Yep, just three pints in almost two years. Well, actually I had 2 Crean's in Dingle, so make it four then. 🙂 )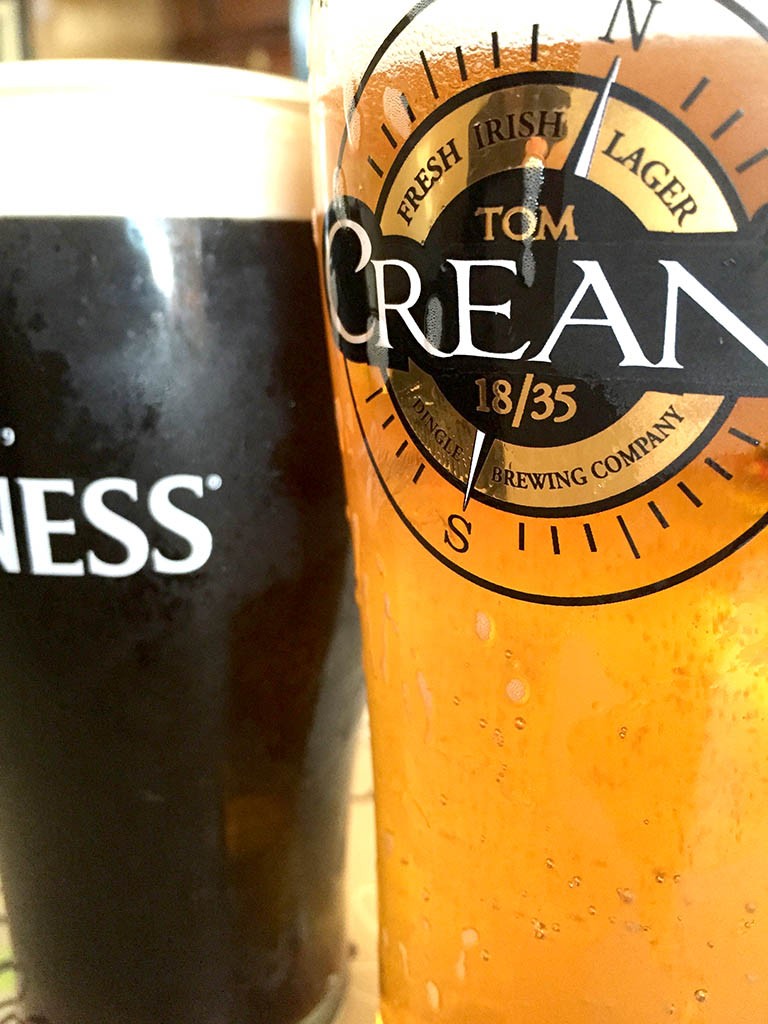 Pleasant surprise arrived when I got the best Irish stew so far! I've tried a "traditional" one in Galway last winter, and that was not a stew at all and it was terrible, and one in Dublin, which was OK but nothing special. This one was really good, and if you are passing through Dingle stop here and try it!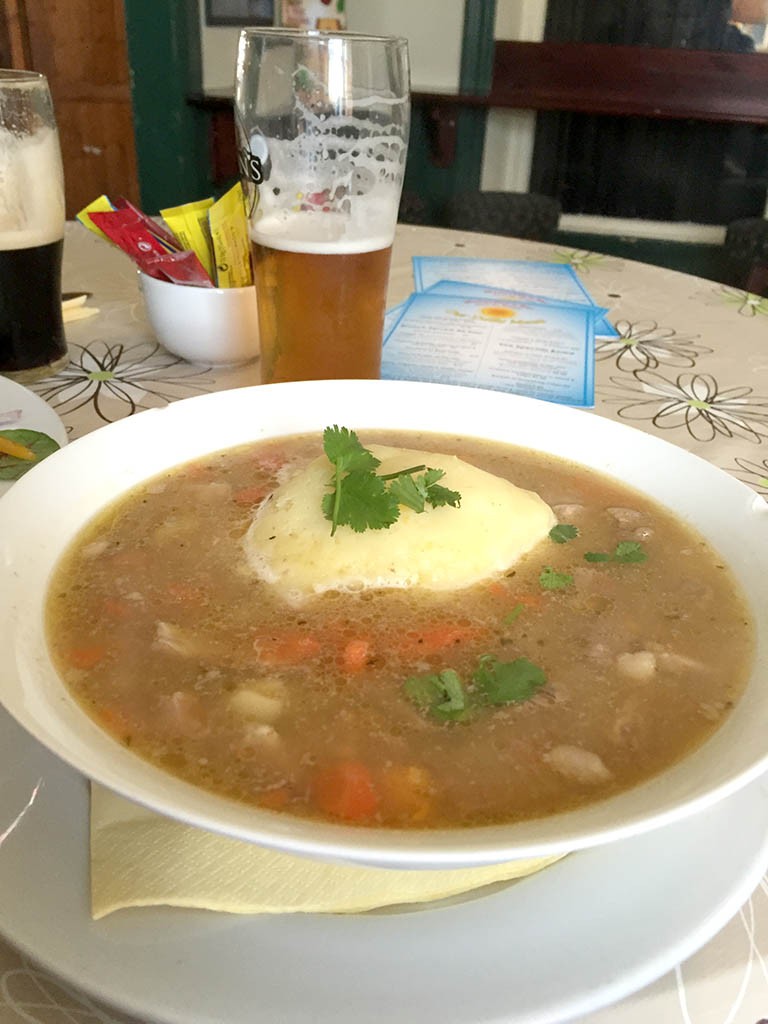 Slea Head Drive
After late lunch we decided to take the great Slea Head drive. It's a circular road starting and ending in Dingle and it does a full circle around the "Slea head" or top of Dingle peninsula.
Just a few kilometers away from Dingle we stopped as we saw the sign "Cliffs and ancient fort, 250 BC". Well, we stopped by and we were in love with the weather, cliffs and peninsula.
(Oh yes, I love panoramas and this time I've included them in the my writings, so feel free to click on it. 🙂 )

Well, the fort… Let's call it a ruin, but if it's there for the past 3000 years, well… It's worth seeing it. 🙂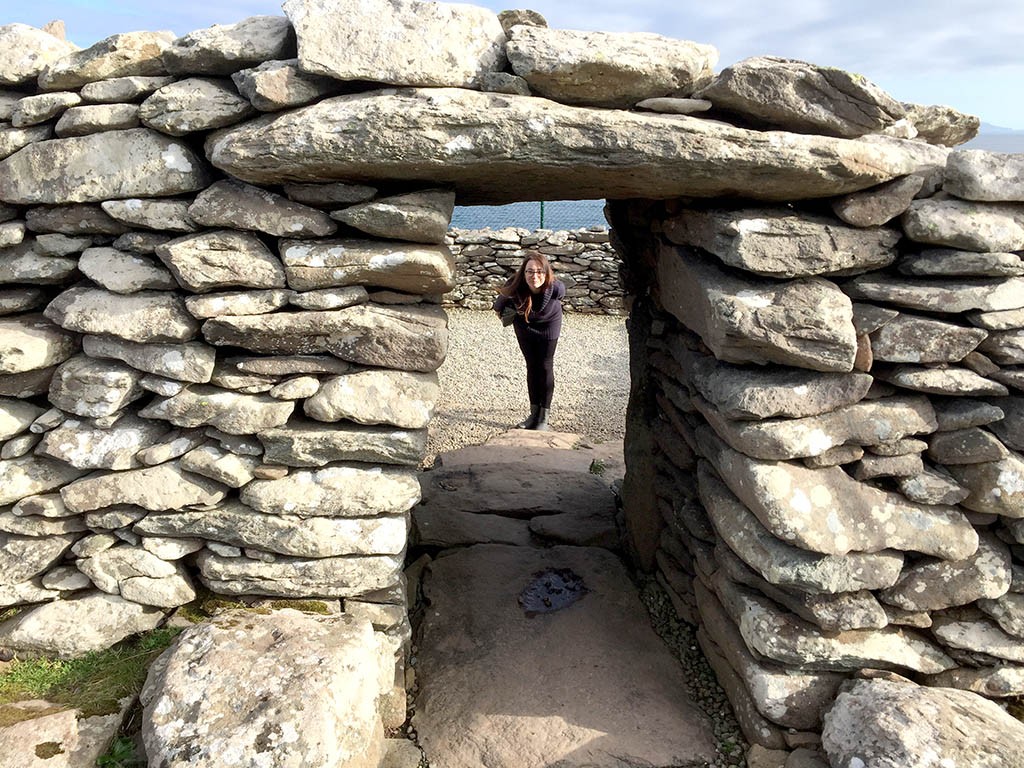 Since that point we stopped countless times. The whole Slea Head drive follows the coast line and amazing views of various cliffs, beaches and islands exchange in front of your eyes all the time.
So we stopped to admire here. That little tip on the left is actually the most west part of the Dingle peninsula, known as Dunmore Head.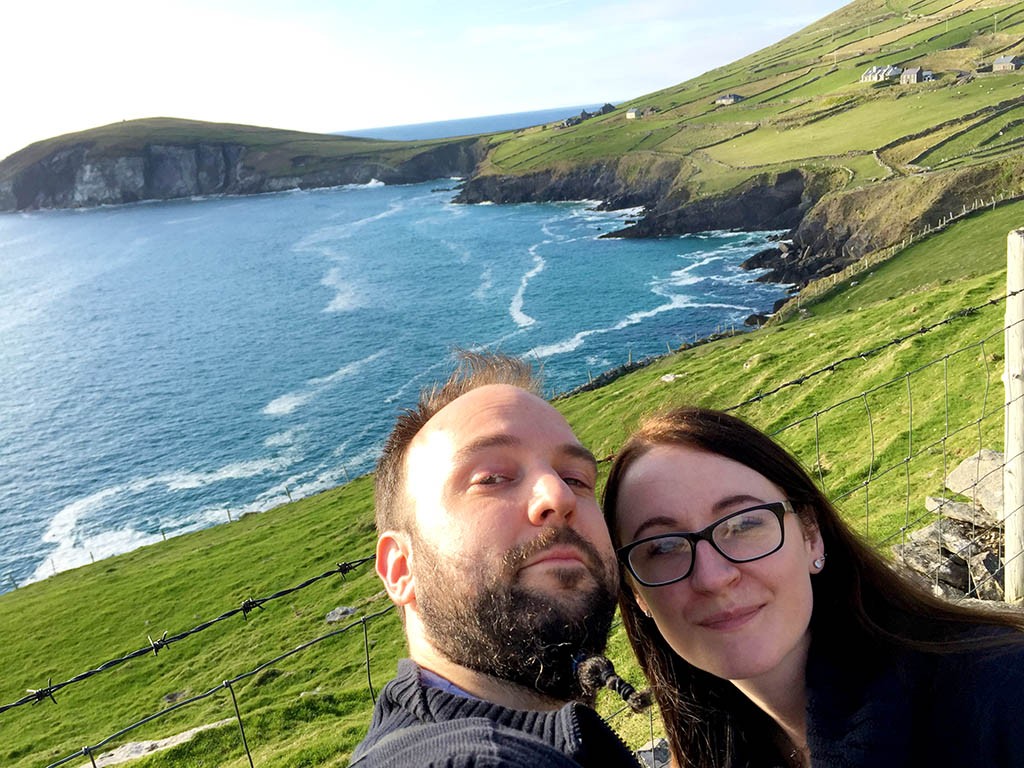 We followed some side road that brought us to a lovely beach down there.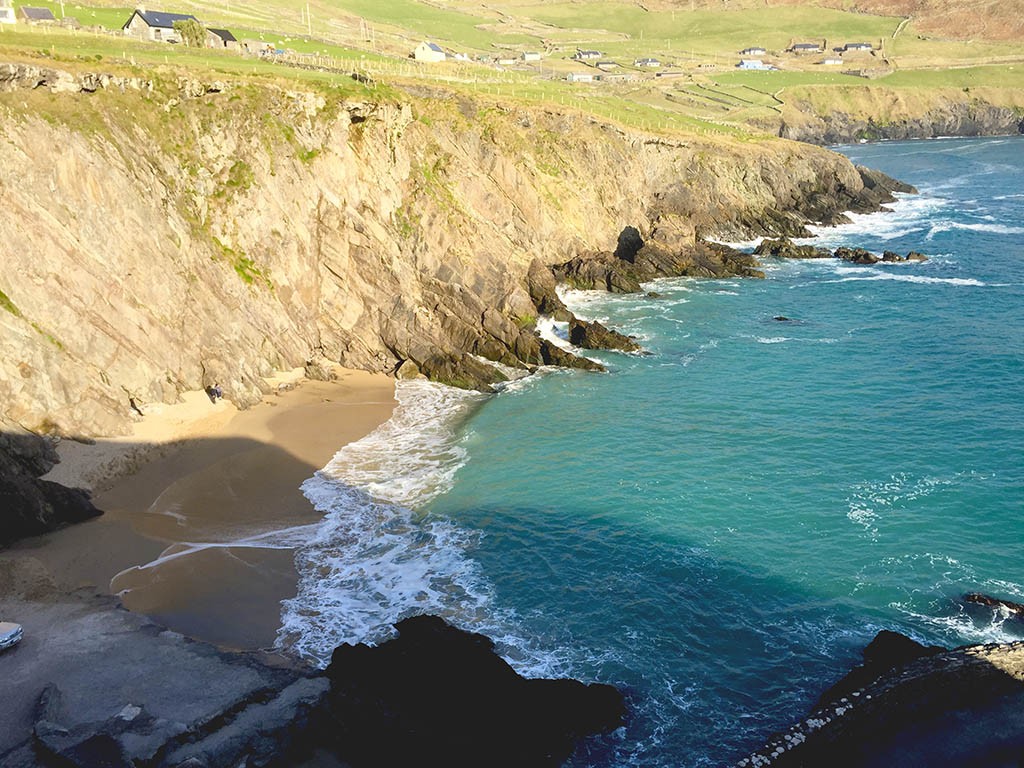 But to be honest with you, we were here to find this place. It is a place close to the top of the Slea Head called Ballyickeen Commons.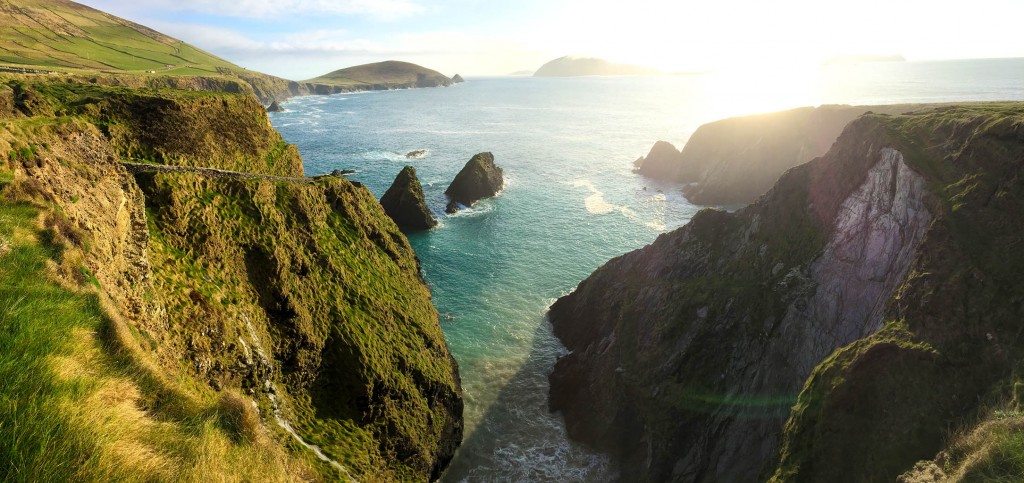 Yes, it's just another lovely cliff from which you have a great view towards near by Blasket islands and Dunmore Head. Unfortunately, we were late for a boat trip to Blasket islands, but we'll try to see them too.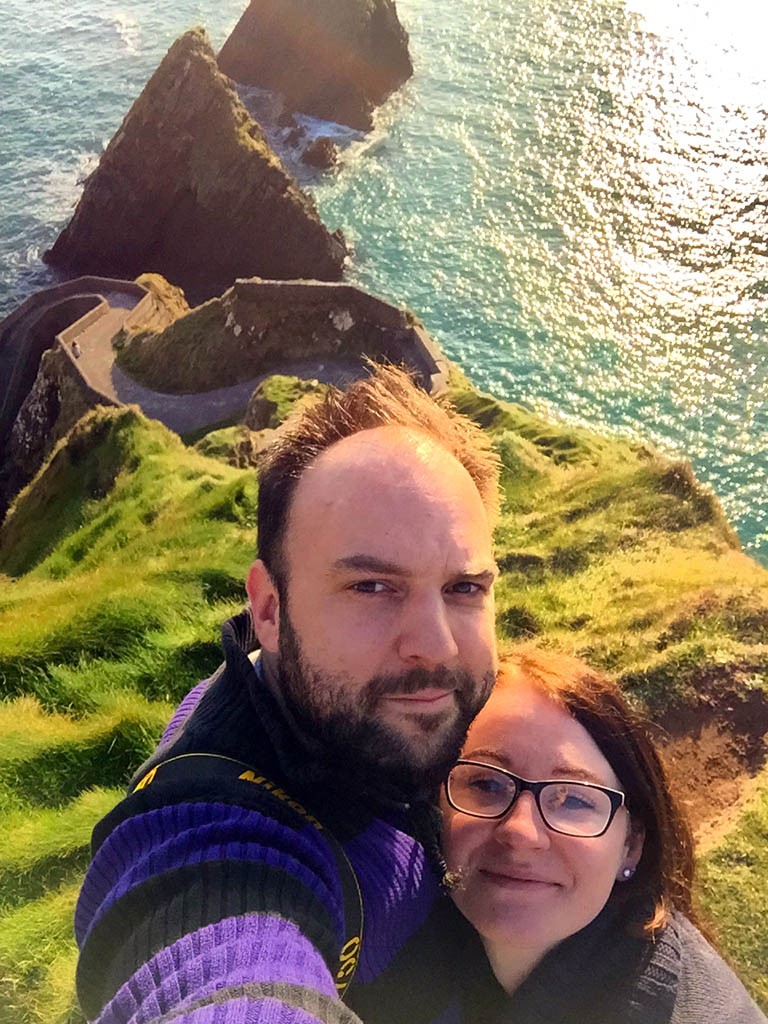 Feohanagh Beach and Mount Brandon
From that point we continued our ride following the signs, but we took the longest possible route. First we stopped on the Foehanagh beach. I've seen it on Google maps and planned to dip my legs in the ocean here, but we arrived quite late and that particular beach was so full with dry seaweed and other sea junk that I decided to skip it this time.

After that we followed the road to the small stream just below the Mount Brandon. We thought of visiting Gallarus Oratory on the way, but it was getting dark and cold outside.
Dingle Cottage By The Sea
So we decided to head towards Dingle and our accommodation – lovely "Dingle's first cottage by the sea". We were welcomed by our host Julí and as soon as we left our things in room we were in love with this place.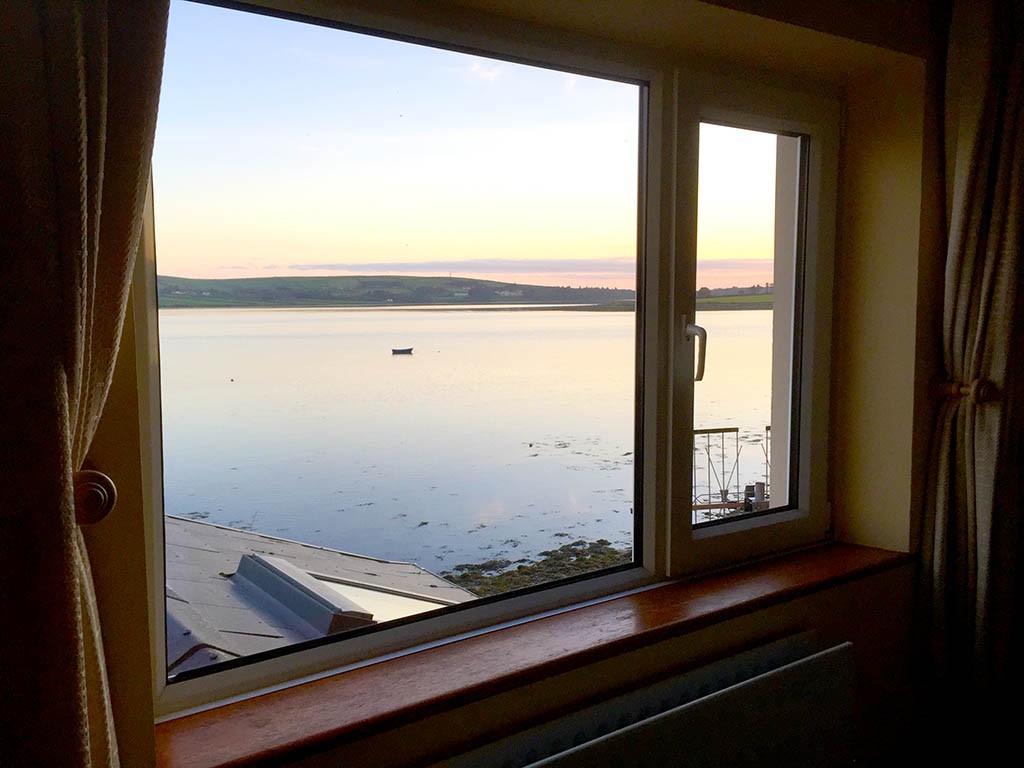 Julí advised us about local pubs and music and dinner possibilities, but we were already so exhausted that we decided to skip dinner and leave it for tomorrow in this lovely place. It turns out that this was a big mistake, as we arrived too late back to Dingle next evening and we did not try anything fresh from the Atlantic.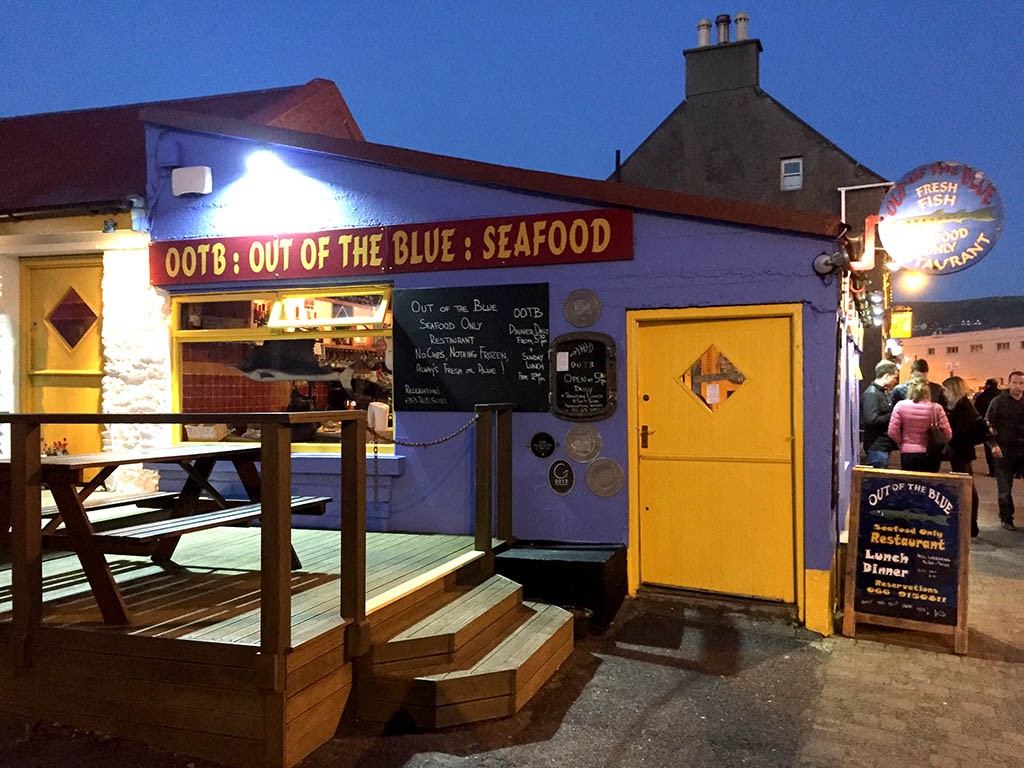 Anyway, that first night we were followed by the full moon in our late night walk around the place.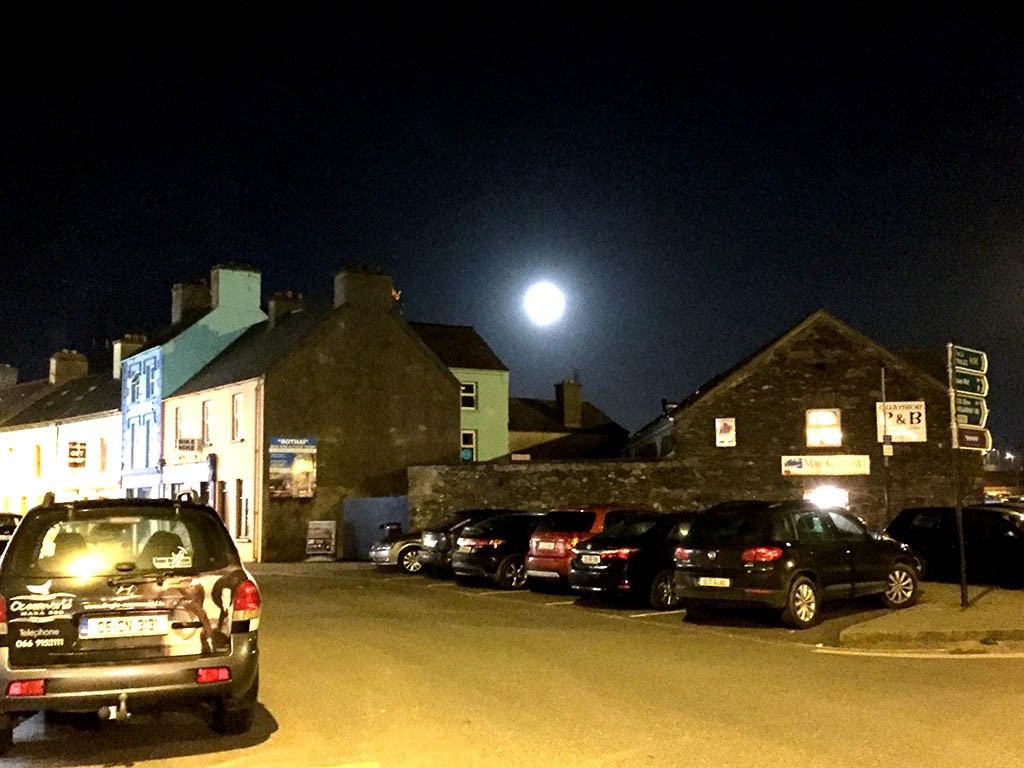 We checked another church, St. Mary's.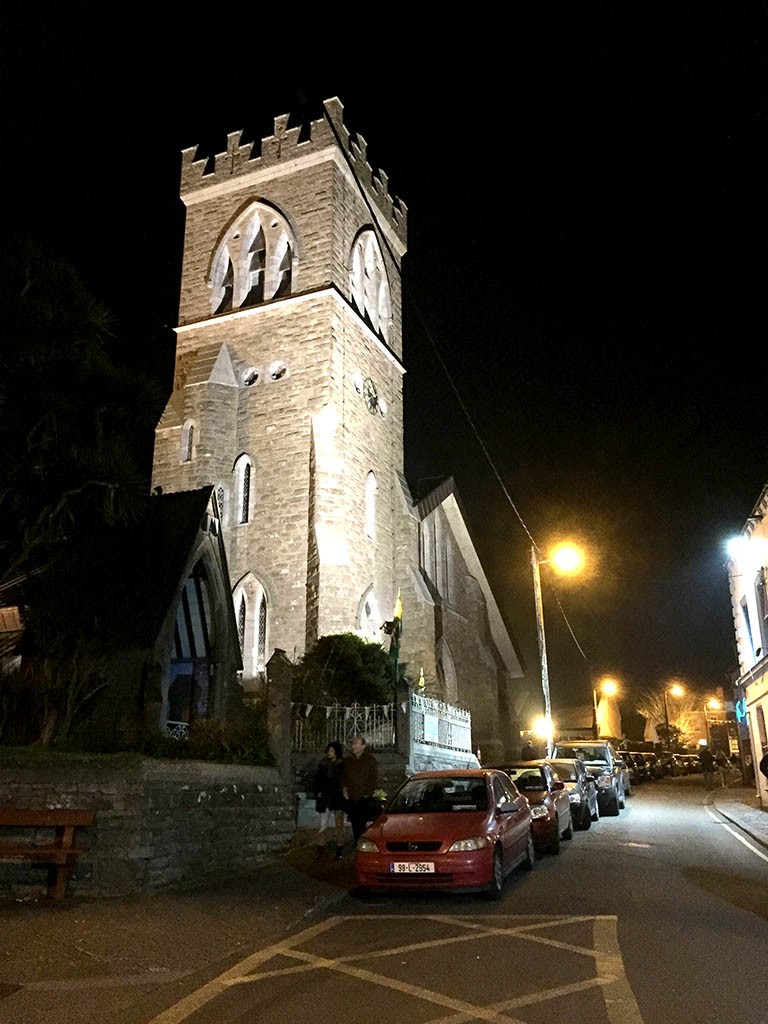 And fully packed Macks pub that is obviously, just opposite of the church. 🙂 Yeah, you know, all important socializing institutions should be close to each other. 🙂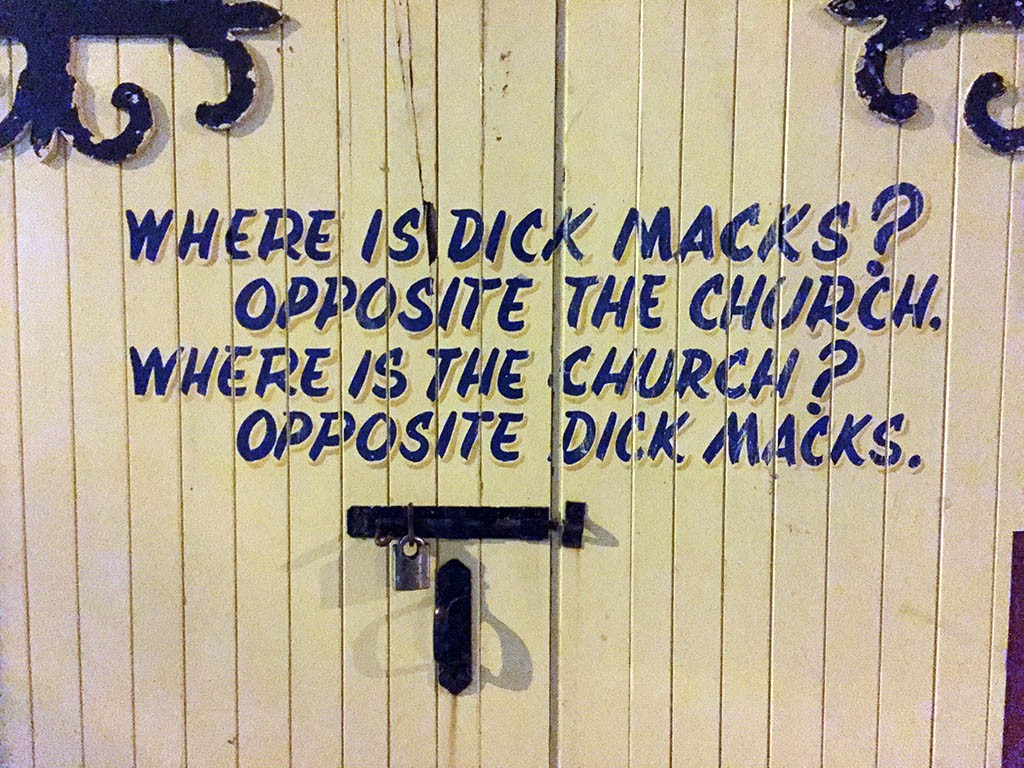 Walking around the town centre we noticed a very original part of furniture, a foot stool made with real wool. If you have a problem with cold feet, this is the best thing you can get. 🙂 (I love it.) After a walk we sat down for a pint and then off to bed.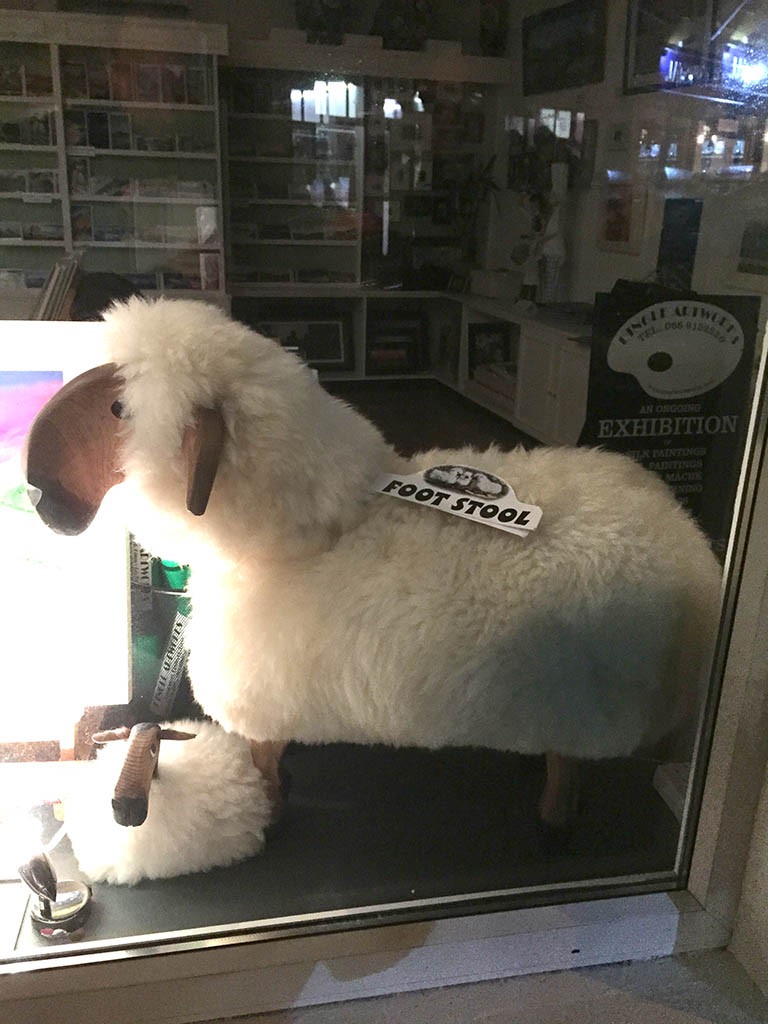 A fire red morning sky in the cottage woke us up.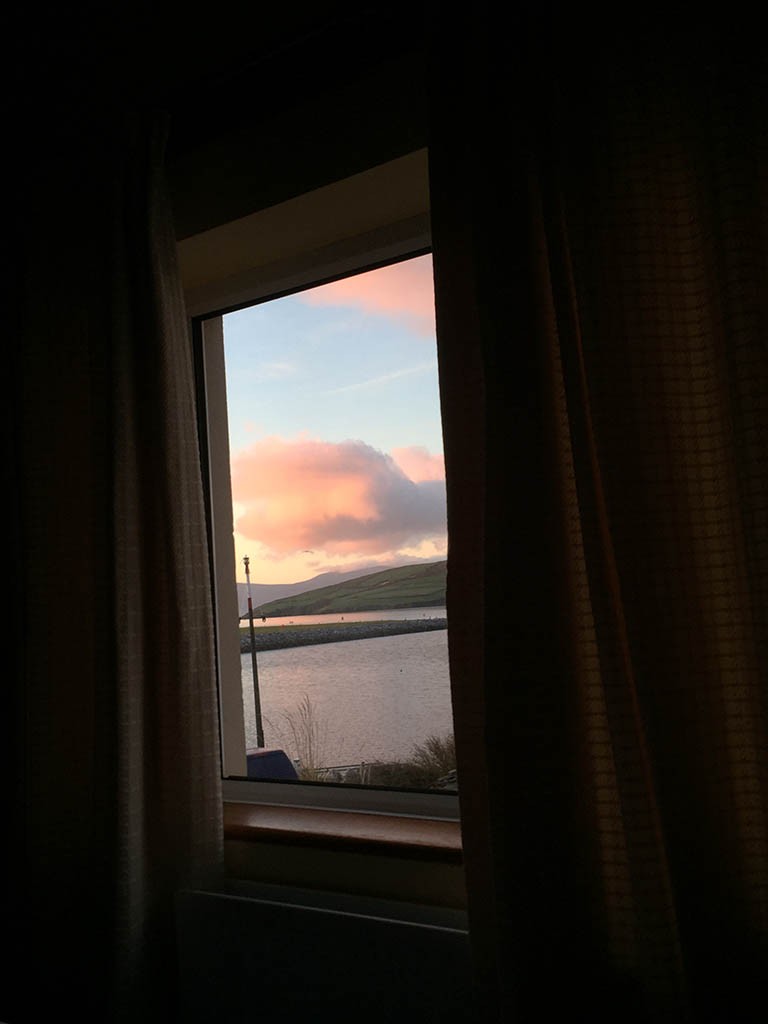 And Julí prepared awesome porridge for me and breakfast for both of us. Porridge was so good that next day we both decided to opt for it. 🙂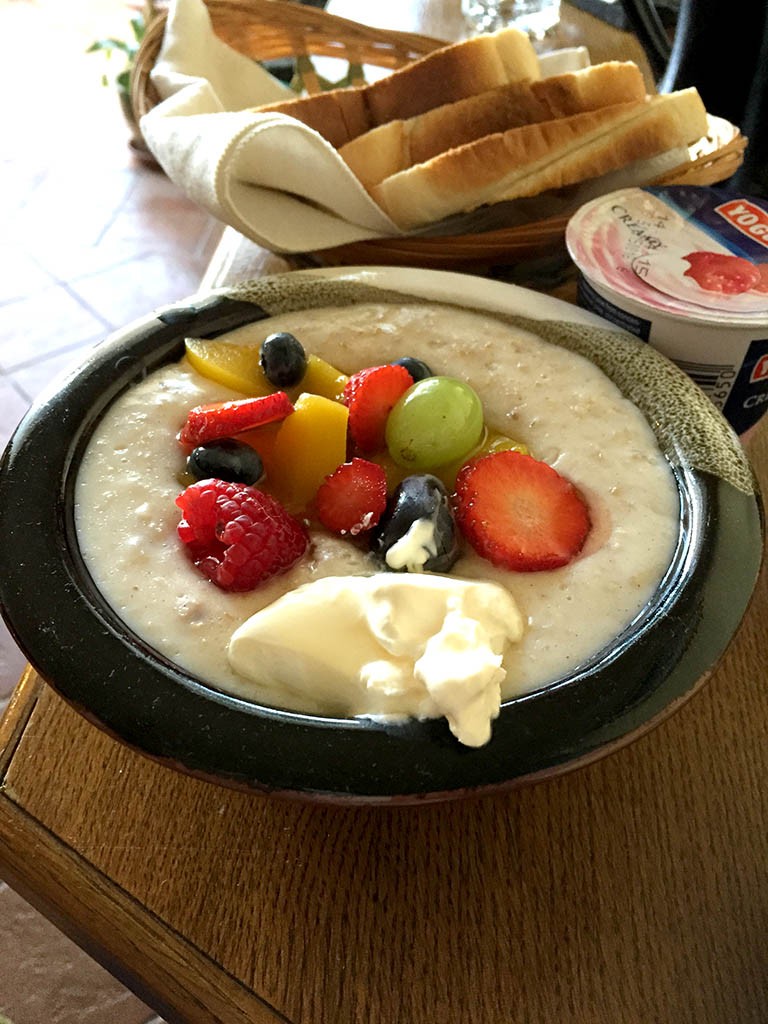 And our Dingle story would end here if we were sleeping somewhere else. But, we were not. Julí advised us to change our routes, both ones around Dingle peninsula and the Ring of Kerry. Her explanation was convincing enough and we decided to explore Dingle peninsula a bit more. 🙂
Connor Pass
Our next stop was Connor Pass, the peak just above Dingle where you can see the view toward Dingle on the south side, and Cloghane on the north side.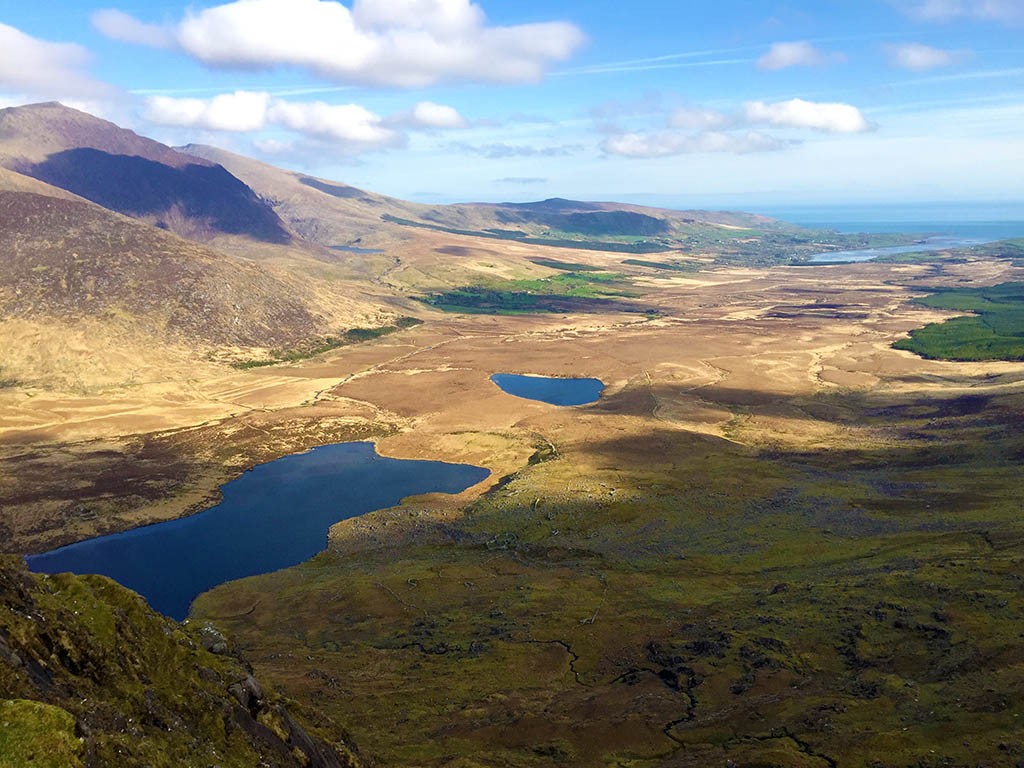 From there we took a very narrow road to Ballyhoneen that stops just bellow the rocky mountain and where you can see the whole valley that was formed by glaciers in ancient times. Since it was raining just a day ago we got a chance to see temporary water streams that were forming small waterfalls and streams flowing across the road.

From there we took another scenic route through Camp and towards the Inch Beach, and then to the Ring of Kerry, but that will be published in a separate post soon!. I promise! 🙂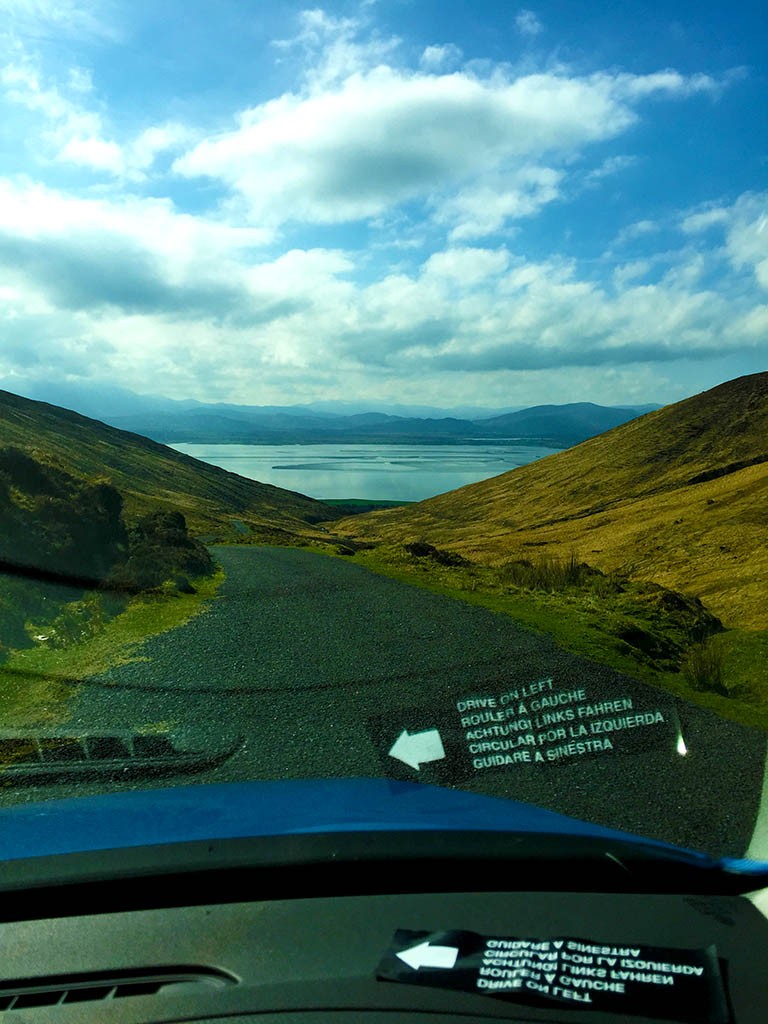 If you are visiting this part of Ireland bear in mind that there are counties or parishes that are known as "an Gaeltacht", or Irish speaking regions. Top of Dingle peninsula is one of those areas, so in some parts of the country all the signs are in Irish language only!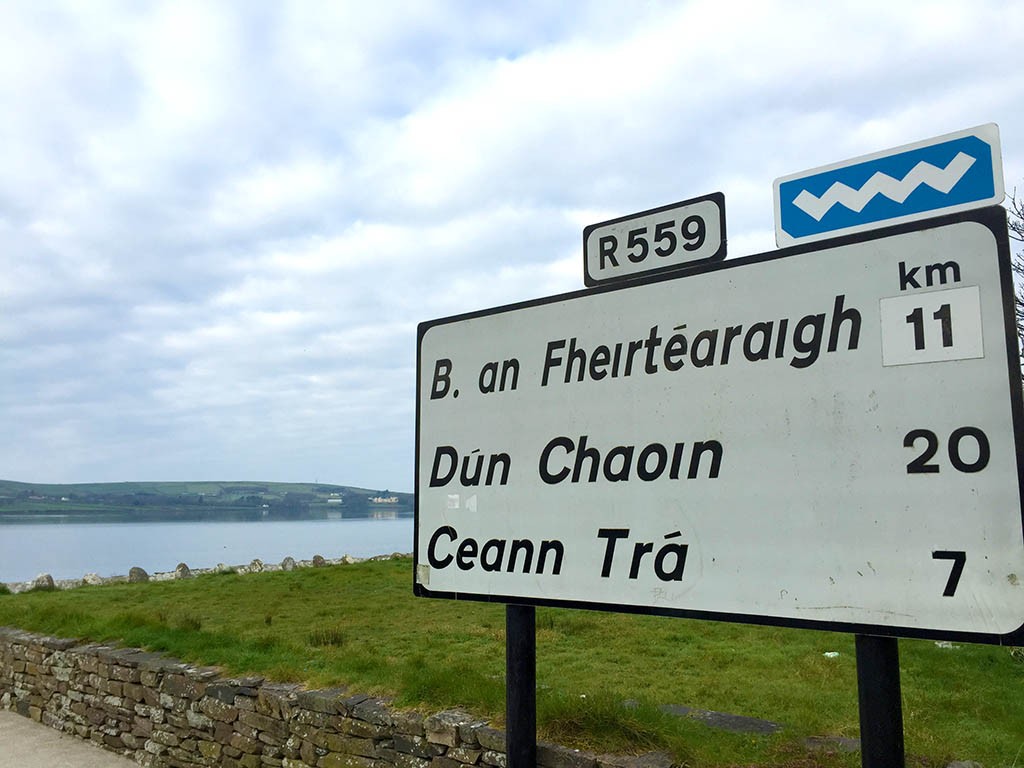 Fungi and maybe Nuala Moore
On our third day on the west coast we had just about an hour to try to find Fungi. Fungi is a dolphin that lives in Dingle bay since 1983. It is a friend of the whole community, big tourist attraction and apparently the fattest dolphin ever known. It's no surprise since it lives in the bay with a narrow entrance and very big water level tidal changes, so this poor dolphin just has to sit in the pas and open his mouth. Fish will be thrown in his mouth with strong water currents. 🙂 (True story heard in Dingle, I'm not making it up.)
Unfortunately, we did not see Fungi. It was obviously too early, but we tried. We climbed the highest cliff just outside of Dingle and we tried to call him. Well, since this kind of dolphins can live up to 50 years we have at least a few more to find him and swim with the dolphin. 🙂

Before we left our cottage Julí was telling us a story about Nuala (Moore), a local lady that is actually world famous as she swam the whole Bering straight, 1000 meters in zero degrees water and she swam all around Ireland. She has a local shop and if you don't know this story, you can easily miss her.
I'm not 100% sure if that was Nuala, but we managed to see a lady that fits the description taking an early morning swim that day.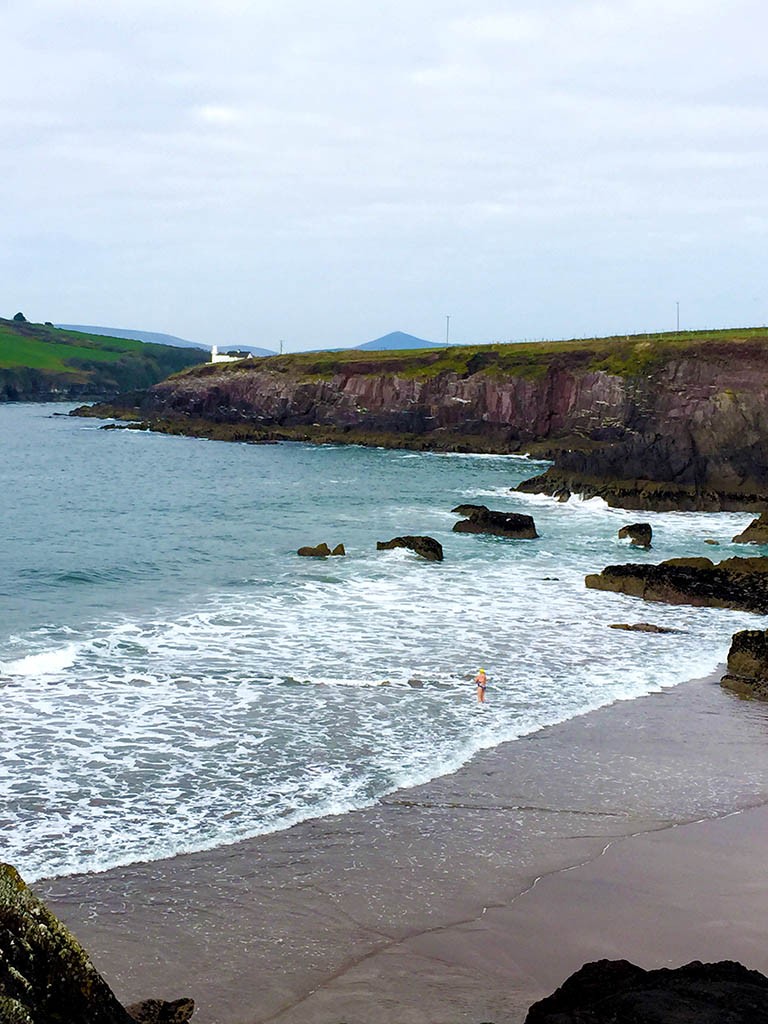 Just for the record, we were both in winter jackets, and as we were told, sea temperature could be around thirteen degrees at the moment. 🙂
Well done Nuala or whoever you are! I'll join you next time, at least for a few minutes! 🙂
In case that you want to read more about Nuala, please follow this link.
On the map below you can see the map of Dingle peninsula and roads we took this time.
Well, till the next part (The Ring of Kerry)… 🙂
Kisses
Balky